The Independent's journalism is supported by our readers. When you purchase through links on our site, we may earn commission.
Tori Spelling and Jennie Garth react to Jessica Alba's 'Beverly Hills, 90210' no eye contact claim
The former teen soap stars addresses the unflattering rumors on their new podcast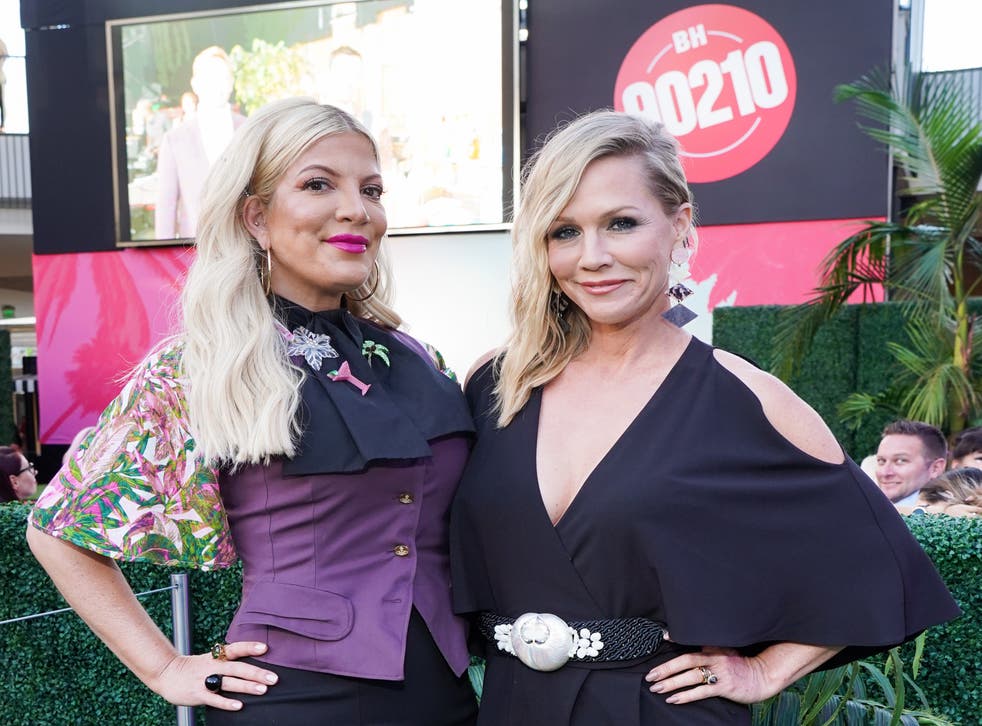 Jennie Garth and Tori Spelling remember Jessica Alba's stint on Beverly Hills, 90210 much differently than the star actress. 
After Alba, who appeared on the teen drama in 1998, claimed she was not allowed to make eye contact with cast members on set, Garth and Spelling decided to set the record straight.
In a teaser clip for their cleverly titled 9021OMG podcast, Garth recalled shooting the most scenes with Alba, but said she never enforced any kind of "no eye contact" rule.
"I had all the scenes with her. If anybody didn't want to have their eyes looked into, it would have been me," the actress, who played Kelly Taylor, said. "But I don't remember because I have the world's worst memory."
Spelling, who starred as Donna Martin on the hit soap, then wondered whether producers passed around some kind of "cool memo" without the cast knowing.
"Imagine we just thought guest stars didn't like us? They never looked at us! We don't know why. We were so nice," she said.
Though they never cracked the case of the alleged "no eye contact" rule, the pair of actresses had nothing but high praise for Alba, who went on to become a blockbuster actress after guest-starring as Leanne on 90210's eighth season.
"From the vague memories I have of working with her, I only remember her being super talented," Garth said. "She was very young and she was really sweet, and it does not surprise me that she's gone on to be so successful."
In fact, Spelling is still a fan of Alba's to this day — which made the actress's recent comments all the more embarrassing.
Referencing Alba's Honest Company baby products, Spelling said, "I'm not going to lie to you guys: I was a little horrified when I saw that clip because her baby wipes are my favorite. … Like, I wipe my child's ass with her baby wipes every single day. I'm so upset right now."
Garth and Spelling's conversation came just a few days after Alba opened up about her 90210 stint on the YouTube series Hot Ones.
"I couldn't even make eye contact with any of the cast members, which was really strange when you're, like, trying to do a scene with them," Alba recalled. "It was like, 'You're not allowed to make eye contact with any one of the cast members or you'll be thrown off the set.'"
Expect Spelling and Garth to dish more about West Beverly High and their teen glory days when the 9021OMG podcast debuts on November 9.
Join our new commenting forum
Join thought-provoking conversations, follow other Independent readers and see their replies