The Independent's journalism is supported by our readers. When you purchase through links on our site, we may earn commission.
American Gods is more relevant than ever with Donald Trump in the White House and Brexit on the horizon
For years, directors have been begging Neil Gaiman to adapt 'American Gods' for the screen. With the meteoric rise of long-form TV, this mystical tale has finally found a medium where it can visually thrive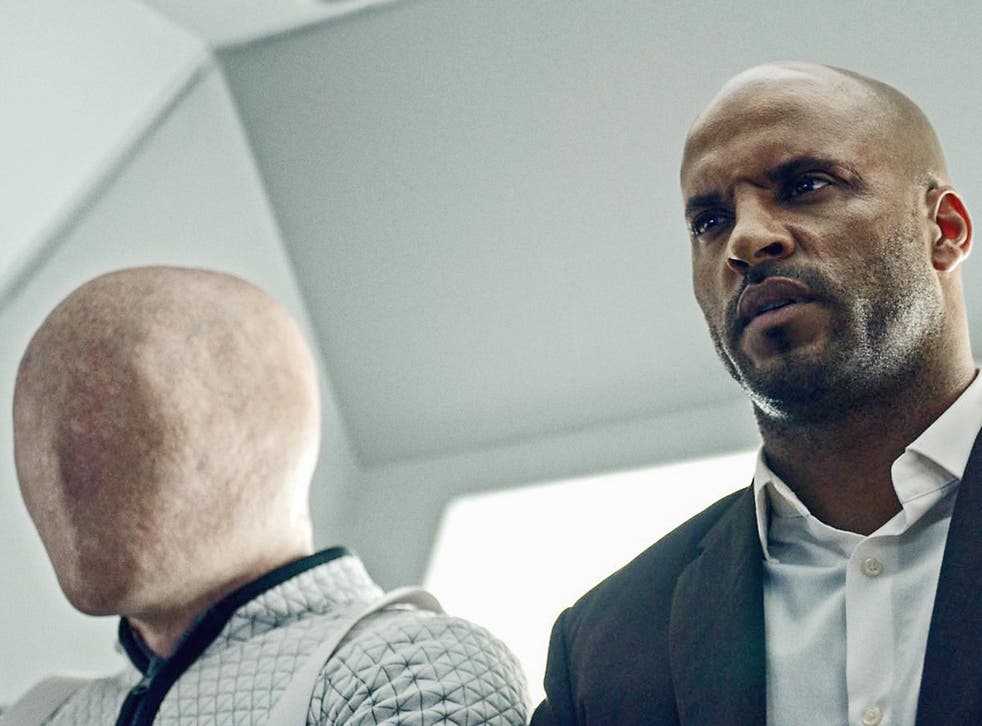 Neil Gaiman's fantasy novel American Gods has taken 16 years to make the jump from best-selling book to TV adaptation… and is set to be all the better for it. Like a fine bordeaux laid down in 2001, the eventual televisual tasting of Gaiman's debut novel (arguable, perhaps, but clarification to follow) is set for a grand cork-popping in the UK on Monday, 1 May, when the first episode of American Gods is aired on the streaming service Amazon Prime (the US gets it a day earlier on Sunday, on the channel Starz).
My battered first-edition paperback copy of American Gods from 2001 boasts a bold challenge on the inside back cover from publishers Headline: "As good as Stephen King or your money back". I'm not sure how many people, if any, did in fact demand a refund, but the comparison does perhaps both writers a disservice. It's understandable why Headline perhaps wanted to ally the emerging Gaiman with King, then with 30-odd books under his belt, as both writers were probing the dark heart of America.
American Gods is a different beast altogether from King's small-town supernatural menace; there are resonances but Gaiman's work is on an altogether more epic and mythical scale, often horrifying but not really horror at all. Briefly, it's about Shadow Moon, a man who ends up in prison after a misguided robbery. He is released early, but not for anything good; his wife Laura has died in a car crash.
American Gods - Official Trailer
Sombrely travelling back home, Shadow falls in with the mysterious Mr Wednesday, who eventually employs him as a chauffer-cum-bodyguard. And Mr Wednesday does indeed need someone to watch his back; he's at the centre of a war between gods. Gaiman's central conceit is that waves of immigration to the US over centuries have brought with them aspects of their gods – be they Scandinavian, Eastern European, Irish, or African. But the power of the old gods is waning, and the new deities of money, power, sex and technology are set to supplant them, wiping out the venerable pantheons in their wake.
The book is a sprawling, engrossing slice of contemporary grand guignol, painted with an architect's precision on a canvas so broad it isn't until you take a step back from it that you see the whole picture clearly. It has horror, and adventure, and fantasy, and seems tailor-made for adaptation. So what took so long?
Well, it wasn't for lack of trying, Gaiman told me when I met him last year at the launch of the Sky Arts TV adaptations of several of his short tales, gathered under the umbrella of Neil Gaiman's Likely Stories. "American Gods was published in 2001," he said. "Starting that year, I would get calls from directors so famous even you and I knew who they were, saying, 'I just read American Gods and I want to make it into a movie. How do I do that?' My answer was always: I have no idea. They always figured I would have the answers … just drop this section, do this or that, and I never did."
In 2001, a movie adaptation was the measure of success. American Gods might have been his first novel proper, but Gaiman was no stranger to writing. In 1990 he collaborated with Terry Pratchett, who died two years ago, on the novel Good Omens, which Gaiman is now in the process of adapting for TV. He also wrote a novelisation of his own script for a BBC TV series, Neverwhere, in 1996, then in 1999 released his and Charles Vess's illustrated book, Stardust (adapted into a film in 2007 with Claire Danes and Robert De Niro).
He had plenty of cachet, especially among the comic book fraternity; after cutting his teeth on the likes of British sci-fi weekly 2000AD, Gaiman was snapped up by the American publishers Marvel and DC, most famously writing his comics magnum opus Sandman for the latter. A former journalist, he was proficient in a number of writing disciplines, but boiling his epic American Gods novel into a 90-minute screenplay wasn't one of them. Fast forward 15 years, though, and things had changed.
Gaiman was no longer considered a cult or niche author; in fact he was on his way to becoming a household name. His 2002 children's novel Coraline had been turned into a well-received animated movie, and his 2013 adult novel The Ocean at the End of the Lane had propelled him to the top of the bestseller charts. But not only was Gaiman's stock rising, the movie vs TV scales were rebalancing in favour of the small screen.
Access unlimited streaming of movies and TV shows with Amazon Prime Video Sign up now for a 30-day free trial
Sign up
The likes of Game of Thrones and The Walking Dead had proved that there was an appetite for long-form fantasy dramas on television, and crucially that while both of those series were adaptations (one on the series of books by George RR Martin, the other on Robert Kirkman's long-running comic series) they had both found mainstream audiences who became almost fanatical about the shows while often knowing nothing, and caring less, about the source material.
The problems that stumped potential adapters of American Gods in 2001 – it was simply too big and unwieldy to fit into a movie slot – was suddenly in its favour in terms of a TV show. Gaiman said, "Back then, if you didn't get a movie adaptation, you might get a movie made for TV or a miniseries, and that was considered quite a step down. But now people want to make TV. "Here we are years later, and what worked against us is actually on our side. It's wonderful."
The US channel Starz gave American Gods the green light in 2014, bringing aboard show-runners Bryan Fuller (Hannibal, Pushing Daisies) and Michael Green (whose credits include Heroes and Sex and the City), with Gaiman as executive producer. Former Hollyoaks actor Ricky Whittle was the first cast announcement, in the lead role of Shadow Moon, swiftly followed by Ian McShane, who brings the appropriate level of roguish charm to Wednesday, Australian Emily Browning as Shadow's wife Laura (who, despite dying early on, plays a very major role) and Yetide Badaki as love goddess Bilquis.
Lining up for the new gods are Bruce Langley's Technical Boy, god of new technology, Crispin Glover as the sinister Mr World, and the X-Files' Gillian Anderson as Media. It's not just the change in viewing tastes that have made this the right time for American Gods. The current political landscape means that the story is perhaps even more relevant today than it was when Gaiman's original novel was published. "It's exactly the right time," Fuller tells me. "We've been working on the show for almost three years in terms of development and it now seems to resonate more than ever now that we are in the world of Donald Trump and Brexit. We're all really excited that American Gods is going to be part of the conversation we need to be having right now."
The novel is, at its heart, about immigration, and finding your place in the world – significant issues in, especially, Trump's America. Fuller says: "It was funny, but we'd shot a lot of stuff pre-Trump winning the election and then after that we were in the editing suite and watching some scenes and Michael and I were just looking at each other… these scenes suddenly meant so much more than they did pre-Trump.
"I look at recent events, the return of paranoia and anti-immigration feeling, the fear and the bigotry… for us left-minded people this is a massive step backwards. I hope the people who watch American Gods will see the relevance to the current day. They'll see these characters, these gods, with tremendous humanity and wildly varying positions in politics."
That said, Fuller and Green aren't pushing a political agenda, certainly not at the expense of action. But the synergy between Gaiman's story and our increasingly divisive society is hard to ignore. "It's more about asking questions regarding what it's like to be different, and how we can celebrate that," says Fuller. Will Trump be watching, does he think? He laughs. "I don't know. He could almost be a character in it himself."
American Gods is released weekly on Amazon Prime from 1 May
Join our new commenting forum
Join thought-provoking conversations, follow other Independent readers and see their replies