Broadchurch series 3 episode 1 review: Fresh blood and a new crime prove promising for this final case
*Spoilers for season 3 episode 1 follow*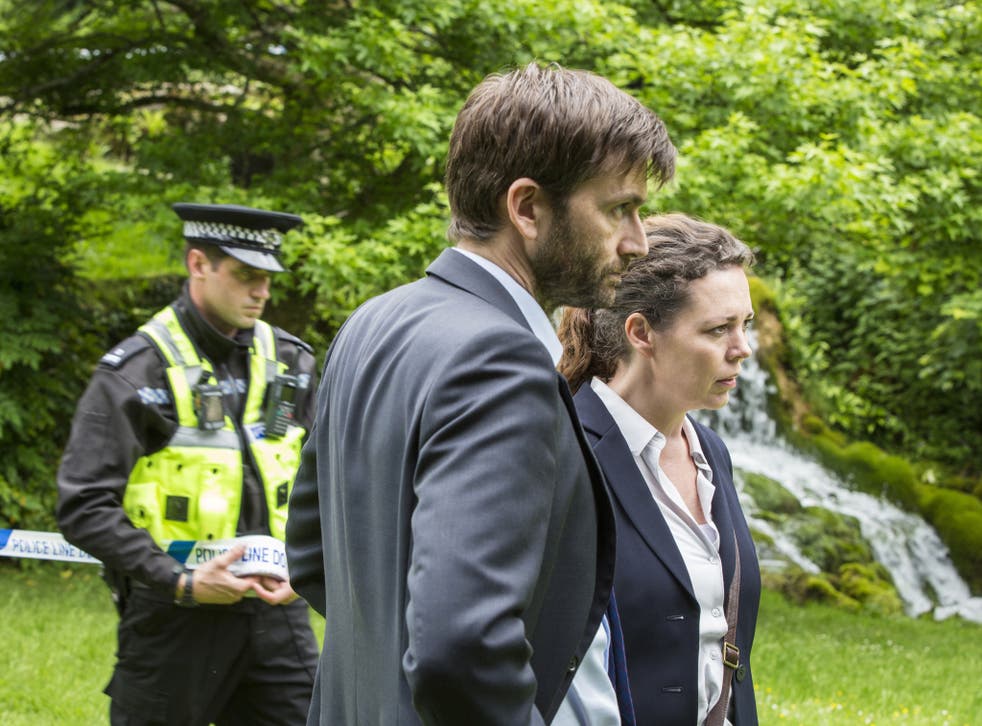 There had been some debate as to whether Broadchurch writer Chris Chibnall could wring more credible grief and intrigue from the Wessex community. There are only so many murderers and perverts one small place can harbour, after all (though someone should tell that to the makers of Death in Paradise). This gripping opener for the third and final instalment, with a fresh case – no body on beaches here, chaps – suggested that he can. In fact, I'm going to stick my neck out and predict another serious case of national Broadchurch fever.
David Tennant and Olivia Colman were back as DI Alec Hardy and DS Ellie Miller, set three years on from the uneven second series of the ITV hit. The time lapse immediately lifted the inertia that set in over the Joe Miller trial and gave us a new anybody-could-have-dunnit story to get stuck into. We knew we were on fresh ground when local oracle DS Miller said she didn't know farm shop worker Trish Winterman, the bruised and bloody rape victim who walked into the station. It turned out it was because Trish was not from Broadchurch proper, but a town down the road. Julie Hesmondhalgh, now a very long way from the cobbles of Coronation Street, was mesmerising as a fragile Trish, trying to make sense of how a friend's 50th birthday party took such a terrible turn.
We got meticulous police procedural showing the immediate aftermath of a serious sexual assault. It was part an acting masterclass from Hesmondhalgh, Tennant and Colman, but also part public-service broadcasting. The team worked with rape crisis services to ensure accuracy and portray a positive experience of reporting a sex attack. We were shown every step of the undignified, clinical journey. There was swabbing in overlit rooms, soiled clothing dropped into evidence bags and a lot of blue surgical plastic. Perhaps bleakest of all, the offer of the morning-after pill to Trish seemed incongruous with the despair of the middle-aged woman on our screens. It was unflinching and forced us to confront any prejudices about who might be the victim of a sexual assault.
There are other familiar faces back for more beyond the two detectives. Beth Latimer (Jodie Whittaker) is woven into this new tale as she is working in a sexual advice clinic. Her now-ex-husband, Mark (Andrew Buchan) has published a book about his experiences and was too scared to go to his own launch, leaving the hot vicar, Paul Coates (Arthur Darvill) trying to persuade him.
We met some impressive newcomers, too. Sarah Parish has joined the cast as Cath Atwood, the hostess of the fateful party and Trish's colleague at the farm shop, along with her husband, Jim, (played by Mark Bazeley), who apparently uses the same condom brand as the attacker. Sir Lenny Henry plays moody farm shop boss Ed Burnett and Miller has assertive new recruit DC Katie Harford to contend with (Georgina Campbell, known for Bafta-winning Murdered By My Boyfriend).
Away from the thin blue line, we saw the start of the web of storylines to come. DS Miller was losing patience with her bereaved dad and son Tom, now a moody teenager, was caught sharing porn at school "I will not let you be your father's son," Miller snapped. DI Hardy's daughter is also growing up, giving him further motivation to catch the attacker. There are still some light moments, not least DI Hardy and DS Miller's relationship that veers from sibling-like to a deep mutual respect. "Don't be a t*** about it," said Miller when Hardy ribbed her for turning up at his door at 2am with the latest case news, not acknowledging that he himself was also up in the small hours.
So it was a lot to take in, but at a pace that reminded us how good this show can be, heightened by Olafur Arnalds's haunting score. I suspect some viewers might find it a bit oppressive, but I think it ramps up the suspense. DS Miller and DI Hardy have 50 blokes to eliminate from the party suspect list, oh yes, and there was no security at the venue so really they have the whole of Wessex to comb and question. Apparently the cast didn't know until far down the line who the culprit was and scripts were encrypted, so expect lots of twists and turns and red herrings. And don't say I didn't warn you about the next bout of the fever.
Join our new commenting forum
Join thought-provoking conversations, follow other Independent readers and see their replies