Broadchurch series 3 episode 2 review: The detectives were taking no prisoners in the next stage of this enthralling hunt
We got DI Hardy and DS Miller in glorious interrogation mode as they ramped up the search for Trish Winterman's attacker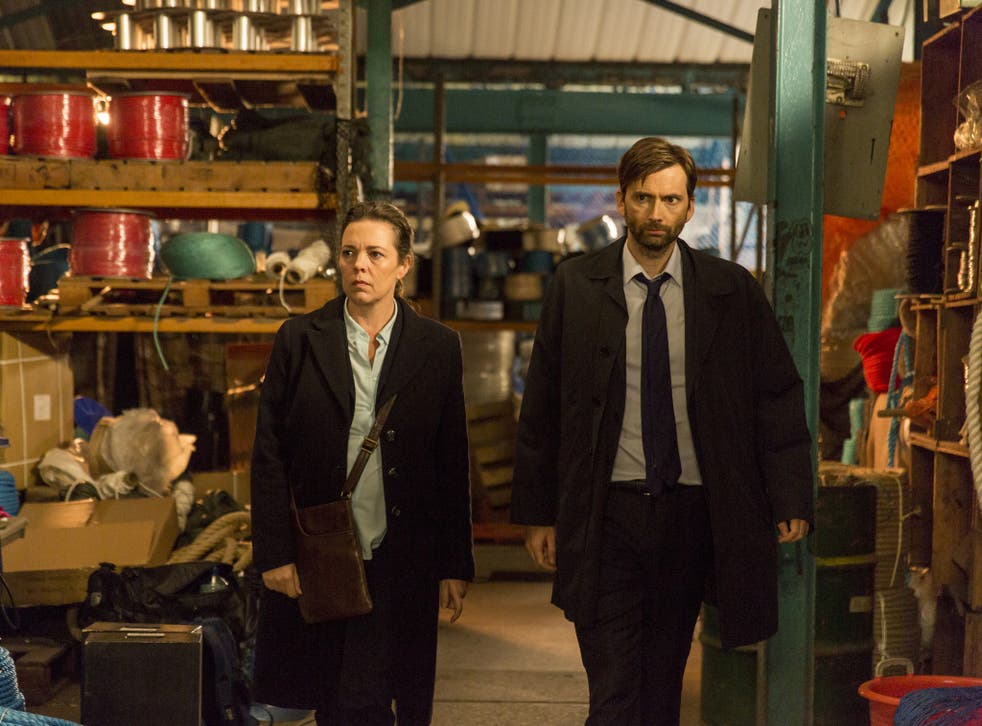 Apart from its bid to become the most talked about "telly event" of the year, Broadchurch Three is, appropriately, on a much-publicised, triple-pronged social mission: to promote a positive view of reporting a sexual assault, to highlight how funding cuts are affecting the process, and to show the devastating impact a violent sex attack can have on loved ones. Admirable aims all, and so far, you could say the ITV drama is doing them all rather well. Last week's opener attracted 7.5 million viewers, and that's without taking into account all those who watched on catch-up. The shift of type of crime has given fresh life to the last instalment of the trilogy that is so far eons better than that difficult second series. With that in mind, we can forgive writers for not always being entirely subtle.
"Sexual offences never get the same resources as mur-duh," said David Tennant's DI Hardy, in the way only Scots can, on discovering they only had two staff to help them interview and take DNA from more than 50 potential suspects. Creator Chris Chibnall spent more than a year researching the story line and according to Tennant, has approached the portrayal of the UK system "almost forensically", so is clearly keen to bang his point home. I can't be the only viewer who was distracted from the heavy-handed writing here by being reminded of The Fast Show's Taggart send up, "Monkfish". (There's been a "muh-duh" was the catchphrase).
Anyway, talking of the 90s sketch show, its co-creator Charlie Higson made his debut as Trish's husband Ian Winterman in this episode. He's now shacked up with a new girlfriend and we learnt that he disapproves of his wife's new lease of life. He told the detectives that she'd slept with half a dozen men in the last six months and was too fond of booze and fags for his liking.
Later, in her ABE interview – there is a lot of jargon this series, I googled it, it means Achieving Best Evidence, basically the video testimony used in court – Trish detailed all she'd drunk that night. This was clever stuff as it got viewers questioning their own prejudices. Could we trust someone who'd knocked back at least a bottle of wine anda few vodkas, chased down with shots? What about the fact that Trish had had sex that morning, with a stranger she claimed, before aborting the ABE recording? Did those details change the way we viewed her? Julie Hesmondhalgh continued her unflinching performance as Trish, still reeling from the attack. She looked drained, as though the ability to smile and been taken away from her. Avoiding eye contact and fiddling nervously with her hair, she was a long way from an image of a happy-go-lucky woman downing tequila slammers with her colleagues. "I feel so ashamed, I wish he'd just killed me," she told Beth Latimer about her attacker.
Hesmondhalgh's performance saved the fact that it is more-than-slightly implausible that Beth Latimer just happened to be assigned the case. And I bet the cast were cursing Chibnall for all his research. ISVAs (Independent Sexual Violence Advisor) is not an easy acronym to pronounce (as both Jodie Whittaker and Olivia Colman could attest after this episode). Oh and obviously Beth is bezzies with the detective sergeant on the case. But then again, that gave us a moment to appreciate Beth and Ellie's friendship – and a bit of lightness from two talented actresses sandwiched between the heavier scenes.
Trish's daughter, Leah (Hannah Millward), was back from London and we saw the start of how hard the attack on her mum will be to come to terms with. It would ruin the fun to eliminate any of the men in the frame, they all had something of the creepy lurker about them, not least Michael Lucas (Deon Lee-Williams), the taxi driver with a dodgy radio. We met cocky fishing twine salesman Leo Humphries (Chris Mason) and re-met the still enigmatic Ed Burnett (Lenny Henry), who turned out to be DC Harford's dad. Questioning all these potential suspects gave the opportunity for Hardy and Colman to go from taking the sensitive approach to uncompromising detective mode. I much prefer the latter Hardy. With his rimless specs and those distinctive sharp features, taking in every last bit of evidence, he was like a falcon eyeing up its prey, scanning the landscape for a target and biding his time before an inevitable effective swoop.
There was no swooping this episode though, there are just six more hours to go, so we must savour the hunt - occasional clunky writing and all.
Join our new commenting forum
Join thought-provoking conversations, follow other Independent readers and see their replies