Daniel Mays on Tony Martin drama The Interrogation: 'I don't quite know what I would do'
As the new drama airs on Channel 4, the actor speaks to Alexandra Pollard about the murder case that inflamed the nation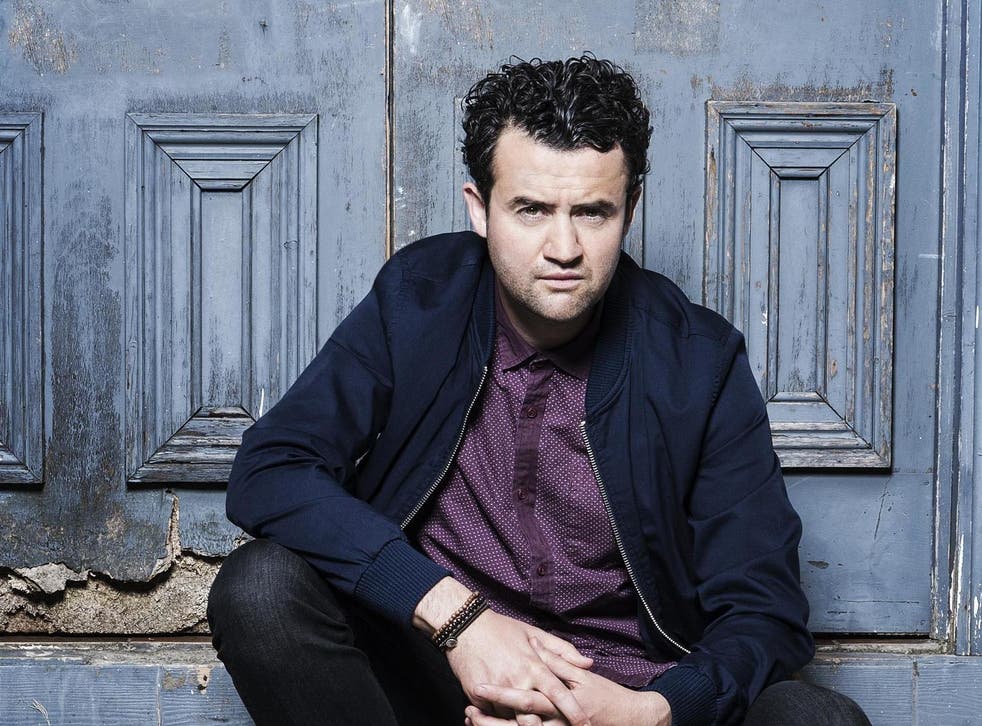 "God, I've played a lot of policeman," says Daniel Mays with a smile.
He's not wrong. Think of his role in Ashes to Ashes as DCI Jim Keats, a slyly charismatic discipline and complaints officer, who also happens to be a demon sent from hell. Or as a 19th-century constable investigating a series of grisly murders, alongside Bill Nighy, in The Limehouse Golem. Or as police deputy Cullen in the 2017 miniseries Guerilla, set against the backdrop of the British black power movements.
Perhaps his most powerful constabulary turn, though, was in the third series of Line of Duty, in which he played a ruthlessly corrupt firearms officer covering up his unlawful lethal shooting of a suspect. He plays the part brilliantly – calculated, efficient, disarmingly well informed – but in person, he doesn't exactly have the authoritative vibe. Relaxed and effusive, he speaks with his whole body – leaning back and stretching out his arms to emphasise a point, or indicating enthusiasm by placing his hands, and then briefly his forehead, onto the table of the Soho members club in which we've met. After Line of Duty, he says, he decided he was done playing plods. Then came The Interrogation of Tony Martin.
Daniel Mays on The Interrogation of Tony Martin
The one-off factual drama, which airs on Channel 4 on Sunday, centres around the real-life interrogation of Tony Martin (played by Happy Valley's Steve Pemberton), the farmer who shot and killed a 16-year-old boy who was burgling his secluded home in 1999. Mays plays one of two police officers trying to get to the bottom of what happened. When the role came around, he lifted his police officer hiatus for two reasons: the challenge of performing the lines verbatim, from actual transcripts, and the near-impossible question it raises: what would you have done?
"I guess a lot of people," he says, "would say he was right to do what he did. I've never been burgled. I don't quite know what I would do if it was the dead of night and there was someone in the house, and my kids were asleep upstairs." Mays has two children, aged 12 and five, with his wife, the makeup artist Louise Burton. They've been together for 14 years, and got married this summer. "I suspect I would defend everyone as much as I could."
The difference, of course, is that Martin had a shotgun within arm's reach. "I've got mates that have got… you know…" (I assume he's talking about guns, but he thinks better of articulating it) "…or baseball bats and things like that under their bed," says Mays. "I don't have anything like that. I've never got anything to hand."
He believes the issues raised in The Interrogation also apply to the gun control debate in the US. "There will never be a president who will ever address any of those gun laws," he says, "because it's in the Second Amendment, innit? The only way you'll ever get rid of mass shootings is to take it away. I mean, imagine Donald Trump being the president that really addressed that issue." He starts to chuckle. "If he really wanted to right the wrongs he's done already, it would be that, wouldn't it? But it's never, ever gonna happen."
Mays is thrilled at the prospect of The Interrogation prompting conversations like this one. "If any piece of drama raises debate," he says, "and sort of holds the mirror up, then it can only be a good thing."
But he believes there's worth, too, in looking at "the mundane banality of life". Mike Leigh, who directed Mays in All or Nothing and Vera Drake, is the master of that. "Everyone's life is extraordinary if you look at it closely enough," says Mays. "But the Mike Leighs and Ken Loaches are not gonna be around forever, so films about people from a poorer class… that box still needs to be ticked."
When he first went to Rada, Mays, who was brought up in Essex by an electrician father and bank cashier mother, felt immensely out of place. "There were all these phenomenally well-educated people that had done Shakespeare and all this sort of stuff," he recalls, "and that first six months I was just like, 'I can't get on here. I don't know what I'm gonna do.' There was an element of, 'Oh, there's the Cockney kid, there's Danny from Essex'. People would go, 'Awlright Danny', in a mock London accent to me, which would secretly really piss me off, because I was just being judged. But in the end, I just had to let all of that go."
Access unlimited streaming of movies and TV shows with Amazon Prime Video Sign up now for a 30-day free trial
Sign up
Now, he's moved on. "I'm not gonna get into the whole debate about working class actors as opposed to public school boys," he says, "because a lot of those people are my friends and they're brilliantly talented. I'm just conscious that there should be a balance."
While those friends landed roles as upper class charmers, Mays found himself specialising (along with police officers, of course) in characters "you'd cross over the street to avoid". The British actor has played an accused serial killer (Red Riding), an abusive boyfriend (All or Nothing), a recovering heroin addict fresh out of prison (Rehab), and a man convicted of strangling his girlfriend (Public Enemies). When he left drama school, the principal told him he needn't worry about his future – that he'd make a career for himself playing damaged young men on the edge. "And do you know what?" says Mays. "It was absolutely true."
"I dunno, I was just sort of drawn to characters that had a lot of angst," he says, fiddling with the popped collar of his jacket. "I guess I'm always drawn to the underbelly of someone, really, as opposed to how heroic they are. I don't judge those sorts of people. I have to ask the question, 'What's happened in their life that has shaped them in such a way?' I guess that's always been my forte. I want to find the humanity in them."
Mays played one such character, written with him in mind, in Simon Stephens's Motortown – a play about a deeply damaged soldier returning home from Iraq. It premiered in 2006. The Daily Mail described it as "depraved snuff theatre"; the Royal Court proudly emblazoned that quote on the blackboard outside.
"I remember people leaving," recalls Mays, of a scene in which his character tortures and kills his ex-girlfriend. "It was just too gruesome to watch. But I've never, ever been shy in trying to humanise all those dark characters."
He credits the Royal Court, alongside Mike Leigh, as the biggest influence on his career, praising its artistic director Vicky Featherstone for her sensitive, progressive leadership. Featherstone implemented a code of conduct within the rehearsal room to ensure her actors, particularly female actors, felt comfortable. "Which is amazing," says Mays. "For women, at any point, to feel a sense of vulnerability within that working space is a dreadful thing really.
"A theatre rehearsal space needs to be open," he adds. "I mean, you have to take risks, don't you? You have to be in a state of trying things and letting things fail. It all comes down to trust. There has to be an implicit safety net, and feeling of trust with one another, in order to create art. If women are feeling vulnerable in that sense, then they can't fulfil their job."
The #MeToo and Time's Up movements that have recently emerged, he says, "can only be a good thing". But he has concerns, too. "I'll be honest with you, I'm very tactile… I'm sort of open. I mean, I don't necessarily give my makeup artist a hug when I say goodbye now. Seriously. I'm more conscious of that. I guess in the past, I'd have hugged someone goodbye. That's actually quite a sad state of affairs, though, isn't it? You just hear these stories in the press of actors that have been pulled up on those sorts of circumstances. So I'm definitely much more conscious of it." If he's more cognisant of his behaviour, though, however benign, surely that's a good thing? "But is it somehow inhibiting how we communicate as people? I don't know."
"But anyone with any sense," he adds hastily, "knows that there's a line and, that line shouldn't be crossed. If you're raised well, you know right from wrong like that, don't you? So we've all got to be grown up about it."
I'm surprised by Mays's willingness to grapple with his thoughts on such a contentious issue so candidly. It seems indicative of someone who doesn't hold much back. He disagrees. He is, he insists, careful with what he shares. "You do see other actors where they just open themselves up to the point where there's nothing left to discover anymore," he says. "But I still try and hold an element of myself back. There's still an element of me able to hide in the performances I play, or convince people I'm that person. So even though I've not really had that one standout role as such, that has stamp-marked me, maybe that's to my benefit."
He's not without ambition though. "I definitely want to try and do something in America," he says. "But I don't want to go there and do terrible work. I have a high benchmark of the stuff that I wanna do, so I don't wanna go over there just for the sake of it. It needs to be the right thing. I don't have a game plan – I never know what's round the corner, but I feel like there's still characters I haven't played. There's so much more I can still give."
The Interrogation of Tony Martin is on Sunday on Channel 4 at 9pm
Register for free to continue reading
Registration is a free and easy way to support our truly independent journalism
By registering, you will also enjoy limited access to Premium articles, exclusive newsletters, commenting, and virtual events with our leading journalists
Already have an account? sign in
Register for free to continue reading
Registration is a free and easy way to support our truly independent journalism
By registering, you will also enjoy limited access to Premium articles, exclusive newsletters, commenting, and virtual events with our leading journalists
Already have an account? sign in
Join our new commenting forum
Join thought-provoking conversations, follow other Independent readers and see their replies