Desiree Akhavan interview: 'Bisexuality is taboo in both the queer and the straight world'
Akhavan speaks to Alexandra Pollard about her new Channel 4 comedy 'The Bisexual', which explores the sexual orientation still seen as 'gauche'
Tuesday 09 October 2018 09:29 BST
Comments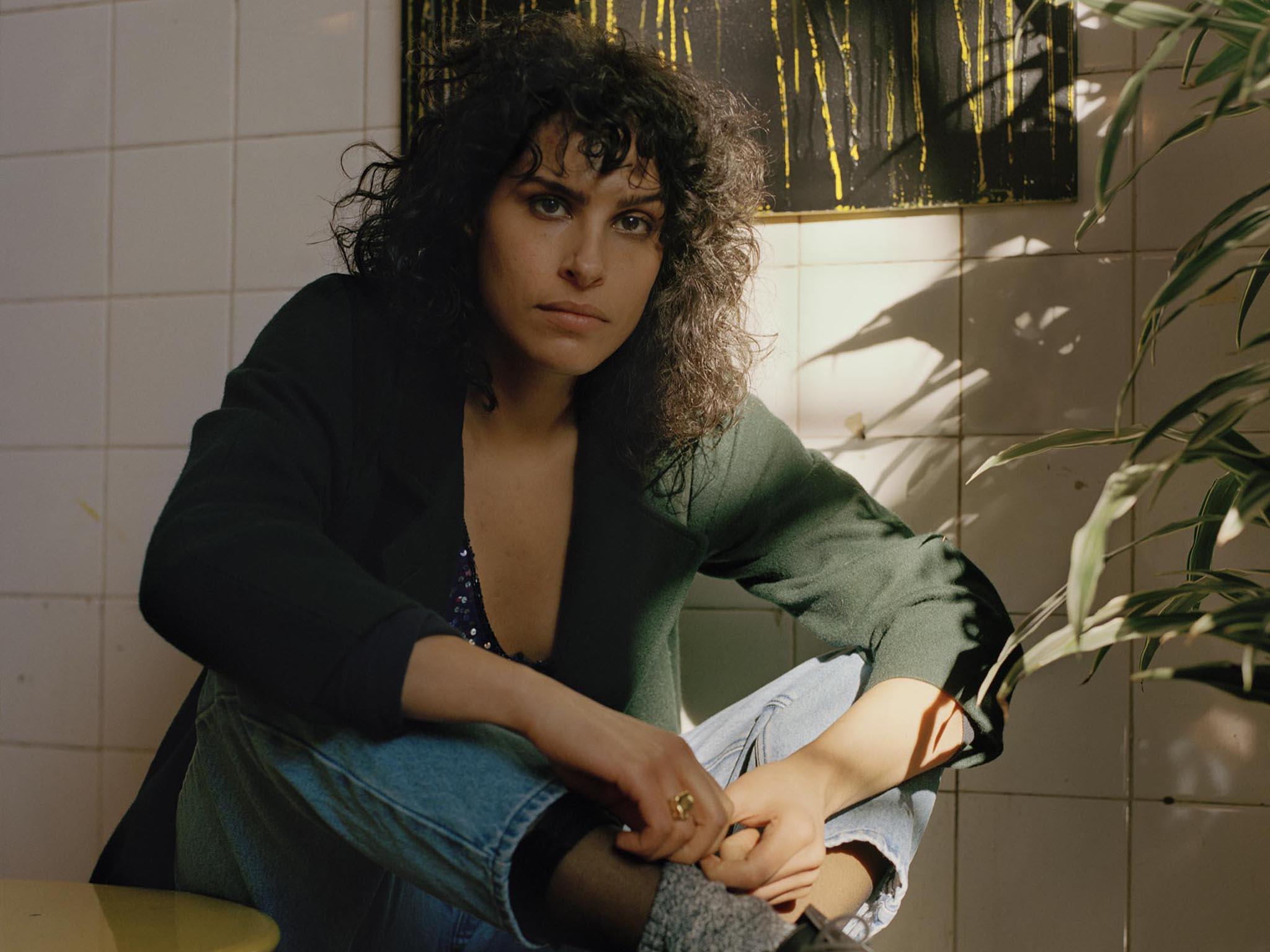 When Desiree Akhavan first dreamt up The Bisexual – a comedy-drama series about a lesbian who realises she's also attracted to men – she pitched the idea to just about every network in LA. It didn't go well. One told her that they already had Transparent, a show full to the brim with queer people, and thus had no need for another. The next said they already had a female, brown-skinned lead in The Mindy Project (never mind that Akhavan is Iranian-American, and Mindy Kaling is Indian-American). And on it went. For most people in her position, such preposterous, blinkered decision-making would be demoralising – but for Akhavan, all it did was "light a fire under my ass".
"I was like, 'OK, [LA] isn't where my home is. I'm gonna go figure it out,'" she says matter-of-factly, vaguely surprised by how shocked I am at their stupidity. We're in an office room in the London headquarters of Channel 4, the only network that did recognise the potential in her idea. I'm catching her, she says, "on a loooong day of press", and she's wearing the day's demands heavily, her body-language weary, her spirits fluctuating. In her answers, though, she is relentlessly sharp.
"There is no rule that you can only have one queer show and one female-driven show," she says, "but they made up that rule for themselves that year, those executives, and maybe they're gone now, but you find another door. When it comes to making work in this industry, some people feel you have to follow the rules, and I don't. I don't care about the rules."
If she had, she might not have made her funny, caustic feature film debut, Appropriate Behaviour, which put her on the map (and prompted copious Lena Dunham comparisons) back in 2014. Or cowritten and directed this year's Sundance Grand Jury Prize-winning The Miseducation of Cameron Post, which stars Chloe Grace Moretz as a teenager sent to a gay conversion camp. Or blazed forward, after countless rejections, with The Bisexual – and judging by the first two episodes, that would have been a travesty.
The six-parter begins with an ending: after 10 years with her girlfriend and business partner Sadie (a typically brilliant Maxine Peake), Akhavan's Leila finds herself bluntly turning down a marriage proposal. "We've talked about kids and marriage," says Sadie, incredulous. "We've talked about it abstractly," says Leila. "We've also talked about euthanasia."
Instead, she instigates a break – fuelled, in part, by the knowledge that she has never fully explored her sexuality. Usually, later life sexual awakenings involve edging further up the Kinsey scale – but for Leila, it means readjusting her six (exclusively homosexual) and dipping a toe into the world of heterosexuality. Or, heaven forbid, bisexuality.
Akhavan herself is bisexual, but for reasons she tries to unpick through her work, the word has always made her shudder. "Just the very nature of being attracted to men and women implies duplicity," she says. "Bisexuality feels like something that is taboo in both the queer and the straight world. It's gauche, it's in bad taste, it's tacky."
It certainly made it more difficult to come out to her Iranian parents. "'Well, if you could choose," she once recalled them saying, "why would you choose something that makes everyone so unhappy and that makes your life worse?'"
A few times recently, Akhavan has referred to bisexuality as "the last taboo". Today she is more reticent to make such a claim. "It's tricky because I'm sure there are other taboos that will now be like, 'What about us?'" she laughs. And surely there are many people for whom homosexuality itself is still taboo? "Sure," she says, "but you have your community. You have safe spaces, and there is an identity to it. I don't think there's quite the same identity to this lifestyle."
Access unlimited streaming of movies and TV shows with Amazon Prime Video
Sign up now for a 30-day free trial
Sign up
Access unlimited streaming of movies and TV shows with Amazon Prime Video
Sign up now for a 30-day free trial
Sign up
"Also, you're defined by who you happen to be with at the moment," she continues. "If you're with a same sex partner, you're living a gay life; if you're with an opposite sex partner, you're living a straight life. You're always one foot out the door."
Though The Bisexual depicts this struggle with Akhavan's characteristic mix of humour and emotional heft, it doesn't exactly offer up any answers. "I don't have an agenda," she shrugs. "I'm just trying to figure sh*t out for myself."
It is with the help of her new housemate Gabe (Brian Gleeson) – a straight, white man who's sleeping with his 22-year-old student and wrote a book called Testicular – that Leila tries to figure her sh*t out, as she begins to explore relationships with men. "I wanted it to be this buddy comedy between a bisexual woman and a straight man," she says, "and they would never fall in love."
Gabe was based, in part, on Akhavan's brother. "I'm very sensitive about how my brother responds to my work, and anything that's remotely queer," she says. "It's hit and miss. Sometimes he's really touched by things, and other times he can be so dense and obtuse. He frustrates me a lot. But Gabe is trying, and so is my brother. My brother who pisses me off so much, and says the most offensive things… but his heart is in the right place and he always means well. And we're really honest with each other. I think we all need tolerance. Like, putting my brother in a box and being like, 'Well you're just a bigot,' is ignorant of me."
She is similarly wary of the rifts that occur between members of the LGBTQ community. At this year's London Pride, for example, when members of lesbian group Get the L Out made their way to the front of the march to protest against trans rights. "Those same lesbian separatist types," says Akhavan, "are the ones who are disgusted with the term queer. I just don't understand being so allergic to the evolution of what it is to be homosexual. It's not gonna stay the same, because the world's not the same. To feel so marginalised, and to feel so threatened by someone else's journey, like, it's none of your f***ing business."
Akhavan herself has faced a smattering of criticism from within the queer community, for her decision to cast Moretz – who has only publicly dated men – as the lesbian lead of Cameron Post. She agrees that it's important for queer people to be at the helm of queer projects, but thinks there should be room for nuance in the debate.
"I'm not gonna make assumptions, especially not publicly, about Chloe's sexuality, but I will never apologise for casting Maxine," she says. "Maxine is old enough that I feel comfortable saying she's straight-identified, and she was the only person I wanted to play that role. I think she lent authenticity and heart to that role. She had an emotional gravitas that made the whole series land." If it was entirely straight people running the show..., I begin, "… then that would suck, but like, this is my world," she says, referring to the LGBTQ community.
And you can tell. From the specificity of place – Leila takes Gabe to actual London lesbian night Aphrodyki ("F*** inclusivity," says Leila's friend as they walk in, "I want one space that makes me feel the way my brothers feel when they walk into Wetherspoons") – to the dynamic between Leila and her acerbic best friend Deniz (a scene-stealing Saskia Chana), and even the enthusiastic but semi-apologetic L-word references, The Bisexual feels authentic, but never alienating. This is not a show that could have been made by the executives who turned it down – and it is one of the best things on TV this year.
Which makes it all the more galling that it nearly didn't see the light of day. I wonder aloud how much great work we'll never see, because its creators gave up when met with the kinds of rejections Akhavan came up against. "Oh yeah, then they shouldn't do it then," she says bluntly. I laugh. She doesn't. "I honestly think if you give up, if that is gonna dishearten you, you're in the wrong line of work."
"This work – and all work, anything that matters – is hard to make," she says, becoming increasingly animated. "It was exhausting, it was challenging every step of the way, but that's what it is to do anything. Parenthood is hard. Love is hard. Things are hard. And if every time something in your life felt impossibly frustrating you were like," she brushes the imaginary dust from her hands, "then what would you do?! It's hard!"
She hopes that the hard work has paid off – and that the show resonates with people. "I really hope that the gay community loves it, I hope reviewers love it, I hope janitors love it," she says. "I really, really do want to reach a wide audience, because that's when change happens. But if you tell me at the end of the day that just one 14-year-old lesbian liked my work, I'd be like, 'Great. That's cool. Because she needed it more.'" She pauses. "But also, it would be great if neo-Nazis liked my work, because they need it too! In a different way."
Ultimately, though, it's enough for Akhavan that she and her creative partner Cecilia Frugiuele are proud of the show they've made. The rest is out of her control. "Sometimes you see things do so well that are sh*te, you never know," she says. "And maybe it's not the right time in history. I very much hope it speaks to everyone. If it doesn't, that's fine too. I'll keep going."
'The Bisexual' begins on Channel 4 on Wednesday 10 October
Join our commenting forum
Join thought-provoking conversations, follow other Independent readers and see their replies