TV preview, Famalam (BBC3): A sublime achievement of satire
Sean O'Grady enjoys another great BBC3 comedy, has doubts about the Queen's double act with Sir David Attenborough and ponders how far race relations have changed in 50 years
Sean O'Grady
Friday 13 April 2018 17:26 Comments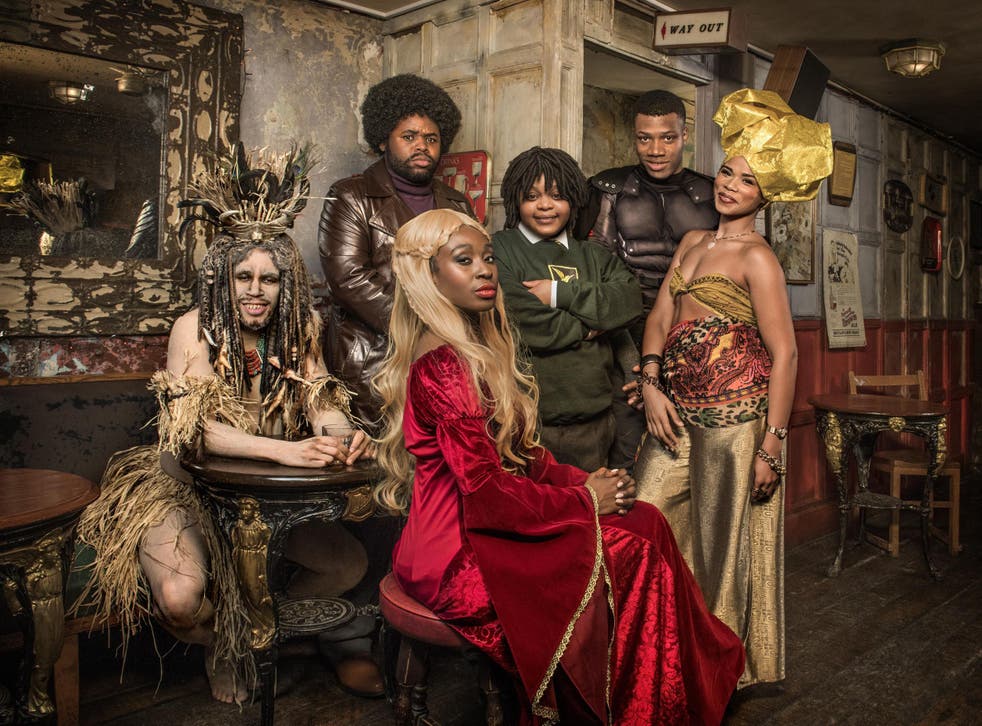 The mark of truly great satire is that it can make you laugh even if you're not quite familiar with that which is being satirised. Such is the sublime achievement of Famalam (street slang for close friends and family, I believe), and its all-black cast.
Thus, although I have never knowingly watched a Nollywood movie, the absurdly low production values and abysmal moral values of the Nigerian entertainment industry are sent up reliably every week, courtesy of the Famalam team's "Fantastic Egusi" studios, which specialises in gaudy graphics and clankingly unconvincing green screen effects. These are all employed to magnificent ineffectual effect with a meticulous attention to every awful detail. Plus, they feature some of the worst acting this side of Emmerdale (and actors doing bad acting have to be very good actors indeed).
This week's Egusi production is a knock-off Game of Thrones adventure entitled "Medieval Kingdom of Kingdoms", and stars "Babatunde Warrington as Icy John", "Abiola de la Fufu as Kalypso", "Folarin Soyinka Oyenusi James as tiny Worm" and , er some sort of wolfman thing.
Like all the best sketch shows, Famalam is a mix of comforting recurring characters and scenes, but tweaked with a delightful and clever wit on every outing. My favourite sketch has to be Midsomer Motherf***in' Murders, an inventive clash of 1970s NYC fast-talking cop – best conceived as a fat Shaft, landing in a quintessentially English village where "diversity" is an alien concept. Each week, Detective Moses Mountree arrives in his Chevy V8 coupe on the village a green complete with Afro, sunglasses, leather coat and foul, racist mouth. And every single bit of the writing works with extreme precision, shocking equally for its lampooned racism and its accomplishment – by any standard. Famalam reminded me a lot of the best of The Fast Show and Little Britain.
If you like (and I do), Famalam is doing for black comedy what the groundbreaking Goodness Gracious Me did for Asian comedy – moving past skin colour into the realm of pure mirth. After a short while I stopped fretting about the political correctness of it all, and just allowed myself to enjoy it. So should you – and so grateful thanks to the creators: Vivienne Acheampong, Gbemisola Ikumelo, Samson Kayo, John MacMillan, Tom Moutchi and Roxanne Sternberg. I'm not surprised, by the way, that Kayo is up for a Bafta for his portrayal of a (genuine – a smart ironic twist) Nigerian prince sending out emails trying to get people to take his millions of dollars or cure for premature ejaculation. Unlike Prince Alyusi, I think Kayo will find a ready market for his dramatic skills.
Famalam, then, is another remarkable BBC3 comedy hit, and you can find it, plus the last two runs of This Country and the new Wannabe mockumentaries, all on the online channel and iPlayer and sometimes popping up at odd hours on BBC1. Plus a new series of People Just Do Nothing is on its way. Maybe BBC3 should return to digital terrestrial as a dedicated BBC Comedy channel. Just a suggestion.
Her Majesty the Queen must be one of the most photographed and filmed women of all time, but usually she doesn't say much not scripted by her ministers. Still, at almost 92, she seems a bit more inclined to let light in upon the magic of monarchy these days, albeit in a highly controlled and suitably respectful/fawning environment.
You might recall her genuinely quite charming tips on wearing a great big crown a few months ago, and now, in The Queen's Green Planet, she joins Sir David Attenborough in a less successful double act with jokes about trees – never the easiest of material. Usually, as with the Friday night helping of Have I Got News for You, back for a new run for the 94th year, the very mention of Donald Trump is usually guaranteed to get a laugh, but sadly Elizabeth II's wisecrack about the president and aircraft noise flopped. Mind you, she's kept her idiot son waiting for The Job for a half a century now, to his visible frustration, so there's plainly nothing wrong with her comic timing. (Of course, Diane Morgan as Philomena Cunk as Queen Victoria is a proper comedy queen in Cunk on Britain).
By far the most important series starting next week is Stephen: the Murder that Changed a Nation. It is now a quarter of a century since the brutal, racially motivated killing of a teenager at a bus stop in southeast London. Given the current scare about knife crime the documentary and the heartbreaking story of Stephen Lawrence has an especial resonance at the moment, and the documentary makers have assembled an impressive cast to talk about the case and its coverage, notably including the editor of the Daily Mail, which led the campaign for justice, a cause that is, to many minds, still unfulfilled. For those too young to recall the original events, it should serve as a timely reminder of just what went wrong with British race relations and the progress (though incomplete) we have made since.
Access unlimited streaming of movies and TV shows with Amazon Prime Video Sign up now for a 30-day free trial
Sign up
By the way, if you are in any doubt about the seismic change in British race relations and the success of the multicultural society, then you are invited to watch Rivers of Blood: 50 Years On. It's a reprise – one of many I think – of Enoch Powell's infamous speech about the dangers of "coloured immigration", as it was called, and how it would inevitably lead to civil conflict, even war (in Powell's apocalyptic vision). Yet everything we have seen since is a monument to how people of so many different backgrounds can be as British as Powell himself, if given the opportunity and the respect to do so. Enoch was wrong, you see.
Johnny Vegas is back in a family and class-based sitcom, Home from Home, which is about people hanging out in a holiday village in the Lake District. The show features an extremely strong cast – Vegas of course, Emilia Fox, Paul Barber, Adam James, and some very talented young players, and the settings are sumptuous.
What lets it down, I have to say, is the writing and some of the plot lines, which fall a bit too short a bit too often. Vegas's indignant monologues are the much the most amusing interludes, but there just aren't enough of them, and Fox never really gets the chance to be the kind of Margot Leadbetter/Hyacinth Bucket-style snobette she would clearly do brilliantly.
Some sharper dialogue and intricate story lines, then, could save Home for Home, but I have my doubts. Like the unironically named Bad Move, the ITV sitcom vehicle created for Jack Dee, and on a similar premise, "family" comedies are usually doomed, even with a brilliant standup artist underpinning the effort. A shame.
Famalam (BBC3, online); The Queen's Green Planet (ITV, Monday 9pm); Have I Got News for You (BBC1, Friday 9pm); Cunk on Britain (BBC2, Tuesday 10pm); Stephen: the Murder that Changed a Nation (BBC1, Tuesday to Thursday 9pm); Rivers of Blood: 50 Years On (Channel 5, Friday 10pm); Home from Home (BBC1, Friday 9.30pm)
Register for free to continue reading
Registration is a free and easy way to support our truly independent journalism
By registering, you will also enjoy limited access to Premium articles, exclusive newsletters, commenting, and virtual events with our leading journalists
Already have an account? sign in
Join our new commenting forum
Join thought-provoking conversations, follow other Independent readers and see their replies