25 years, 70 episodes, 700 million viewers: Suchet hangs up his homburg
Series finale filmed first to help actor cope with end of an era
Nick Clark
Friday 01 November 2013 19:17 Comments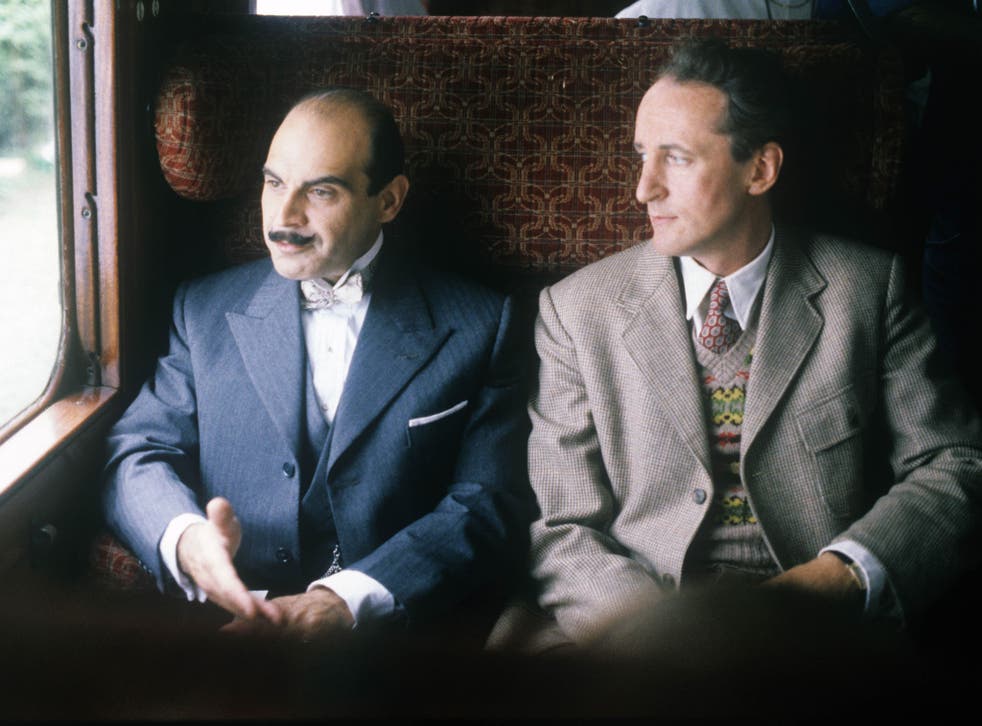 After a quarter of a century, 70 episodes and 700 million viewers, David Suchet is to hang up Hercule Poirot's homburg. The last series had to be shot out of sequence so the actor did not become too emotional during filming, and he waved goodbye with a poignant last shot.
As the last episode airs this month, Suchet bids farewell to "one of my very dear best friends", the celebrated detective created by Agatha Christie.
Suchet, 67, first donned the iconic moustache in 1988 when he filmed The Adventure of the Clapham Cook. His last appearance comes on 13 November with Curtain: Poirot's Last Case.
Michele Buck, the show's executive producer from Mammoth Screen, who has worked with Suchet on Poirot for 12 years, said: "We've done it. We've made the cannon. It is the end of the franchise after 25 years."
After such a long time as the character "David knows him inside out," Ms Buck said. "He has read all the books and written on a bit of paper every single detail and nuance that may affect the character." He carried the paper with him at all times during filming. He was picked by the Christie estate and said he had made a promise to the writer's daughter Rosalind Hicks not to make Poirot a caricature. "You can smile with Poirot but we must never laugh at him," she told him.
A range of actors have played Poirot but Suchet's is generally regarded as definitive. And it has proved popular around the world. ITV said at least one series of Poirot has been sold to every country in the world.
Many of the crew have stayed with it, and Suchet's driver has remained the same throughout all 13 series of the show. Of the actor, Ms Buck said. "He's the most charming, avuncular, witty, generous man. He's really collaborative, he cares. He knows his lines. He researches. He does these huge 10-page denouements, and to deliver it with conviction and correctly takes an awful lot of work."
For Curtain he went on a nine-month diet and shed two and a half stone to play the detective as a much older man, confined to a wheelchair and dying. ITV has shown no one the last episode. The production team shot Curtain first in the series so Suchet would not become too overwhelmed in filming the detective's death.
Ms Buck said: "David did not want to finish with that. He said it would be too emotional. The shooting was very sad and depressing, but at least we had four more Poirots to shoot." Suchet then spent the two-month break "eating the weight back on". The final episode for the cast and crew was Dead Man's Folly. The production secured Christie's house for the five-day shoot; the book was had its location there.
Access unlimited streaming of movies and TV shows with Amazon Prime Video Sign up now for a 30-day free trial
Sign up
Ms Buck said: "The very last shot we shot was the scene of Poirot in front of Agatha Christie's house walking into the real front door of the house. David said: 'Who am I now? Am I David Suchet walking into Agatha Christie's house or Poirot walking into the location. It was a whole mixture of fact and fiction. It was mad."
The wrap party was held in a marquis in the grounds of the house. "It was all done and dusted properly. I wasn't sad that night. I was thrilled we actually completed the making of every single book," Ms Buck said. "It's still so early. We'll be sadder later when we know it's not coming back."
Of saying goodbye to Poirot, Suchet said it was "terrible, awful, I'll never forget it". He added: "I would love Poirot to be remembered fondly and it goes without saying he is the greatest detective in the world."
POIROT: FACTS OF THE CASE
* 25 years with Suchet as Poirot
* 13 Series
* 70 episodes
* 200 broadcasters worldwide show 'Poirot'
* 8 hours to prepare the moustache, which is made of yak hair and uses Fawcett's Gentleman's Stiffener, before each series
* 700 million viewers worldwide
* 10 hours of re-watching old performances before each series for Suchet
* Suchet's first episode was 'Poirot: The Adventure of the Clapham Cook'
* Suchet's last episode as Poirot: 'Curtain: Poirot's Last Case'
* While preparing for the first episode, Suchet compiled 96 facts about Poirot's character
* The fictional detective is 5'4" tall
* 20 Bafta nominations and 4 wins
* Guest stars in the series have included: Jessica Chastain, Damian Lewis, Hugh Bonneville, Michael Fassbender and Emily Blunt
* 5.7 million UK viewers watched 'Murder on the Orient Express' in 2011
* 'The Mysterious Affair at Styles': Christie's first published Poirot novel
* Poirot appears in 33 novels, one play and 54 short stories
* 9 actors have played Poirot including Peter Ustinov and Albert Finney
* Charles Laughton was the first actor to play Poirot in 1928 in the theatrical debut of 'Alibi'
* Austin Trevor was the first Poirot on screen
* Suchet wore a fat suit to play the detective, which he referred to as his "armadillo suit"
* Suchet has been associate producer since 2003
Register for free to continue reading
Registration is a free and easy way to support our truly independent journalism
By registering, you will also enjoy limited access to Premium articles, exclusive newsletters, commenting, and virtual events with our leading journalists
Already have an account? sign in
Join our new commenting forum
Join thought-provoking conversations, follow other Independent readers and see their replies