Aidan Gillen - A slippery player you can bank on
From 'Queer as Folk' to 'The Wire', Aidan Gillen is an actor who refuses to be typecast. Next up, he plays a high-flying City boy in 'Freefall', the BBC's new credit crisis drama. Gerard Gilbert meets him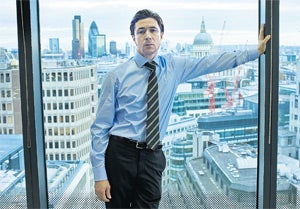 The BBC seemed to have spotted the green shoots of economic recovery. Either that or they're guessing that we'll all be bored witless by the credit crunch by the end of the summer – the original transmission date for its big new recession drama, Freefall. Dominic Savage's improvised tale of bankers and their dodgy-debt bundles, and high-pressure salesmen flogging mortgages to people who can't afford them, was due to be shown at the very end of August. Wisely, that has now been brought forward to next week.
The rescheduling also means that sooner rather than later we can welcome back to British TV drama Aidan Gillen, the Irish actor who first caused a stir as gay advertising executive Stuart in Queer as Folk. More recently, Gillen has been in Baltimore, playing ambitious but slippery city politician Tommy Carcetti for the final three seasons of The Wire, the HBO saga that has been hailed as the greatest TV drama ever made.
"Don't ask me to comment on that," he says. "I was pleased to have been involved. But of course when you're looking at other scripts afterwards..." Gillen leaves the rest of the sentence unspoken – how do you follow a drama like The Wire? Gillen was "doing Pinter" on Broadway (a Tony-nominated role in The Caretaker, in fact) when spotted by David Simon, who was then creating the character of Carcetti. The role brought out Gillen's marvellously elusive quality, although in the flesh – sitting somewhat unconventionally on the floor of his trailer – he seems more diffident than slippery, with sudden darting movements, to put the kettle on or grab a cup. I found myself jotting down the word "puckish".
"I finished shooting The Wire 18 months ago," he says in a soft Dublin drawl, "but it's had this very welcome afterlife, being picked up later in different places. It feels that it's very much around, which is a good thing."
BBC2 is currently showing the third season, Gillen's first, so I won't spoil the story for any Wire latecomers; Gillen himself offering: "I hope he's not just coming across as smarmy. I'd say he's flawed, but driven."
Not unlike his banker in Dominic Savage's Freefall, in fact. Gillen's Gus is making an obscene amount of money out of mortgage CDOs (Collateral Debt Obligations, as Gus explains to his estranged and entirely uninterested teenage daughter) – the dodgy-debt bundles that nearly destroyed the banking system.
Savage's vivid, well-cast drama, which brings to life the causes of the current financial crisis, interweaves the stories of three men: a pushy mortgage broker, Dave, played by Dominic Cooper (Mamma Mia, The History Boys), and a school friend of Dave, a security guard (Joseph Mawle) who unwisely lets himself be talked into taking out a mortgage.
And then there's Gillen's character. When we first meet Gus it's 2007, and he's still a fully fledged, rather seedy master of the universe, masturbating in the toilets to celebrate a successful deal, and telling his workforce how "We are liberating millions of people who ordinarily couldn't get a mortgage."
"He's a successful banker who lives for his job while at the same time being strangely lifeless," explains Gillen. "He's so detached from real life that it's no longer even about the money." He says he enjoyed the improvisation required in Freefall. "For an actor, improvising is liberating. It's not easy, it doesn't always work, but if you're prepared to look stupid then it can be rewarding. It depends on what you bring to it."
Access unlimited streaming of movies and TV shows with Amazon Prime Video
Sign up now for a 30-day free trial
Sign up
Access unlimited streaming of movies and TV shows with Amazon Prime Video
Sign up now for a 30-day free trial
Sign up
The hardest part was, he says, learning the financial lingo – verbiage as impenetrable as the debt bundles Gus is trading in. "The jargon was scripted by an adviser," he says. "You'd have to study for years to get it right first time."
For Gillen, working hard in the US for the best part of the last five years, the economic boom only really hit home when he returned to his native Dublin in 2007, at the zenith of the Celtic Tiger years, to play Teach in David Mamet's American Buffalo at the Gate Theatre.
"It did change Dublin a lot," he says. "But it was heartening to realise that Dublin as I knew it was still there," he says. "It may have been scrubbed up and all that, with entire new areas and suburbs merging into each other but the Dublin character is still there. And it will remerge ... it feels so post-Celtic Tiger so quickly.
"But I do love Ireland and there were a lot of good things that came in with [the boom years]. It's all very well harking back to the days of nowhere to go after 11 o'clock, battered cars everywhere and eating chips for your main meal."
The sixth in a large family growing up in the suburbs of Dublin (Gillen's real surname, Murphy, was changed for Equity reasons), he got his first film role by "gate-crashing the set, basically" of Jack Clayton's 1987 film of Brian Moore's The Lonely Passion of Judith Hearne, starring Maggie Smith, earning £700 for a day's work as "Youth in Liquor Store". But it was Russell T Davies's groundbreaking Queer as Folk – the Channel 4 drama that introduced "rimming" to prime-time television audiences – which catapulted him into the limelight.
"It made an impact – it was supposed to," he says. "But it had enough going for it. It had enough intelligence that people could never make that argument that it just contained scenes of graphic shocking sex. I suppose if you've never seen that sort of thing on mainstream television it may be shocking..."
Gillen says he was fully prepared for some sort of homophobic abuse, but received surprisingly little. "Two or three times, both involving Irish people, not that that's relevant..."
He now spends as much free time as he can muster at a new home in Kerry, with his Irish wife, Olivia, and their two children Berry and Joe. "It's to give the kids the chance to spend some time in Ireland, because both their parents are Irish, and in the countryside, because they've spent all their lives in cities (the children are aged 8 and 11). By the time I moved back to Ireland I had spent half my life out of it without really realising.
"I have done my 20 years of scooting around to be wherever people need you to be to meet about a job, or do a job, so I'm quite happy to live where I want to live, to have some sort of control and a fixed part of my life."
On the day we meet, he's in London, filming Identity for ITV. A drama with some of the flavour of Without a Trace, about a fictional squad who investigate criminals abusing fraudulent identities, it co-stars Keeley Hawes from Ashes to Ashes.
"It's quite mainstream," he says. "But there's nothing wrong with mainstream crime drama... Cracker and Prime Suspect – both of them made by ITV – are top of their genre. David Simon who wrote The Wire is a huge fan of Prime Suspect... there are connections there." Gillen, it seems, is in the enviable position for an actor of being in huge demand but without the attendant fame. Does he get recognised much? "I'm not a celebrity anywhere," he says. " I'll be recognised here and there, and I do interviews, but not a lot. I don't push it. I'm not interested in it.
"I hope it never gets too serious on that front because it kind of lessens your ability to take on different roles, or even be cast in different roles – people think you are such and such. The closest was Queer as Folk, which I kind of stepped away from soon after. If you're not careful, you are thought of as being that character and it can put people off even thinking of you for anything."
As if to prove his point, Gillen has also been in New Orleans, making an action thriller, 12 Rounds, with director Renny Harlin (Cliffhanger, Die Hard 2). In the meantime, I suggest, he has clocked up two iconic TV series, Queer as Folk and The Wire. "Well, I did go out of my way to find those sorts of parts and those sorts of series," he says. "And for me that is still a mandate."
'Freefall' is on Tuesday 14 July on BBC2; 'The Wire' continues on BBC2
Join our commenting forum
Join thought-provoking conversations, follow other Independent readers and see their replies