Alias Grace: How a teenager's letter to Margaret Atwood finally got the TV series made
Sarah Polley wrote to the novelist seeking the movie rights to her book 'Alias Grace' 20 years ago and is now the writer and a producer of the mini-series adaptation of the Booker Prize-shortlisted book, debuting on Netflix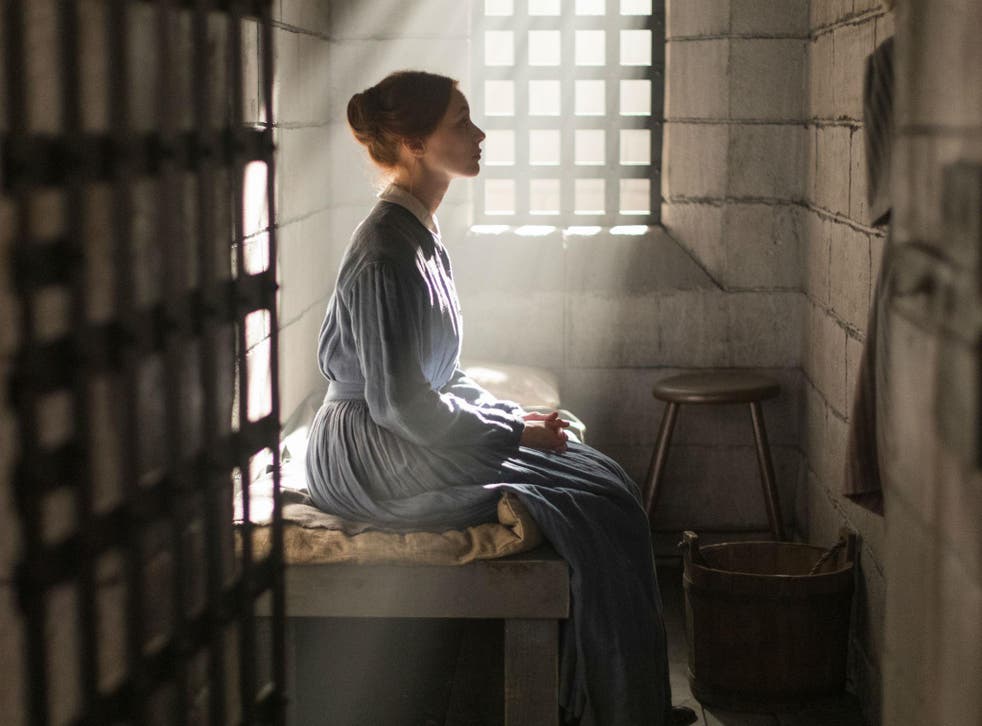 More than 20 years ago, a precocious teenage girl made a surprising request of the novelist Margaret Atwood. She had just read Atwood's Alias Grace and found herself entranced by the true story of Grace Marks, a 19th-century Irish immigrant and servant who became a celebrity "murderess" in Toronto. So she sent Atwood a letter seeking the movie rights.
Atwood's correspondent was Sarah Polley, then best known as a Canadian child star from the Disney Channel's Road to Avonlea and years away from becoming a screenwriter and director of independent films like Away From Her and Take This Waltz. Atwood declined. Obviously.
"She was 17!" she said. "I didn't think she had the wherewithal."
Now, at the age of 38, Polley is seeing her Hail Mary of a pitch come to fruition: she is the writer and a producer of the mini-series adaptation of the Booker Prize-shortlisted book, debuting on Netflix on 3 November.
After decades of sputtering starts — both Jodie Foster and Cate Blanchett were attached at various points — Alias Grace arrives at a time of peak Atwood. This September the Hulu adaptation of the novelist's The Handmaid's Tale became the first streaming-service show to win an Emmy for best drama; the iconic red cloaks the handmaids are forced to wear have become popular costumes for both protesting and Halloweening; her backlist is on best-seller lists; and the 77-year-old author is herself an internet star. (Atwood has 1.77 million followers on Twitter, and when she carried her black velvet purse on stage at the Emmys, a gotta-be-me violation of unwritten awards-show etiquette, she sent social media into a loving frenzy.)
The Handmaid's Tale, now shooting its second season in Toronto, depicts a near-future dystopia where women are forced into surrogacy for a dictatorial elite. Alias Grace, meanwhile, is a six-part period piece based on the unsolvable mystery of a poor housemaid (Sarah Gadon) who either abetted the murders of her boss and his housekeeper/lover (Anna Paquin), or was sacrificed by Victorian moralists for being a little too free, a little too desirable.
Both feature Atwood's unflinching eye on the constraints, social and literal, that have shackled women through history. As the stormy political climate continues to churn in the United States, the Canadian writer's two decades-old novels have landed like contemporary critiques: in Alias Grace, 19th-century issues of anti-immigrant sentiment, abortion and class warfare seem suddenly hot-button.
"The Handmaid's Tale offers us a window into a possible future when women's rights are eroded. Alias Grace offers a look at what it was like before women had any rights," said Polley. "To look back and forward is very important at this moment when women's rights are incredibly precarious and fragile."
Over breakfast in a restaurant near her home in Toronto, Polley describes how over the last two decades the character Grace never ceased burrowing in her imagination. Her 2012 autobiographical meta-documentary Stories We Tell opens with a quote from Alias Grace, read by Polley's father. ("When you are in the middle of a story, it isn't a story at all, but only a confusion," it began.) That film, about Polley's discovery of a family secret, confronted the unknowable, floating nature of family lore. Grace, in Atwood's novel, is a shape-shifter, too, her guilt or innocence unfixed.
"To be a woman in that time, or any time, there are parts of your personality and responses to things that you're expected to suppress," says Polley. "So what happens to all that energy and all that anger? What do you do with powerlessness? The idea of having more than one identity, the face you show to the world and the face that's deep within, captivated me."
Access unlimited streaming of movies and TV shows with Amazon Prime Video Sign up now for a 30-day free trial
Sign up
When the screen rights came up for grabs in 2012, Polley pounced. She took a six-hour meeting with Atwood. "She understood that the ambiguity mattered most, but ambiguity is tricky on film," says Atwood. "Grace was convicted as an accessory because she didn't tell. We never knew, and she never told. She acted as one of those blank screens onto which everybody commenting projected." Atwood approved of the filmmaker's ambiguity skills, and Polley paid out of pocket for the rights.
But the delays continued: Polley had a baby — and then another one. She wrote while her daughters napped, but was forced to shelve the pages when a fire extinguisher fell on her head at a community centre, giving her a concussion. "My brain goes slower now, so maybe what I'm coming up with as a writer is richer," says Polley. "Or maybe not. But I can't multitask anymore, thank God."
At first she tried to adapt it as a feature film, but not wanting to lose the book's density she decided on a mini-series. And coming from the DIY trenches of independent film, Polley didn't realise that for TV, she could have enlisted other writers to help with the scripts. Instead, she wrote all six episodes by herself and while doing so, decided not to direct. "I just couldn't see it in my head," she says. "There are scenes I wrote that I have no idea how to shoot. I love this book, and I was not going to see it screwed up, and I thought I might screw it up."
Polley approached a director she admired, Mary Harron, who was working in TV (Graceland, Constantine). In film, Harron is known for period pieces, but not the corset kind, having directed blood-spattered cult favourites like I Shot Andy Warhol and American Psycho.
"No one else would've asked me to do this but Sarah Polley," says Harron. "Both Sarah and I are interested in what is true and what is not true. I think she liked that a lot of my films have characters crossed with madness. And she knew I wouldn't try to make Downton Abbey. I didn't want to prettify but to really show a brutal, ruthless, class-driven society."
CBC, Canada's public broadcaster, came on board immediately, but a partner was needed to hit the $25m (£18.9m) budget. Netflix, the fast-growing streaming service that is increasingly looking at co-productions to fuel its insatiable appetite for original content, signed on quickly.
"They came in with a really clear vision and a lot of passion, and 500 pages written," says Elizabeth Bradley, vice-president of content at Netflix.
Last autumn, The Handmaid's Tale and Alias Grace were being shot simultaneously in and around the city. In November, at the industrial Toronto waterfront that's cluttered with film studios, Gadon and Edward Holcroft, who plays the young doctor trying to unearth Grace's memories, were seated in the drawing room of a Victorian manor, their "session" bordering on flirtation. Rain began to slam the studio roof, interfering with sound recording. "We're also under flight paths," Polley sighed, sitting near the monitor.
Polley's first feature, Away from Her, was an adaptation of a short story by Alice Munro, perhaps the only Canadian author more famous than Atwood. But Polley never met the reclusive Munro. In contrast, Atwood weighed in on scripts and casting for Alias Grace, and spent hours touring the detailed sets with the production designer. She especially liked the "botulistic preserves" in Mason jars in the basement cellar where the bodies were found.
As Alias Grace was shot through the election of President Trump, certain of the show's themes gained new resonance, particularly abortion (the reality of illegal procurement is bluntly depicted) and immigration (Polley wrote Grace's harsh crossing from Ireland with recent migrant crises in mind). When I spoke to Atwood, the House of Representatives had just passed a bill banning late-term abortions, and the Trump administration had moved to expand the rights of employers to deny women insurance coverage for contraception.
"We are at a moment in history when some parts of North America are trying to turn the clock back, and if they want to turn it back, what do they want to turn it back to?" Atwood says. "There's a reason the women's movement really started in the 19th century. If they do go back, they'll end up with [a woman] dying on a bloody mattress."
Atwood says she has "at least two more" books in development for TV. ("We will not talk about them until they're real.") The flip side of celebrity is increased scrutiny, and even the most woke star is sometimes considered not woke enough. Atwood was recently criticised in the Toronto news media for Nimby-ism after joining her neighbours in petitioning city officials to revise plans for an eight-story condo development that, Atwood wrote in a letter, might affect privacy and trees shared along the lot line. She was not surprised. "I've said to people over the years, 'You've just had big success, get ready for three nasty vicious personal attacks'."
Polley, too, has felt the sting of backlash. She hasn't directed in five years or appeared in a film since 2010, choosing to spend time with her children and work selectively. But with so few female directors in the marketplace, she's conscious that some view her stepping back as an act of betrayal. At a party, Polley mentioned to a female critic that she was parenting, not directing, and the woman made a vomiting noise at her. "The choice I made freely is, I would like to be with my children as much as possible. I think it's a victory of feminism, not a failure," she says.
The hunger for Polley's return now, fair or not, may also stem from her engagement in the past with prickly social issues that remain unresolved. She's spoken out about rampant sexism on film sets, and against child acting ("We've eliminated child labour everywhere in society except film. Kids shouldn't be in any environment that's for profit"). In the wake of the Harvey Weinstein sexual assault allegations, she wrote an op-ed in The New York Times. In it, Polley recollected that at age 19, as a young actress, Weinstein offered her what he described as a "very close relationship", noting how such relationships had benefited other actresses. Polley walked away.
"I got off totally easy," she says. "There wasn't a moment before this one where anyone would have cared about what those women had to say, where those women wouldn't have been ridiculed for coming forward, where they wouldn't have been thought of as whiners or strident or angry."
Then she returns to Atwood's words about a denigrated Victorian housemaid, maybe framed for murder, or maybe pushed to it. "There's a line where Dr Jordan says something like: 'I wonder how much sublimated rage she must have carried with her, this child harassed on every corner.' And I wonder, too. I don't just wonder about a domestic servant in the 1800s. I wonder about women in every single field, every single day."
'Alias Grace' is on Netflix from 3 November
© New York Times
Register for free to continue reading
Registration is a free and easy way to support our truly independent journalism
By registering, you will also enjoy limited access to Premium articles, exclusive newsletters, commenting, and virtual events with our leading journalists
Already have an account? sign in
Register for free to continue reading
Registration is a free and easy way to support our truly independent journalism
By registering, you will also enjoy limited access to Premium articles, exclusive newsletters, commenting, and virtual events with our leading journalists
Already have an account? sign in
Join our new commenting forum
Join thought-provoking conversations, follow other Independent readers and see their replies