Alison Brie interview: 'As a woman you want to play meaty roles, but no one wants to be out of work'
The actor talks Glow, Bojack Horseman, and why Hollywood won't take risks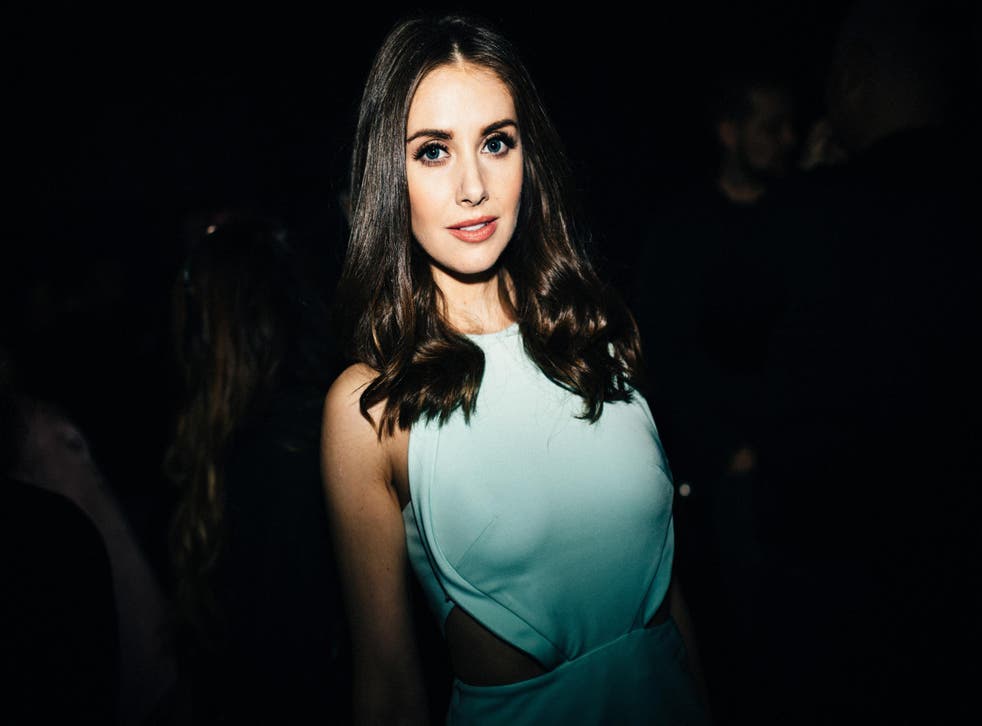 Alison Brie has a career most would envy, having made a name for herself on the television shows Mad Men and Community, while also becoming an established voice actor with roles on Bojack Horseman and The Lego Movie.
After years of hard work, Brie's moment has come thanks to the leading role in numerous upcoming, most notably Netflix's new Jenji Kohan-produced series Glow, AKA Glorious Ladies Of Wrestling.
Weeks before reaching the streaming service, The Independent sat down with Brie to discuss the show's much-needed feminist voice, Community, and why Hollywood still struggles to produce female-focussed flicks. Read our entire Q&A below.
Hi Alison, really enjoyed Glow. I imagine what drew you to the characters was how human they are?
Yeah! The concept and the writing were the two strongest selling points. The concept alone piqued my interest immediately. It's a women's wrestling comedy set in the Eighties, Jenji Kohan producing, I would have signed on then. But, reading the first episode was written by Liz Flahive and Carly Mensch, it's just incredible. The writing is so nuanced. And the idea of having so many great female characters in one show, watching these woman explore this thing that is so different and challenging for them, and obviously not something I have ever tackled, wrestling. And the character of Ruth drew me in, especially because I could relate to her immediately. It seemed like a role I hadn't played before, a grittier show than I've done before. All that excited me.
Netflix Originals 2017: All the films and TV shows to look out for

Show all 14
How much of you was in Ruth?
Like with all characters, it's more and more everyday. When I start out, I'm always like 'this role will be totally different from me'. Externally I think she is. I really wanted to look different to how I looked before, and Ruth has a very specific way of carrying herself. She's a bit masculine, the way she speaks is much more direct than I can be. There were certainly those aspects that were different from myself, and different from all the other roles I've played. Of course, there are similarities in terms of feeling underestimated as an actress, not being able to show my full potential. That's the whole crux of Ruth's character. And certainly, as the show continues on, there are aspects of myself that bleed into the role, and the writers tune into, in terms of my own gumption or passion.
There's almost a lovely irony for the show about actresses being rejected has actually given someone a really great role.
Absolutely. How women have struggled, but this is a show about 14 women with amazing roles of their own.
It's quite incredible how this show, along with the female fronted Orange is the New Black, have taken so long to come about. Why do you think that is?
Well, I don't know. It's tough because there are boxes people want to put actors and actresses in all the time. And when you look at the landscape of network television, those character archetypes are very limited because you need to appeal to mass audiences. The idea is to give only slight variations on things that they've seen before, that they're comfortable with. They want to watch women that are beautiful, whether they're slightly quirky, or the romantic lead. They always need to have their hair in the perfect place, and things like that. With streaming services and the amount of content being produced for television, artists and creators are able to take risks, in terms of the types of stories they're telling and creating. Netflix is at the forefront of that, giving the artists freedom to express their vision. They were very hands off with our show, letting Jenji, Liz, and Carly tell the stories they wanted to tell. Because they have algorithms for certain types of people, they're not watering down the material, and not afraid of failing that broader networks are.
Access unlimited streaming of movies and TV shows with Amazon Prime Video Sign up now for a 30-day free trial
Sign up
Your character begins this series going to an audition and reading the male part because it's a better character. She's very principled. Do you think in Hollywood it's difficult to keep those principles?
Definitely, because you want to work. No one wants to be out of work! Certainly, when you're just starting out, it's hard to say no to things, particularly when no-one knows who you are. You need to build a resumé before you can be picky. There's a risk of never doing anything if you say no too many times the doors stop opening for you at all. So it can be scary. It makes it scary to map your path in Hollywood. On the flip-side, and in a more positive way, you can find values in roles that you may have thought would not be valuable. As a woman, of course, you want to play meaty roles. I've learnt a lot from roles that seem less interesting on the surface, but that poses a bigger challenge to me and I end up growing as an actor.
Annie, as a character in Community, seems – to begin – as a clichéd, young woman whose flirting with the main character, then she grows into her own person.
Definitely. Community was so unique for a network show because Dan [Harmon, showrunner] had such a singular voice and really fought to keep the show weird against the network trying to tone the show down. That made it more interesting for all of us. When I first auditioned for that show, did I know it was going to be as complex as it would end up being? No, but I was fine with it because I just wanted to be on a show. I was happy to play the type A nerdy, naive, inexperienced girl. But, even from the start, there was this aspect of her being a little bit manic, a little bit crazy, which is always fun to play. As they show went on, that nature of the episodes in general was always being toyed with. Dan was just challenging the medium itself, which was a fun thing to work with. And that's a great example of a job I would have taken regardless, but became a lot more fun and interesting as it went on.
While things may be moving forward TV-wise for women, there seems to be a failing in Hollywood with films. Jessica Chastain, for instance, said she was 'disturbed' by the lack of female character at Cannes. Why do you think the film industry is behind TV? Or is it?
I do think it is. Where network TV is trapped by the demands of advertisers, films are slave to the box office. I understand that when studios are spending so much money to make movies they really want that insurance they are going to get that money back, but they're afraid to take risks on unknown faces, or unproven storylines. There's a comfort zone that exists in big-budget movies, and people won't veer away from that formula. I feel the formula is getting a bit boring. Even within the construct of Marvel movies and other action movies, we're beginning to see things that are slightly different takes do well. Look at Logan with a young girl having a major role, and Get Out being a different take on a genre. They're exciting. Maybe there are small cracks happening but it feels a bit impenetrable at the moment. Also, there's a small community of actors who can bring in a high box office and it's hard to get into that club.
Even at Cannes, where it's more arthouse, it feels like that should be more forward thinking.
I agree, I just think it's so difficult to get movies made. Small independent movies need funding from somewhere. I can only explain it as being based out of fear. But I don't totally understand it myself. There are independent filmmakers who are looking to different types of movies. I have one coming out later this year called The Little Hours about medieval nuns having sex, and swearing, and drinking. It's very female focussed. It's about me and Aubrey Plaza, Kate Micucci, Molly Shannon , and Dave Franco's in it, but very much as the catalyst for our sexual activity. It's about women and what they're going through, so there's hope yet.
Right now feels like a very big moment in your career, including this show and The Little Hours. Does this feel like your moment?
I don't know if I would say that. I do feel this role on Glow is the role of a lifetime. I feel so proud of this role. Even working on it, it was the most fulfilled I've ever been on a job. Similar to Ruth, I feel like I get to show some different side of myself. This job alone feels like a moment, to me.
In this, you're the lead.
I like to think of myself more as team captain as it's much more an ensemble.
Team captain then! Does that feel very different to being one of the players?
The biggest difference is the relationship I had with Liz and Carly. I loved working with Dan Harmon, but this is the first time being number one on the call-sheet, being privy to more information, was really nice. Feeling like I had the right to go to Liz and Carly and discuss – not that I'm pitching storylines – and get clarity. Feeling like my voice is heard. But, I'm not sure that really had to do with being number one on the call-sheet or if it was more the environment of this set being run by women. They were very open to discussions with all the women on the set. It was a very fresh way to be working.
I guess it must have felt very different working on a show with lots of women.
It did! And it's interesting to me because I've always felt very comfortable on sets, and I love it, and I love working with men, and – even if I was aware of being sexualised – it has never really bothered me. But the absence of that was totally amazing. It was just very freeing, and very important for this kind of job, because we were taking such big risks physically in the ring, and with our characters. It made for a lot of amazing discoveries, because people just felt empowered to take bigger risks.
One last quick question before I have to leave: what can we expect from the new Bojack series?
I'm not sure! We recorded it quite a while ago, so, you know, just more darkness and general strange behaviour. A lot of deep things. I literally cannot give you anything specific.
Join our new commenting forum
Join thought-provoking conversations, follow other Independent readers and see their replies