Benedict Cumberbatch interview: The Hollow Crown actor on his ties to Richard III and Shakespeare's legacy
'There is a real trajectory to Richard's journey. He is not just the medieval trope of a villain that a lot of critics have said he is. There is great subtlety and lots of back story to this character'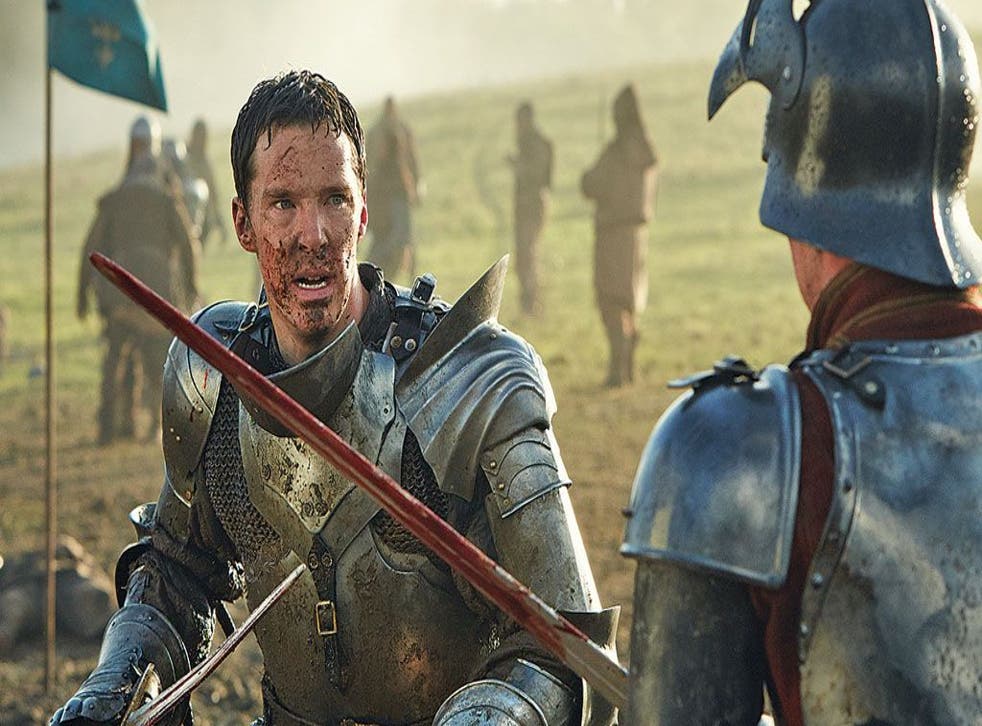 531 years after his death, Richard III still divides opinion. Even today, he has plenty of passionate supporters. They feel that William Shakespeare's history play has very much traduced the monarch.
Some of them are particularly up in arms about BBC2's new adaptation of the play, which goes out as the final part of the acclaimed Hollow Crown cycle on Saturday 21 May. They claim that this interpretation starring Benedict Cumberbatch as an intense, embittered Richard III misrepresents the King.
Cumberbatch, who, it was revealed last year, is a second cousin 16 times removed of Richard III's, tells me he has some sympathy with the supporters of the King, whose remains were discovered three years ago in a car park in Leicester. "I understand very much that for those people he's a much loved King who they feel has been maligned. I get it. After all, I'm a very close relative of his! Although now his body has been found, I might suddenly discover they made a bit of a DNA mistake with me!"
Relaxing in an upscale central London bar and sipping a cocktail, the actor exudes a wit and easy-going charm that might surprise people who mistake him for his most famous alter ego, the wired, uptight Sherlock.
Cumberbatch is equally amusing when he comes to discussing the end of Richard III. "I feel very lucky to be almost the last one standing in this play. And no, that's not a spoiler. The play has been out more than 400 years. You can definitely print that - Richard doesn't make it. Or maybe he comes back at the end and says, 'Did you miss me?' Or perhaps he could reappear in a car park!"
The 39-year-old son of actors Timothy Carlton and Wanda Ventham, Cumberbatch studied at the University of Manchester before gaining a Master of Arts in Classical Acting at the London Academy of Music and Dramatic Art.
Thanks to strong performances in work such as Hawking and Atonement, Cumberbatch quickly built up a very good reputation as an actor. But his career was transformed in 2010 when he landed the title role in Sherlock, Steven Moffat and Mark Gatiss' modern-day reworking of the classic Sir Arthur Conan Doyle stories. The show was an overnight worldwide success, and for Cumberbatch, it proved a global game-changer.
He went on to deliver memorable performances in The Hobbit, Tinker, Tailor, Solider Spy, Star Trek Into Darkness, 12 Years a Slave and The Imitation Game, for which he won a Best Actor Oscar nomination.
No doubt, the global success of Sherlock has helped Cumberbatch land roles such as Richard III. But he is still rather appealingly taken aback by Sherlock's worldwide profile. According to Cumberbatch, "The gob-smacking thing about it is that people who have been icons to me forever have been coming up to me to say much they adore it. When Meryl Streep told me, 'I love Sherlock', I thought, 'That's so wrong!'".

Access unlimited streaming of movies and TV shows with Amazon Prime Video Sign up now for a 30-day free trial
Sign up

The actor goes on to consider whether there are any similarities between himself and Sherlock. "You'd best ask the people who know me, like my mother! There probably are a few similarities. When I'm playing him, I find myself looking at people's shoes and body language and trying to deduce things from them. I do that because I have a professional interest. But I'm afraid I'm rubbish at it!"
Dressed in a blue and white stripy French matelot shirt and dark trousers, Cumberbatch is in very relaxed form today. He seems to be enjoying the downtime after the all-consuming experience of playing Richard III. Cumberbatch's King is a fiercely driven man bent on avenging himself for the many slights he suffered growing up.
But, the actor argues, Richard III is not necessarily the unremittingly evil villain he is often portrayed as; Shakespeare is more nuanced than that. "There's all this mythology surrounding Richard. He provokes a polarity of opinion. Is he a bad guy who killed the Princes in the Tower or a good guy who has been much maligned by the play? We don't really know. A lot of what we have left is still PR."
"We could have had a disclaimer at the beginning of the play saying, 'Written by William Shakespeare, who was a playwright in the Elizabethan era, about the last Plantagenet King. Elizabeth was the daughter of Henry VIII, a Tudor, hence its slant'."
Richard spends much of the play, which also stars Dame Judi Dench as Richard's mother Cecily, Sophie Okonedo as Queen Margaret and Keely Hawes as Queen Elizabeth, getting his minions to do his dirty work and wipe out his rivals for The Hollow Crown. Some of his brutal actions make Game of Thrones look like Play School.
But Cumberbatch, who is married to the director Sophie Hunter and is the father of a young son, insists that the violence in Richard III is never gratuitous. "It's not just trying to shock people. It's saying, 'Look at what we're capable of'. It's always in context, and it's always a morality test."
So what is it that makes Richard III so hungry for power? Cumberbatch, who read a poem by the Poet Laureate Carol Ann Duffy at Richard's burial ceremony in Leicester Cathedral last year, traces the disabled monarch's burning ambition back to his deeply unhappy childhood. "The important thing is that from the very beginning, Richard is born into this family of Adonises, of athletes of Kennedy proportions. He is the black sheep of the family. He is ostracised and left at home looking after the kids – which is no place for a man in the medieval world, where it is your duty to go out to fight."
So, Cumberbatch adds, "There is a real trajectory to Richard's journey. He is not just the medieval trope of a villain that a lot of critics have said he is. There is great subtlety and lots of back story to this character."
"Our vision was to humanise him and see his whole story. He loses himself in order to come back in a final moment of stark, cold realisation. He's lost everything and all he has got left is anger and rage. So to play that whole journey is an absolute treat. And to be able to do it with a camera investigating it when you break the fourth wall – what a gift for any actor!"
Like Frank Underwood in House of Cards, a character very much modelled on Shakespeare's King, Richard III is initially a very seductive figure. Even though we know the disastrous deeds of which he is capable, we can't help but be drawn into his devious world.
Cumberbatch comments that, "He is a compelling because he seduces us to be complicit with his direct addresses to the audience. That tarnishes us because we're fascinated by the car crash. It's so seductive because he shows us the fallibility of human nature around the magnetism of power."
One of the feats accomplished by the last series of The Hollow Crown - which consisted of Richard II, Henry IV Parts One and Two and Henry V and was screened in 2012 – was to broaden the constituency for Shakespeare.

Thousands honour Shakespeare
Cumberbatch expresses the hope that this series of films, which form the centrepiece of the BBC's season commemorating the 400th anniversary of the playwright's death, will also bring a new audience to the playwright. The actor likens it to his hugely popular appearance as Hamlet at the Barbican in London last year. "To play Hamlet live to a rapt audience at the Barbican every night was amazing."
"I was very keen to see how many could be fitted into the theatre – that was really important when choosing a venue. I felt it would be unfair to the people who might want to see it if we did it in a small venue. I thought we should be a bit more generous than that and perform it in a big theatre. If you can broaden the audience and show them how brilliant Shakespeare is, that's fantastic."
The other achievement of The Hollow Crown is to remind us just how universal Shakespeare's plays are. Cumberbatch reflects that, "I'd hate to piggyback off what's currently going on in politics, but of course this play is relevant – anyone can see that. But what's magical about these plays is that you could do them in five or 10 years' time and they'd still have the same effect because they're timeless studies of the very human condition of power."

Shakespeare plays adapted by the BBC for TV

Show all 37

"Macbeth works in Swahili or German or any culture because it's about tribalism and power and desperate, overarching, corrupting ambition. These plays show the frailties, the ego, the susceptibility and all the machinations of what power does to people. That's why Shakespeare is still so potent 400 years on."
Cumberbatch has barely had a moment to pause for breath in recent times. Later this year he will be his starring as the title character in the latest Marvel movie, Dr Strange. Currently he is busy shooting the fourth series of BBC1's Sherlock, which is scheduled to go out next year.
So what is the actor able to reveal about the next season of Sherlock? "It's great, great fun to be back. There are a lot of things happening on the new series." He pauses and then laughs long and hard: "but I can say nothing about them!"
"You could tell me," I reply, "but then you'd have to kill me."
"No," Cumberbatch ripostes, gesturing towards the publicist who has just come into the room, "I'd get him to kill you. Like Richard III, I'd farm it out!"
Cumberbatch appears in The Hollow Crown Parts Two and Three on BBC2 on 14 and 21 May.
Register for free to continue reading
Registration is a free and easy way to support our truly independent journalism
By registering, you will also enjoy limited access to Premium articles, exclusive newsletters, commenting, and virtual events with our leading journalists
Already have an account? sign in
Register for free to continue reading
Registration is a free and easy way to support our truly independent journalism
By registering, you will also enjoy limited access to Premium articles, exclusive newsletters, commenting, and virtual events with our leading journalists
Already have an account? sign in
Join our new commenting forum
Join thought-provoking conversations, follow other Independent readers and see their replies