Actor Bill Nighy on BBC1's 'Ordeal of Innocence': 'I long to be typecast'
The 'Love Actually' and 'Best Exotic Marigold Hotel' actor plays the head of an aristocratic family that is shaken when it becomes clear one of their number is a murderer in the new three-part series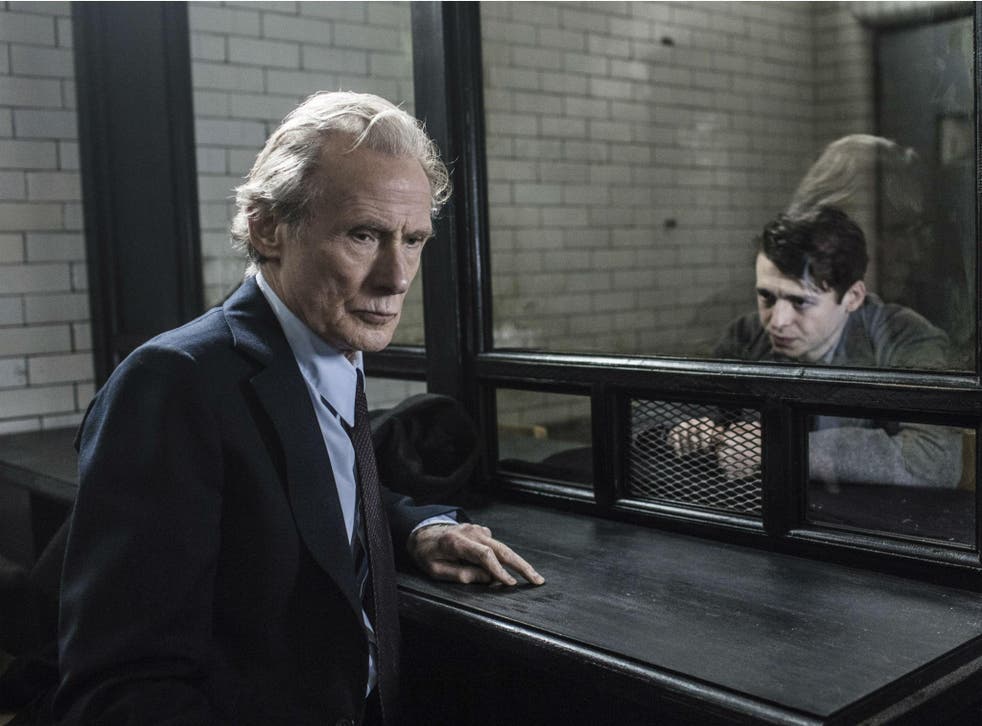 Bill Nighy strides into the London hotel room dressed exactly as you'd expect, the famously dapper 68-year-old actor in a sharp navy-blue suit, a crisply ironed sky-blue shirt open at the collar and his face adorned with Michael Caine specs ("I've never worn T-shirts," he once confided. "I'm the wrong shape to do a T-shirt justice"). He is here to promote his latest role, in BBC1's latest Agatha Christie adaptation.
Ordeal by Innocence was supposed to have been broadcast at Christmas, but (strenuously denied) allegations of sexual assault against one of its cast, Ed Westwick, meant that it was pulled from the schedules and – echoing Ridley Scott's removing the disgraced Kevin Spacey from his film All the Money in the World and replacing him with Christopher Plummer – scenes involving Westwick were refilmed with Christian Cooke in the role.
Now, after a technically challenging 12-day reshoot on the same locations in Scotland, the drama is now ready to be shown.
Set in the 1950s, the decade Christie wrote her original story, Nighy portrays the head of the aristocratic Argyll family that is shaken when it becomes apparent that one of their number is a murderer.
"I play Leo Argyle and he and his wife have adopted five children, four of whom have what you might call very shaky pasts," he says. "So everyone looks very shifty and hopefully the audience will bounce around trying to work out who's the culprit."
Even Leo himself might be in the frame, it seems. "He's an amateur Egyptologist who hasn't got much money but his wife has, which is the one thing that would probably make him look shifty," says Nighy. "She [Christie] is very good at making a scene where you're completely convinced it must be him or her."
Although he has appeared in other TV detective shows, from Bergerac to Boon, Wycliffe to The Inspector Lynley Mysteries, Nighy is unusual for a once-jobbing British actor of his vintage in never having previously been cast in any of the countless Poirot and Miss Marple adaptations. He has, however, read all of her books. "Yeah. I discovered the books when I was young," he says. "I gave them all to my daughter when she was about 12 or 13 and she read of all of them. It was very satisfying to see."
Did he remember reading Ordeal by Innocence, one of Christie's better later whodunits and one of her own favourites? "I barely remember my name," quips Nighy. "I've actually got to point where I buy books and get to chapter three and think 'Oh no, I've done it again – I read this in 1995. So no, I don't remember.
"I didn't go back to the book either," he continues. "I've done a lot of adaptations of novels lately and I don't read it while making the film because you don't need all that information that may or may not have survived into the script."
Access unlimited streaming of movies and TV shows with Amazon Prime Video Sign up now for a 30-day free trial
Sign up
The recent adaptations he is referring to include The Bookshop (co-starring Emily Mortimer and based on the novel by Penelope Fitzgerald), The Limehouse Golem (based on Peter Ackroyd's 1994 murder mystery) and Their Finest (with Gemma Arterton and based on a novel by Lissa Evans). They are the sorts of roles in the sorts of productions that Nighy could perhaps only have dreamed about in his thirties and forties.
The big uptick in his fortunes occurred in 2003 when Richard Curtis cast him as ageing rocker Billy Mack in Love Actually, Nighy stealing the limelight from the likes of Hugh Grant and Emma Thompson and becoming one part silver-fox sex symbol to three parts national treasure. "Love Actually.. who knew?" he says. "I thought it would be a successful film, but to have entered the language in that way..."
It's also a movie that Nighy finds hard to ignore because it's on television so much. Otherwise, he says, he goes out of the way not to see himself on screen. "I don't watch anything I'm in," he says. "I tried that when I was young and it was awful."
That "awful" experience was as a young actor in Liverpool in the 1970s when his first TV job, in the police series Softly Softly, was shown on BBC1. "I was staying in digs and I said to everybody in the house, 'Hey, I'm on TV' and they all crowded in the front room to watch," he recalls. "I was just completely crushed because it was so terrible. I hardly had anything to do. I was third bank robber from the left."
"I went on Richard & Judy once and they said, 'We've got a bit of a surprise for you' and they had a TV brought in and they showed Softly Softly. If you fed it into a computer to find the perfect way to wind me up, this was it."
Nighy's delivery is so insouciant and deadpan it's hard at times to know how serious he's being, but he insists that his hatred of looking at himself is genuine. "I wanted to retire – I'm not kidding," he says of his first seeing himself on TV. "I don't know why I didn't. I guess I didn't have anything else. I flunked school – not that prevents you from doing anything in life – but I didn't have any other idea."
He left his grammar school in Surrey with only two O-levels, his roots being humbler that his screen persona might suggest. His mum, Catherine, was a nurse from Scotland while his dad, ran a family chimney-sweeping business before opening a small garage.
After drama school, Nighy slowly began getting stage parts, eventually becoming a regular at the National Theatre. But since his success in Love Actually, he hasn't stopped working in the movies, including the two Best Exotic Marigold Hotel films about British retirees to India – riding around Jaipur on a motorbike with Dame Judi Dench on the back. "I'm still hopeless on a motorbike," he says. "I don't know why they didn't use a stunt rider in long shot."
In 2008 Nighy finished a 27-year relationship with actress Diana Quick, the mother of their 33-year-old daughter, Mary, who now works as a filmmaker. He lives alone in London, his two great passions being music and soccer. "I honestly only ever watch football," he says of his viewing habits. "And there's so much football."
There follows a lengthy discussion about his team, Crystal Palace, and their chances of surviving in the Premier League this season before the talk returns to acting – a craft with which he seems to have an ambiguous relationship.
"You're just doing work," he says. "It's not unpleasant all of the time and you have a laugh, and you work with some great people. But my relationship with it is like pretty much every other actor that I know. Yeah, you get a certain amount of satisfaction when it's over perhaps, but the actual process is hard work."
If there is a criticism of Nighy's work it is that it tends to be in a similar vein. Does he worry about being typecast as a slightly louche, laid-back English gent? "Oh, no. I long to be typecast," he says. "Then you don't have to do anything else. I once played a squid [Davy Jones in two of the Pirates of the Caribbean films] and when I'm a squid, what are you going to say? You don't like my squid? so get over yourself.
"But I also think acting is a primary art," he continues, more seriously. "It used to be dismissed as a secondary art, but at its best, it's an attempt at something that is really, really difficult and very useful in the world. It's an honourable profession."
Despite that, Nighy will be more likely to be watching live Spanish or Italian football on Easter Sunday instead of his performance in Ordeal by Innocence. "I don't watch anything I'm in so I won't watch this," he reiterates. However, making the drama did bring back memories from his schooldays and a close shave with injustice when he was accused of wrongdoing at a school assembly when the culprit was the boy standing next to him.
"I was sent to the headmaster to be beaten," he says. "They used to beat you back then. It wasn't a big deal because everyone in the world got beaten, apart from girls. My sister never got beaten, which is a good thing.
"Anyway, you had to wait to wait outside for your appointment to be thrashed and then the boy who did it came up and confessed, which was quite a big deal. And he rocketed in my estimation."
His next project is a comedy-drama which is shooting in Liverpool. "It's called Triple Word Score and I play a man who is looking for his missing son, who shares with him a love of Scrabble," he says with what, for Nighy, amounts to voluble enthusiasm. "I'm quite excited by it. I think it might be a cracker."
'Ordeal by Innocence' begins at 9pm on BBC1 on Easter Sunday
Register for free to continue reading
Registration is a free and easy way to support our truly independent journalism
By registering, you will also enjoy limited access to Premium articles, exclusive newsletters, commenting, and virtual events with our leading journalists
Already have an account? sign in
Register for free to continue reading
Registration is a free and easy way to support our truly independent journalism
By registering, you will also enjoy limited access to Premium articles, exclusive newsletters, commenting, and virtual events with our leading journalists
Already have an account? sign in
Join our new commenting forum
Join thought-provoking conversations, follow other Independent readers and see their replies