Black Sails review: It's the wire on the waves
'Black Sails' is a pirate drama for grown-ups and reflects a sea change in the way we watch television, says James Rampton
James Rampton
Sunday 08 June 2014 19:27 Comments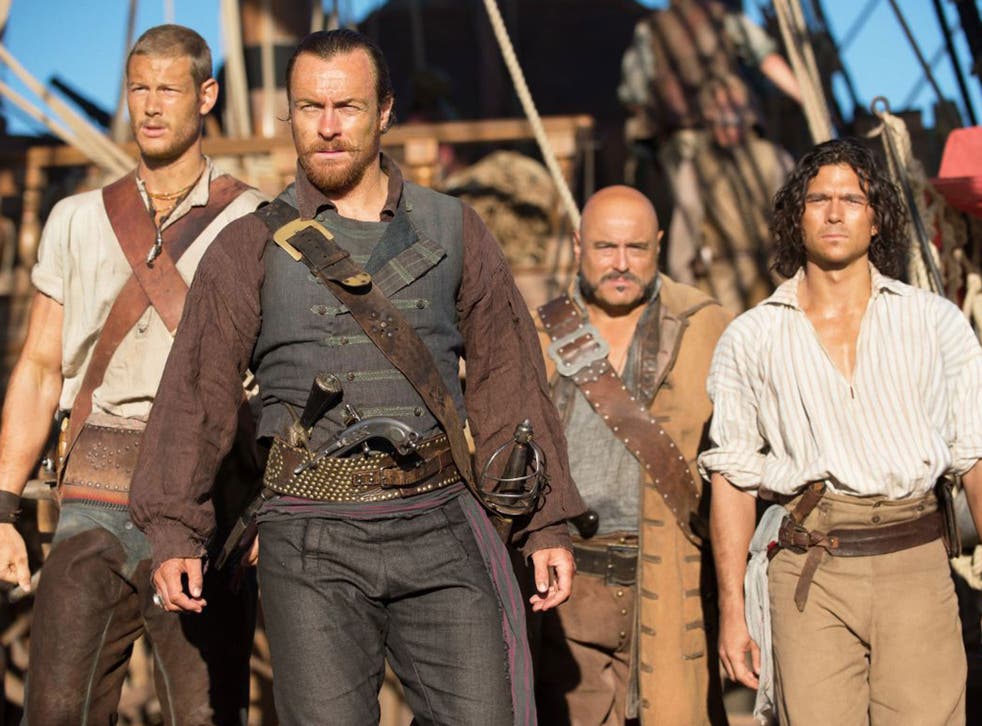 I am standing behind the wheel on the deck of The Walrus, a mighty, full-scale replica of a 1715 pirate ship that took 300 men six months to construct.
Bristling with enough cannons to sink the whole British Navy, the vessel seems to be challenging any enemy man'o'war sufficiently foolhardy to appear on the horizon.
The 140-feet ship is kitted out with no fewer than 20 tons of rope and rests on a 15-axle, mobile cradle that can control all its movements. It is floating in an enormous, 10 million-litre, man-made lake at a studio just outside Cape Town, which is standing in for the lawless Caribbean town of Nassau.
The Walrus is the grand stage on which Black Sails, a new pirate drama, is played out. In this prequel to Treasure Island set in the Golden Age of Piracy, the ship is commanded by Captain James Flint. Flint is a man who exerts a reign of terror over his crew. He is a ruthless maverick who unleashes war on England after the civilised world declares that pirates are "hostis humani generis", enemies of all mankind.
Black Sails is shown exclusively in the UK on Amazon Prime Instant Video. It is another example of the current popularity of drama series, such as House of Cards and Orange Is the New Black, broadcast by online streaming services. Last month, it was announced that Netflix had commissioned The Crown, a gargantuan new drama costing a reported £100m. This epic 20-part series covers the Queen's entire reign and is written by Peter Morgan, previously responsible for The Queen, and directed by Stephen Daldry.
It reflects a sea change in the way we watch TV drama. No longer content to wait a whole week for the next episode, we prefer to buy a series in its entirety and "binge-watch" it in one sitting. This development also allows dramas to paint a more complex picture. Knowing that its audience has 24 hours to get to grips with its narrative – as opposed to a mere two in a movie – the producers of these mammoth new streamed series can afford to create characters who are as nuanced and contradictory as any real human being.
Is it just a longer version of Pirates of the Caribbean then? "This is a completely different show from Pirates of the Caribbean," argues Chris Symes, the show's executive producer. "This is much more adult. Those films are PG13, and they're Disney. Black Sails is as un-Disney as you can get." Instead, Black Sails is a dark and complex tale that is not afraid to explore why these pirates are so desperate. "Our view of pirates is not romanticised in any way. It reflects the way TV is going these days. You can do shows like this. You can make grown-up shows about serious subjects."
In other words, it is closer to The Wire than to Captain Pugwash. The renegades in Black Sails don't just sit around swigging from bottles of grog, singing sea shanties and shouting, "Avast, me hearties!" Stephens, son of Maggie Smith and the late Robert Stephens, says that, "We've never seen this side of pirates before. We've only ever seen the slightly comic-book version. There is nothing glamorous about piracy. It's grim. They don't want to be like that. They do it because they've got no other way out."
Black Sails goes to great lengths to avoid prettifying pirates – except on one key point. "The New York Times commissioned an expert in piracy to watch each episode of Black Sails four times to check its accuracy. The only thing he could find to criticise was the fact that all our pirates still had their own teeth. They wouldn't have had any in 1715," says Symes. "But I think asking the actors to have their teeth pulled out for this drama would have been pushing method acting too far."
Season one of 'Black Sails' is available exclusively on Amazon Prime Instant Video
Register for free to continue reading
Registration is a free and easy way to support our truly independent journalism
By registering, you will also enjoy limited access to Premium articles, exclusive newsletters, commenting, and virtual events with our leading journalists
Already have an account? sign in
Join our new commenting forum
Join thought-provoking conversations, follow other Independent readers and see their replies