comment
Bloodlands epitomises the big problem with British primetime drama
BBC One's thriller boasted some big names behind and in front of the camera and a mystery-driven Line of Duty-style premise. Louis Chilton looks at why it's struggled to really connect with audiences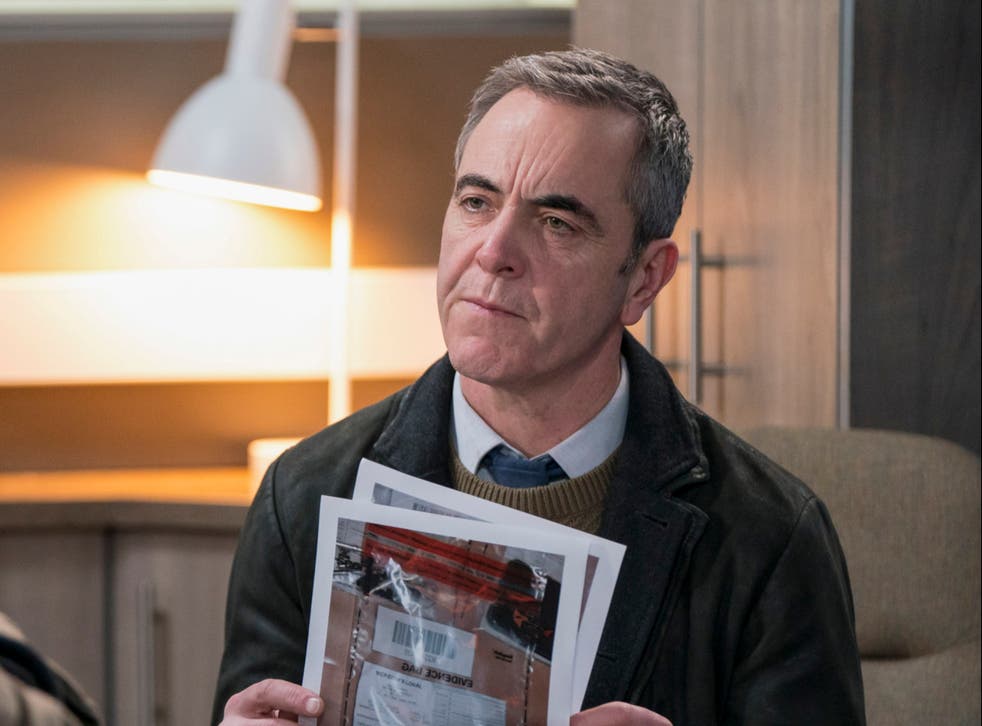 It's fair to say Bloodlands hasn't set the world alight. The four-part drama series, written by Chris Brandon and executive produced by Line of Duty's Jed Mercurio, has aired over the past four weeks on BBC One. It's an action-packed thriller about a corrupt police detective, with the central role, DCI Tom Brannick, being played by actor, philanthropist and hair plug advocate James Nesbitt. Mercurio's name was shrewdly plastered all over the series' publicity campaign – but Line of Duty this is not. 
From the very first episode, it was clear that Bloodlands was fighting an uphill battle. Reviews were mixed, and viewers reported being confused by its improbable, hole-pocked plot.  As the series prepares to air its final episode tonight, it's hard not to get frustrated for the ways it embodies some of British TV drama's worst tendencies.
We Brits are proud of our television. In the scheme of things, it's probably one of the country's more innocuous delusions of grandeur– we are, after all, the country that gave the world Fawlty Towers, Doctor Who and David Attenborough. More recently, it has more been our dramas that have most ensnared viewers' attention – ostentatious hits like Sherlock, Killing Eve and, yes, Line of Duty. Hold even our very best crime dramas up against US heavyweights like The Sopranos or The Wire, however, and they're usually found lacking in depth, ambition and sophistication. 
Outside the realm of soap opera, British TV series have always tended to be short – usually six episodes or fewer per series, sometimes as few as three (even for hit returning shows like Sherlock). American TV, by contrast, used to be typically far longer; for decades, it was normal for seasons to run for as many as 24 episodes. The reasons for our thrift were mostly practical: British TV had smaller budgets, which meant fewer writers, fewer locations, fewer actors – a shorter run of episodes keeps production values from being spread too thin. But there's also an ideological side. You can hear it in the way Ricky Gervais talks about modelling The Office after Fawlty Towers. There exists in British TV an idealised, almost dogmatic reverence for diamond-tight brevity (John Cleese's sitcom famously lasted forjust 12 episodes, then went off the air). 
However, often the opposite works just as well: larger episode batches can help TV shows realise their potential. It means that actors have more time to grow into their characters, develop better chemistry with their co-stars. For serialised dramas, a longer season provides a bit of leeway when it comes to bad plotlines – the chance for a series to outlast a crummy arc or dud character, prove it was worth persevering after all. It's part of the reason why so many of Netflix's ten-episode ventures fail to ever really hit their stride.
Bloodlands in particular is done no favours by its four-episode format, which is short, even for a self-contained miniseries (the prospect of a second series has not been confirmed or denied). The twists are piled on, one after the other. It is a show, like Line of Duty, that builds itself around a central mystery: who is the long-dormant criminal hitman known as "Goliath"? But the mystique is given no time to build, and character development is infuriatingly thin once you look past Brannick, pouting in the series' murky foreground. In just four episodes, there is plenty of incident, but not much else.
It would be wrong to expect Bloodlands to beat US prestige dramas at their own game, or even Line of Duty – it simply doesn't have the budget. In this sense, Bloodlands suffers from a problem for which there is no solution. For a flagship BBC Sunday night drama, however, it also disappoints in more avoidable ways. 
Cop dramas have, by now, been done to death from every angle; the formula here feels tired as all hell. Bloodlands' USP – the legacy of the Troubles and the Good Friday Agreement in Northern Ireland – is used as mere window dressing in service of a story that's ultimately rooted in Brannick's blunt patriarchal protectiveness over his adult daughter. It is one of too many British series that struggles to distinguish between context and subtext.
There have been TV shows that have expertly shaped themselves around the limitations of the short UK series format – Shane Meadows'This Is England and The Virtues spring to mind – but all too often, projects struggle to really find a rhythm in just a handful of episodes. If Bloodlands were to return for another instalment, the BBC would be wise to give it a longer run, some space to spread its wings. Otherwise, the whole thing will just end up forgotten, another flash-in-the-pan thriller that didn't stick around long enough for people to give it a chance.
Bloodlands' final episode airs on 14 March at 9pm on BBC One. All previously aired episodes are available to stream on BBC iPlayer
Register for free to continue reading
Registration is a free and easy way to support our truly independent journalism
By registering, you will also enjoy limited access to Premium articles, exclusive newsletters, commenting, and virtual events with our leading journalists
Already have an account? sign in
Register for free to continue reading
Registration is a free and easy way to support our truly independent journalism
By registering, you will also enjoy limited access to Premium articles, exclusive newsletters, commenting, and virtual events with our leading journalists
Already have an account? sign in
Join our new commenting forum
Join thought-provoking conversations, follow other Independent readers and see their replies