Broadchurch series 2: David Tennant, Olivia Colman and cast share all the clues they can
Olivia Colman: 'I got to the point where I stopped going on trains and buses because everyone would ask who did it'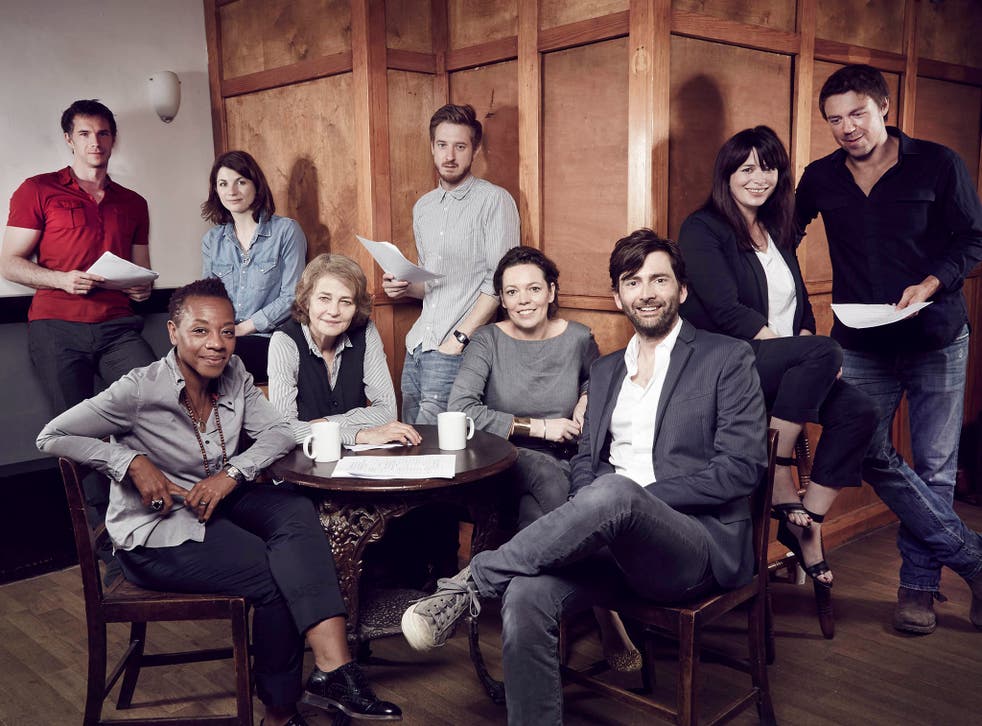 Hands up who doesn't yet know the identity of the murderer in the first series of Broadchurch.
What's the statute of limitations with spoilers in the age of catch-up and box-set TV? Six months? Five years? Or, like The Mousetrap, does it continue indefinitely until the last laggard has watched the last episode and is aghast to discover Joe Miller being carted off by the police team that was led by his wife Ellie. Ooops… well, there you go. But then again, any Broadchurch newbies thinking of plunging regardless into the second series when it begins next month will need at least that bit of back story.
In Broadchurch series two, David Tennant and Olivia Colman return as investigating detectives Alec Hardy and Ellie Miller – she the aforementioned wife (now presumably ex-wife) of the aforementioned child-killer. It might seem odd that the unshaven and ill DI Hardy is still hanging around in Broadchurch; after all he was only parachuted in to help solve the one case. From a purely pragmatic angle, however, the second series would never have been made without either Tennant and Colman. "I never envisaged doing it without them… It's not True Detective, let's put it that way," says the show's creator and writer Chris Chibnall, referring to the HBO crime drama that has had a complete change of cast for its second season.
Meet the cast of Broadchurch 2

Show all 12
So what else do we know? Very little, to judge from a teaser clip with the mysterious tagline "the end is where it begins". And that's the way Chibnall wants to keep it, with no preview screenings for the press.
"What's exciting to me is that the audience discovered the show for themselves the first time round," he says. "What we're trying to do is to replicate that experience for them, so they don't come to it knowing what to expect… being pre-told. That's why I'm being deliberately evasive."
Tennant and Colman aren't being so much deliberately evasive when I meet them on set in Clevedon in Somerset, in a hotel overlooking a rain-swept Bristol Channel, as slightly confused about what they can and cannot say. "It's a nightmare for us having to do interviews for this without speaking out of line," says Tennant, who like the rest of the cast has signed a legally-binding non-disclosure agreement, and whose scripts are individually watermarked so that any leakage can be traced.
Also, like the rest of the cast in series one (except Jodie Whittaker, who played the victim's mother and who wanted to know whether or not she was shedding crocodile tears), Tennant and Colman weren't told the identity of the killer until the scripts were distributed for the final, reveal-all episode. "Olivia and I were reading it on different sides of London, and texting each other as we read it… 'oh my god… what page are you on?'," says Tennant. "It's a different sort of suspense this time. Oh god…," he trails off, fearing he may have now said too much.
"I got to the point where I stopped going on trains and buses because everyone would ask who did it," reveals Colman. "Taxis were easier; then it was just one person asking it at the end of the journey."
The question certainly became something of a national obsession during the spring months of 2013, bookmakers even taking bets on the identity of the killer. Was Tennant tempted to use his inside knowledge for unfair gain? "I was too scared about getting caught," he says. "How would that look?"
The first series, although devised long before The Killing, shared the Danish drama's interest in the emotional aftermath of the murder – following its effect on a tight-knit Dorset coastal community. It was this, thinks Tennant, that gripped viewers. "The basic premise is a whodunnit… there's nothing new there," he says. "What he [Chibnall] did was he humanised it. Also one of the great strengths of the show is that it was an ensemble. It was about two detectives, yes, but no more than it was about a family or a reporter. All the characters were so developed."
Access unlimited streaming of movies and TV shows with Amazon Prime Video Sign up now for a 30-day free trial
Sign up
And most of the characters are back for series two, including Whittaker and Andrew Buchan as the victim's parents, and ex-Doctor Who companion Arthur Darvill as the local vicar – although obviously minus Matthew Gravelle , who played the murderer. When did Chibnall break the news to Gravelle that he was the killer? "The night before we shot episode eight. I phoned him up – there was a silence on the other end of the phone for about 10 seconds and then he went, 'brilliant'. Everybody came into the show on the proviso that they could be the killer. When we contracted them right at the start, we said, ' you're not going to know and it could be you'."
Tennant says his lack of foreknowledge helped him with his role as the investigating officer. "It means you're genuinely questioning everyone you come across… you have no sense of whether they're lying to you or not." Adds Colman: "We were rubbish though because after every interview, we would both go – David in particular – 'they did it… they definitely did it…'"
Secrecy on set in the new series – filmed under the codename "Tea and Sympathy" – has been maintained by hiring two former Coldstream Guards to stand in front of any visiting paparazzi while the show is shooting on location, like today in Clevedon, the setting for many of Broadchurch's shops and offices, as well as its parish church (the beach, harbour and cliff-top scenes are shot at West Bay near Bridport). "But that's a victim of our success so we shouldn't be too churlish about it," says Tennant.
"A lot of our stuff takes place in a studio," says Chibnall. "Pretty much all the big moments are not on location. You prefer if things don't end up in the papers but we knew it was more likely to happen this time."
What has already ended up in the media is that there are several new cast members, most eye-catchingly Marianne Jean-Baptiste and Charlotte Rampling. "The first series was just going out in France, where Charlotte lives," says Chibnall. "And she'd been watching it in French, so she knew a lot about the series."
"The cast list is huge now," says Tennant. "It's a little bit Game of Thrones in the way storylines are scattered and then intersect… it's beautifully crafted. We went to visit Chris Chibnall in his office when we were down in Dorset where he works and there's a big whiteboard with all the secrets – and he covered it up because we were coming to visit. He'd get very twitchy if you went anywhere near it."
The 43-year-old Scottish actor took time off filming the second series to reprise his role (now called Detective Emmett Carver, but still un-shaven) in the American re-make of Broadchurch, Gracepoint. While Chibnall wrote the pilot episode of Gracepoint and acts as executive producer, Ellie Miller was played by Anna Gunn from Breaking Bad, and there will be a different ending to the British original. How strange was it for Tennant to play the same character but with an American accent?
"They certainly feel very different in my head, so it never felt like a problem," he says. "You just try and play each scene as it comes, which is all you can ever do in any bit of acting; you just try and be as real as you can in that moment, and then the differences or the similarities land where they fall, I suppose."
Tennant says he is still more famous for Doctor Who than for either Broadchurch or its American remake, but for Colman, hitherto best known for the Channel 4 comedy Peep Show, the exposure to celebrity has been daunting. "Imagine going into a room when everyone knows your face but you don't know theirs… it's not a comfortable feeling," she says. "People are always really nice, which you have to keep reminding yourself, but it's intimidating. I've slowly started becoming a bit of a hermit – I certainly don't answer if anyone knocks at the door."
Colman won the Best Actress Bafta for her performance as Ellie Miller, an award followed – suitably after portraying such a lachrymose character – by a teary acceptance speech. "You can't pretend to cry, I don't think," she says of her ability to well up. "I'm the sort of person if I watch anything on the telly… One Born Every Minute… every time a baby's born… it's real with me."
Chibnall, when I ask him to summarise why he thinks that Broadchurch took such a firm hold on the audience's imagination, pinpoints such raw emotion. "We're very performance-driven on his show," he says. "And audiences love great actors. But I honestly don't analyse because it's such lightning in a bottle, and I've worked on some great shows that I've loved which didn't hit this level. It's best not to think about it."
'Broadchurch' returns to ITV in early January
Join our new commenting forum
Join thought-provoking conversations, follow other Independent readers and see their replies