Collateral's Carey Mulligan: 'I thought, No one is going to believe I'm a police officer. This is ridiculous'
The busy actress is about to hit screens in David Hare's BBC crime drama 'Collateral' and can be seen at the Royal Court in new one-woman play 'Boys & Girls'
James Rampton
Wednesday 07 February 2018 13:05 Comments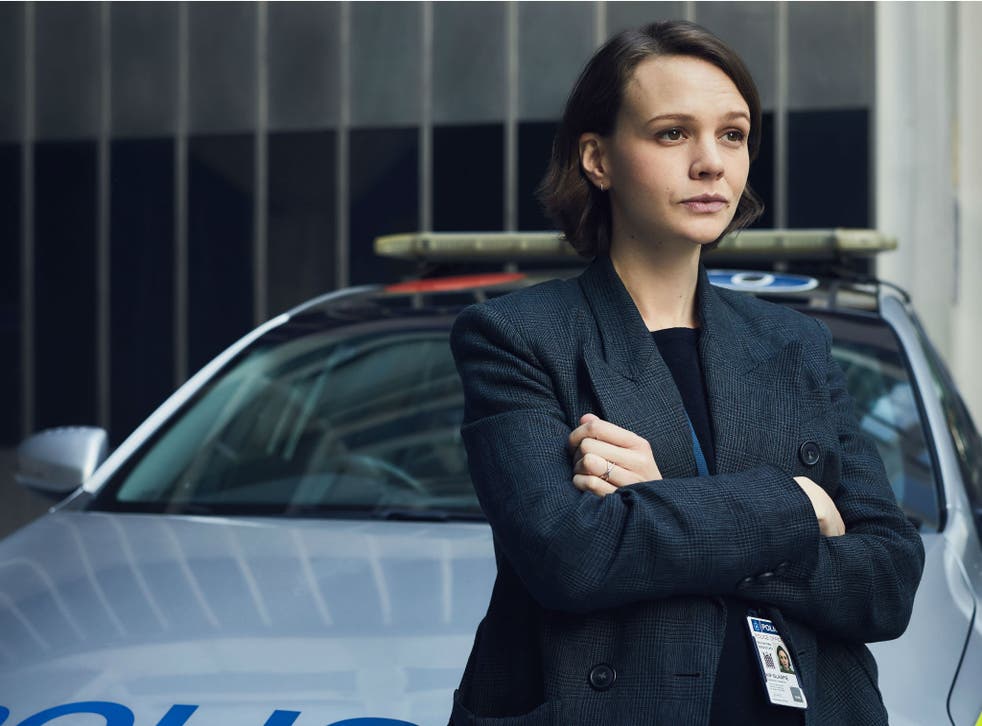 When the writer David Hare asked Carey Mulligan to play the part of Detective Inspector Kip Glaspie, a highly motivated and enormously capable police officer in Collateral, his absorbing new four-part drama for BBC2, the modest actress confesses that initially she thought she might not be up to the job.
Mulligan, who has in the past tended to concentrate on period dramas such as Pride & Prejudice, The Great Gatsby, Far from the Madding Crowd and Suffragette, remembers that, "Right at the beginning, I thought, 'No one is going to believe I'm a police officer. This is ridiculous. They have such authority, and I'm scared of them!'
"I was also pregnant during filming, so the first time I put on a SOCO [Scene of Crime Officer] suit, I looked like a Teletubby! I was also very self-conscious about pulling out the police badge. I said, 'This is silly. No one's going to buy this!'"
So the 32-year-old actress, who is married to Marcus Mumford from the band Mumford and Sons and has two children with him, took the unusual course of trying to persuade herself that Hare was right to offer her the role. "It was about convincing myself that I was grown-up enough to portray a police officer.
"I still think I'm 21 and an ingenue, but actually I'm a grown-up now. So maybe I could have a proper job!"
We should all be grateful that Mulligan persisted for she gives a tremendous performance as Kip, displaying real magnetism as the tenacious police officer.
Collateral is set over four days in contemporary London. After the fatal shooting of a pizza delivery man, the unexpected ramifications of the crime soon start to spiral out of control.
At first, it looks as if the shooting is a random act of violence, but Kip refuses to accept that interpretation. She is dogged in her attempt to find out if a darker conspiracy lies beneath the murder.
The story also drags in other characters who are orbiting round the homicide. These include David Mars (John Simm, Life on Mars). He is a politician embroiled in the aftermath of the crime due to his tumultuous relationship with his troubled ex, Karen (Billy Piper, Doctor Who), who was waiting for the fateful pizza.
Access unlimited streaming of movies and TV shows with Amazon Prime Video Sign up now for a 30-day free trial
Sign up
Also pulled, very much against her will, into Kip's investigation is Jane Oliver (Nicola Walker, Last Tango in Halifax), a caring vicar desperate to hide her secret affair with the only witness to the crime.
Mulligan is as sparky and charismatic off the screen as she is on it. Chatting after the premiere of Collateral at the BFI Southbank, the actress, who worked with Hare on the 2014 revival of his play Skylight in the West End and on Broadway, says that one of the main draws of working on this production was the strength of the female characters.
She reflects that these days you are more likely to find such three-dimensional characters in TV rather than film. "I think for most of the female actresses I know it's just about going where the better writing is. Films have tended to provide a lot for men in terms of great leading roles and not so much for women."
Nowadays, Mulligan adds, "You can get a TV show like Big Little Lies, which has five or six extraordinary roles for women, while there would maybe be half a good role for a woman in a film. I want to play the most interesting, complicated real person, and interesting, complicated real people in films are really, really rare.
"It's about following great writing and playing real people and not playing the girlfriend or the wife. I've done that a lot in the past, and it's not fun."
The actress, who won the Bafta for Best Actress in a Leading Role for her performance as Jenny Miller in the 2009 movie, An Education, goes on to pinpoint exactly why she was so attracted to Collateral. "There is such a scarcity of great writing for women, and this drama has so much. It is happening much more in TV than in film, but it is still rare to have this many well-rounded female characters in one drama.
"What I love is that they are not all likeable – they are flawed, three-dimensional, real people. Often women are encouraged to be amenable, likeable characters, but these women are much more than that. They have so much going on, which is really exciting."
The fact it was a contemporary drama also appealed. The actress, who lives in London, muses that, "I really wanted to do something about now.
"I had done lots of period dramas ... so I wanted to do something contemporary and play this woman who is professional, is not a dogsbody, has real backbone and is in control of herself."
Another element of Kip's modernity is that fact that she is a former pole-vaulter. Mulligan embraced this side of the character – up to a point. She jokes that, "I remember reading the pole vault scenes thinking, 'If they try to put me in lycra, I'll murder someone!'"
Writer David Hare, who has had a very positive time working with Mulligan in the past, is quick to point out her strengths: "She's incredibly good on scripts.
"Carey felt very strongly about certain scenes in Collateral, and I would say with absolutely no embarrassment whatsoever that they were infinitely improved by what she wanted to do with them."
Bafta-winning Hare, whose extensive credits for film, TV and theatre include The Hours, The Reader, Denial, Licking Hitler, and Plenty, says: "I'm very used to actors in movies, particularly in Hollywood, who want to change things and who mostly want to change things in order to make the audience understand better what they are feeling.
"So they think a nice long speech will elucidate what it is that they are undergoing. Those are horrific kinds of rewrites to undertake, but Carey is different. She was really wanting to make this drama as realistic as she possibly could."
Not one to rest on her laurels, Mulligan opens this week at the Royal Court Theatre in Boys & Girls, a new one-woman play by Dennis Kelly (Matilda The Musical) about a mother whose life spins out of control.
The actress says she couldn't resist the challenge. "I just couldn't walk away from it. I was really daunted by the one-woman show aspect of it all. But as my agent said, 'If it's not scary, it's not worth doing'."
Mulligan also stars opposite Jake Gyllenhaal in a new movie entitled Wildlife. Based on the 1990 novel by Richard Ford, it centres on Jeanette (Mulligan), a mother trying to hold her family together after her husband goes off to fight a raging forest fire.
Wildlife was co-written by Mulligan's friends Paul Dano and Zoe Kazan. It is also the directorial debut of Dano, best known for his acting roles in Little Miss Sunshine, There Will Be Blood and War and Peace.
Mulligan explains that collaborating with friends added to the pressure she felt. "There was a kind of triple threat of fear involved in working with people I've known as friends for a decade.
"But it was also really amazing to be able to work with someone like Paul who understands acting so well and understands the holes that you get into ... in the moment with that one line."
Before we part, Mulligan returns to the subject of Collateral, which was co-produced by Netflix. She was particularly grateful that Hare didn't bat an eyelid when, before taking on the role, she informed him she was six weeks pregnant with her second child.
The actress recollects that, "David was totally happy and said he didn't see why Kip couldn't be pregnant. He barely changed a thing and only added two references to the pregnancy in the entire show. We just put a bump in and got on with it.
"I love that because pregnant women don't go around all day clutching their bellies. They are working women and they just get on with it. That is a really strong message from David."
Mulligan was also very pleased that Hare insisted that over the course of the four episodes of Collateral Kip should never get overly emotional. "No 'pregnant acting' was allowed. Kip didn't keep saying, 'Ooh, he just kicked'. There was none of that stuff.
"David also said, 'No crying', which was a revelation to me because I'm constantly crying! So Kip is just working with her pregnancy. She doesn't whinge about it. That was really interesting."
Finally, Mulligan recalls that, funnily enough, "I've worked with David when I was pregnant before on Skylight."
"Carey only works with me when she's pregnant," Hare jokes. "So I'm very much hoping she'll have a third child soon!"
'Collateral' begins at 9pm on BBC2 on 12 February
Register for free to continue reading
Registration is a free and easy way to support our truly independent journalism
By registering, you will also enjoy limited access to Premium articles, exclusive newsletters, commenting, and virtual events with our leading journalists
Already have an account? sign in
Join our new commenting forum
Join thought-provoking conversations, follow other Independent readers and see their replies