The Independent's journalism is supported by our readers. When you purchase through links on our site, we may earn commission.
interview
Chace Crawford: 'I had no idea what was going on in Gossip Girl'
Playing The Deep in Amazon's new cocaine-snorting superheroes series 'The Boys' is a 'change-up', the actor tells Jacob Stolworthy, as he embraces the sexually harassing slime-ball he plays in the show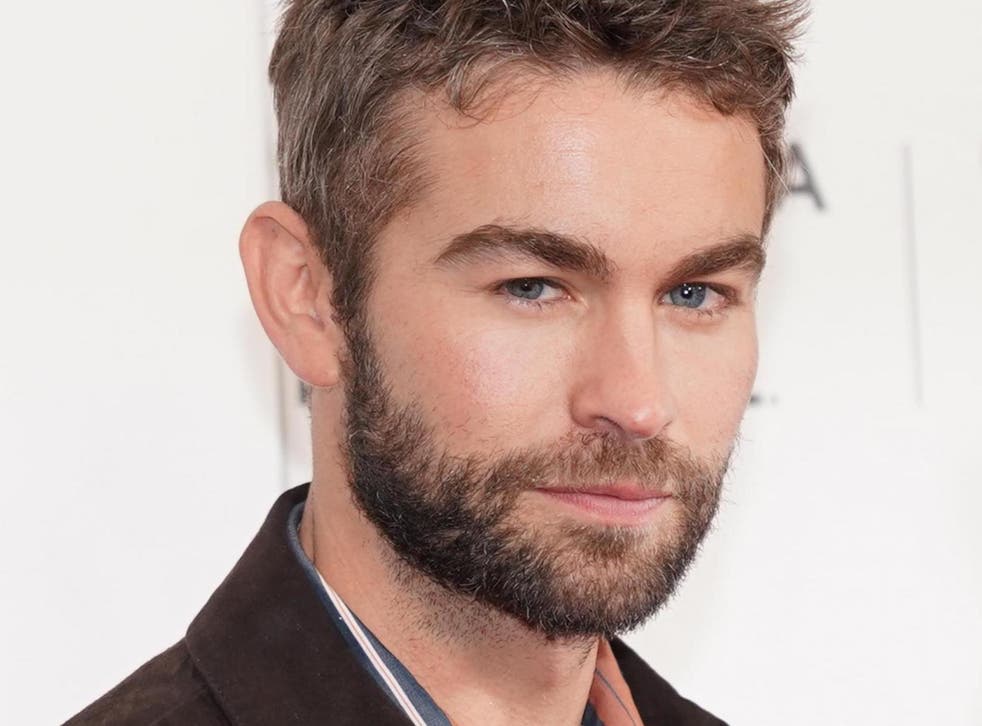 Chace Crawford is the first to admit that, unless you're a Gossip Girl fan, it's hard to name another one of his roles. The 34-year-old played Nate Archibald in the teen drama series for six seasons and has been living in the privileged playboy's shadow ever since the show ended in 2012. Now, seven years later, that's about to change.
He returns to TV screens this week in The Boys, a provocative Amazon series set in a universe where superheroes milk their powers for celebrity status. Here, strait-laced Marvel creations such as Captain America and Ant-Man are swapped out for cocaine-snorting characters more likely to use their shape-shifting abilities for debauched antics than saving lives. It's worlds away from Gossip Girl and, when it comes to Crawford, one can't help but suspect that's the point.
His opening scene alone feels like an unceremonious attempt to remove the shackles of his former character: minutes after we've been introduced to Crawford's hunky hero The Deep, he meets a new superpowered recruit played by Erin Moriarty. With niceties exchanged, he drops his trousers. "I'm not talking about sex," he sputters, as she staggers away in disgust, "just a little bit of pole-smoking." It's an out-of-nowhere shocker, not least in a post-#MeToo age, that effectively sets the show's tone.
"It's certainly more interesting than the stuff I've played in the past," Crawford says on a sofa in London's Soho, eyebrows raised. "It's a nice change-up."
Not that Gossip Girl is a blemish on his CV. Quite the opposite, in fact. While it was not in the same league as other TV shows of the time (Breaking Bad, Mad Men, Lost), its pitch-perfect casting, alluring New York locations and hilarious plot twists ensured the teen drama was better than it had any right to be. Over five years, the series became a cultural phenomenon and has been referenced in everything from Skins to Parks and Recreation to Emma Stone film Easy A.
Given that Crawford appeared in every episode (121, to be exact), it comes as no surprise that he often devised ways of keeping his performance fresh; he was rebuffed by the writers every time.
"There was just more of a formula to it and I understood that after a while," he says. "I think with any TV show after three or four years, it's like, 'How many ways can you skin a cat?' I mean we'd all hooked up with each other by the end. I think they did a really good job with maintaining its popularity within that formula, but as an actor you always want to be doing different things." He pauses. "But we were in our twenties in New York City, so I wasn't complaining too much."
27 films and TV shows that were forced to change their title

Show all 27
Crawford still sees his co-stars, namely Leighton Meester (Blair Waldorf), Jessica Szohr (Vanessa Abrams) and Ed Westwick (Chuck Bass) with whom he lived in Manhattan as the show began. He brushes over questions about his pal's recent controversies – the actor was cleared of rape allegations last summer – but suggests he should catch up with his former housemate while he's in town.
He never watched Gossip Girl when it was first broadcast, telling me he "…had no idea what was going on in any other storyline, because I just didn't care". Now, a whole new audience is viewing the show for the first time following its addition to Netflix – something that perhaps inspired HBO's new streaming service to greenlight a rebooted 10-episode series starring a new cast.
Access unlimited streaming of movies and TV shows with Amazon Prime Video Sign up now for a 30-day free trial
Sign up
"It's so wild to me. The same age demographic is now discovering it and coming up to me on the street. I still appreciate the love, but it's just funny how it's not gone away. I honestly expected it to leave me behind at some point."
Would he return in the reboot if asked? It turns out he's working on a separate idea.
"I always say I'm open to it, but in reality, we're all a lot older so what do you do there? It'd be tough to get everyone back together, but maybe we could do a movie. It could be a riskier, grittier version. Or just give it another 10 years and we'll be playing the parents of the new cast."
The shaven-headed Crawford leans forward, adjusting the sleeves of his leather jacket. He's laidback, friendly. Born in Texas in 1985, he modelled during secondary school, then studied broadcast journalism at college before dropping out to pursue an acting career. Five years and numerous screen tests later, he scored the Gossip Girl role. With his charisma and boyish good looks, many believed Crawford's small screen success would translate to a movie career when the show came to an end. However, following the show's finale, the high-profile film roles – save for an appearance in 2012 comedy What To Expect When You're Expecting – never transpired. He blames typecasting.
"It's frustrating when you know you're not getting cast because you look… well, because you're a heartthrob from this thing," he says. "I know this happens and it's okay."
True enough, Google "Chace Crawford" and you'll find a flurry of headlines talking about his face, muscles or, if he's really lucky, relationship status. Consequently, his unexpectedly comic turn in the criminally underseen Hulu show Casual (2017) and memorable performance as Manson Family cult member Tex Watson in drama Charlie Says (2018) both fell by the wayside. He agrees it's a shame, but says he's used to it. But let's not beat about the bush: does he find it frustrating that his acting skills are overshadowed by the fact he's, in the words of Derek Zoolander, really, really good-looking?
"Well, it's definitely strange. I guess there are worse problems to have, but it can be a little tiresome because I don't like attention being drawn to me. I have a specific look and it's my job to play against that."
The best TV cliffhangers of all time

Show all 37
The Boys will probably help. Sure, his character walks around with his biceps on show, but let's not forget he's also a sexually-harassing slime-ball more in tune with Westwick's Gossip Girl character than Nate. It seems, almost a decade on, he's found his way around the typecasting debacle.
"No one likes to be put in a specific box. You don't want to be known for just your looks or just this or that – you want to be able to get lost in the roles and have some range. That's really all I can hope for in life after Gossip Girl."
The Boys is available to stream on Amazon Prime now
Join our new commenting forum
Join thought-provoking conversations, follow other Independent readers and see their replies