Charlie Cox interview: 'Maybe I'm not good enough to play Bond'
Playing a crime-fighting superhero would parachute most British actors to the front of the 'next James Bond' conversation, but not Charlie Cox. Jack Shepherd meets the 'Daredevil' actor to ask him why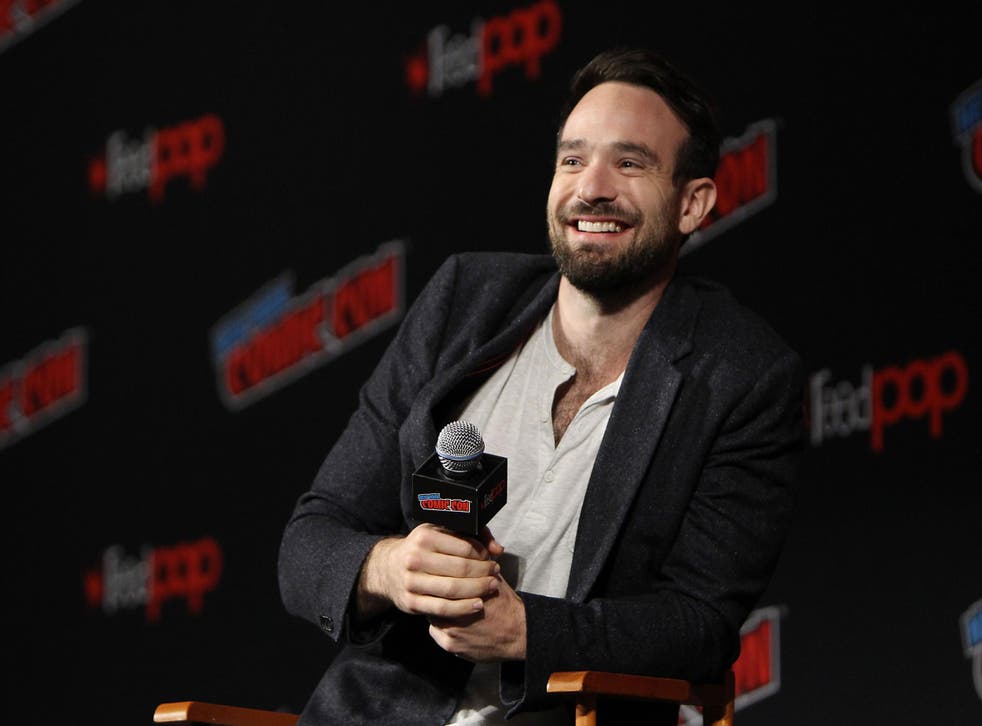 Who should play the next James Bond? The question has been a reliable conversation starter since Sean Connery quit the franchise after You Only Live Twice – only to return for one last mission after George Lazenby's single outing. As such, almost every British actor who has ever played a suit-wearing, crime-fighting character on television has been a rumoured contender for the role. The latest addition to a list that includes Idris Elba and James Norton, is Bodyguard's Richard Madden. Yet, despite playing a suit-wearing, crime-fighting character in Netflix hit series Daredevil, Charlie Cox remains absent from the Bond debate.
"Maybe I'm not good enough," says the 35-year-old actor, who also starred in Netflix's less successful Daredevil spin-off, The Defenders. "Maybe it's because I'm not on social media, or I'm not present in people's minds outside of work. I don't really go to parties. I don't do advertising. I have no idea, do you know?"
We're in Milan to talk about the third season of Daredevil, based on the Marvel Comics character. Cox plays the lead: a blind, pacifist lawyer by day and villain-throttling superhero by night. The last viewers saw of Matt Murdock, the hero's alter-ego, he was being nursed back to health by a nun after being crushed by a collapsing building. Believed dead by the rest of the world, Murdock removes himself from Karen and Foggy – two sidekicks who add much-needed levity – deciding instead to wallow in self-pity and sulk about a deceased love interest. For the first time, he's obnoxious and unlikeable.
"We didn't set about saying 'how can we make him unlikeable,'" says Cox. "I've always wanted to play as much of the character's flaws as the attributes. I guess my belief has been that to make him interesting and relatable, you need to have the spectrum of human emotions and behaviours. Matt has always had his unwavering faith, this belief that he can turn the forces of evil into a power for good and at times… I felt with this season it had to have finally have broken him."
Cox has played a lot of tough men in his time, but he prides himself on bringing to them an unexpected complexity. Even the toughest, men such as Owen Sleater, from HBO Prohibition-era drama Boardwalk Empire, are imbued with a certain vulnerability. "Owen was quite cold and ruthless, but he was vulnerable with Kelly Macdonald's character [Margaret Thompson, with whom Cox's charming agitator has an affair]." he says. "I tend to bring that vulnerability to the characters I play. I guess Bond worries less about what people think," he adds. "Maybe I need to stop being nice."
He'll have his work cut out managing that with Daredevil: his protagonist is a masked crusader who's no stranger to getting his hands dirty. Unlike the child-friendly, bright and brash Marvel movies, Netflix's Daredevil lurks in the shadows: gritty and viscerally violent. Indeed, season two included a scene in which Jon Bernthal's lethal vigilante, The Punisher, slit a man's throat in prison, leaving him a red skull shape on his white shirt. In fact, The Punisher proved so popular he received a spin-off series, which has since inspired a storm of condemnation for featuring guns as a means to defeat evil.
"It continues to be a question, an uncomfortable question," says Cox, on whether it bothers him that he too is headlining a show he's previously admitted glorifies violence. "There's the flipside that it's entertainment. It's part of human nature. And it's…" Another pause. "But no-one can live their life in the belief that everything one says and does and puts out there makes them responsible for what people who aren't right and in a safe state of mind might do."
Cox argues that his character ultimately wants to do good, and that heroism is not a straightforward concept but one filled with complicated decisions. "Maybe it's convenient because I have to think this way in order to play the character," he says. "Obviously, in our show we're dealing with extremes, larger than life stereotypical situations. But in life, they are metaphors for the daily challenges of doing the right thing."
Daredevil gave Netflix its first Marvel superhero, and has led the way for a whole lot more. In quick succession followed there Jessica Jones, Luke Cage, and Iron Fist, all of whom then came together in the crossover series The Defenders, to defeat Sigourney Weaver, who played the leader of an evil ninja cult named The Hand. Unlike the critically acclaimed Daredevil, though, the Avengers-light result met with middling reviews.
Access unlimited streaming of movies and TV shows with Amazon Prime Video Sign up now for a 30-day free trial
Sign up
"I knew, going into it, that it was a massive task, because the shows are so different, tonally," says Cox. "And I admire [showrunner] Marco [Ramirez] enormously for what he achieved, but it did mean that we had to all make some compromises on what we understood to be the worlds these characters live in…"
He pauses for a few seconds. "It's difficult to comment on. I don't want to blame anyone. It was just an uphill challenge. With there only being eight episodes, and you have to spend a few episodes having all these people meet... Sometimes I find reviews spot on, and other times I don't. The trick is, you're always going to get periods of your career when things are received better than others. You just get on with it, I guess."
Cox is used to taking a pragmatic approach to his career. Even with two huge TV series – Boardwalk Empire, Daredevil – to his name, and various leading parts in films, including most notably the Matthew Vaughn-directed 2007 adaptation of Neil Gaiman's Stardust, he still worries about ending up without a job. In the last four years, he has only had two film roles – in Michael Caine caper King of Thieves and comedy horror Eat Locals.
The 50 best TV shows on Netflix UK

Show all 50
One of the reasons the number of opportunities has dwindled, he suggests, is because of the sheer number of TV shows airing. Thanks to Netflix – which produces Daredevil – Amazon, and Hulu, there's more content than ever, and therefore more celebrities and actors. And competition. When you're an actor who comes with the parenthesis "only available when not filming Daredevil," you're much less attractive to potential employers – to the point of being unemployable. Does Cox find the fact he is so committed to one role artistically stifling?
"Would I like to do other work? Absolutely," he says. "But I also have a wife [Marvel Television producer Samantha Thomas] and a daughter. So, when I'm not working, it's so lovely to have that time with my family, to take that time off."
Cox, Thomas and their daughter live in New York, where Daredevil is set. In fact, Cox was born in London, raised in Sussex, and trained in Bristol, but the work that took him to the States looks set to trap him there. "My family are in the UK," he says, "but what's scary is that even after Daredevil ends, it's hard for me to envision a world that brings us back to the UK."
The series, he points out, is largely American, and the opportunities when it inevitably ends will no doubt be primarily American too. "I love America, it's exciting and fun, but it's painful that my mum and dad aren't in my daughter's life on a day-to-day basis," he continues. "When she sees them it's like a reintroduction every time. I make a real effort to go over with her, and it's much easier now she's older. But I miss England a tremendous amount. I feel like an Englishman. I miss my football team. I still, stupidly pay for Arsenal season tickets every year and literally don't get to any games. Every time a schedule comes out, the only period I look at is Christmas to see who we are playing, because those are the only two matches I can get to."
Yet Cox doesn't like to just look at things in a negative light. "The bottom line is, I'm tremendously lucky to be an actor and to make a living from – I know it sounds trite – but to make a living from make-believe. It's really fun."
Would Bond ever say something so trite? Possibly not. As Cox himself says, if he is to land the role, maybe he needs to stop being so nice.
Daredevil season 3 is now available on Netflix.
Join our new commenting forum
Join thought-provoking conversations, follow other Independent readers and see their replies