Charlie Higson's Jekyll and Hyde: 'We are all the monster'
​For his next trick, Charlie Higson has reimagined Jekyll and Hyde as Hugh Grant and Jaime Lannister, he tells Gerard Gilbert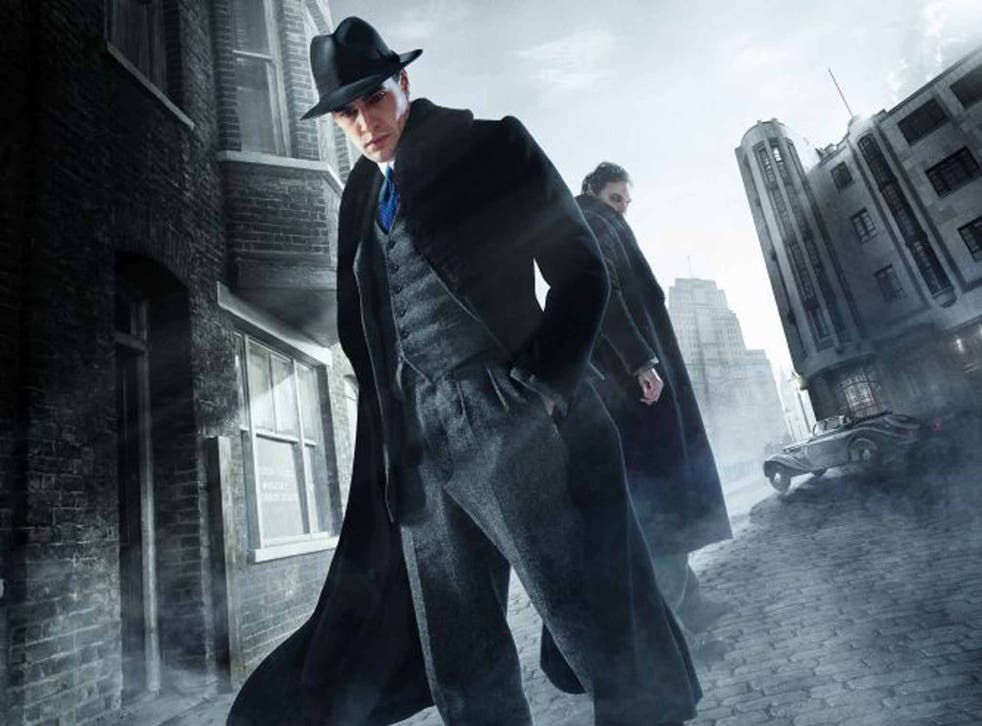 Approaching his late fifties he may be, but Charlie Higson has led several lives already. He was lead singer in the quite successful post-punk band the Higsons, a leading light of the very successful BBC sketch show The Fast Show, and author of the incredibly successful Young Bond and Enemy series of novels for young adults. Somewhere in all this he has also written four adult novels and worked as a painter and decorator with his Fast Show colleague Paul Whitehouse. But that's another story, to be told later.
Higson is now embarking on his latest life, as creator and writer of an ambitious 10-hour ITV drama, Jekyll and Hyde, with a young, largely unknown cast buttressed by the likes of Vic Reeves and Richard E Grant. A lively, self-confident action-fantasy take on Robert Louis Stevenson's 1886 classic about a Victorian physician with a split personality, it updates the story to the 1930s and centres on Dr Jekyll's grandson, Robert (played by Da Vinci's Demons star Tom Bateman), who knows nothing about his affliction until, Superman-like, he saves a young girl from being crushed by a runaway truck.
"The book felt to me like the prototype of the superhero stories," says Higson when we meet. "And it's no surprise that this is the third most filmed fictional character of all time [after Sherlock Holmes and Dracula] because it is an idea that we can all relate to… that the monster is not something from outside, it's from inside. … We are all the monster."
ITV, he says, were looking for an early evening weekend drama for families, "something that could be sold internationally… big, bold and exciting but quintessentially British, and ideally an existing known name. So I just said in passing, 'Oh, something like Dr Jekyll and Mr Hyde', and they said 'Yes… brilliant! Could you write that for us?'
"ITV has never made this sort of thing ever. My model for it was the X-Men films, and the sort of guys who might want to see the latest X-Men film are not going to be saying, 'What's the new ITV drama?' "
Stevenson's original Victorian setting held no appeal. "You could have done it in a steampunk way like Guy Ritchie did with Sherlock Holmes, or the cheaper option would have been to set it in contemporary times, like Steven Moffat did with Sherlock. But I'm not particularly excited by the contemporary world, and it doesn't feel like an easy place for fantasy. Could you really pull off an alter ego in the world of CCTV?
"My Young Bond novels were set in the 1930s, and it's the era of Indiana Jones and early Tintin; it just felt like an era I could have fun with," he says. It's also the era of the most famous screen version of Stevenson's novella, director Rouben Mamoulian's 1931 movie with Fredric March as the conflicted doctor. "It's quite risqué," says Higson. "And the transformation scenes are great."
Ah, yes, the transformation scenes: Higson realised early on that these could make or break the show. "We always said that we wanted to use one actor and he's not going to look like a monster. And we wanted him to be sexy; he's sexy as Jekyll and he's even sexier as Hyde – but sexy in a leather-jacketed, bad-boy kind of a way. So you get your repressed, middle-class English Hugh Grant type and then you get your Jaime Lannister from Game of Thrones."
In a way, Higson could be talking about his own younger self. Privately educated in Sevenoaks, Kent, and the son of a bowler-hatted City commuter ("the classic Monty Python accountant"), Higson decided on a radical change of image when he went up to study English and film studies at the University of East Anglia in 1977. "I'd lived this ordinary middle-class life in Sevenoaks and I wanted to become a new person," he says. "So I bleached my hair, bought a load of punk gear and turned up at university calling myself 'Switch'. And everyone was calling me Switch – people who knew me then still do."
Almost the only other punk in Norwich at the time was Paul Whitehouse, and the pair formed a band called the Right Hand Lovers, with Whitehouse on guitar and Higson on vocals. "We lasted less than a year because Paul and everybody else in the band was thrown out of university for enjoying themselves too much."
Higson went on to be the lead singer for the Higsons, a post-punk funk band who put out two singles (the second, "Conspiracy", containing the immortal refrain "Who stole my bongos? Did you steal my bongos?") and touring incessantly for six years. "Touring was the only way we could make any money," he says. "I knew we were never going to make it really big because we were great in clubs and small gigs and I could entertain a crowd, but as a frontman you do genuinely have to think that you are the messiah."
In any case, by the late 1980s rocks gigs were giving way to electronic dance music, and Higson found painting houses more lucrative, linking up again with Paul Whitehouse. "We were proper posh decorators," he says. "Paul was a fancy plasterer – cornices and ceiling roses." One of those big jobs was Stephen Fry and Hugh Laurie's house (which Higson and Whitehouse eventually bought themselves), having been introduced to the up-and-coming duo by their new friend Harry Enfield.
"We met Harry through mates at university and when we moved to London we all ended up squatting on the same estate in Hackney," says Higson. "Harry had gone down the comedy route as opposed to rock'n'roll, but Paul was definitely the funniest of the three of us. He was your classic funny mate down the pub, and one of the voices he did was a cockney Greek based on the local kebab shop owner, and Harry asked if he could do it as a character live."
The character was Stavros, of course, and made Enfield's name on Saturday Night Live, where Whitehouse, and then Higson, helped write him. "We did Loadsamoney, and on the back of that, overnight, we became treated as established comedy writers," he says. "But neither of us wanted to be considered as Harry's writers for the rest of our lives."
Instead they created The Fast Show, which ran from 1994 to 2000 and propelled Higson in front of the camera. "Originally I wasn't going to be in it, but as we were putting together the team we were always on the lookout for a posher, John Cleese type of actor," he says, his most revered sketch in this role being Ted and Ralph, a tale (created by Father Ted's Arthur Mathews and Graham Linehan) of unrequited love between an aristocrat and his Irish estate worker.
"I found it very easy doing that part," says Higson. "I could just channel my own inadequacies… my shyness… my inability to talk to working-class people… my inability to talk to girls. … It was just based on me in a disco in the 1970s." Despite returning for an online series in 2011, Higson says there will be no more Fast Show. "I just can't think of dragging all that stuff up again", he says. "We might do something live again, but I've always been driven to do new stuff."
Such as writing his bestselling novels for young adults, the Enemy series, post-apocalyptic stories in which gangs of London schoolchildren fight crazed adults known as the Sickos. The concluding instalment, aptly titled The End, is published later this month. It'll be his last novel for a while.
"It was very difficult over the last year making Jekyll and writing a 900-page novel," he says. "I saw [Doctor Who and Sherlock showrunner] Steven Moffat recently and I said, 'I'm doing something wrong, Steven; I can't work out how I ever get any time off in order to just be able to replenish the batteries. He said, 'There is no time off.' He works every weekend and on holiday too."
Higson is already busy on scripts for series two of Jekyll and Hyde, a show he compares, in theme at least, to Breaking Bad and early Homeland. "In Breaking Bad here's this upright, nerdy science teacher who has a second life as Heisenberg, who makes the best crystal meth in America," says Higson. "And Homeland again is the same story. Is he an upright all-American soldier or is he a secret jihadi?"
And there's something of a Jekyll and Hyde about writers too, I suggest – sedentary, often mild-mannered types with sometimes very dark inner lives. "Writers are like that," he agrees. "You sit down and think up horrible things."
'Jekyll and Hyde' starts on Sunday 25 October at 6.30pm on ITV
Join our new commenting forum
Join thought-provoking conversations, follow other Independent readers and see their replies