Christmas adverts 2014: Watch the best TV ads from Sainsbury's to John Lewis
Retailers are all fighting it out for the most heart-warming advert this Christmas, but can they beat Monty the Penguin?
Daisy Wyatt
Thursday 13 November 2014 18:53 Comments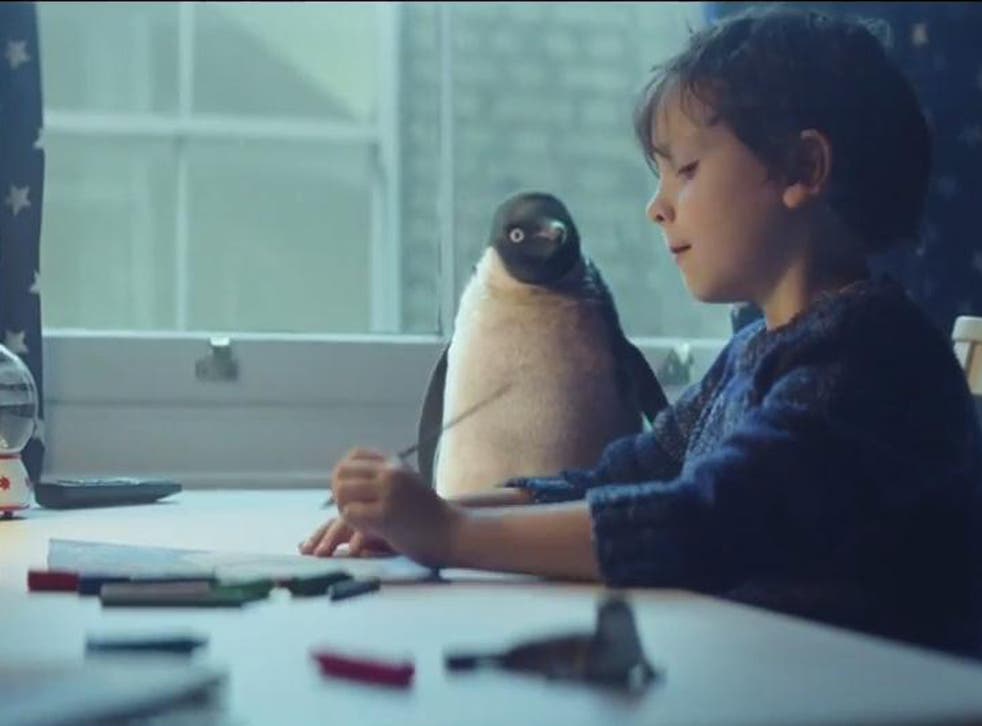 The annual onslaught of heart-breaking Christmas adverts is well and truly underway.
John Lewis appeared to be leading the saccharin stakes last week, but Monty the Penguin has soon been eclipsed by Sainsbury's mighty campaign harking back to World War I.
Released after Remembrance Day, the advert follows the events of the Christmas Day truce in 1914 when British and German soldiers played football together.
Like the John Lewis, Boots and Waitrose adverts, it keeps product placement minimal in a bid to push its heart-warming message.
Sainsbury's
The supermarket chain has teamed up with The Royal British Legion to create an advert inspired by the Christmas truce of World War I. It has very little to do with Sainsbury's, but a nondescript biscuit and chocolate bar do feature.
John Lewis
The highly-anticipated annual John Lewis advert garnered more than 4.6 million YouTube views before it even aired on TV. The heart-warming advert features a young boy who finds his penguin friend Monty a mate for Christmas.
Marks & Spencer – Follow The Fairies
Forget about the pictures of mouth-watering Christmas puddings, this year's advert follows two fairies as they try to match make a couple to a version of Nat King Cole's "Fly Me to the Moon".
Coca Cola – Give A Little Happiness
Waitrose – The Gingerbread
Waitrose has eschewed selling a consumerist dream, and chosen instead to focus on its employee-owned ethos. The advert sees a little girl putting a lot of care into making gingerbread for a school Christmas fair, with the strap-line "when you own something, you care a little more".
Aldi – Everyone's Coming to us this Christmas
Ever keen to prove it's not all about the low-priced European imports, Aldi's Christmas advert showcases some of its more expensive trimmings including champagne and smoked salmon blinis.
Debenhams – Found It!
The department store's unashamedly consumer-focused advert features children wreaking havoc on the shop floor in search of their longed-for presents.
Boots - #SpecialBecause
The Boots advert features a girl who returns from her gap year as a surprise for her Mum who is a nurse working on Christmas day. It has minimal references to Boots and ends with the strapline 'because she's special'.
Sky - Step into the Adventure
An unsuspecting family go on a tour through some of the biggest blockbusters in Sky's most ambitious advert to date, featuring Frozen, The Lego Movie and Muppets Most Wanted.
Register for free to continue reading
Registration is a free and easy way to support our truly independent journalism
By registering, you will also enjoy limited access to Premium articles, exclusive newsletters, commenting, and virtual events with our leading journalists
Already have an account? sign in
Join our new commenting forum
Join thought-provoking conversations, follow other Independent readers and see their replies