Christmas Day television: Doctor Who, Downton Abbey, Strictly, Call The Midwife, Scrooged, Alan Carr, Gone with the Wind
Our pick of the best on the box this festive season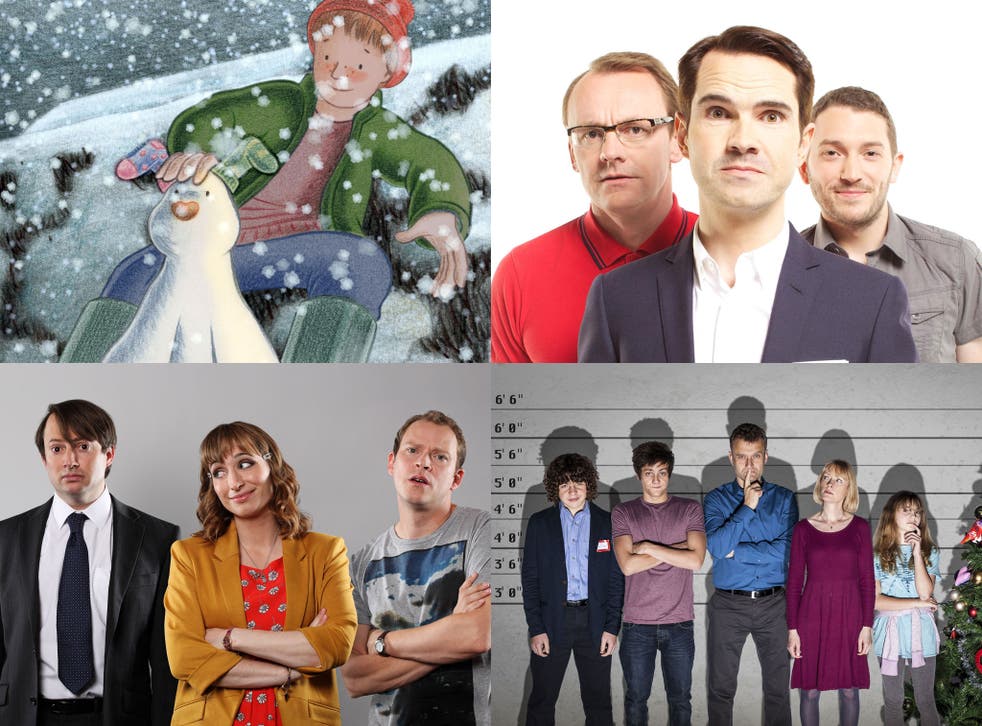 With so much on television today it's a wonder anyone bothers with Christmas dinner, talking to each other or moving from the sofa. To help you through a lengthy list of what's on when and what it is, we've come up with TV schedules for all eventualities. Have a very telly Christmas!
Must Watch:
Doctor Who Christmas Special- BBC 1- 5.15pm
Matt Smith returns as the Time Lord, finding himself transported to Christmas Eve 1892, where he comes face to face with a snowy enemy. Jenna- Louise Coleman is the new doctor's companion, with guest stars Richard E Grant and Tom Ward.
Downton Abbey- ITV- 8.45pm
This two-hour episode catches up with the Crawley family a year after we last saw them. Set in the summer, they make an annual trip to visit Scottish relatives in Duneagle Castle.
Strictly Come Dancing Christmas Special- BBC 1 6.15pm
Brucie and Tess welcome six newcomers and nine former contestants to compete for the Christmas glitterball trophy. JLS singer Jonathan, Bobby Ball, Katy Brand, former footballer Fabrice Muamba, Sheila Hannock and presenter Helen Skelton will all be putting on their dancing shoes for the first time. Former winners Natasha Kaplinsky, Tom Chambers and Chris Hollins will be amongst the former contestants returning to the show. The spandex will be shinier than the crimbo tinsel!
Kids:
The kids are going to be up bright and early desperate to tear open to their presents. If you want at least a few more hours of peace before the Christmas fun begins, fear not, as there's enough telly to keep them quiet until breakfast.
Start early with Horrible Histories Christmas (BBC 2) at 8am; the history-based comedy takes a look at some of the gruesome facts and oddities of Christmas in the past, or if your kids are fans of Dr Seuss, the animated adaptation of Horton Hears a Who! is on at 8.20am on BBC 2.
The kids will be spoilt for choice for fantastic animations throughout Christmas afternoon. Let them work up an appetite for turkey with Shrek the Halls (BBC1 12.15pm), a Christmas themed short film featuring all the best-loved characters from the hit series of movies.
Animated Pixar classic Toy Story is on at 1.25pm, followed by (with a short break for the Queen's speech, of course) Tangled (ITV 3.10pm), the 2010 Disney animation based on the story of Rapunzel.
Alternatively, fans of DreamWorks Madagascar films will want to switch over to BBC 1 at 12.40pm for Madagascar: Escape 2 Africa. The escaped zoo animals try to escape to New York, but a crash-landing finds them in the wilderness of the African plains for the very first time.
Access unlimited streaming of movies and TV shows with Amazon Prime Video Sign up now for a 30-day free trial
Sign up
Turn over to BBC 1 at 4.35pm for Room on the Broom, an animated adaptation of the children's book by creators of the Gruffalo. It tells the story if a friendly witch who invites animals to live on her broom. Voices are provided by an all-star cast including Gillian Anderson, Rob Brydon and Simon Pegg.
Teenagers:
Grumpy teenagers can't fail to crack a smile at the fun-filled capers of Scooby Doo and the gang in the 2000 Warner Bros comedy Scooby Doo and the Alien Invaders on ITV1 at 7.55am.
JLS Fans (aren't all teenagers? no?) will want to catch A Very JLS Christmas on Sky 1 at 7.30pm. The group talk about their rise to fame and chat about some of their most successful hits. Keeping with the pop theme, ITV 2 has an afternoon for X Factor themed telly with The Xtra- factor: Groups Best & Worst Ever, The Xtra- factor: Overs Best & Worst Ever, The Xtra- factor: Judges Best & Worst Ever, all kicking off at 3.30pm.
Scare yourselves witless with a gem that predates CGI Jurassic Park at 6.35pm on ITV 2. After which you can tune into 2004 Walt Disney and Pixar comedy The Incredibles on BBC 3 at 8.55pm.
And if you haven't yet gorged yourself on Christmas films, try the 1988 comedy Scrooged on Channel 4 at 2.25pm or The Santa Incident on Channel 5 at 5.25pm.
Inbetweeners:
Unless you've got over-excited younger relatives disturbing you from your Christmas morning sleep, you won't be up until late morning, so commence your day of Christmas telly will a double bill of festive themed Futurama (Sky 1) at 12pm, followed by five Christmas Simpsons episodes.
At 9pm, comedian Alan Carr will be joined by McFly, JLS, David Walliams and Dragon's den panellist Hilary Devey for the Alan Carr: Chatty Man Christmas Special (Channel 4).
If you love internet video virals, stick with Channel 4 to catch Rude Tube, where Alex Zane presents fifty festive themed internet videos.
At 11.20pm, catch the last episode of season 8 Celebrity Juice, Celebrity Juicemas Carol (Channel 4). Host Keith Lemon and team captains Holly Willoughby and Fearne Cotton will be joined by guest Mark Wright of Towie in re-enacting a festive Dickensian tale.
At 11.45pm, try to catch Have I Got A Bit More News For Your Christmas Special on BBC 1. Actor Daniel Radcliffe will be hosting the show with Andy Hamilton and Sara Cox joining team captains Paul Merton and Ian Hislop.
Tune into BBC 3 at 11.45pm for Family Guy Blue Harvest, a double length episode during which Peter Griffin tells the family a spoof Star Wars story.
Mums:
If you're unsure about your menu switch on Channel 4 at 10am for Gordon's Christmas Cookalong Live. The infamous TV chef will be cooking up a step-by-step festive feast live from his London kitchen.
But if chilling out to some classic cinema is more your thing than stuffing turkeys and preparing Christmas puds, you could start off Christmas morning with American epic Gone with the Wind at 9am or ease into Christmas afternoon with the Gene Kelly favourite Singin' in the Rain (BBC 2, 1.35pm). (Let your other half and the kids do the work while you put your feet up).
Enjoy battle of the soaps this evening with Christmas episodes from Emmerdale (ITV 5.30pm & 7pm), Coronation Street (ITV 7.30pm) and EastEnders (BBC1 8.45pm) vying for ratings. With murder and weddings on the cards, there's no doubt that soap world is in for some Christmas drama yet again. Watch out for Lorraine Kelly's guest appearance in Corrie!
If you enjoyed the BBC drama Call the Midwife, switch over to BBC 1 at 7.30pm for a one-off Christmas special. A new-born baby if found on the steps of Nonnatus House.
Dads:
Why not begin Christmas morning with a British favourite. A 1996 Only Fools and Horses Christmas special will be showing on BBC 1 at 11am. If that's not enough classic British comedy for you can also catch Dad's Army on BBC 2 at 7.30pm.
Switch over to Sky Atlantic at 12pm for the The Making of David Attenborough's Kingdom of Plants, a behind the scenes look into the treasured nature broadcaster's latest natural history series.
At 6.25pm, Top Gear fans won't want to miss 50 Years of Bond Cars: A Top Gear Special (BBC 2). Top Gear's Richard Hammond celebrates fifty years of Bond vehicles with an hour-long episode dedicated to 007. He'll be chatting to Roger Moore and Daniel Craig, and in true Top Gear style he'll be trying to turn a lotus into a fully working submarine car.
Turn to Channel 5 at 7.05pm for a triple bill of Edie Stobbart, starting with Edie Stobbart's Christmas Cracker, followed by Edie Stobbart: Trucks, Trailers and Tinsel at 8pm and Edie Stobbart's Christmas Delivery at 9pm.
Don't miss Blackadder's Christmas Carol on BBC 2 at 8pm. The Spirit of Christmas pays Ebenezer Blackadder a visit. Expect all the usual Blackadder shenanigans, with Rowan Atkinson, Tony Robinson, Stephen Fry, Hugh Laurie, Robbie Coltrane and Miranda Richardson.
Register for free to continue reading
Registration is a free and easy way to support our truly independent journalism
By registering, you will also enjoy limited access to Premium articles, exclusive newsletters, commenting, and virtual events with our leading journalists
Already have an account? sign in
Register for free to continue reading
Registration is a free and easy way to support our truly independent journalism
By registering, you will also enjoy limited access to Premium articles, exclusive newsletters, commenting, and virtual events with our leading journalists
Already have an account? sign in
Join our new commenting forum
Join thought-provoking conversations, follow other Independent readers and see their replies