Worst. Episode. Ever: Why the detested TV tradition of clip shows needs to end
Love Island has attempted to follow in the footsteps of a largely derided format, writes Annabel Nugent. The cannibalistic rehashing of old material is commonly reserved for when both the budget and writer's room have run dry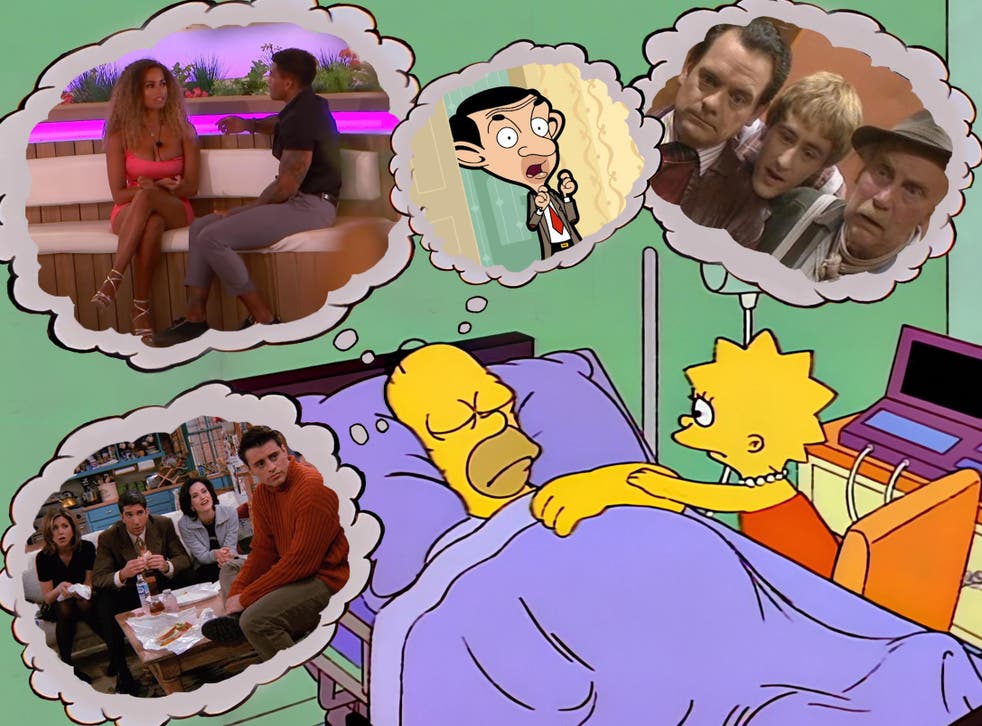 Every summer, I allow myself to indulge in Love Island. And every summer, I say "never again" – only to find myself back in front of the television 12 months later watching the next series while I scroll through Love Island memes on my phone. Despite complaints of a "boring season" or appeals to "bring back the lie detector" aired via Twitter, viewing numbers remain astronomical – the 2019 series was watched by six million people, its highest number since the show began in 2015. No doubt this year was gearing up to be another record-breaking season. Instead, Best of Love Island has put a dampener on things; watching "all the dramz" unfold the second time around might just be the show's disappointing swan song.
When ITV announced Love Island would be a no-go this summer – for obvious, pandemic-related reasons – shocked fans tweeted in dismay (and I admit the prospect of watching horny, hot people in the sun did momentarily brighten the dark den of my isolation too). But we should have seen it coming. Acclaimed shows like Derry Girls and billionaire-backed blockbusters like Christopher Nolan's Tenet and Wes Anderson's The French Dispatch have been pushed back, so the idea that Love Island – a show where contestants regularly pass masticated food via each other's mouths like bottle-tanned baby birds – would be gracing our screens seems rightfully outrageous. And for a series where saliva is swapped constantly and one tanned limb is almost always entwined with five others, the idea of face coverings was implausible, and social distancing, laughable.
But they've tried to placate a drama-thirsty audience and so a dreaded clip show has been bestowed upon us. A common yet reviled tradition in television, used by every TV show from The Simpsons to Torchwood, a clip show is an episode that features a compilation of highlights from past instalments. Best of Love Island does what it says on the tin; a reel of the most memorable scenes across its five seasons. The action kicked off with the first of three episodes: "Love Island: All the Dramz". It was a rapid-fire sequence of clips depicting the reality show at peak reality show: the yelling, the swearing, the sweating, huffing and puffing.
Like any clip show, though, the gimmick gets old quick. In the time since the footage first aired, the scenes have calcified into parodic versions of themselves; the tans look more orange, the fights appear more operatic, and the mysterious strings being pulled behind the lens glitch into view more often.
Watching an annoyingly indignant Michael stand hand-in-hand coupled up with new girl Joanna, as Amber returns from Casa Amor to realise that no, he hadn't stayed faithful, feels even worse on second viewing. And not in the good, righteous rage kind-of way elicited at first. Now, it just feels sad. Detached from the (supposedly) high-stakes drama of the show, the clip – and the episode – fell flat.
And while seeing Tom cower like a little boy when Maura rips into him is still hugely cathartic, the feeling of satisfaction is only a fraction of what it was last year. And certainly not enough to offset the bad taste left from rewatching Amy reach breaking point after she's humiliated and heartbroken in front of a dozen or so cameras and six million strangers – until she eventually had to leave filming altogether.
Applying the clip show format to Love Island has had an unintended upshot. Seeing these incidents isolated one after another has pulled into focus the ethical ramifications of a show whose very existence depends on it producing tears, tantrums and theatrics – no matter the cost. The number of Ofcom complaints has surged from just 13 in series one to 3,104 in last summer's season.
Ethics aside, though, the revelation that Love Island's clip show is bad shouldn't come as a surprise. The second-rate format is a detested tradition in television. Its cannibalistic rehashing of old material is commonly reserved for a late-in-the-series slot when both the budget and writer's room have run dry. Episodes with no new material let those behind the camera save money, catch up on a tight schedule, surrender to a moment of creative exhaustion, or – in the case of Love Island – rack up ad revenue during a global crisis.
Fresh Prince of Bel-Air, Mr Bean, Star Trek: The Next Generation – many of our most cherished shows are guilty of it. British television is less often the culprit but still sometimes one slips through the cracks: Only Fools and Horses, I'm a Celeb and Torchwood have all found themselves succumbing to the temptation of putting out a banal clip show. Five of the six that Friends dared to air during its 10 seasons rank the lowest on IMDb. When Star Trek: The Next Generation threw their offering onto the steaming pile, "Shades of Grey" became widely regarded as the worst of its series. Critics called it "god-awful"; a "travesty". The Simpsons managed to hold off until season four to do a clip show, and when they did, they offered it up with the apologetic title: "So It's Come to This: A Simpsons Clip Show". Though one review called their attempt "as good as a clip show ever gets", that was the very definition of damning with faint praise.
Access unlimited streaming of movies and TV shows with Amazon Prime Video Sign up now for a 30-day free trial
Sign up
Lately, we've become increasingly high-brow about our television, and the clip show format represents it at its most lazy. The likes of True Detective (specifically season one), Killing Eve (also season one), I May Destroy You, and The Bodyguard have spoilt us with innovative storylines, characters with depth, and razor-sharp dialogue. Anything less feels like a haphazard compromise, including a slap-dash compilation of memories forcefully written into a script by way of an eye-roll-inducing cliché: having a character fall into a coma, deliberate a major life decision – or clean out the attic. In lieu of a proper finale, Mr Bean signed off its first and only season by recycling old skits while he reminisced over items found in his loft.
When The Office US returned from a six-week hiatus to give fans a clip show in its sixth season, one fan started a subthread on Reddit titled: "We can all agree THE BANKER (S6.14) is the WORST episode of the series, yes??" Given that it's the show's lowest-ranked episode ever, the resounding answer is yes. The people have spoken: stop the clip shows.
And a clip show of a reality series like Love Island is not the same as one of a comedy like The Office – it's much worse. Love Island and others of its ilk are designed to be watched in a pressure cooker. There's a reason that episodes air almost every night of the week; it's the same reason why every week there is the additional hour-long screening of Aftersun. And then there's the inevitable watercooler debrief the next day dissecting last night's events: who kissed/confronted/fancied whom? For six whole weeks, we have Love Island on the brain because the truth is, if we're let up for air for even a second (let alone the five years between the first season and the clips that are now airing on Best Of) we realise that really, honestly, we don't care.
There are exceptions; this summer's Big Brother: Best Shows Ever – a special season celebrating the greatest episodes of the reality competition – has been hailed as the ultimate lockdown show. But Big Brother has something Love Island doesn't, or at least not yet: nostalgia. Audiences have been grateful for the memory of Helen and Paul's romance, or the days of simple challenges like which housemate can stay in a cardboard box longest.
Like so many others, I had high hopes for The Best of Love Island. Maybe it would be a palliative for a lost summer, or even just another mindless activity to pass the time. But after watching the first instalment of its clip show series I won't be tuning in for another. Since the advent of YouTube, streaming services and easy, free editing software, clip shows have become an unnecessary evil. With super fans dedicating whole Instagram accounts to Maura's clapbacks or Chris and Kem's friendship, who needs an entire episode of recycled content? Even Iain Stirling's commentary couldn't resuscitate the dying format.
And more than that, the rapid-fire model of the clip show has revealed with more clarity than ever the shady ethics of a show where emotional turmoil translates literally into views and money. Maybe it's this reality that will have us switching off Love Island for good – not just the fact they've subjected us to yet another bad clip show.
Register for free to continue reading
Registration is a free and easy way to support our truly independent journalism
By registering, you will also enjoy limited access to Premium articles, exclusive newsletters, commenting, and virtual events with our leading journalists
Already have an account? sign in
Register for free to continue reading
Registration is a free and easy way to support our truly independent journalism
By registering, you will also enjoy limited access to Premium articles, exclusive newsletters, commenting, and virtual events with our leading journalists
Already have an account? sign in
Join our new commenting forum
Join thought-provoking conversations, follow other Independent readers and see their replies