Sharp, smart and sensitive: Why Dave is the best new comedy of 2020
Beneath a barrage of jokes about porn, race, religion, drugs and penises lies a clever and moving series, writes Ed Cumming
Friday 05 June 2020 07:15 Comments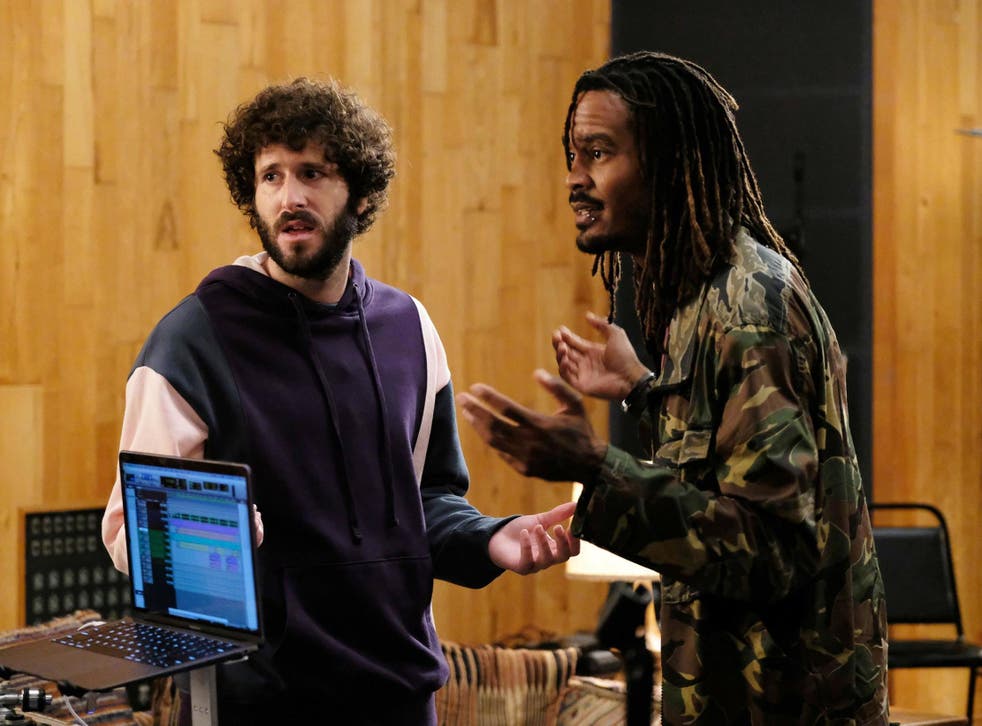 I missed Dave when it began in early May. Partly because it was smuggled away late on Sunday nights, and partly because it is so filthy in places – most places – that it defies recommendation to polite society. Forget watching it with your parents; I could hardly watch it with myself.
Yet it was enthusiastically recommended by a friend who knows his US telly, so I looked it up. I'm glad I did. Beneath the barrage of jokes about porn, race, religion, drugs and penises, especially penises, there lurks a sharp, smart and surprisingly sensitive series and my favourite new comedy of 2020.
Concluding this Sunday on BBC Two – it's also all on iPlayer in 10 mercifully short 25-minute episodes – Dave is the semi-fictionalised story of Dave Burd, an upper-middle class Jewish comedian from Philadelphia trying to make it in hip-hop. His professional alter ego is Lil Dicky, who has won a degree of notoriety, but not yet made any money, for lyrics about his weird small penis. In the opening scene, Dave talks a doctor through the misshapen member in precise detail. It's a useful early warning exercise: if you find it too much, you will probably not enjoy the rest of the series.
Like Brent or Partridge or Fawlty, Dave is simultaneously naive and un-self-aware, so he comes across as either hapless or obnoxious depending on the situation. As the white ingenue in a predominantly black world, he is ripe for being mocked and taken for a ride, but he is also so caught up in his own ambition that doesn't realise when he's offending those around him. In the first episode Lil Dicky tweets that he just got head, to the understandable chagrin of Dave's nursery-teacher girlfriend Ally (Taylor Misiak). "This is Lil Dicky tweeting," he explains. "Think of me as like a corporation."
A natural comic performer with a machine-gun gag rate, Burd makes his version of himself likeable enough that we root for him even when he puts his foot in it. Having made a Faustian pact by rapping about his penis, he struggles to be taken seriously despite his obvious talent. Lovers of hip-hop and the Daily Mail sidebar will enjoy the cameos from Trippie Redd, Macklemore and Justin Bieber. There's even a Kardashian. But they are only incidental to the comedy, which is an old-fashioned loser-with-dreams tale elevated by a tight script and a rock-solid ensemble cast.
Travis "Taco" Bennett plays Elz, an old pal of Dave's who works as a sound engineer. Misiak is convincing as Ally, who loves Dave but would prefer he came without Lil Dicky's worse excesses. She's a vital counterweight in a world that remains heavily male-dominated. Ally lives with a sharp-tongued graphic designer, Emma (Christine Ko), while Dave's flatmate is his friend Mike (Andrew Santino), a trader who volunteers to become his manager.
The breakout star, however, is GaTa (as in "Alligator"), Lil Dicky's off-screen hype man, who plays himself. He's a rangy, dreadlocked street philosopher whose lightning charisma illuminates every scene he's in. The fifth episode, in which we learn more about GaTa's past, is unexpectedly moving and takes the series into new territory. He won't be a hype man forever.
These days Lil Dicky is a real-life star who sells out huge concerts and whose songs have hundreds of millions of streams. His challenge was to convince the hip-hop world that he was not a novelty act – he was just trying a different approach. White, self-deprecating middle-class Jewish rappers might still be unusual, but white self-deprecating middle-class Jewish TV comedy characters are not. If Burd has cracked music, he ought find the small screen a doddle. On the evidence of this series, which has been recommissioned, he does.
Register for free to continue reading
Registration is a free and easy way to support our truly independent journalism
By registering, you will also enjoy limited access to Premium articles, exclusive newsletters, commenting, and virtual events with our leading journalists
Already have an account? sign in
Join our new commenting forum
Join thought-provoking conversations, follow other Independent readers and see their replies