The Saturday Interview
David Tennant interview: 'The apocalypse is in sight. You can smell it'
The former 'Doctor Who' star talks to Alexandra Pollard about Amazon's Neil Gaiman/Terry Pratchett adaptation 'Good Omens', feeling disposable as the Doctor, and the divisiveness of British politics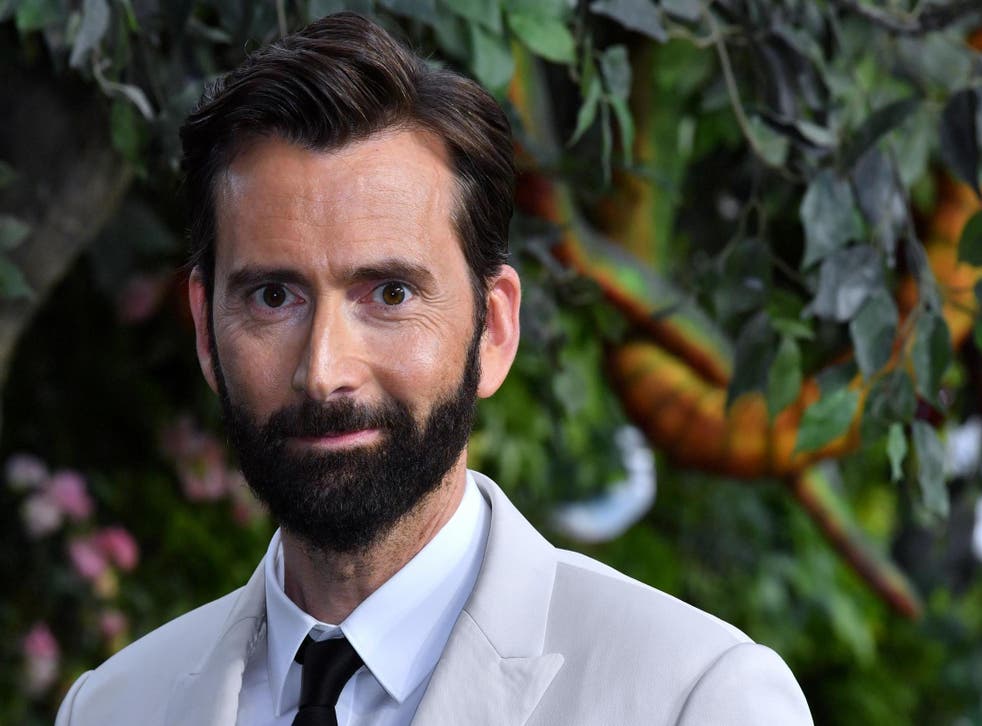 Doom is at the heart of the new Amazon Prime series Good Omens. David Tennant thinks that's about right for the times we live in. "The apocalypse does feel like it's in sight," he says brightly. "You can smell it."
The Scottish actor – sparky and with the same fidgety, wide-eyed liveliness that made his turn in Doctor Who so beloved – is in a London hotel room. He went for "a sort of drink" last night after the premiere of Good Omens, though he doesn't seem the least bit tired. "It was fun! And it was great to see it – I'd only seen it on my iPad previously."
The show certainly benefits from as big a screen as possible. An enjoyably silly, high-concept (not to mention high-budget) comedy, based on Terry Pratchett and Neil Gaiman's co-authored 1990 novel of the same name, Good Omens stars Tennant as a demon called Crowley, and Michael Sheen as an angel named Aziraphale. They're hardly natural allies, but they've been crossing paths since the days of Eden, and several thousand years in each other's company has rendered them rather fond of one another. When Armageddon is set in motion – a complex, farcical plan involving a baby swap and the Antichrist – they decide to defy their bosses and work together to try to stop it.
Tennant is clearly having a ball playing a demon – "a delicious part", he says, practically smacking his lips – channelling the enjoyably obnoxious swagger of Bill Nighy. But alongside all the strut and the camp chaos, the show asks some deep questions about the nature of good and evil, with lines that are practically delivered with a wink to camera. "As if Armageddon was a cinematic show you wanted to sell in as many countries as possible," says Frances McDormand's narrator at one point.
Tennant, who on screen and in person looks about a decade away from his 48 years, agrees that the show is "perhaps going to seem prescient in a way that it might not have done 10 years ago … but that doesn't mean there might not have been other subtleties that we'd have picked up on then, because of circumstances…" He thinks again. "Yes, maybe it's time to tell this story."
The thing about Crowley and Aziraphale, he says, is that "they're representatives of these two fundamentalist viewpoints, and actually by living among these humans they've been knocked off course, both of them. They're sort of meeting in the middle. Maybe that's where we all need to meet for there to be some hope."
It's difficult, I say, if someone's viewpoint is diametrically opposed to your own, to meet them in the middle sometimes. "Absolutely, oh it's very tricky," he nods. "Nobody said it was gonna be easy, saving the world! But when everything gets so tribal, then there can be no solution, there can be no moving forward. It's like with our own parliament at the moment. If everyone just says no to everything, then what will actually happen next? We all have to, at some point, accept that we don't exist as an island."
Good Omens: TV adaptation of Terry Pratchett and Neil Gaiman's novel - trailer
The series has been in production since 2017, though plans have been rumbling on for much longer than that. Gaiman, who is also the showrunner and screenwriter, didn't particularly want to make it. "I'd much rather be writing novels," he told The Times. "But this is what Terry wanted to happen, and he's not here." Pratchett died in 2015; his hat and scarf were given a front row seat at the series' premiere.
Tennant knows that the responsibility to do justice to the hugely popular source material is a fairly heavy one. "When people have lived with these characters and this story that means so much to them, you don't want to be responsible for breaking it. I hope I don't live to regret this, but I feel relatively comfortable that we're on the right side of it. I think you'd have to be striking a very fundamentalist position not to see some joy in it."
Access unlimited streaming of movies and TV shows with Amazon Prime Video Sign up now for a 30-day free trial
Sign up
The best TV shows of 2019 (so far)

Show all 47
Besides, he's no stranger to taking on a treasured institution. In 2005, Tennant took over from Christopher Eccleston as the Doctor, a time-travelling extra-terrestrial, on the BBC1 science fiction serial Doctor Who, a show watched by millions. Stepping into the Tardis was no small thing for him. "I'd grown up with that show," he says, "I knew that show inside out. I'd done all my research before I ended up in the part."
That's an understatement. Born in West Lothian, just over 15 miles from Edinburgh, David McDonald (the "Tennant", inspired by the Pet Shop Boys' Neil Tennant, came later, because there was already a David McDonald in the actors' union) told his parents that he wanted to be an actor at the age of three, because of Doctor Who. They tried to persuade him out of it, but he watched almost every episode for years, and became "absurdly single-minded" in the pursuit of becoming an actor. It paid off – at 16, he attended the Royal Scottish Academy of Music and Drama, and he landed his first major TV role at 23, in the BBC Scotland drama Takin' Over the Asylum. A successful theatre career followed, alongside plentiful television work. He was brilliant in Blackpool (2004) and a twinkly Casanova in Russell T Davies's 2005 drama of the same name, before he played the serpentine villain Barty Crouch Jr in Harry Potter and the Goblet of Fire (2005), in the year he started on Doctor Who.
But it was that show that put him on the map, and into the living rooms of millions of people. "I was the fan first," he says, "who then ended up having to not break the show." Not only did he not break it, he transformed it, injecting a wild irreverence back into the franchise and topping most polls ranking all of the Doctors since the show began in 1963. (One of those Doctors was Peter Davison, to whose daughter, Georgia Moffett, Tennant is married, with four children and a fifth on the way.) Even Terry Pratchett, a few years before his death, declared Tennant "the best Doctor Who of ever, because he is an actor".
When he left in 2010, 12 million people tuned in to see him hand over the reins to Matt Smith. "It's tough," he says of letting the part go, "because you're at the centre of something that you love, and that is loved, and it's quite weird to realise that you walk off and it carries on very happily without you. As a fan, you're delighted, but the selfish, human part of you thinks, 'What, am I so disposable?' And the answer is, 'Yes, you are.'"
Disposable or not, Tennant went on to great things. In 2013, he starred alongside Olivia Colman in the ITV detective series Broadchurch – a murder mystery drama that ran for three series and became a phenomenon. So too did Netflix series Jessica Jones, a Marvel Comics adaptation in which Tennant played the malignantly charming mind-controller Kilgrave, alongside Krysten Ritter's eponymous super-heroine. Now, all signs point towards Good Omens continuing that pattern.
If it does, Tennant will be well-prepared for the attention – he has been a household name for a decade now. On the surface, he wears it lightly, though he recently revealed that he sought therapy in the early days of Doctor Who, because fame made him feel "very vulnerable and very raw". As someone so famous, and given his reputation as one of the industry's nice guys, does he feel a constant pressure not to disappoint people? "Course, yeah," he shrugs. "You can't pretend… You're very aware that you're a bit more on display than you would be if you were anonymous. But at the same time, it's human decency. I think as human beings interacting with each other day to day, that's how we should all be. There's a danger in my job – you're looked after and cossetted in a certain way that can delude you into believing that you're much more important than you are."
He rolls his eyes. "It's always worth reminding yourself that that's very much not the case."
Good Omens is streaming on Amazon Prime now
Join our new commenting forum
Join thought-provoking conversations, follow other Independent readers and see their replies