David Walliams's Gangsta Granny: When Robbie Williams met Miss Marple
A Christmas adaptation of David Walliams's Gangsta Granny has attracted an all-star cast. James Rampton joins them on set
James Rampton
Tuesday 24 December 2013 01:00 Comments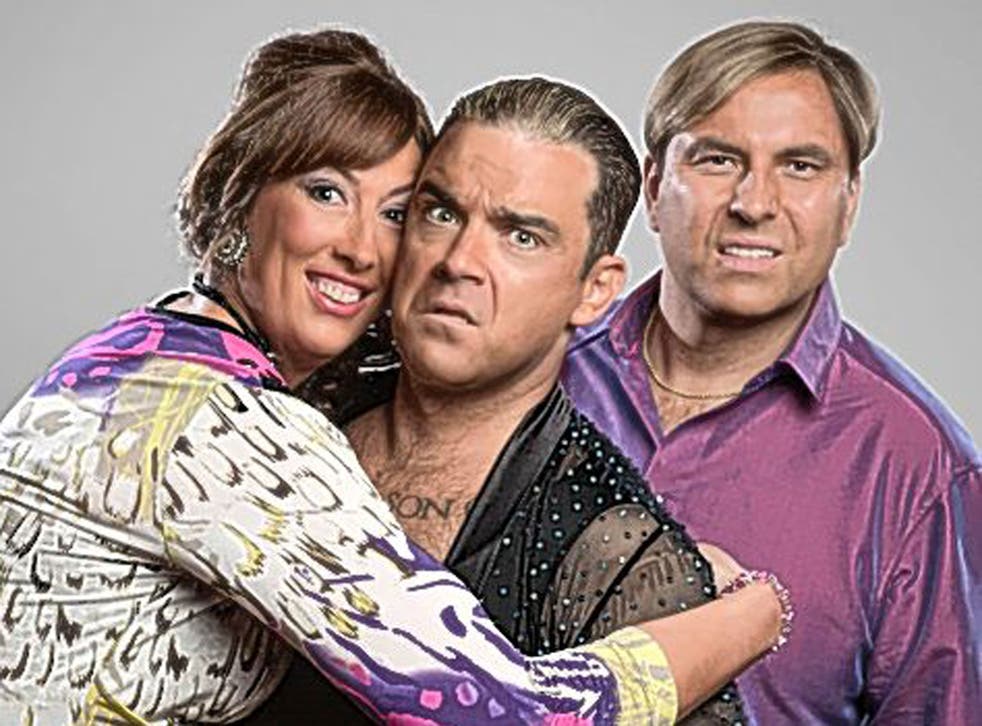 You're never too old to learn new tricks. Julia McKenzie, 72, proves as much in her latest project. The actress, previously best known as Miss Marple, crosses the criminal divide to play the sprightly title character in Gangsta Granny – and in the process has acquired a heap of new skills. "I was just thinking what wonderfully strange lives we lead as actors", she says. "One day, I was walking through huge sewer pipes – I'm quite nimble and didn't need a stunt double for that. The next, I was riding a mobility scooter across Tower Bridge."
To be screened on Boxing Day, BBC1's entertaining family drama is an adaptation of David Walliams's best-selling children's novel. In this script by Walliams, Kevin Cecil and Andy Riley, 11-year-old Ben, played by Reece Buttery, is bored rigid. His gauche, Strictly Come Dancing-obsessed parents, Mike, played by Walliams, and Linda, played by Miranda Hart, think his chosen career of plumbing is far too dangerous. So they try instead to turn him into a ballroom dancing star by entering him into a competition run by the celebrated Italian dancer, Flavio Flavioli.
In quite a coup, Walliams has recruited Robbie Williams to play Flavio and the singer delivers a richly comic turn as the perma-tanned hoofer. According to Jo Sargent, the producer of Gangsta Granny, when casting Flavio, "David said, 'Who's the most camp and flamboyant performer I know? It has to be Robbie Williams.' Robbie was brilliant. He absolutely went for it – his bad Italian accent is perfect. He has such great funny bones. I think the world of music has lost him – he's coming to comedy now. Watching his scenes, you'll think you've died and gone to camp heaven."
Things get far worse for Ben when he is sent to stay with his unassuming granny. He thinks that she is tedium personified, believing she is interested only in cabbage and Scrabble, but is delighted to discover that she is an international jewel thief. He duly leaps on the back of her mobility scooter for one last heist: a raid on the Tower of London to nab the Crown Jewels.
As well as being good fun, Gangsta Granny has some thoughtful things to say about the way we treat the elderly.
"The drama has a lovely simple message at its heart", agrees Hart. "At first Ben thinks he can't learn anything from this boring old person, but he suddenly realises that his granny is the most exciting thing in his life. We all potentially have that snobbery about old people. We should try to be nice to our grandparents. Often we leave it too late before we realise how many stories we should have asked them about."
In a society with an increasingly aged population, the message should resonate. "We all talked about our relationship with our grandparents", adds Sargent. "There was a realisation that we can be a bit dismissive of them, but actually those relationships are so important. Grandparents have so much to offer because they have such a wealth of experience. When we're young, we can take that for granted."
McKenzie agrees. "It may sound po-faced but the moral of this story is: don't underestimate people just because they're old. They have their own secrets, and they're not as boring as they might at first appear. I do think that we're a youth-obsessed culture. Of course I believe that because I'm old. But I still think it's true."
The actress hopes that at least in TV drama we may be moving away from our fixation with youth. Following the success of recent works such as Last Tango in Halifax, starring Anne Reid, 78, and Vicious, with Frances de la Tour, 69, there may be more parts for older actresses now. That can only be a good thing, says McKenzie. "There are good few of us actresses in our seventies who are still walking around unaided."
Access unlimited streaming of movies and TV shows with Amazon Prime Video Sign up now for a 30-day free trial
Sign up
After the popularity of BBC1's version of Mr Stink last Christmas, Gangsta Granny is the latest of Walliams' children's books to be transposed to the screen. His six publications have proved enormously successful. He has sold almost three million copies and earned an estimated £13m, placing him alongside JK Rowling as one of our leading children's authors. "I am at the point where I could be writing children's books all the time", he says. "Would I ever consider doing that? No. I fear that I would really miss being on TV because I'm a dreadful show-off."
So what's next for McKenzie? She jokes that, "I'd love a part in the next series of David's sitcom, Big School. I could be the school cook. I work better with a green vest on. I can clean a table and hold a tray very well. When I was training to be an actress, I earned a few quid as a waitress. It's a performance. You bring stuff and make people happy, just like acting."
One thing McKenzie does not appear likely to be doing is playing Miss Marple any longer. She sighs that, "Now that Poirot has finished, I'm afraid old Marple is over, too."
'Gangsta Granny' is on Boxing Day at 6.05pm on BBC1
Register for free to continue reading
Registration is a free and easy way to support our truly independent journalism
By registering, you will also enjoy limited access to Premium articles, exclusive newsletters, commenting, and virtual events with our leading journalists
Already have an account? sign in
Join our new commenting forum
Join thought-provoking conversations, follow other Independent readers and see their replies