Death in Ice Valley: The new true crime podcast that's the BBC's answer to Serial
It is hoped listeners will help solve the mysterious death of a Norwegian woman in 1970 outside Bergen, in this innovative podcast take on Nordic noir
Marisa Bate
Tuesday 17 April 2018 15:51 Comments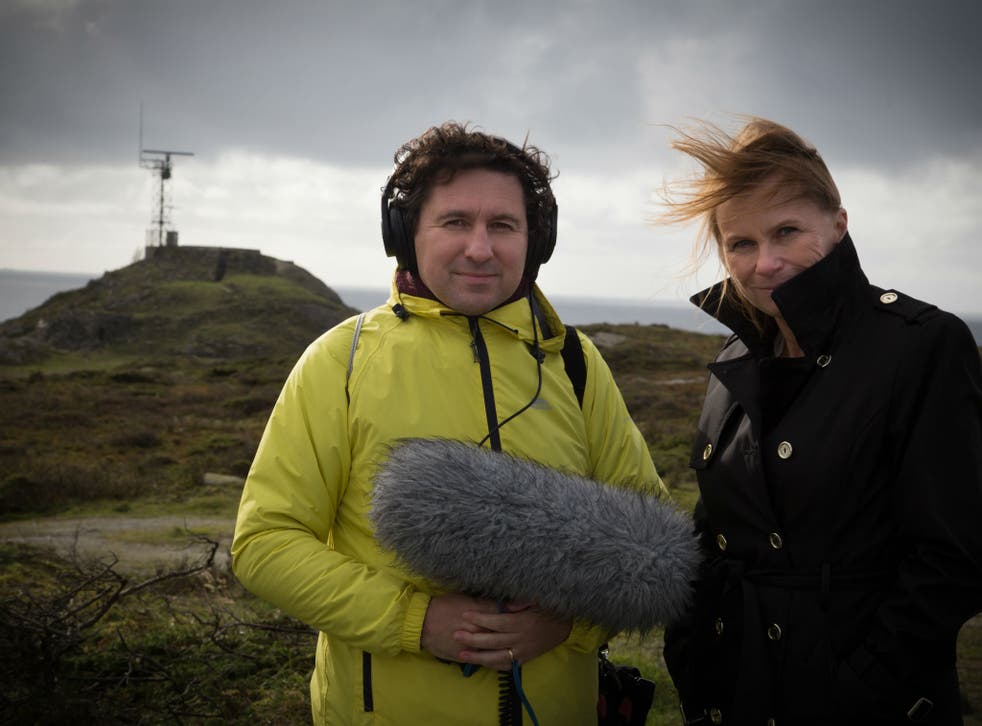 On 29 November 1970, in the remote Isdalen Valley outside of the Norwegian port-side town of Bergen, a woman's body was found by two young girls, badly burnt and surrounded by a set of peculiar objects (bottles of water, a rubber boot, burnt paper). Her identity, and how she died, has remained a mystery ever since.
Known in Norway as the Isdal Woman, the countless questions that surround her mysterious life and death are the subject of a major new podcast from the BBC's World Service and Norway's public radio service, NRK.
Led by Norwegian investigative journalist, Marit Higraff, and British BBC radio documentary maker, Neil McCarthy, Death in Ice Valley intends to find answers that have evaded police, journalists and crime novelists for the past 47 years.
"It's the depths of the Cold War," McCarthy tells me over the phone "and there's lots of clues but because she's such an elusive, ghostlike character; she's very hard to pin down."
This time round, the team hope that it will be the public who help unlock her mystery.
There's a Facebook page listeners are invited to join, hoping to capitalise on the community that often help make true crime podcasts successful – both in terms of solving a crime and the number of downloads.
Higraff had been working on this case for almost two years before the BBC approached her and suggested making the podcast. The collaboration, the pair hope, will bring them valuable information.
"The NRK project have generated leads from around the world already. There's a big online sleuth community out there, but we hope the co-production and the World Service's massive global audience gives us a bigger reach," says McCarthy
That global reach clocks in at 75 million people, no less. Coupled with cutting edge technology and science that the pair employ in their investigations, they are "optimistic" about their chances of solving the mystery.
Inevitably, parallels to the first series of the hugely popular true crime podcast Serial jump to mind. The team are still making the final episodes, hoping to be influenced by what the listeners know, promising to follow every lead.
Access unlimited streaming of movies and TV shows with Amazon Prime Video Sign up now for a 30-day free trial
Sign up
Just this month, Adnan Syed, the subject of Serial's first series, was granted a retrial, as he currently serves a life sentence for the murder of his ex-girlfriend Hae Min Lee. Many believe this is due to the information uncovered in the podcast.
Both Higraff and McCarthy hope that their podcast will also serve justice by finding out who the Isdal Woman was and contacting any relatives she may have. "It was not that long ago," says McCarthy "Somebody must have missed her."
Reconfiguring great storytelling and first-class investigative journalism specifically for podcasting is a new priority for the BBC, and it's being led by the World Service. Whilst they have excellent radio programmes that are altered and edited to become podcasts, traditionally they've had fewer offerings that were conceived primarily for the medium.
Last year, the World Service appointed the BBC's first ever podcast commissioner, Jon Manel, and in March, the domestic side of the network followed suit, announcing the appointment of Jason Phipps – former head of audio at The Guardian – in a similar role.
Manel tells me that the podcast drive is an effort to attract younger listeners, the ones who may not necessarily read 5,000 words of investigative journalism in a broadsheet, but will listen to an immersive podcast that's got some buzz around it.
"It's about reaching new audiences and, especially for the World Service, reaching new audiences that are underserved – not only by the BBC, but by podcasting," he says.
Manel has commissioned a podcast series aimed specifically at 18- to 24-year-olds in India that is currently in development, and for the first episode of Death in Ice Valley, the team have made a visualised version for YouTube. That's a first for the BBC, hoping to capture audiences from other platforms, with YouTube seen as a way to reach a more youthful demographic.
Not only are the BBC World Service trying to compete on the podcast world stage, but Manel is trying to take podcasting to corners of the world where it is a smaller market and yet to become such a cultural phenomenon. Starting with India, Manel hopes to create podcasts that lead the World Service to those audiences often overlooked by other podcasters.
"Podcasts allow us to do something that would otherwise be very difficult – to make something for a particular audience or audiences in a particular country," he explains. And given the sweeping broad reach of the World Service, Manel believes that it is podcasts that can best connect with the specific groups they are chasing.
Still, as anyone who listens to podcasts knows, there are countless true crime series now available (not to mention the seemingly infinite true crime offerings on Netflix). What is different about Death in Ice Valley?
Both Higraff and McCarthy point to the immersive soundscape they've created, which is a mix of eerie, haunting, otherworldly music and the atmospheric sounds of the Norwegian landscape itself.
In the first episode, Higraff and McCarthy visit the spot where the body was found with the police officer who was the first on the scene in 1970. You can hear the crackle of forest under foot, the wind whipping around them, and rain relentlessly beating down on an umbrella, to the point you too could be standing there with them, huddling for shelter, looking for clues.
"It feels like we're inside a cloud," says McCarthy at one point, the landscape lost to the fog of heavy rain. Sinister music creeps under the sound of the weather, carrying the listener along with the story, transcending what your ears might expect from a BBC podcast.
"We try to take the listeners out in the fields with us," Higraff tells me on the phone from Norway, "through the Isdalen Valley and around Norway and Europe. I hope this gives an experience to the listener, and tells them that we invite them to go on this journey with us."
The immersive soundscape has all the atmospheric richness of the Nordic noirs that have swept fiction and television of recent times. And while the mirroring bleakness of weather and crime are familiar staples of the genre, they don't feel tired in Death in Ice Valley, but rather reimagined for the podcast format.
Recently, questions of ethics around reporting deaths in podcasts have surfaced: when something becomes a pop cultural phenomenon, how easily do we forget that victims are someone's daughter or aunt or friend? How well do we remember the tragedy over the intrigue?
Death in Ice Valley, whilst driven by high-quality reporting, is still a compelling mystery set in the Cold War; the story of a woman's death is inevitably wrapped in drama. So what are the moral boundaries of turning tragic, brutal crime into a hit podcast?
Higaff seems taken back at the suggestion that this podcast has been made in the name of anything other than investigative journalism – and finding the truth. "For me as an investigative journalist, I normally work on big matters for people, to try and make a difference.
"I'm an idealist as a journalist. I want to make a change and make the world better for people. So a couple of times, I've asked myself: what is it with this project?
"But every time I come to the same answer: it's an individual; it's a life; it's a dignity; it's a family. Someone out there didn't get her back. I want to be part of bringing that dignity back."
'Death in Ice Valley' is available on the BBC now now
Register for free to continue reading
Registration is a free and easy way to support our truly independent journalism
By registering, you will also enjoy limited access to Premium articles, exclusive newsletters, commenting, and virtual events with our leading journalists
Already have an account? sign in
Join our new commenting forum
Join thought-provoking conversations, follow other Independent readers and see their replies