Doctor Foster's Suranne Jones: 'Gemma takes her clothes off at some point and I'd just had a baby. So the planking helped'
Is BBC1's ratings-busting adultery drama even better than 'The Affair'? The new series returns bigger and better, says Gerard Gilbert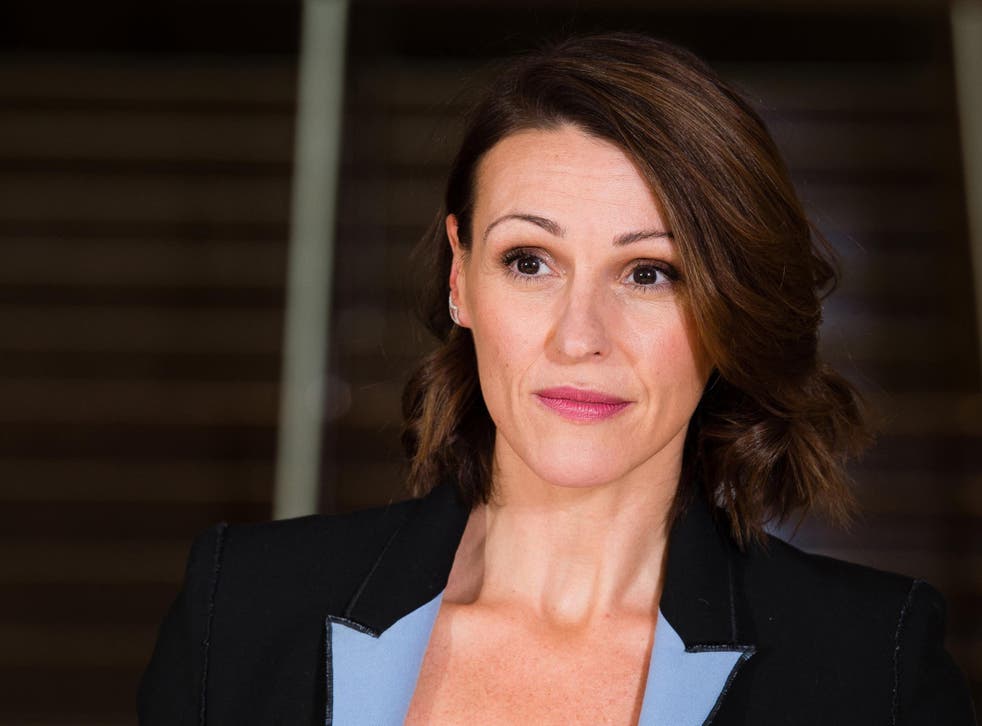 Sequels can be disappointing (Broadchurch, Top of the Lake), baffling (The Returned) or just keeping plodding on regardless (you name it) – but rarely do they improve on and enhance the original. Mike Bartlett's richly enjoyable adultery drama, Doctor Foster, in which a small town GP Gemma (played by Suranne Jones), begins to suspect that her husband Simon (Bertie Carvell) is playing away, could well be an exception if the blistering first episode of the second series is anything to go by. On early evidence, Doctor Foster 2 is shaping up to be even better than The Affair on Sky Atlantic.
What was particularly poignant about the first series was the way in which, not only was Simon revealed to be unfaithful, but also the way in which the couple's friends, neighbours and work colleagues were in on his dirty secret before Gemma. The infidelity was widespread and deeply hurtful and ended with Gemma going into full "she wolf" mode during a truth-spilling dinner party from hell.
The new series rejoins Jones's scorned GP two years on the 2015 finale, having returned to her doctor's practice and happily trundling along as a divorced single mother of teenage Tommy (a nicely ambiguous performance from 16-year-old Tom Taylor). However red envelopes are dropping through letterboxes all around Parminster – the "every-town" at the centre of Bartlett's drama – an invitation, it transpires, to ex-husband Simon's party to celebrate his wedding to Kate (Jodie Comer), the "other woman" in the earlier betrayal.
And Gemma is the only person in the neighbourhood not invited, it seems, while, to add insult to injury, Simon and Kate are returning to live in Parminster in a swanky mansion. Not bad for a man disgraced and declared bankrupt at the end of series one. "Simon has a plan", reveals Mike Bartlett. "To get rid of Gemma but to keep hold of Tommy".
The idea for a sequel came to Bartlett while watching – along with ten million other viewers – the final episode of the first series. "It looks like a happy ending but actually there are lots of threads untied", he says. "And then when it went out a lot of people asked 'Did Gemma really get justice?', and I thought there's more to tell."
Bartlett, who is better known as a playwright but whose forays into television have included an episode of Doctor Who and an adaptation of his stage hit, King Charles III, expresses surprise at the popularity of the first series. "It didn't have a big murder at the heart of it, it wasn't set in a hospital, it didn't have a particular genre", as he puts it. However, a highly significant part of Doctor Foster's appeal surely lies with its lead actress.
Suranne Jones has built an impressive CV since leaving Coronation Street in 2004, especially in roles created by former Corrie writer Sally Wainwright. In Unforgiven she played a woman newly released from prison having been convicted of killing two policemen, while in Britain's answer to Cagney & Lacey, Scott & Bailey, Jones co-starred with Lesley Sharp as Manchester police detectives Rachel Scott and Janet Bailey.
And it was recently announced that Jones would be taking the central role of Ann Lister – a Victorian landowner with a secret but rich lesbian life – in Wainwright's upcoming BBC costume drama Gentleman Jack. Like Sarah Lancashire, Jones is a core member of Wainwright's unofficial repertory company.
"I think she's an everywoman", says Jones of her character in Doctor Foster, although she could be describing her own screen appeal. "You know her, and if you aren't similar in some way to her then you know someone who is like her. I was surprised that men enjoyed Doctor Foster as much as they did, but then, of course, why wouldn't they? It's a two-way relationship with a man and a woman, so..."
Access unlimited streaming of movies and TV shows with Amazon Prime Video Sign up now for a 30-day free trial
Sign up
The fact remains, however, that a lot of women out there relate to Suranne Jones (or Sarah Anne Jones, to use her real name; Suranne was adopted from her great-grandmother), judging by her steadily evolving post-Corrie career. She played Ray Winstone's private-eye sidekick in two series of ITV1's Vincent, a bisexual sex therapist in Kay Mellor's Strictly Confidential, appeared opposite Helen Baxendale in the black comedy Dead Clever and played a posh private medic throwing Botox parties in Harley Street. All this in tandem with a theatrical career that included A Few Good Men with Rob Lowe, and touring the UK as Linda Gray's cancer-stricken daughter in Terms of Endearment.
But what really made critics sit up and take notice was Jones's gawkily raw performance in Unforgiven, Sally Wainwright's 2009 ITV drama about a woman released from prison after serving 15 years for killing two policemen. "A stunning performance", wrote The Independent TV critic at the time. "The stuff of Bafta nominations if ever I saw it".
The Bafta nomination had to wait until last year, when Jones walked off with the award for Doctor Foster ahead of Claire Foy (Wolf Hall) and Sheridan Smith (The C Word) – vindication for her brave decision to curtail her career as a Coronation Street barmaid – and the latest spouse of much-wed Weatherfield regular Steve McDonald
"Karen McDonald was brilliant for three years and I loved playing her," says Jones, who was only 21 when she took on the role. "Then I think you start to repeat yourself because in soaps you have to. I think they thought I was quite good at emotional stuff and I was doing a lot of crying. Then I'd go to the pub and look at the scripts and there'd be more crying the next day. And I just thought, while she's brilliant and I'm enjoying her, I've got to get out."
Jones goes on to explain the time constraints in filming ''continuing drama'' that means the actors often end of self-directing. She has been assiduous in the years since to explore all modes of her profession, and repeatedly returning to the stage, including a 2011 revival of Caryl Churchill's Top Girls, a 2013 revival of Jonathan Harvey's Beautiful Thing, and in the Manchester Exchange's 2014 production of Virginia Woolf's Orlando.
Outside of work the Oldham-born actress, who is just about to turn 39, is a tireless raiser of money for charity, an altruistic urge that began after her mother, Jenny, was diagnosed with breast cancer. Her latest bout of fund-raising involved planking – the isometric core strength exercise that involves maintaining a position similar to a push-up – an ordeal that she says helped her get back into shape following the birth of her first child with her husband of two years, magazine editor Laurence Akers (son whose name the couple have yet to make public). "Spoiler alert", says Jones. "Gemma takes her clothes off at some point and I'd just had a baby. So the planking helped."
With whom this sex scene will be shared is unclear after one episode – Gemma has a new boyfriend in the series (one of her patients, a teacher called Jamie), although it might even be ex-husband Simon, such is the warped nature of their relationship. "We all know what it feels like to be in a room with an ex-partner", she says. "All those thoughts and feelings. You might hate someone but your body betrays that".
However the core of the new series is motherhood – and Gemma's fierce determination to hold on to her son. Has her own new parental status changed her approach to the role?
"I could have played a mother without being a mother – I have played mothers without being a mother", she replies. "But being a wife and mother made me realise the gravitas of that unit falling apart, because I'd go home at night and I'd have a baby to put to bed. So it definitely made me realise what it is to parent a child and be in each other's lives when you are damaged and hurt without damaging and hurting a child."
But damage and hurt there will be in the new series of Doctor Foster, by the bucketload. But Gemma won't be such a passive victim this time around. "What betrayal does to people can make them quite ugly", says Jones. "Gemma doesn't behave well. And before she did that through hurt and now she has channelled her anger. It becomes dark and twisted".
'Doctor Foster' begins on BBC1 on Tuesday 5 September at 9pm
Register for free to continue reading
Registration is a free and easy way to support our truly independent journalism
By registering, you will also enjoy limited access to Premium articles, exclusive newsletters, commenting, and virtual events with our leading journalists
Already have an account? sign in
Register for free to continue reading
Registration is a free and easy way to support our truly independent journalism
By registering, you will also enjoy limited access to Premium articles, exclusive newsletters, commenting, and virtual events with our leading journalists
Already have an account? sign in
Join our new commenting forum
Join thought-provoking conversations, follow other Independent readers and see their replies