Elizabeth Debicki on 'The Night Manager', Bond girls, and being very tall
Elizabeth Debicki, currently stealing scenes in the BBC's John le Carré adaptation, talks to Kaleem Aftab about her ballet background, joining the Marvel universe and the advice she received from her idol, Cate Blanchett
Kaleem Aftab
Tuesday 08 March 2016 17:26 Comments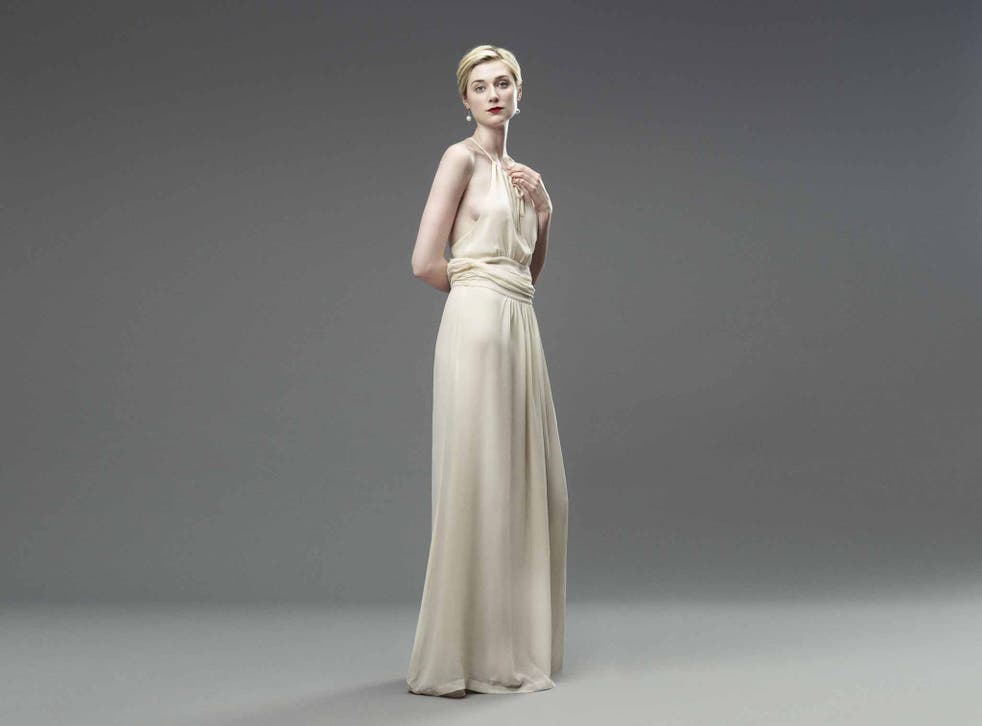 "Always wash your own socks", is the advice that Cate Blanchett gave to Elizabeth Debicki, the latest superstar Australian actress. Apparently, Blanchett had herself been given that advice from Meryl Streep – so no pressure on Debicki then, who is currently lighting up our TV screens in BBC One's excellent six-part adaptation of John le Carré's The Night Manager.
Her entrance in The Night Manager was striking. She plays the mistress of arms dealer, Roper (Hugh Laurie), and waltzes into a hotel room, wallowing in the eyes of the room being on her. She promptly jumps into a bathtub in full view of Roper's lackeys and hotel concierge Jonathan (played by Tom Hiddleston). Following hot on the heels of the "Margot Robbie in a bath tub" scene in The Big Short, it seems that "Australians in a tub" is the new screen craze. Although, in The Night Manager, the scene also gives us a useful insight into her character, Jed.
"I think in that particular scene, they have an audience with Jonathan, and it's odd, it's weird, it's supposed to be confronting," she says. "That said, what she does in that scene, is totally normal for her, because she doesn't live in a reality where the social norm is how they function. There is something quite isolated about their existence, it has become too normal for them to jump in boats and jet across the water for dinner."
It's a scene-stealing moment, from an actress who seemed to fall out of drama school in Melbourne and into the lustful glances of Tobey Maguire and Leonardo DiCaprio, playing golfer Jordan Baker in Baz Luhrmann's adaptation of The Great Gatsby. From there she played a Nazi-sympathising villain in Guy Ritchie's The Man from U.N.C.L.E; she then wowed as Lady Macduff in Justin Kurzel's take on Macbeth.
Dane Susanne Bier, who helmed the 2011 Best Foreign Language Film Oscar winner In a Better World, directed all six episodes of The Night Manager. Together they wanted to reimagine the role of a female character in a spy drama. "Women can be objectified in this genre," the 25-year-old points out. "There is a kind of fantasy that exists towards women in the spy genre – the femme fatale; the woman on the arm – it's not particularly layered and very image based. They are often very beautiful and that's about all. That is not someone that I wanted to play."
The world of Le Carré is often very masculine. Here, though, Jed is given a bigger character arc, and Bier also flipped the British agent, Burr, from being a man to a pregnant woman. They are changes that met with the approval of Le Carré, who has also gone on record to praise Debicki as being "peerless".
With her long limbs it's easy to imagine Debicki as a Bond girl. Yet she seems slightly appalled by the suggestion; "I don't like labels in general. I don't feel like Jed is a Bond girl." But then she concedes, "funnily enough, perhaps that's the image that Jed wants to project on to the world when she is by Roper's side, that she is kind of that Bond-esque girl. Perhaps Jed modelled that version of herself on a Bond girl, but the reality of Jed is far removed from a Bond girl."
Growing up in Melbourne, Debicki dreamed of following in her parent's footsteps, and becoming a ballerina. Her Polish father trained as a dancer in Warsaw, and he met her Australian mother while they danced at the Lido in Paris. Indeed, the actress was born in the French capital, moving to Melbourne at the age of five. But she would grow up to be 6'2" and didn't have a good enough "turnout", so the life of a ballerina was not meant to be.
She would still dance everyday, but decided at the age of 17 to pursue acting, by which time she was enamoured by Cate Blanchett: "She was absolutely a role model when I was growing up. I fed off everything she made, every film, so it was completely surreal to get to work with her. It's probably the most star-struck that I've ever been."
Access unlimited streaming of movies and TV shows with Amazon Prime Video Sign up now for a 30-day free trial
Sign up
Debicki fulfilled an ambition when she was cast in a stage production of The Maids in Sydney, which then went on to have a stint on Broadway in 2014. Her co-stars were Blanchett and Isabelle Huppert. She saw the play as an opportunity to grab every moment she could, to take tips, watch them work and generally ooze in the creative juices of acting royalty: "I play the mistress, who only comes into the play halfway through, so my director, Benedict Andrews – I think I came in early and was watching the two of them work through a scene – said, 'you know, you don't have to be here,' and I was like, are you completely insane, why would I leave watching these two masters?'"
It was during these rehearsals that she learned her most important acting lesson. "There is something about a theatre room that is really like a laboratory for trying things and failing, because you have time to do that, and you can explore something deeply and discard it, if it's not working," maintains Debicki. "I think, watching them work, Cate is one of the hardest working people I have ever met, she is also completely fearless, I've seen her say time and time again in interviews, you have to be prepared to fail, and if you are going to fail, you have to be prepared to fail big."
It's almost inevitable that her height comes up in conversation. It's something she has got used to and has long since stopped caring about. "I realised that I couldn't do anything about it," she claims. "You just have to accept it, or it will be a burden for your whole life. I am very tall and when you're a teenager, you want to be like everyone else. I used to slump a lot, it's very human at that stage to want to be part of the crowd, and not want any part of you that is sticking out."
Now, however, she benefits from making an instant and unforgettable impression. Such has been the whirlwind, dreamlike start to her career that it's probably helpful that she's so used to having her head in the clouds.
She's also had that definite signal that she's joining the A-list, as Marvel has come calling. She is set to star in the sequel to the kitsch space opera Guardians of the Galaxy. It's rumoured she will play the elusive and sultry Mistress Death. Yet she stays on brief, by refusing to be cajoled into revealing more than basic details. "I'm so sworn to secrecy and you are trying to wheedle something out of me," she explains. "I'm really looking forward to making it. I really loved the first film: it was so funny and unique, and the characters were so fantastic and I'm not going to say something."
I ask if she's met Guardians of the Galaxy leading man Chris Pratt, and with a smile on her face, she retorts, "I may have." It seems Debicki already has enough guile for the acting malarkey, clean socks or not.
'The Night Manager' is on BBC 1 on Sundays at 9pm
Register for free to continue reading
Registration is a free and easy way to support our truly independent journalism
By registering, you will also enjoy limited access to Premium articles, exclusive newsletters, commenting, and virtual events with our leading journalists
Already have an account? sign in
Join our new commenting forum
Join thought-provoking conversations, follow other Independent readers and see their replies