Emma Willis: The new queen of prime time
Emma Willis has worked her way through the divisions of popular entertainment presenting. Tonight, she takes the reins of the BBC's revamped 'The Voice'. Will she sink or swim?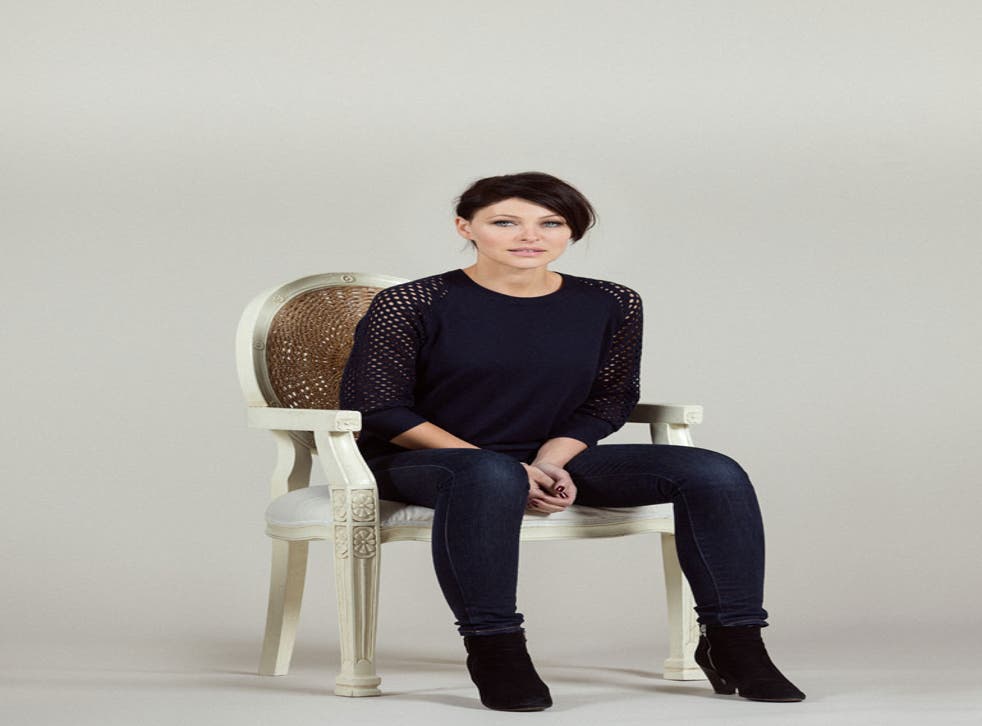 "If you're a fan of a TV show like Big Brother, you want to watch a presenter who you know loves it as much as you do. There's nothing worse than watching somebody that doesn't give a shit about what they're doing. It's not rocket science."
So says Emma Willis and she should know. Among the small pool of presenters of the reality TV extravaganzas – and that includes Holly Willoughby, Tess Daly, Fearne Cotton, Dermot O'Leary and the seemingly ageless Ant and Dec – Willis is what you might call the rising star. For the next eight months, her other-worldly blue eyes (if they do yet another remake of the sci-fi drama V, she'd be a shoo-in for one of the aliens) are going to be everywhere, especially if you're an avid consumer of reality TV. Not only will Willis continue hosting Channel 5's Big Brother and Celebrity Big Brother, but also, from tonight, she begins the job of replacing Willoughby as the co-presenter on BBC1's singing contest The Voice UK.
What's it actually like presenting a TV show like Big Brother or The Voice, I ask. How on Big Brother, for example, does she manage to keep calm and smiling amid the placard-waving rent-a-mob? "You have to think on your feet and that takes time and experience," she says. "I remember in the beginning, oh, goodness, I was just terrible. For a long time I didn't feel I should be there, and then suddenly you realise that people book you because maybe you're good at what you do."
The bare mechanics of what Willis does is to read an autocue and listen to a producer via an earpiece. "You can either have 'open talkback', so you can hear everything that's going on in the gallery," she explains, "or you can have 'switched' so you hear nothing until they tell you 'You've got a minute left' or that sort of thing. I have switched. You're a special kind of person if you have open talkback because you've got to be listening to the person you're talking to, you've got to read an autocue, think of your questions – and then you're listening to 12 people in the gallery..."
Willis isn't exactly new to this business – approaching her 38th birthday she is actually five years older than both Cotton and Willoughby, and only about six months younger than Ant and Dec, who seem to have been around forever. But unless you are a fan of reality TV after-shows such as Big Brother's Bit on the Side, or I'm a Celebrity... Get Me Out of Here! NOW!, it might seem that she has risen without trace. However, Willis has managed to pay her dues and retain a bounce and good humour that has seen her dubbed 'the new Davina', in honour of the irrepressible host of Big Brother (until 2010), Davina McCall.
"I love that because I love her," she says, almost bursting out of the tiny BBC meeting room into which we > have been squeezed, along with her personal publicist Max (no, not that Max). "It's a huge compliment that people say it, but for me there's only one Davina – that's THE Davina."
This is true. And although both presenters began their careers on MTV, Willis doesn't have McCall's back story of drug addiction, as well the alcoholic mother and divorced parents. Willis's mother is a hospital nurse, while her father, Billy, was a postman who now works as Willis's personal assistant, and the presenter returns as often as possible to the scene of her happy and settled childhood, Sutton Coldfield near Birmingham. She also has a very different, less manic presentational style to McCall, but what the two women do share is a love of the show they are hosting.
A certain lack of Davina-like enthusiasm – or at least an enthusiasm that transmitted itself to viewers – was possibly the downfall of Willis's predecessor on Big Brother, the former winner Brian Dowling, although she denies any knowledge of the Facebook campaign to have Dowling replaced by her. "I don't do Facebook, and although there's a 'me' on there, it's not me – it's a fake account that pretends to be me," she says. "Anyway, it can't have been nice for Brian."
Though a popular winner of Big Brother in 2001, this didn't necessarily translate to hosting for Dowling. What, then, makes an appealing presenter? After a pause for thought, Willis says: "When I watch TV I always like the people I think I would like to hang out with. So Ant and Dec are just nice guys – and I know that off camera they are exactly the same as they are on camera".
Access unlimited streaming of movies and TV shows with Amazon Prime Video Sign up now for a 30-day free trial
Sign up
She hung out with the Geordie Tweedledum and Tweedledee in Australia in 2007, presenting ITV2's I'm a Celebrity... Get Me Out of Here! NOW! alongside her husband Matt Willis from the pop group Busted, who had won the previous year's contest. "It's one of the best jobs I ever had," she says, and it's not hard to see why. "You go to work at two in the morning but you're finished by nine," she says. "Ant and Dec would go off and play golf and I'd lie on the beach. Then you go to bed at six."
She met Willis (her maiden name is Griffiths) while working at MTV, her first presenting job after six years working as a model in London and New York. "We just became friends and started drinking together and before you know it we've been together for nine years and got two kids," she says referring to their four-year-old daughter, Isabelle and two-year-old son, Ace.
In the six-week hiatus between The Voice and the summer-long series of Big Brother, her husband will be touring with McBusted, the newly amalgamated group containing members of Noughties teenybopper pop favourites, McFly and Busted, bands who came to musical prominence the traditional way – being friends, hanging out and writing songs together (though there was also the guiding hand of record labels). Not for them the short cut offered by the new breed of musical talent shows inaugurated by ITV's Pop Idol. The Voice UK, launched in 2012, is BBC1's attempt at rivalling Simon Cowell's headline-grabbing cash-cow, The X Factor.
Based on a Dutch format developed by the prolific John de Mol, creator of Big Brother, an American version of The Voice has been a hit for NBC, where it regularly trumps Simon Cowell's X Factor USA in the ratings. In Britain, it's the other way round and The Voice UK, now about to begin its third series, has been slow to establish itself, criticised for failing to produce a viable recording star – an accusation that could equally be aimed at The X Factor. After all, for every Leona Lewis there is a Steve Brookstein.
"It hasn't yet [produced a star], but it is a launch pad and the person who wins has to work really hard," says Willis. "Leah from last year [Leah McFall, the Irish singer who came second in 2013] – her album is just about to come out and it is, I hear, phenomenal." In fact, McFall is signed to judge Will.i.am's record label, giving some credence to Willis's assertion that "Will has given out his email address to a handful of people who didn't get through because he thought they were great... they may not have got a record deal but you've got Will.i.am's email address."
Either way, presenting The Voice requires a greater emotional investment than her previous gigs. "Big Brother is three months of fun and a game at the end of the day, but this is somebody's life, so you get much more into it on a personal level. You hang out with them, you play with their kids and then you have to lose them at some point. It's quite devastating.
"I have a husband who's been hugely successful and I've also been with him when he lost everything... and now it's kind of happening for him again. I've seen it first-hand and hope I can be of some comfort when it's not working for them."
Stung by the failure of their 2003 musical talent show Fame Academy, BBC1 are displaying a steely resolve with The Voice, and departing judges Jessie J and Danny O'Donoghue likely won't be missed when their replacements are Kylie Minogue and Kaiser Chief Ricky Wilson. "Kylie is quite possibly one of the kindest people... Have you ever met her?" I haven't. "Whenever I see her I just want to hug her... it's almost like having a mother on the panel of judges." That's perhaps not a description that Minogue would thank her for? "Well, I kind of describe them as Kylie's your mum, Tom [Jones] is your dad, Ricky's your cheeky little brother and Will is... your naughty uncle who you want to go out and have a drink with."
Willis agrees with Tess Daly who, introducing the most recent series of Strictly Come Dancing, claimed that the pool of available celebrities was becoming dangerously depleted. "There's Jungle, Strictly, Dancing on Ice, Big Brother and there are only so many celebrities," says Willis. "The good thing about Big Brother is that it's personality-driven so you don't need an A-list celebrity in there... you just want people who are interesting."
Does she have a wish-list of potential housemates? "Jonathan Ross loves Big Brother and I would love him to go in, but apparently Jane [wife Jane Goldman] will never let him do it. I would also love Joan Rivers – I think she would be a fire-cracker."
Did she try to dissuade Matt from going on I'm a Celebrity? "He originally went 'no' but then he said 'OK, I'll do it to sell my solo album'. It didn't [sell] – but he said he had one of the best experiences in his life. He said he slept the best he's ever slept".
'The Voice UK' is on BBC1, tonight at 7pm
Register for free to continue reading
Registration is a free and easy way to support our truly independent journalism
By registering, you will also enjoy limited access to Premium articles, exclusive newsletters, commenting, and virtual events with our leading journalists
Already have an account? sign in
Register for free to continue reading
Registration is a free and easy way to support our truly independent journalism
By registering, you will also enjoy limited access to Premium articles, exclusive newsletters, commenting, and virtual events with our leading journalists
Already have an account? sign in
Join our new commenting forum
Join thought-provoking conversations, follow other Independent readers and see their replies