This Is England 90's Vicky McClure and Joe Gilgun: The working-class Kate and William
The on-screen couple, aka Woody and Lol, discuss their heartbreak at saying goodbye to the show that has so far defined their careers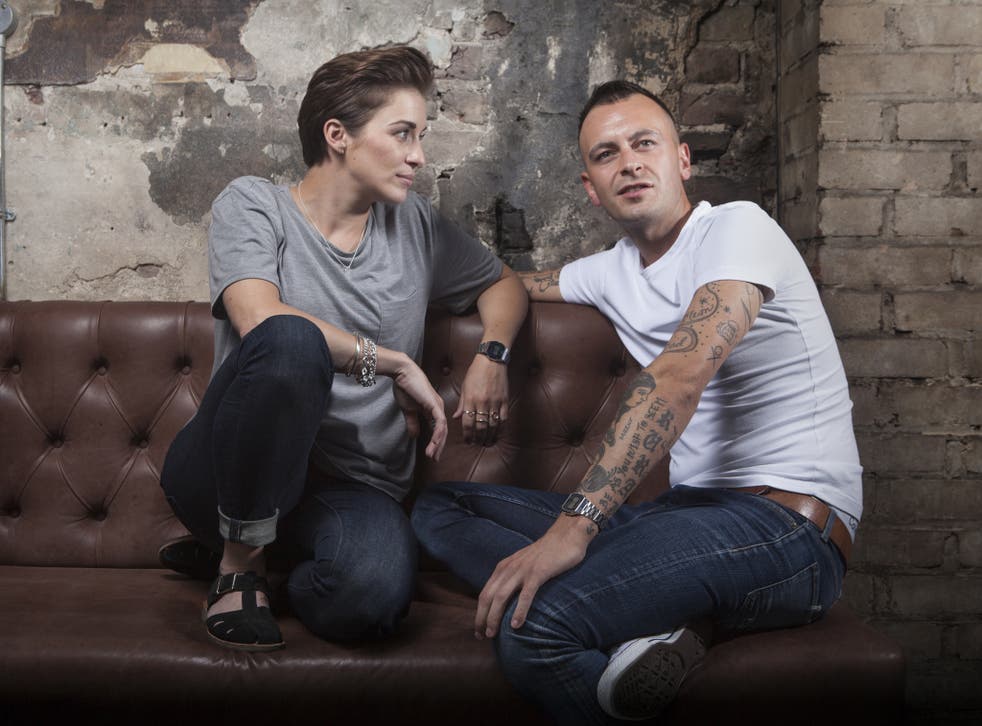 Matthew and Mary Crawley? Roy and Hayley Cropper? Ross and Demelza Poldark? Shut... as they say in some parts ... your cakehole. For the discerning telly viewer, the single greatest love story of the past decade is that of Richard Woodford and Lorraine Jenkins, aka Woody and Lol, the beating heart of Shane Meadows's This is England.
Through the ups and many downs, actors Joe Gilgun and Vicky McClure have invested Woody and Lol with an instantly relatable blend of fragility and defiance and, in doing so, made them pop-culture icons. "Somebody once said we were the working-class Kate and Wills," McClure laughs, when I meet them in an east London pub. We are here to mark the beginning of the end. The Nottingham-set project has been a remarkable one: a story of growing up in the provincial working-class backwaters of Thatcher's Britain that began in 2006 with a film set in 1983. It then moved to the small screen for two mini-series set in 1986 and 1988. And now, kicking off in a couple of weeks, is This is England '90 – the final instalment, although Meadows concedes "it's a full stop written in pencil" – sees the gang fragment as Madchester explodes and Maggie takes her leave.
However the surprise for fans may be just how upbeat and funny the first episode is, although Meadows promises that it'll get much darker. Even more surprisingly, while Meadows surrogate Shaun (Thomas Turgoose) endures further heartbreak, Woody and Lol are relatively settled – which is frankly a relief after their tumultuous experiences apart in TIE '88, when Woody suffocates in a suburban middle-class straitjacket and Lol struggles with single parenthood and the consequences of murdering her physically and sexually abusive father. Two years on, they have a house and two children (one the biological son of Woody's best friend, Milky). Woody's a house-husband, Lol's a dinner lady and, in Gilgun's words, "they're certainly happier than they were".
It's a strange sensation interviewing Gilgun, 31, and McClure, 32; at times, you forget you're not talking to Woody and Lol. Although both have done fine work on other projects, it's these roles that define them thus far – and that's something they embrace, regularly referring to each other by their character's names. There's also laughter. Interviewing them together is joyous, anarchic, with no fronts and few filters.
Asked a straight question, Gilgun digresses in a manner that you might think evasive or defensive, were his detours not so eye-poppingly forthright. Marijuana. Canal boats. Harry Styles. The Chorley Guardian. Nasal trimmers. Disciplining kids. Sunbeds. Sausage dogs. How the photos on his phone are "an endless stream of poo and porn". These are just some of the topics covered in unprintable fashion as he speaks, from his heart and off the top of his head.
And there, all the while, is McClure, more serious but as engaging, steering him back on track when she's not crying with laughter or gasping in horror ("Oh Joe! For fuck's sake!"). They are great company, and share an intimacy and ease that can't be faked.
Indeed, they were an item some years back and still get mistaken for a couple. "We're best mates," says McClure. "When you look at the gang, me and Joe are Mum and Dad: the ones that go back early for a cup of tea while everyone else is getting lashed."
"Our friendship's stronger [because of our previous relationship]," agrees Gilgun. "I can go to Vick about anything and know she'll always understand me." McClure, whose partner is actor and film-maker Jonny Owen, has latterly acted as Gilgun's wingman on nights out in Sheffield, where much of the series is shot. "I actually managed to pull," says Gilgun "I couldn't believe it."
They're fiercely proud and protective of each other. "A really caring, funny, honest, salt of the earth guy," says McClure of her co-star. Gilgun goes round the houses to the same destination. "I've got mates who are bloody good builders and know they are, so they charge extra. Vicky's a builder that can charge extra. And you'd never hear Vick talking about drugs and pleasuring yourself in the bath."
Access unlimited streaming of movies and TV shows with Amazon Prime Video Sign up now for a 30-day free trial
Sign up
"There's not many people that would," observes McClure, accurately, and Gilgun roars with laughter, before, as if on cue, emptying a small pharmacy of pills on to the table in front of us. McClure looks alarmed. "What is all that?" Vitamins and dietary supplements, Gilgun explains. "I feel well in myself." "You look it, you seem it," McClure says, smiling fondly.
The bonding has extended beyond McClure and Gilgun – when Turgoose's mother died after the original TIE film, the whole cast attended the funeral. "A bizarre orphanage of fairly redundant characters," Meadows jokingly dubbed the set at the press launch to gales of laughter. "We were all cast because of who we were," agrees McClure. "It wasn't like we had to build the characters ... I was an insecure 21-year-old with a shaven head. We didn't have a fricking clue. We were all over the shop. But we all got on instantly."
During filming of TIE '86, Meadows sent McClure and Gilgun into Sheffield to book a holiday, in character. "Joe was going, 'I wanna take her on a boat trip and shag her stupid'," recalls McClure. "Then he said, 'fuck this, let's go and have something to eat.' We got absolutely hammered. I was paranoid that Shane would be dead pissed off, but that's what Woody and Lol would have done!"
Meadows and his key collaborators, Mark Herbert and Jack Thorne, have always written around the actors, encouraging improvisation and input; it was McClure's idea that Lol should come from an abusive background. It's a testing way of working, but a cast who started as unknowns have rewarded him with performances of astonishing verisimilitude.
"It's not just a bloody job," nods Gilgun, recalling a scene with Woody and Lol arguing in '90 during which he gave himself a black eye. "I wanted to burn the house down," he says, also pointing out that his fight with Milky over his affair with Lol in '88 was "a real fight – it was happening". McClure, meanwhile, had to console two female co-stars when both ended up in tears after a scripted row during '88, while the sequence in '86 in which Lol's father attempted to rape her left the actress "battered and bruised". "We'd prefer to put ourselves through the mill, because we've got a great show out of it," says McClure, cheerily. "You can deal with a bit of a bad time afterwards," Gilgun adds.
They're also forging great careers from it: McClure won a Bafta for '86 and impressed in Line of Duty and Broadchurch, while Gilgun has landed a lead role in eagerly awaited US TV comic-book adaptation, Preacher, and says he finally feels confident in his abilities. "It's a very working-class thing, to get where you want and then not feel worthy. Now I've started to accept I'm not too bad at me bloody job ...."
What will they do without Woody and Lol, though? "It's very difficult to let go," says Gilgun. "But if the stories aren't there, just stop. Shameless was a very special thing that became a joke." McClure looks downcast. "It's heartbreaking to think I'll never play Lol again." Then she brightens. "No one will ever understand what's it's like on the set of This is England ... having a gang and a group of mates is as important as having a family around you. You need 'em."
'This is England '90' begins 13 Sept at 9pm on C4
Other key members of the This is England gang...
Shaun (Thomas Turgoose)
Director Shane Meadows's young alter-ego, Shaun first appeared as a gobby 12-year-old recruited into the original film's skinhead gang after getting into a fight at school. He also got together with the eccentrically coiffured "Smell" though their relationship has progressed tumultuously in subsequent instalments. As the latest series, TIE '90, begins, he's hoping to win her back
Smell (Rosamund Hanson)
She was the punky, older girl with the brilliantly nasal voice who made a man out of Shaun. Their romance hit the rocks in TIE '88 when she discovered him having sex with the co-star of his Christmas play. Now it appears she's met someone new.
Milky (Andrew Shim)
The only non-white member of the original skinhead gang, Milky's had a tough time of it. At the end of the film, Combo beat him into a pulp, while he subsequently had an affair with Lol behind Woody's back, getting her pregnant, before Woody found out the truth about his best friend's betrayal long after in TIE '88.
Kelly (Chanel Cresswell)
Lol's younger sister was on the sidelines in the original film but has become increasingly visible. Her delight at her dad, Mick, returning home dissipated in TIE '86 when she learned he had abused Lol and then raped her friend Trev. Following Mick's death, she supported her sister; now, though, Kelly's going off the rails and needs support herself.
Combo (Stephen Graham)
Initially the psychopathic racist antagonist of This is England, Combo's character has transformed over the decade – having taken responsibility for the murder of Lol's father, Mick, to save her, he went to prison where he tried to rehabilitate himself. Now he's back on the outside again – but is he truly reformed?
Heloise Wood
Join our new commenting forum
Join thought-provoking conversations, follow other Independent readers and see their replies