Eric Idle interview: 'Monty Python entered the BBC through a backdoor and refused to leave'
For the former Monty Python member, life's a laugh and death's a joke, it's true, as Sopan Deb discovers
Saturday 06 October 2018 08:21 Comments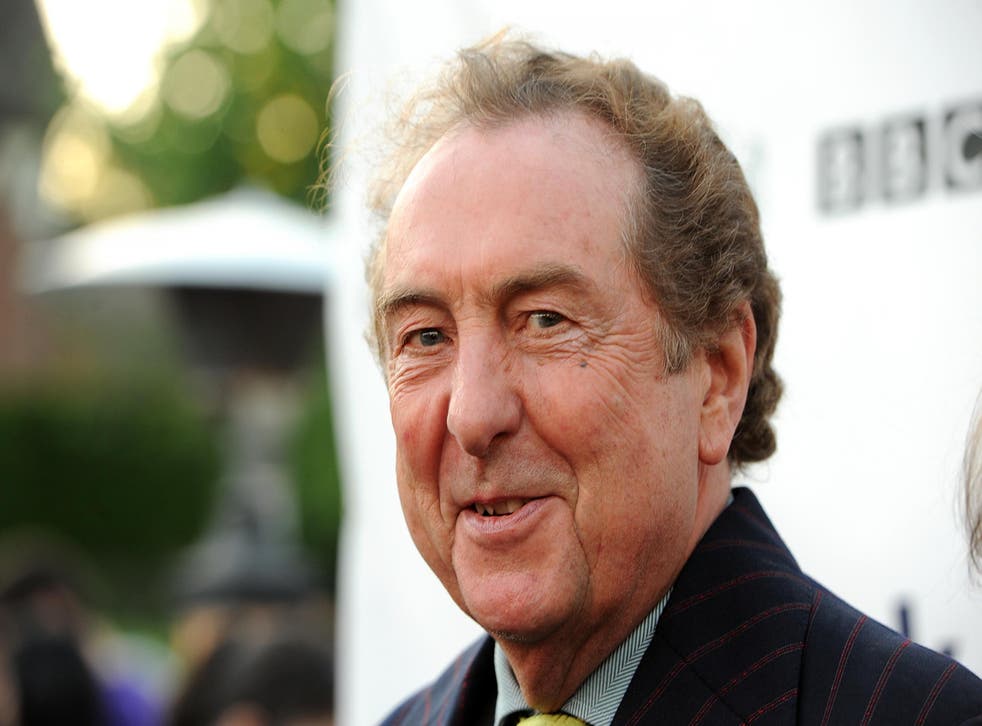 The 50th anniversary of Monty Python, which debuted on the BBC in 1969, is coming soon, but don't expect Eric Idle, one of the comedy troupe's founding members, to celebrate.
"Absolutely not," Idle says with a laugh, when asked if the group had any plans to commemorate a half-century of dead parrots, cheese shops and silly walks. "There's no reason we actually should."
That doesn't mean the Python spirit isn't still alive inside Idle. He is on the phone from Los Angeles, where he is penning new music for the still-in-development film based on his hit Broadway musical Spamalot. And if you are wondering, Idle says Tiffany Haddish has been offered the role of the Lady of the Lake and that the script has mostly been "solved".
He is about to take off on a book tour for his own memoir, Always Look on the Bright Side of Life: A Sortabiography. It is named after the song he composed that closes the classic Python film Life of Brian, and it has since become an anthem of its own: commonly sung at soccer matches and funerals.
As for any future Python projects, Idle responds: "I think I've done my bit. I'm interested in my life, whatever is left of it."
In pictures: Monty Python Live (Mostly)

Show all 10
The comedy ground has shifted since Terry Gilliam, John Cleese, Graham Chapman, Terry Jones, Michael Palin and Idle united in the 1960s, in part because of Monty Python. Countless comedians over the years have counted the troupe as a seminal influence. Now, the comedy world is larger and more diverse. This didn't escape the notice of the BBC's comedy commissioner, Shane Allen, who raised the ire of multiple Pythons when he said recently, "If you're going to assemble a team now, it's not going to be six Oxbridge white blokes. It's going to be a diverse range of people who reflect the modern world."
Gilliam responded vehemently, saying "I no longer want to be a white male, I don't want to be blamed for everything wrong in the world." Cleese accused Allen of "social engineering".
Here, Idle gives an update on Spamalot, his reaction to Allen's comments and what he thinks of Hannah Gadsby's show.
This is a good time to ask about the Spamalot film and how it's going so far.
It's always hard to tell. The film business is such an idiotic business. It's chaos and confusion as usual. Fox bought it from me and John Du Prez about three years ago. We have been working on it. We have the wonderful Casey Nicholaw directing it, and we have interest from lots of wonderful stars and actors. So we're hoping to shoot it next year. I can tell you we're very excited.
Access unlimited streaming of movies and TV shows with Amazon Prime Video Sign up now for a 30-day free trial
Sign up
What is it like walking down the street for you nowadays? Do people walk up to you and say "Nudge, Nudge"?
It's kind of weird because Python just gets bigger and bigger. There's a lot of Python respect, probably too much. We'll take it. At my age, you'll take anything really.
Nothing is more identified with you than the song "Always Look on the Bright Side of Life", which is, of course, the title of your memoir. Will you have it played at your funeral?
I don't know. I won't be there.
Are you a person who always looks at the bright side?
I think I am an optimist by day and a pessimist by night. I am an optimist basically coming from a pessimistic background.
When you say a pessimistic background, what do you mean?
Losing a father. Going to boarding school for 12 years. It was pretty grim and not very much fun. And then suddenly, I got to Cambridge and everything changed. I met Cleese. I met them all within about two years of getting up to Cambridge. It was odd. All the Pythons had met by about 1965, one way or another, even though it would be another four years before we did Python.
In those grim times,were you an optimist?
Humour is like a form of grim pessimism. They were saying when they were beating you, "This is for your own good." Really? Why don't I hit you then?
You were often writing by yourself in Python.
Deliberately so because I can't stand talking to people before lunch. I don't think anybody civilised does.
I know you wrote with Cleese on the most recent tour the two of you did. Do you ever think about how the old sketches might have looked if you were paired up with the other Pythons?
Occasionally, I did write with John. We wrote "Bruces" together. There's one about this guy trying to climb the twin peaks of Mt Kilimanjaro because he has double vision. We did have some good times. I also wrote with Michael Palin and we'd always just get obliterated and have too much red wine. Graham and I tried but Graham would never say anything so it was hard to get him to start something.
Have you had a chance to see Hannah Gadsby's Nanette?
I saw her.
Obviously, that's been a fairly divisive special.
I didn't see the special. I saw her on stage here at Largo.
What did you think?
I imagine the special was pretty much what she did, right? I thought it was very brave, very bold and in your face, and ultimately divisive. I didn't feel particularly included, in fact rather pointedly excluded.
[After a followup request for clarification, Idle said in an email: "I think my thought was usually comedy heals and includes all. She, for perfectly understandable reasons, excludes large sectors of her audience and is quite happy to do that. That's her point. Brave. Admirable. But not comfortable if you are a man. Why should it be?"]
I heard that in the scene when Han Solo and Leia arrive on Cloud City in The Empire Strikes Back, they're drunk, and it's because of you. Is that true?
We had a party the night before. We stayed up too late. We were having too much fun. Carrie Fisher had rented my house and she was staying there. We went to bed and they went to work. It turns out when they filmed the scene, they were still a little high. So yes, I'm proud of that moment.
Do you see Terry Jones at all? [Jones announced last year that he had dementia.]
I saw him last year at a Python meeting. It's been getting progressively worse. It's a dark world that they go into. It's very sad. You see them but they're not really them. I miss him like crazy.
A couple of your Python colleagues weren't happy with Shane Allen's comment. What did you think?
I thought it was silly but then he wrote an article about it in The Guardian. He explained what he actually meant.
Of course, the British press are monkeys. They'll do anything to create trouble. He was talking about the difference in time, and the BBC now has to be aware that times have changed and indeed they must. He got hammered for a bit of abuse from John. I know Terry Gilliam wrote something very funny which I advised him very strongly not to publish if he wanted anybody to see his movie.
The fact is times have, of course, changed. We were characterised as being like Oxbridge, privileged people. I didn't come from any kind of privileged background. We poured our way into the BBC through a backdoor and refused to leave.
© New York Times
Register for free to continue reading
Registration is a free and easy way to support our truly independent journalism
By registering, you will also enjoy limited access to Premium articles, exclusive newsletters, commenting, and virtual events with our leading journalists
Already have an account? sign in
Join our new commenting forum
Join thought-provoking conversations, follow other Independent readers and see their replies