Fancy a Danish? What about Pilou Asbaek - the man who plays Kasper Juul in 'Borgen'
He tells Susie Mesure of family, bad hair, and his politician groupies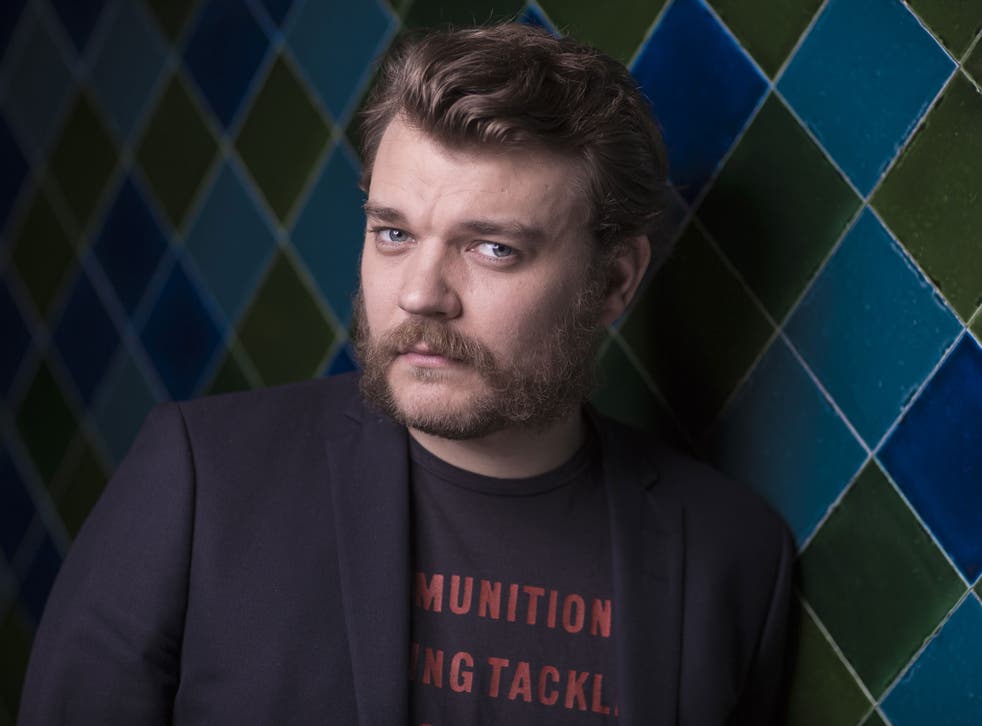 Pilou Asbaek is best known as the stubbled spin doctor in the Danish drama Borgen, and meeting him was always going to be about one thing and one thing only – and I'm not talking politics. I'm not even talking about the strong women that dominate the addictive show, whatever Asbaek might expect (he says he gets "provoked because it's the No 1" people ask him about).
I'm interested in weightier matters: his hair. Pictures from the drama's third series, which has already aired in Denmark, show a clean-shaven Kasper Juul looking distinctly top heavy with a seriously bouffant quiff, and my main question was going to be: why?
We meet not in the hallowed cloisters of Denmark's actual Borgen ("castle" in Danish and the nickname for their government building), but in a London hotel where Asbaek is selling his new film, Kapringen. It opens as A Hijacking in Britain this week and tells the story of a ship hijacked by Somali pirates. Asbaek makes a fine ship's cook, complete with a seaman's bushy beard. But as he greets me, taking my hot cup of tea from my right hand to shake it, I'm confused by yet another new look: a serious pair of mutton chops. The effect is at odds with his outfit of jeans and sloganed T-shirt ("Guns, Beer, Wine, Cards", which he says, smirking, are "all those things in life you shouldn't enjoy"). But it makes sense when he tells me he has spent the past two weeks filming in Prague for his latest part: "the evil guy" in 1864, a historical drama for the Danish broadcaster DR about their country's defeat in the Schleswig-Holstein war against Germany.
If that sounds an unlikely televisual hit then consider Borgen, a series, after all, about the intricacies of coalition politics in a country of barely five million people. Asbaek, 31, remembers being offered the part of the troubled press adviser in Borgen, which followed the global hit Forbrydelsen, better known as the multiple Emmy award-winning The Killing. "I was like: 'Are we going to be international?' Answer: 'No. It's Danish politics about a female politician and you're a spin doctor. No, it doesn't have international potential.'"
He cracks a characteristically engaging smile: "And now it's sold to more than 70 countries. Argentina, Japan. It's kerayzeeeeeee!"
Britain was agog for the last series, which despite airing on BBC4 had even the Sun in a breathless tizz over "Dishy Dane" Sidse Babett Knudsen, who plays the fictional prime minister Birgitte Nyborg. Just imagine the frenzy that will greet season three when it finally airs over here this winter, given the identity of Birgitte's new boyfriend, Monarch of the Glen star Alastair Mackenzie, who plays an English divorcé and architect. Sadly, Asbaek says Juul had no hand in their meeting. Potentially sadder still is the revelation that Juul plays only a small part in the next – and final – series.
"That was my own choice. I did half a year of theatre," he says, adding that he was loath to be typecast as the cynical Juul for ever more. Especially, as he says, that in person he's the "exact opposite. I've had the same girlfriend for seven years. I just became a dad. I love my kid. I love a boring life. I'm the worst liar alive. I'm not cynical. I cry at ET. And Kung Fu Panda!"
Talk of Asbaek's four-month-old daughter, Agnes, brings us to Juul's child. SPOILER ALERT: Juul and his on-off girlfriend Katrine Fonsmark (Birgitte Hjort Sorensen) do have the child that she so desperately wanted, and of whom Juul is so afraid, given his own dark past. "Kasper Juul's scar in life is he can never run from his past," Asbaek says. "I think he really wants to be a good dad, but he's just a character written with blood."
Asbaek has amusing anecdotes about how seriously the Danes have taken their unlikely hit, which he tells me several times is watched by one in three people in Denmark. "The funniest thing was that all of the political parties called and said: 'Would you come and talk with our main spin doctor in a public forum when we talk about your job and his/her job as a spin doctor?' And I was like: 'Guys! This is fiction. I'm an actor. Somebody writes my lines.'"
Access unlimited streaming of movies and TV shows with Amazon Prime Video Sign up now for a 30-day free trial
Sign up
Or the politicians he met over dinner: "All of them said – and these are top political leaders in Denmark – 'Pilou, I love, love, love your spin doctor. He's so realistic; he's a cynical bastard; and he's not like my spin doctor, because he's a good guy, but he's like the opposite party's spin doctor.'" Then there was the time that our very own Alastair Campbell interviewed him ... "He was so sweet," says Asbaek.
And yes, he does address the "strong woman" appeal of Danish telly, which has Brits like me so enraptured. "The big secret behind the whole female situation is much more logical than you would expect. Who gets to choose what to watch on TV [on a Saturday night]? It's the women. And what do women want? They want to watch something they can relate to. You women are tired of watching superhero men fighting other superhero men. Now you want to watch powerful, strong women. It's like Macbeth. Sidse is like Macbeth. And I think that's the secret. You have control of the remote after seven o'clock."
Asbaek admits the all-male milieu of A Hijacking was something of a shock. The film is an intense documentary-style drama. Perpetuating the notion that Denmark has only a handful of actors, another Borgen alumnus, Soren Malling (he plays the hard-bitten TV news producer in the political show) co-stars as the shipping company's chief executive.
While filming off the Kenyan coast, in Somali pirate territory, on a boat he says "had actually been hijacked" as had some of his fellow cast members, Asbaek lost 16 of the 18 kilos he had gained for the role. "I was determined. And sick." He admits the production company must have been worried that life would imitate art but adds: "We had so many live firearms on board that we could have hijacked a big ship if we'd wanted to."
He did wind up getting his head stitched in hospital though, after throwing himself into one of the scenes too whole-heartedly: "I did what you're not allowed to do as an actor. I tried to hit my co-actor in his head. Then the other guy just behind us just flipped his gun into my head. It was stupid."
He clearly takes his work very seriously, which would bring us back neatly to his new hairstyle for Borgen 3 – except I later realise to my horror that I was so engrossed in chatting that I ... gulp ... forgot to ask why Juul looks so different. Luckily, Asbaek answers my follow-up email in a heartbeat.
"It's because we jump two years in time and Kasper Juul needed to do something else. I was like: 'Let's go with longer hair and a shave ;)' Do I regret it? YES!"
'A Hijacking' is released on Friday
Join our new commenting forum
Join thought-provoking conversations, follow other Independent readers and see their replies