Fawlty Towers 40th anniversary: Britain's finest sitcom was TV's most perfectly constructed farce
'Fawlty Towers' has always been funny. But at 40 years old, it only seems to shine brighter. Sam Kitchener celebrates the show's sophisticated homage to farce, its subtle commentary on its times and lasting legacy to the comedy canon
Sam Kitchener
Thursday 17 September 2015 19:56 Comments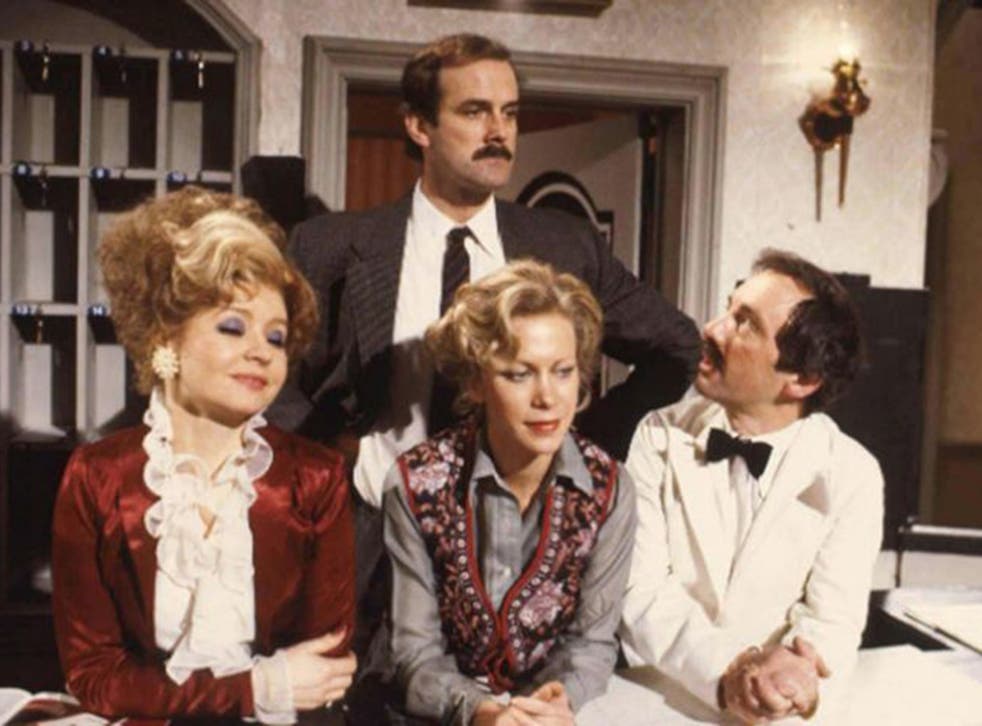 Great artists tend not to wear their influences lightly: it's how they assert pedigree. When Dante wrote the finest work of medieval literature, The Divine Comedy, his epic account of an imagined journey through the afterlife, he chose the Roman poet Virgil as his fictional guide. When Ricky Gervais and Stephen Merchant wrote the finest British sitcom of the past 40 years, The Office, their epic account of an imagined paper merchants' in Slough, they had the protagonist David Brent identify John Cleese and Basil Fawlty as his comedic lodestars. You can understand why. Fawlty Towers – which celebrates the 40th anniversary of its first broadcast this Saturday, and was written by Cleese together with his then wife Connie Booth – is the finest British sitcom ever. The BFI even went so far as to name it the finest British television programme ever, full stop
You might dispute whether sitcoms can count as great art. The writer Joyce Carol Oates once claimed that they "distort the complexity of the human soul" (then again, Gore Vidal once said that the three most depressing words in the English language were "Joyce Carol Oates", so these things balance out). What ought to be beyond argument is that Fawlty Towers, so far as British sitcoms are concerned, is the best of the bunch. It is the most acutely observed; the most formally accomplished and has the most virtuoso performances. It is also, most importantly, the funniest. After the NHS, it is arguably Britain's greatest achievement since the Second World War (and, like the Second World War, we couldn't have done it without the Americans. New Yorker Booth acting as Roosevelt to Cleese's Winston Churchill).
Arts + Ents News in Pictures

Show all 50
There may be other perfectly respectable candidates for the title of best British sitcom. Dad's Army, Blackadder, The Office, I'm Alan Partridge. Different readers will amend that list as they see fit. But none of these produced quite so many memorable moments as Fawlty Towers; quite so many enduring characters. Alongside Cleese as Basil Fawlty, the long-suffering, rude, and fantastically unreasonable Torquay hotelier, you have Booth as pretty, long-suffering waitress, Polly; Prunella Scales as Sybil, Basil's long-suffering martinet of a wife; and Andrew Sachs as Manuel, the long-suffering Spanish waiter, who frequently finds himself on the receiving end of Basil's rages. (When it comes to Fawlty Towers, the common misconception of the Buddha's first noble truth, that all life is suffering, seems about right).
Then there are the minor characters: regulars such as Ballard Berkeley as Major Gowen, a good-natured, gently racist, cricket-loving old buffer; or Misses Tibbs and Gatsby, the two spinsters who have taken up permanent residence in the hotel, and a shine to Basil; as well as occasional guests such as the horrid American, Mr Hamilton, who insists on ordering a Waldorf salad; and Bernard Cribbins as the bumptious spoon salesman Basil briefly mistakes for a hotel inspector.
Episode titles such as, "Waldorf Salad" and "The Hotel Inspectors", not to mention "Basil the Rat", "Gourmet Night", and, of course, "The Germans", have become familiar cultural currency. Their mention readily invokes Basil thrashing his broken-down car with a limp branch – "well, don't say I haven't warned you. I've laid it on the line to you, time and time again" – or goose-stepping, drugged and bandaged, around the hotel lobby. Cleese, a spickety beanpole of a man, appears during these sequences, as in so many others, like a well-educated heron suffering a nervous breakdown.
Familiarity may breed contempt, but Fawlty seems secure in the nation's affections. When Russell Brand and Jonathan Ross were suspended by the BBC after leaving lewd messages on Andrew Sachs's answerphone, much of the outcry focused on their taunting a defenceless pensioner, which was fair enough (the outcry, not the taunting). The great British press and public, though, are perfectly capable of being wretched to pensioners when the mood takes them. Just think of Michael Foot. Or your mother-in-law. I think it may have had more to do with the fact they were upsetting that nice old bloke who played Manuel.
As is frequently the case with these things, Fawlty Towers's popularity wasn't ever thus, and it didn't air to an instantly rapturous response from the critics. The Spectator critic, Richard Ingrams, observed that the show was "rather nasty", that Basil himself seemed "unpleasant and lacking in humanity", and that he hadn't laughed once. Cleese got his revenge in the series two episode, "The Kipper and the Corpse", by naming a guest whom Basil and Manuel catch blowing up a sex doll in his room, "Mr Ingrams".
It wasn't just critics who weren't sure about Fawlty. Reservations were expressed by the editor whose job it was to pass an initial verdict on scripts submitted to the BBC's light entertainment department. Although not so much reservations, in this instance, as spittle-flecked disapproval. In a terse, now famous note, Ian Main, the unfortunate script editor in question – condemned to serve eternal penance in our cultural memory alongside the goons who ignored Van Gogh and that guy who didn't sign the Beatles – pronounced Fawlty Towers as "dire as its title". It was, he said, "a collection of clichés and stock characters". He couldn't see it being, "anything but a disaster".
Poor Mr Main got it spectacularly wrong, but he was on to something. You can discern the contempt due to familiarity in much of the lukewarm or downright freezing initial response to Fawlty. After his subversive, groundbreaking work with Monty Python, a traditional sitcom set in a seaside resort seemed just a little bit safe for Cleese.
Access unlimited streaming of movies and TV shows with Amazon Prime Video Sign up now for a 30-day free trial
Sign up
Hoping to attract a better class of customer with adverts in upscale magazines, and insisting that no "riff-raff" attend his "Gourmet Night", Basil is in some ways just the latest in a long line of English comic characters who, like Tony Hancock or Harold Steptoe, nurse frustrated social aspirations. He is also the latest addition to one of that line's most august if thwarted branches, comic characters who nurse frustrated social aspirations from positions of minor authority, a branch that stretches back through Captain Mainwaring to Malvolio, and probably beyond.
The show's whole aesthetic might also have seemed a little pat. Where the sketches in Monty Python jumped from Edwardian drawing rooms to pet shops to the English Channel, Fawlty Towers remains largely confined to the hotel itself, a single set through which characters move as if onstage in a Whitehall farce, frantically closing doors and ducking out of sight as the situation spirals ever more frantically out of control. That these spiralling situations often involve Basil struggling to keep out of Sybil's bad graces only serves to make the show more farcical – in the technical sense of that term.
I wonder if Fawlty Towers may have been too familiar to its viewers in a broader sense. 1975 was a fairly miserable time to be British. This was the era of stagflation, where economic growth remained limited or non-existent, and prices continued to rise. The era of crippling strikes, three-day weeks, and power cuts, all taking place against the backdrop of a global oil crisis. The country was only just coming out of a two-year recession, and even when the Labour government did manage to steer the economy back into growth, unemployment continued to rise above 1,000,000. By 1976, Jim Callaghan was forced to appeal cap in hand for a significant bailout from the IMF.
It was only the latest in a series of international humiliations Britain had recently suffered. The Suez Crisis of 1956 proved that, no longer a great power, any diplomatic authority we still possessed was held purely on American sufferance. We had only been admitted to the EEC at the third attempt, in 1970, and France and Germany, two countries we had respectively liberated and defeated in the Second World War, were very much Europe's top dogs.
To this mix we can add lingering inter-generational friction. Many people felt uncomfortable with what you might call the cultural advances of the 1960s or the advent of the permissive society, depending on which side of the generation gap you saw yourself standing. These were the unhappy soils that nurtured Thatcherism, with its mix of economic radicalism, Victorian social values, and no less Victorian jingoism. An anxious, patriotic small-business owner, Basil Fawlty is a natural Thatcherite.
Desperate for respectability, he courts the upper classes and acts as a moral policeman, spending "The Wedding Party" in series one trying to stop his guests sleeping with one another, and himself.
Yet he is capable of turning against old-fashioned paternalism on a dime, or, as seems more appropriate in this instance, on some proudly pre-decimal unit of currency. "You snobs," he shouts after Sir Richard and Lady Morris as they leave the hotel in "A Touch of Class". "You stupid… stuck-up… toffee-nosed… half-witted… upper-class piles of… pus!"
He is constantly worried about money. In "The Builders" he prefers the incompetent O'Reilly to the rather more able and expensive Stubbs, and he is always fretting about being blacklisted by hotel inspectors or shut down by Health and Safety, and resents the whole situation. Economic necessity has forced him to serve people, and those people sometimes include Americans, or – even worse – Germans. The moment when he demands of those German guests, "Who won the bloody war anyway?" seems to me one of the most characteristic in the entire show.
I think all of this might have seemed a little too uncomfortably familiar for early viewers. The character of Basil was after all based on a real hotelier, Donald Sinclair, who hosted the Monty Python gang at his establishment in Torquay while they were filming on location. He hid Eric Idle's briefcase behind a garden wall on the suspicion it was an IRA bomb, and criticised the American Terry Gilliam's table-manners for not being British. He may well have been "the rudest man" Cleese had ever met, but you sense in these actions an underlying anxiety, a sense of unease with the world as it was. An unease still recognisable these days: frequently sighted in regimental tie, canvassing for Ukip.
It's an unease I recognise in the behaviour of my own grandfather. Like Fawlty, he had a weakness for blazers and cravats. Like Fawlty, he was a veteran of the Korean War ("I killed four men," Basil says, to which Sybil interjects, "he was in the Catering Corps. He used to poison them.") My grandfather's memories of that conflict centered on the dreadful quality of British Army equipment compared with the spicker boots and spanner uniforms of their American counterparts. Like Fawlty, these experiences transmuted into a boundless resentment which respected no class or distinction. He was dismissive of the working classes and suspicious of the upper ones; as with Fawlty, who is uncharacteristically sweet to the Major, about the only people capable of finding a chink in this carapace of misanthropy were fellow ex-soldiers. Everyone and everything seemed to my grandfather to conspire against him, even inanimate objects. I can well imagine him sharing Basil's response of "you vicious bastard" to a car that wouldn't start. Bearing that in mind, I wouldn't say this particular sitcom distorted the complexities of the human soul, especially if we consider the character of a human soul to be in many ways shaped by experience.
I don't want to overstress the initial antipathy to Fawlty Towers. Most critics were won over by the end of the first series, and the second was hotly anticipated. Nor would I want to confine its value to that of documenting a particularly resonant historical moment. In many ways just a farce, it is nevertheless the most beautifully paced and carefully constructed of farces. And, anyway, farces are really funny. Basil himself may be a recognisable comic type, but rarely has that type been endowed with such verbal invention and deranged physical brio.
Booth and Cleese wrote with remarkable economy – no line or situation went to waste. Chekhov once said that if there is a rifle hanging on the wall in the first chapter it absolutely must go off by the second or third. In Fawlty Towers, if a moose's head is mounted on a wall in the first few minutes it absolutely must fall on Basil's head before the end of the episode. When a garden gnome is delivered in "The Builders", you both know that Basil is going to trip over it and are surprised and delighted when, at the height of that episode's tension, he eventually does. This economy was applied to the show as a whole: there are famously only two series, running to six episodes each. Twelve perfect episodes. No falling off; no indulgent tying up of loose ends; no Christmas specials.
Episodes such as series two's "The Anniversary", where Basil tries and fails to organise a surprise party for the wife towards whom we assumed he felt nothing but fear or contempt (Sybil is variously his "little nest of vipers", his "little piranha fish", his "sabre-toothed tart"), permit softer emotions to characters we might have been tempted to dismiss as stereotypes, without descending to sentimentality. Situations are resolved, characters and relationships aren't.
No single episode of a television programme has made me laugh so much as when I first watched "The Germans"; none has made me feel quite so sad and wistful as "The Anniversary". Who knows what counts as great art, but if Fawlty Towers doesn't, art needs to have a long, hard look at itself.
Register for free to continue reading
Registration is a free and easy way to support our truly independent journalism
By registering, you will also enjoy limited access to Premium articles, exclusive newsletters, commenting, and virtual events with our leading journalists
Already have an account? sign in
Join our new commenting forum
Join thought-provoking conversations, follow other Independent readers and see their replies