comment
Kelsey Grammer's pro-Trump politics risk tarnishing the Frasier reboot
Beloved sitcom shrink Frasier Crane is returning for a new series. It's a great idea, writes Louis Chilton, but the off-camera remarks of its star might give some cause for concern
Thursday 25 February 2021 14:39 GMT
Comments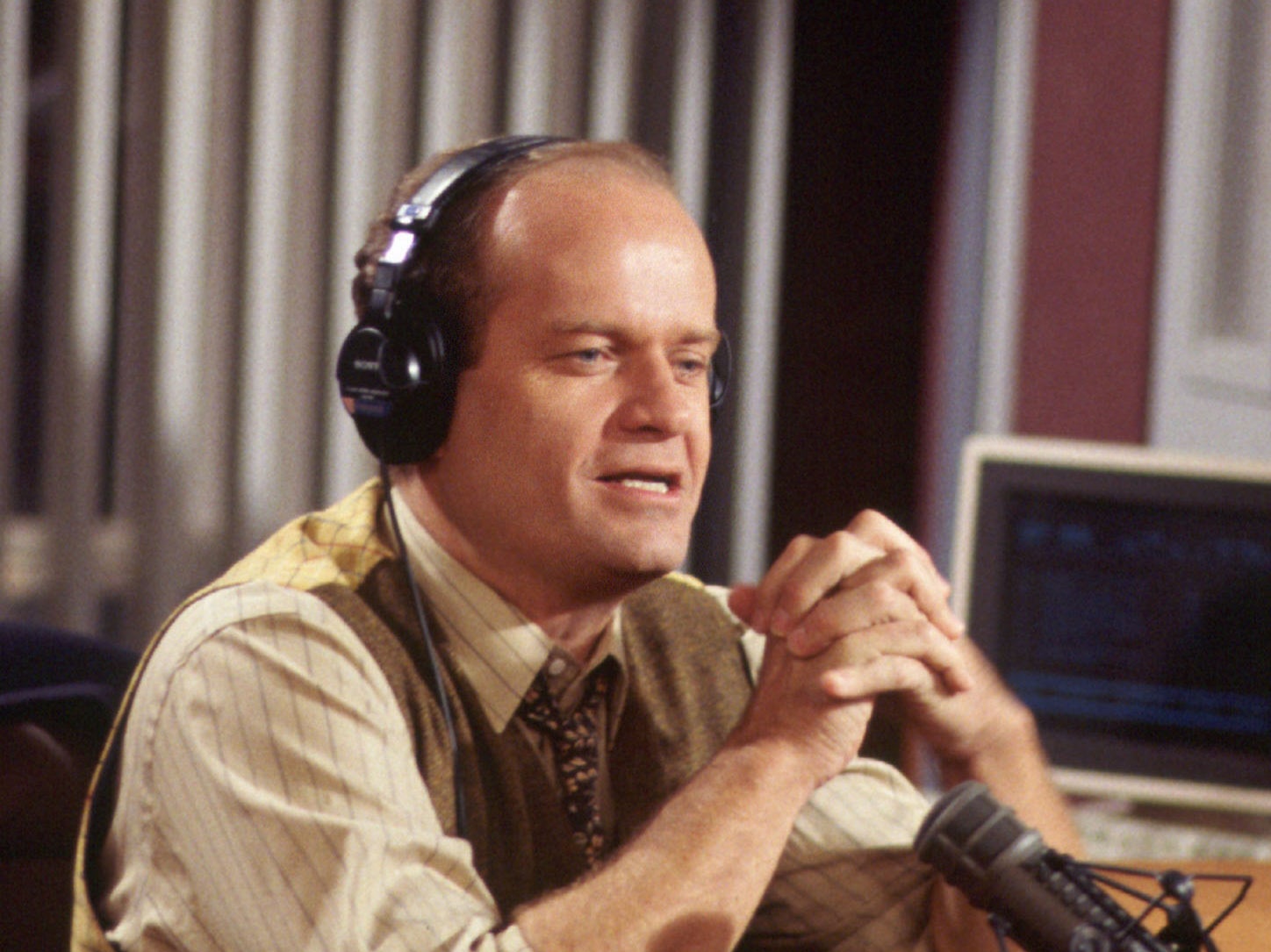 Leer en Español
Amid an ocean of desperate reboots and ill-judged revivals, Frasier Crane sits sipping sherry on his own private island. The character, first brought to life by Kelsey Grammer at the start of Cheers' third season in 1984, knows a thing or two about longevity. Initially cast for a short arc playing Diane Chambers' erudite psychiatrist boyfriend, Grammer proved so eminently capable that his stay on the seminal Boston sitcom lasted nine seasons. His own spin-off, Frasier, saw Grammar resume the role of Crane for a further 11 seasons. Frasier Crane was always propelled by the insatiable, cynical appetites of late-20th-century network television; Frasier thrived in spite of this. So when, yesterday, it was confirmed that the character is being revived after nearly 20 years (for the new US streaming service Paramount Plus), there was cause for optimism. If ever there was a series that could withstand the slings and arrows of insipid reboot culture, it's Frasier.
The prospect is not without its problems, however. Yesterday's announcement suggested that only Grammer is currently attached to the project; the return of co-stars David Hyde Pierce, Jane Leeves and Peri Gilpin remains uncertain (if likely), while John Mahoney, who played Frasier's ornery father Martin Crane, passed away in 2018. Perhaps the greatest obstacle to the reboot's success is also its greatest asset: Grammer himself. The Frasier reboot will be not just a revival but the chance of a comeback for Grammer, whose charisma, comic dexterity and assured theatricality once elevated him to the pantheon of TV greats. Since the end of Frasier in 2004, though, Grammer's star has somewhat waned. Starring roles in the ABC sitcom Hank and Starz drama Boss both ended in prompt cancellation; his standout post-Frasier work probably takes the form of small but enjoyable appearances in 30 Rock and the X-Men franchise, and an affable turn alongside Kristen Bell in the 2018 Netflix drama Like Father. Off-screen, however, he has attracted no small amount of criticism for his political views, speaking out against abortion and supporting Donald Trump in the 2016 election. 
When the possibility of a Frasier reboot was first floated a few years ago, some comparisons were made to Roseanne, another Nineties sitcom which was revived back in 2018. The series' star, Roseanne Barr, was a vocal Trump supporter; the revival was cancelled after just one season when Barr posted a racist tweet comparing former Obama administration official Valerie Jarrett to an ape. 
For all its highfalutin sensibilities – satirising the classism and snobbery of Seattle's upper crust –Frasier was essentially forward-thinking, more so than many series of its era. Though its core characters were all straight, it was also a quintessentially gay show – featuring gay writers, gay actors (including Pierce and Dan Butler, who played Bob "Bulldog" Briscoe) and plotlines which either jokingly or codedly tackled gay issues. The scripts often lapsed into farce, with several episodes revolving around mistaken sexual identities and unwitting homosexual courtship; Frasier himself was a perennial bachelor, a man whose perceived unmanliness put him at odds with his hard-bitten ex-cop father. 
It was no real surprise, then, that Frasier's audience skewed to the left. The question is whether Grammer's political views will impact the way the reboot is received. Unlike Barr, Grammer has not made some indefensible racist remark; his transgressions, such as they are, are largely by association. Grammer has spoken out about gay rights in the past, describing himself as a libertarian and distancing himself from the far-right Tea Party over their stance on gay marriage. But voicing support for Trump is, on some inescapable level, a tacit endorsement of the racist, homophobic and misogynistic statements and policies the former president once spewed. The actor described Trump as a "brat" in 2018, but clarified that he didn't "have a lot of problems with what he's doing" in terms of policy. 
Grammer perhaps deserves to be cut more slack than most; his life, by anyone's standard, has been unimaginably hard. His father, Frank Grammer, was murdered in a home invasion in 1968. His sister Karen was abducted, raped, and murdered by a spree killer in 1975. His two half-brothers died in a scuba-diving accident. During the height of his success as Frasier Crane, he struggled with addictions to cocaine and alcohol. His ability to perform at such consistently high levels while in the throes of addiction was testament to his near-superhuman talent for performance. 
After everything Grammer's been through, it seems crass to rush to judgement because he voted the wrong way. But fans will be looking for reassurance. When the Frasier reboot arrives, Grammer will face more media attention than he has received in decades; he will surely be pressed on his political views, and he will have to either double down or walk back his support for the twice-impeached Trump. He will be confronted by the people whom Trump has vilified, who are wary that Grammer's politics could tarnish the legacy of a TV icon. For the good of the series, here's hoping he takes a leaf out of Frasier Crane's book, and starts listening.
Join our commenting forum
Join thought-provoking conversations, follow other Independent readers and see their replies