Now this is a story… How The Fresh Prince of Bel-Air redefined the Nineties sitcom
The cherished sitcom portrayed black American families like never before, defying stereotypes and exploring themes that still resonate today. Thirty years on, its cast tell Maighna Nanu how it broke new ground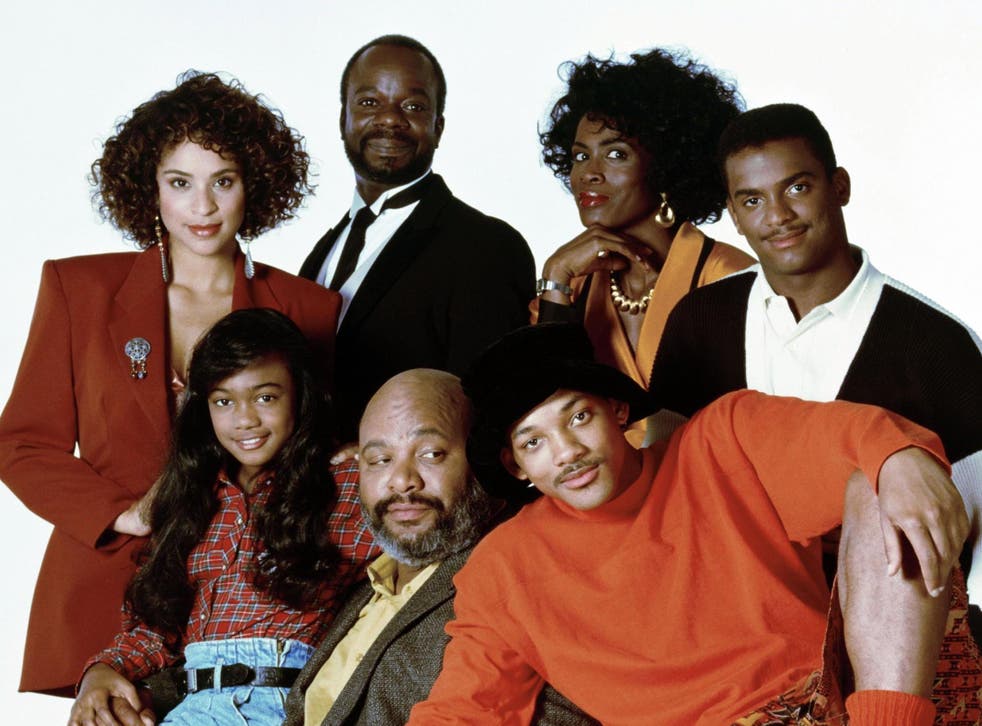 In the spring of 1990, Karyn Parsons was busy hostessing at a seafood restaurant, cat-sitting, and auditioning for the role of a drug addict in a film. At the end of rehearsals with her acting coach, he asked her about another part she had mentioned, one about a "model type" in a family. She brushed it off and laughed, telling him that the other thing was just a "stupid sitcom".
"It sounded so silly to me – like, a rapper on a TV show?" she says now, over the phone from Massachusetts. "That hadn't happened yet and so I laughed about it."
The part that Parsons won was Hilary Banks and that "stupid sitcom" was The Fresh Prince of Bel-Air. Loosely based on writer Benny Medina's own life, it starred Will Smith as an intelligent and funny street-smart kid sent by his mother from Philadelphia ("born and raised") to live with his wealthy aunt and uncle and the rest of the Banks family in Bel-Air, Los Angeles. There was the stuffy older sister Hilary, the precocious know-it-all middle child Carlton, the lovable youngest child, Ashley, and their sardonic English butler Geoffrey. Smith was their instantly loveable charming cousin who injected vibrance into their stiff country club routine.
"It was fresh, it was new and it was something a little different," Smith told Whoopi Goldberg in 1993. "People have never really seen my type of character – the modern Nineties hip-hop type of young man has never been on television before."
From the moment the show first aired, on 10 September 1990, viewers were hooked – thanks in part to its memorable opening credits, in which Smith evidenced his talents as a Grammy-winning MC. The New York Times said The Fresh Prince had "put rap into the mainstream" and it quickly became the highest-rated new sitcom in its first season. Every week, nearly 20 million viewers tuned in to see Smith and the Banks family, with a quarter of the national television audience watching at its peak.
The show launched Smith's career and took him from a broke rapper to one of Hollywood's most famous actors, worth more than $300m (£237m). And the success didn't end there. Once the final season ended, its popularity soared as the show was picked up by networks worldwide, topping import charts in more than 70 countries. Soon, the whole world was stumbling over the lickey-spit lines of the theme tune.
Fast-forward 30 years and the show lives on: Will Smith's quirky facial expressions have spawned thousands of memes; "The Carlton Dance" made famous by Alfonso Ribeiro is a $5 in-game purchase on Fortnite; and to this day the theme tune causes groups of mid-thirties white men to try and show off their rapping cred.
Black family sitcoms such as Diff'rent Strokes and The Cosby Show had achieved mainstream success before, but The Fresh Prince was different, says Parsons, now 53. "Our show was a little more irreverent – we were definitely sillier and the characters were broader." For many viewers, it was the first time they had seen a black family on TV and by season three it had become America's most popular show with an all-black cast.
The Banks family, who lived in a Bel-Air mansion with a butler next door to The Reagans, were unlike any black family that had been on mainstream TV before. "I don't think you'd ever seen a wealthy African-American family on television until Fresh Prince," executive producer Quincy Jones told TIME. "And you definitely hadn't seen a kid from the hip-hop generation until Fresh Prince."
Access unlimited streaming of movies and TV shows with Amazon Prime Video Sign up now for a 30-day free trial
Sign up
The show defied tired stereotypes surrounding the idea of a monolithic black experience and underlined the intersection between class and race in the black community. Characters like Carlton, Hilary and Geoffrey had never been seen before and now they were on a primetime viewing slot every week. "Letting America see that there was a widening gap between the classes of African-Americans was unique," Medina told the LA Times. "That was the freshest thing about it."
Will's character was the one poking fun at it all – he was the guy from the outside looking in and making fun of these people taking themselves too seriously, says Parsons. Part of the beauty of the show and the reason its appeal has endured was that the family dynamic and interaction didn't adhere to tired stereotypes, with Entertainment Weekly noting the "series was one of the few that consistently acknowledges a full range of African-American lives".
"The stories that we told were universal stories of humanity and relationships between people," says Daphne Maxwell-Reid, who played Aunt Vivian, now 71 and living in Richmond, Virginia. "And I think that's timeless."
Smith was mindful of the impact the show could have on a young audience, and throughout the six seasons it taught young viewers important life lessons on race relations, identity, class privilege and sex. In one scene, when Will and Carlton get stopped by police while driving a fancy car that belongs to Uncle Phil's law partner, they are wrongly arrested and assumed to be responsible for a slew of car thefts. Carlton (Alfonso Ribeiro) struggles to grasp why Will is angry, insisting that the officers are "just doing their job". Will says his Bel-Air address won't save him "cause when you're driving a nice car in a strange neighbourhood none of that matters, they only see one thing".
The episode highlighted the prevalence of racial profiling in the black community and remains all too relevant. "The writers really did a good job of being funny when you needed it and delivering a message when appropriate," says Parsons.
Throughout the show, Will joked that his privileged cousin isn't black due to his preppy tastes and lifestyle. He says Carlton won't be able to survive a weekend in his friend Jazz's neighbourhood in Compton and when they go, rising to the bet, Carlton changes his clothes and how he speaks to fit in. Scared of what might happen, Will calls Aunt Viv and gets him to leave. Annoyed, Carlton berates Will for constantly judging him: "You always act like you carry around some measure of blackness that I don't live up to."
Maxwell-Reid, who was the first black woman to appear on the cover of Glamour magazine, says discussions like they had in the show were commonplace at the time. "One day an agency told me I couldn't get the job because I wasn't black enough, and the white agency told me I didn't get the job because I was black. That's just the way life is, so dealing with it on a television show is the honest truth to us."
"The writing process was collaborative and they let us inject our cultural thoughts into the script," she continues. "They wanted it to be true to a family of that stature."
These were powerful, poignant messages giving a glimpse into the class divide in black America, which was unheard of on mainstream television. When Will arrives in Bel-Air he thinks he has nothing in common with the Banks family, and accuses Uncle Phil (played by the late James Avery) of getting soft. "You forgot who you are and where you came from," he says. Uncle Phil says he grew up on the streets just like him and "encountered bigotry you could not imagine". He continues: "Now you have a nice poster of Malcolm X on your wall – I heard the brother speak. I read every word he wrote. Believe me, I know where I come from.
The pilot ends with Will playing Greensleeves on the piano, and Uncle Phil watching in surprise. It sets the scene for a series where both characters learn from one another and challenge their preconceived notions of who each other are based on the way they dress and speak.
Some black people would have tried to write Uncle Phil off as a "sell-out", says Parsons, but she points to the fact he had a history of activism and he was more complex than that. "He wasn't there to be judged as a black guy in a suit who people make assumptions about – there were layers and layers to this man."
James Avery was the perfect choice for the role, she adds. "He was such a classy guy with such depth, who had lived so many lives with such integrity. His success was a manifestation of the work he put in and in no way ever was he a sell-out of any kind."
Another episode that Parson says still resonates today is the one where Will's dad Lou (played by Ben Vereen) returns after 14 years, only to leave again. Smith delivers a heartfelt monologue before asking: "How come he don't want me, man?" and embracing Uncle Phil in tears. In an interview in 2018, Smith told Rap Radar how at the end of the scene, Avery whispered into his ear: "That's f***ing acting."
"That scene really underlined who James Avery was," notes Parsons, who says Uncle Phil was a male role model both for Will and for other young rappers growing up. J Cole's 2018 hit song "No Role Modelz" opens with a tribute to the late actor: "First thing's first, rest in peace Uncle Phil/ For real you're the only father that I ever knew."
"James was like a father to me," says Parsons, "I miss him terribly."
When I ask Maxwell-Reid why the show has had such a long-lasting impact, she has one answer: Will Smith. But while it's true that he has gone on to be a Hollywood heavyweight, the show still stands up on its merits and is a comfort watch for many. Hilary is just as clueless; Carlton is still unbearably preppy; and Uncle Phil's impassioned speeches live on. The theme tune, meanwhile, is timelessly catchy, and the stories in the series are more important than ever.
I ask Parsons if she thinks The Fresh Prince could still work now.
She laughs, and replies: "The writers would kill it."
Register for free to continue reading
Registration is a free and easy way to support our truly independent journalism
By registering, you will also enjoy limited access to Premium articles, exclusive newsletters, commenting, and virtual events with our leading journalists
Already have an account? sign in
Register for free to continue reading
Registration is a free and easy way to support our truly independent journalism
By registering, you will also enjoy limited access to Premium articles, exclusive newsletters, commenting, and virtual events with our leading journalists
Already have an account? sign in
Join our new commenting forum
Join thought-provoking conversations, follow other Independent readers and see their replies