From Janice's love child to Gunther's secret life, what Friends stars Maggie Wheeler and James Michael Tyler say about the show 25 years on
Wheeler and James Michael Tyler, who played Gunther, speak to Clémence Michallon at the newly opened 'Friends' pop-up in New York City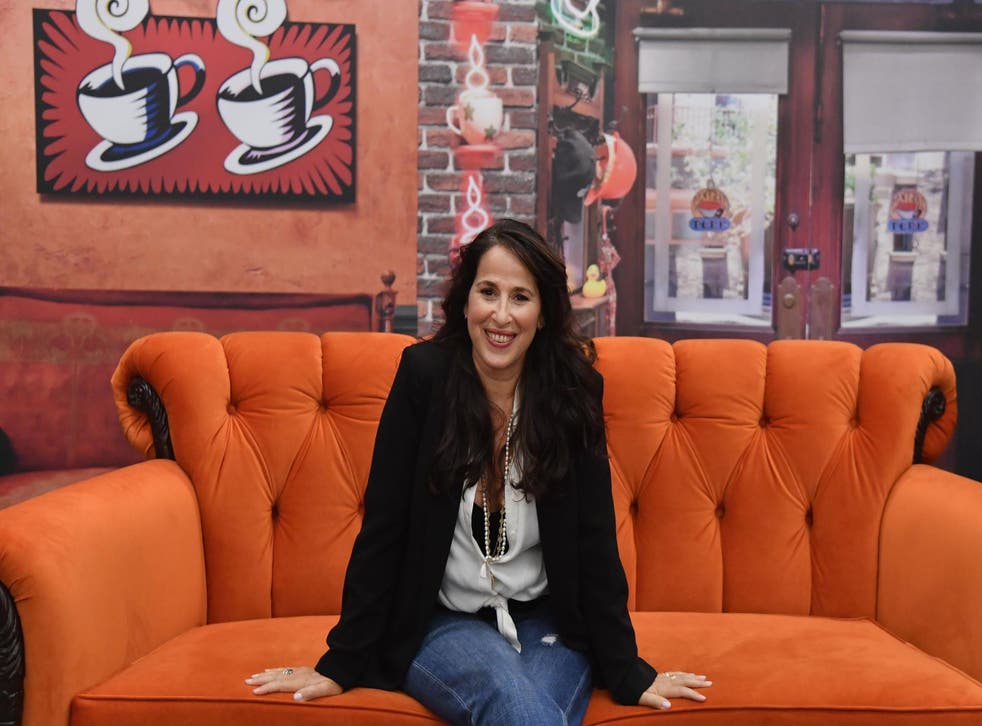 It's hard to believe, but Janice only appeared in 19 Friends episodes. This may not sound like much, especially considering how much of an icon she has become among fans, so take that number as a testament to the scene-stealing power of Maggie Wheeler, who played Chandler Bing's on-and-off girlfriend throughout the sitcom's 10 seasons.
Friends wrapped up in May 2004. Since then, Wheeler has scored acting credits in shows such as ER, How I Met Your Mother and Curb Your Enthusiasm – though none of her subsequent roles have made as much of an impact as Janice.
Friends still has a special place in Wheeler's heart. She was on hand, along with James Michael Tyler (aka Gunther, the taciturn Central Perk barista with an indelible crush on Rachel) during a press preview for a new pop-up marking the show's 25th anniversary in New York City. Visitors could hear the occasional cackling laugh or Janice's trademark "Oh my God" resonate through the pristine 8,500-square-foot loft space in Soho, whenever a journalist asked Wheeler to step back into her character's shoes for a few seconds. Does it ever get tiring, I asked, to always be brought back to that one character? Wheeler assured me it wasn't.
"It doesn't feel like that to me," she said. "I feel like I have been very blessed in a way to have a certain level of fame where I can enjoy that kind of moment but I'm not being inundated 24 hours a day, seven days a week. I think it can shift when people never call you by your real name, but for me it's really not like that."
If anything, Wheeler says, she's happy to have been a part of a cultural moment that made other people happy and perhaps helped carry them through more difficult times in their lives. Of course, that's the sort of thing you would expect a Friends star to say at the site of an exhibition powered by fan culture. But Wheeler's delivery seems genuine. We're sitting on the couch of a set replica meant to mimic the iconic Central Perk coffee shop, where Rachel, Joey, Chandler, Monica, Phoebe, Ross – sometimes joined by Janice – spent inordinate amounts of time. The faux set, she says, feels enough like the real thing that she feels "quite at home" in this environment. "I feel like I've probably got a dressing room in this building somewhere, even though I know I don't," she adds. "So it feels incredibly familiar and comfortable."
Inside the new Friends pop-up in New York City

Show all 9
Wheeler gets animated when I ask her if there's one story arc she wishes – in vain – that the showrunners had explored for Janice. "Oh, absolutely," she says, before launching into the tale of the Friends episode that never was, which could have been titled The One With The Love Child.
"At the end of the first season, I was pregnant with my first child. So at the first wrap party, I had to tell Marta [Kauffman] and David [Crane] that I was pregnant, and of course, I figured: 'Well, this is the end, they'll never have me back,'" she recalls. "So I went up to them at the party and I said: 'By the way, I'm three months pregnant. So in the second season, if you'd like to bring back Chandler and Janice's love child, I'm all about it.'"
Wheeler didn't have high hopes for that long-shot storyline, nor for her future on the show. She walked away, certain that she would start her family and that her Friends career would end with season one. That wasn't the case – and while Chandler and Janice never had a child, we did get to see a glimpse of a pregnant Janice in season two. In "The One Where Heckles Dies", she comes back, married and expecting her firstborn, to taunt her ex.
"When I was eight months pregnant, [the showrunners] called me and they had me come on the show eight months pregnant," Wheeler says. "My husband was sitting in the audience on that day, and the woman sitting next to him said: 'Oh, that is so fake' – about my belly. And he said: 'No, that's real,' and she said: 'No, that is not real, it's like a basketball.' He said: 'No, it's real. It's my child.'"
Access unlimited streaming of movies and TV shows with Amazon Prime Video Sign up now for a 30-day free trial
Sign up
Janice, by the way, had a fascinating backstory that we, as viewers, never really got to explore. She married by season two and had a child. By the end of season two, she had an online affair with Chandler, whom she started dating again in season three. By season eight, she came back, married to a new man and about to give birth to their child. It begs the question, then: as an actor, did she ever fill in the gaps between those developments, to make sense of Janice's story?
"When you're working on a sitcom, especially in my case, where there's time that passes in between my episodes, there's no time to do that kind of preparation," she says. "The script shows up at your door late on Sunday night, maybe at 1am, and I can hear the thud at the door and I run out in my whatever and go sit at the kitchen table and read through it and figure out what they've done with Janice this time. … So really, a lot of this stuff happens on the fly – but I felt from the very beginning that I understood Janice. We have a good partnership, Janice and I. And so, whatever it was that they sort of threw at me, we just found ways to make it sing."
This is a radically different approach from that of James Michael Tyler, known to fans as Gunther. While less prominent, story-wise, than Janice, the lovestruck barista appears in 185 out of 236 Friends episodes, from season one to season 10. Perhaps his continued presence on the show is why Tyler felt inspired to craft an entire identity for Gunther despite the fact that his characters, as he points out, wasn't even granted a last name on the show.
"I thought that Gunther more than likely was at least of Dutch heritage because they have the episode where he speaks Dutch and understands it quite well," he says. "I believe he probably slept or had a room in the back of Central Perk. I couldn't imagine that on a barista salary he could really afford a nice place – as nice an apartment as the friends have. I think he was a really nice guy. Deep down, I think he was an artistic, sensible soul. [He] probably wrote poetry and did nature photography. Socially awkward, I would have to say. He probably had some very close friends but they all played Dungeons and Dragons together."
While she didn't have a chance to delve as deep into Janice's possible backstory, Wheeler does have a theory as to why Chandler's girlfriend-turned-ex-turned-possible-soul-mate, who is supposedly absolutely unbearable as a person, has turned into a fan favourite.
"She's this rare character who finds her way into the living room and into the coffee shop and the relationships that these friends have with each other. Everywhere they go, she's ubiquitous," says Wheeler. "So I just think that for the people who watch Friends and who imagine what it would be like to be there and to be in the room, I represented a way in. ... I just think it was that little magic trick of 'how do you get in there?' – and look who got in! This crazy, annoying, just persistent and sometimes clueless person."
Gunther, according to Tyler, has proven a somewhat unexpected icon for younger fans of the show. While he's a bit mystified by that, Tyler has a theory that Gunther's personality might be particularly appealing to younger viewers. "He's very real. He's not a bad guy, but he's a little bit disaffected," says Tyler. "And I don't know if that's really a true reflection of someone to identify with, but he doesn't really put up with much. He's a nice guy but you can only go too far before he just says what he means."
Seeing Friends through the gaze of younger, more socially alert fans has been an interesting experience. Many have pondered the show's portrayal of gender, race and sexuality, among other things. Wheeler acknowledges that some aspects of Friends feel "incredibly retro", while reminding me that the show was, in fact, considered "racy in a lot of ways" back when it first aired.
"They say hindsight is 20/20. You can't create a show with the consciousness of the future. The future hasn't happened yet," she says. "It's true that whenever you look back at a sitcom or at any television of that moment. You might see things that you might cringe at, or you might think 'That is just so politically incorrect' or 'Where is all the diversity?' Although that was a discussion that was taking place during the time that show was being made. So I'm not sure if it could have been done a different way then, but clearly we know a lot more now, or the discussions are a lot more open now about inclusion, about diversity, about the spectrum of sexuality, about all of humanity. There's so much more of an open conversation about those things now."
Support free-thinking journalism and attend Independent events
As for Tyler, he agrees that parts of the show could be considered problematic nowadays. "If Friends were being produced today, they would have to steer away from certain subject matter or the way they approach certain subject matter," he says. "However, in the Nineties, it was a different time. It doesn't mean it made it right necessarily, but I think people's reactions to things have become more attuned and more acute, for the better in many many instances. ... I think it's a valid point, and I think it's a valid criticism of sort."
The 'Friends' pop-up is open in New York City until 6 October, 2019. Watch Friends daily on Comedy Central, Friends – The Complete Series 1-10 is available now on Blu-ray and DVD
This article was first published in September 2019
Register for free to continue reading
Registration is a free and easy way to support our truly independent journalism
By registering, you will also enjoy limited access to Premium articles, exclusive newsletters, commenting, and virtual events with our leading journalists
Already have an account? sign in
Register for free to continue reading
Registration is a free and easy way to support our truly independent journalism
By registering, you will also enjoy limited access to Premium articles, exclusive newsletters, commenting, and virtual events with our leading journalists
Already have an account? sign in
Join our new commenting forum
Join thought-provoking conversations, follow other Independent readers and see their replies