Friends, High Fidelity, Party of Five: Why are we so obsessed with Nineties reboots?
Watching shows from the Nineties allows us to slip down a wormhole to an easier time before hope turned to resignation, writes Annie Lord
Tuesday 03 March 2020 08:30 Comments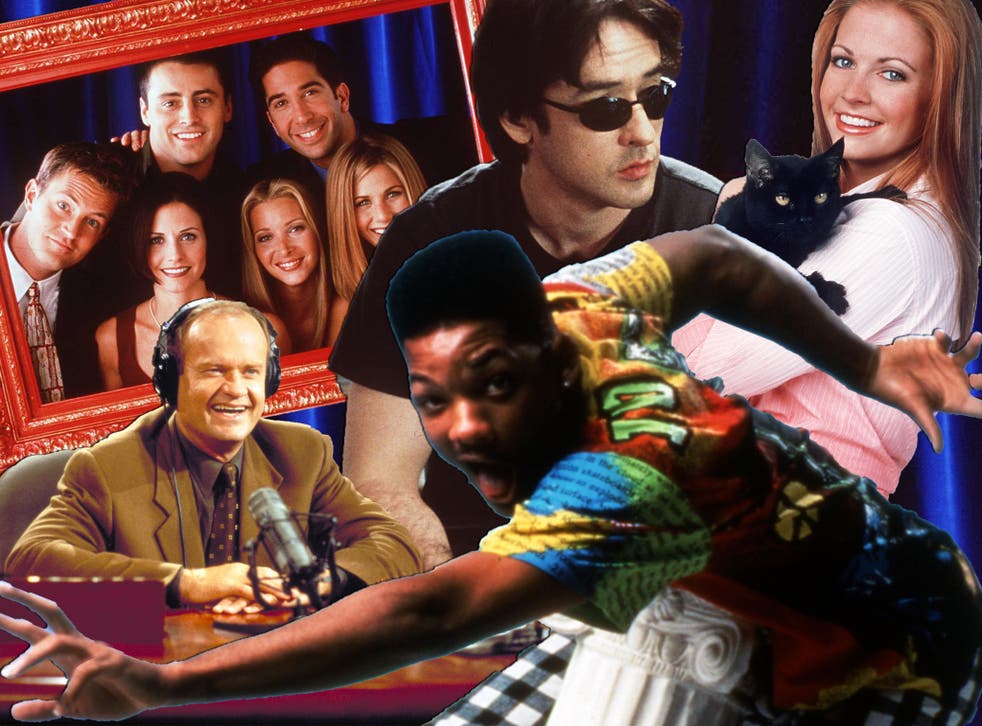 A middle-aged man walks into a record store and asks to buy a copy of Stevie Wonder's "I Just Called to Say I Love You". They have it in stock – but the sales assistant, Barry (Jack Black), is too cool to sell it to him. The best place to find that "tacky and sentimental crap", he says, is at the mall. Barry's snipes are to be expected. He's wearing vintage suede and the sort of shaggy non-haircut that tells us this is a man who thinks anything electronic isn't real music.
This scene comes early on in the original film adaptation of Nick Hornby's cult Nineties novel High Fidelity. This Valentine's Day, Hulu released a 10-episode reboot of the comedy-drama, with Zoë Kravitz replacing John Cusack as lead character Rob. It's one of many Nineties reboots to have hit our screens of late: 2018 saw the return of Charmed and Sabrina the Teenage Witch; this January, Party of Five came back; the much-anticipated Friends reunion has finally got the go-ahead, 16 years after the last episode. Frasier and The Fresh Prince of Bel-Air remakes are also rumoured to be in development. And it's not just TV – films such as Sister Act, I Know What You Did Last Summer, Blade, The Crow, The Craft and White Men Can't Jump are all set to return.
Those tuning into the new High Fidelity looking forward to a nostalgia-fuelled dose of "tacky sentimental crap" will be disappointed. Aside from the Dickies T-shirts, pleated tartan and Lauryn Hill tracks, Nineties ephemera is kept to a minimum.
In the 2020 equivalent of that Stevie Wonder scene, Jack Black's replacement Cherise (Da'Vine Joy Randolph) calls out an iced coffee-drinking bro for using Shazam to work out the name of the mellow French guitar music coming out the speakers. "You do know there's an actual person standing right here in front of you?" Cherise says, bristling at the fact that the guy is more flirty towards his iPhone than her.
Shazam is not the only extremely 2020 thing about High Fidelity's reboot. Gentrification in Brooklyn means frosé bars and boarded-up gig venues. Characters discuss whether or not it's OK to listen to Michael Jackson in the wake of recent accusations; music snobbery has become passé; an Instagram influencer hires out a house to throw a pretend dinner party. Everything's so current, it's surprising that Billie Eilish's neon-green roots don't get a mention. You half expect to see characters Venmo-ing each other the cost of the previous night's watermelon vape juice.
The 20 greatest TV theme songs of all time

Show all 20
But updating it like this kind of misses the point. Because we still watch Nineties shows with unparalleled enthusiasm. People fall asleep to episodes of Fresh Prince. They play Frasier in the background when their boss lets them work from home. A former employee of Robert De Niro's production company was alleged to have watched 55 episodes of Friends in four days. No wonder Netflix is believed to have paid WarnerMedia $100m (£85m) to licence the show in 2019. We might be furiously tweeting our takes on Stranger Things, Sex Education and The Crown, but it's Nineties reruns that we spend most of our time on.
It's easy to blame Nineties mania on aesthetics: a penchant for fluffy pens and Johnny Depp's old face. But our desire to see Rachel and Ross back together derives from much deeper-seated needs.
The Nineties were a comparatively prosperous time. You could go to university for free. The NHS was well-enough funded that there weren't patients sleeping in hallways. There weren't any articles telling young people that they should reuse tea bags or stop eating avocados so they could buy a house.
The Nineties might not have delivered on its promises: trickle-down economics didn't trickle down very far, the "intelligence economy" just means we spend all day answering emails, and young people have to rent their overpriced houses from baby boomers. Watching shows from the Nineties lets us slip down a wormhole to an easier time – one before hope turned to resignation.
Access unlimited streaming of movies and TV shows with Amazon Prime Video Sign up now for a 30-day free trial
Sign up
But rather than capitalising off nostalgia, many reboots have chosen to confront the complexities of the now. Where Nineties sitcoms are full of man-children watching sports all day from their armchairs, Rob's life in the new High Fidelity is more complicated. She brings up the record shop's lack of customers constantly and bemoans the way her neighbourhood is being taken over by pastel-hued, Instagrammable coffee shops. High Fidelity is an easy watch, but that's less because the cultural climate is laidback, and more because someone as good-looking as Kravitz can only have an unsuccessful love life for so long.
The Party of Five reboot follows High Fidelity in replacing the cheery optimism of the original with something altogether bleaker. Instead of the middle-class white Salingers of San Francisco, we meet the Acostas: Mexican-Americans living in Los Angeles, who become de-facto orphans after ICE agents deport their parents. Just eight episodes in, the Acostas must learn to navigate an increasingly hostile country. Val stays off school to chat with her parents on the phone. Matthew wants to be a dishwasher, but without an ID, he has to illegally obtain a social security number. Grief has rendered Gloria depressed.
Rather than disrupt the lives of Ross, Rachel, Joey, Chandler and Phoebe with the anxieties of modern life, the upcoming Friends reunion will see the gang reminiscing about old episodes of the show. So we won't see Central Perk replaced by a cafe that sells $8.50 butterfly pea lattes. Or how Rachel would cope with having lost her job at Ralph Lauren after being cancelled on Twitter. But it makes sense that the sitcom's stars would be hesitant to enter the now. Friends exists in a bubble of nostalgia that we don't want to pop. The 2020s just aren't as comfortable to watch.
We want to see them all languishing in the same coffee shop, talking about the same meandering non-events before going back to their big Manhattan flats where nothing ever changes. We wish we could join them there too.
Register for free to continue reading
Registration is a free and easy way to support our truly independent journalism
By registering, you will also enjoy limited access to Premium articles, exclusive newsletters, commenting, and virtual events with our leading journalists
Already have an account? sign in
Join our new commenting forum
Join thought-provoking conversations, follow other Independent readers and see their replies