From Boy Meets Girl to Orange Is the New Black: Meet the new transgender faces of TV
True-to-life transgender characters on mainstream television have been neglected  for too long. But a host of new shows reveals that change is in the air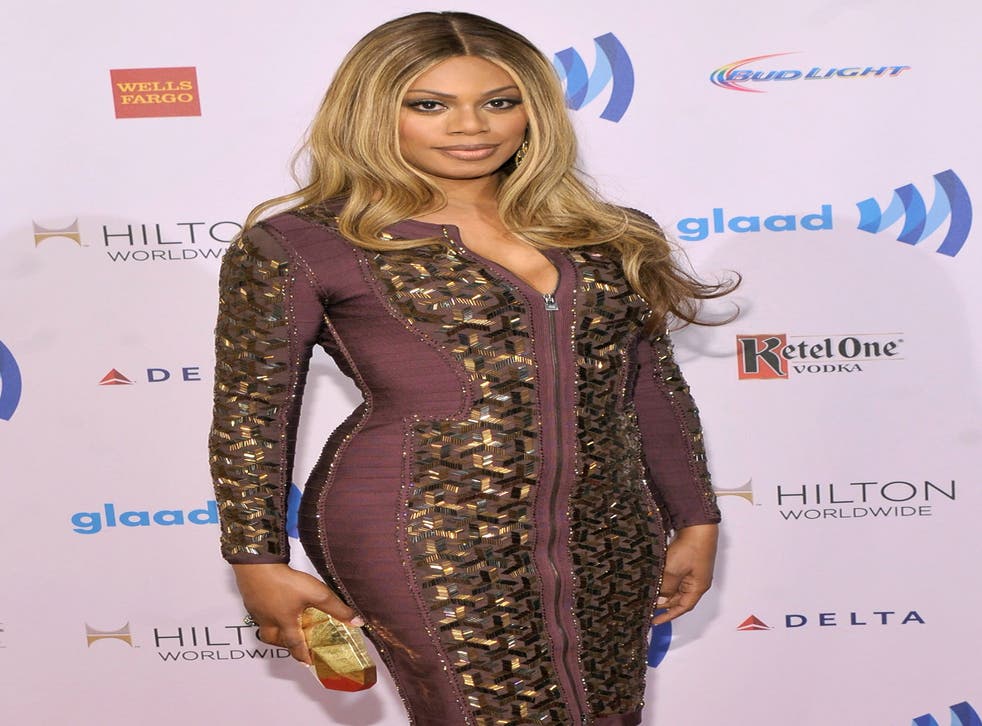 Boy Meets Girl sounds like scores of sitcom treatments the BBC receives each year: Leo meets Judy, they bond over drinks and arrange a date. His mother despairs of her 26-year-old son seeing a 40-year-old woman but he's absolutely besotted.
Except that this isn't Cougar Town transplanted to the North of England. Nor is it May to December with the sexes reversed. Because Judy is transgender and played by transgender actor Rebecca Root. And Boy Meets Girl is funny, sensitive and progressive but unquestionably a mainstream comedy. Transgender characters on television are undergoing a transition – already Modupe Adeyeye's Hollyoaks character has revealed herself to be a transgender woman – and now a British comedy is poised to confirm this transition.
In the US, trans actor Laverne Cox has won plaudits for her role as Sophia in the acclaimed prison saga Orange Is the New Black, which returns to Netflix for a second season on 6 June. Cox, who was controversially left off Time's recent 100 Most Influential People list, despite receiving more reader votes than cover stars Beyoncé and Rihanna, has claimed that she was inspired by Candis Cayne in 2007's Dirty Sexy Money, the first transwoman to have a recurring role in a primetime show.
Now, one of Dirty Sexy Money's writers, Jill Soloway has created Transparent, starring Arrested Development's Jeffrey Tambor as Mort/Maura, a transgender woman coming out to her family. The first US show to dramatise every step, with Mort/Maura living in the identity she plans to transition to before having surgery, the pilot found Mort/Maura struggling to tell her "selfish" adult children, as they in turn grapple with gender, sexuality and body-image issues of their own. Orange artfully depicted Sophia before and after transition by casting Cox's twin brother, though creator Jenji Kohan initially wanted Cox to play both.
But these are cult series. Orange is a Netflix production and Transparent one of the first commissions of its online rival Amazon-Prime.
By contrast, Boy Meets Girl reminds me most of Gavin & Stacey – a broad-appeal, romantic comedy featuring an endearing but "straight-ish" couple, surrounded by mildly eccentric family. But Root and Harry Hepple as Leo also have some of the best lines, eliciting big laughs from the opening, revelatory scene. And more besides.
"We had laughs, we had gasps, we had 'oohs', 'aahs' and some crying," Root says of those who saw the pilot, one of four audience-tested at the BBC's Salford Sitcom Showcase last month. Some won't make it to television but both Citizen Khan (BBC1) and Hebburn (BBC2) previously featured at the event.
"It's a real mix of emotions," Root reflects. "Judy speaks to people because she's over 40, single, lives with her mum and doesn't have a great job. And she's transgendered. But that's almost incidental. She's got heart and spirit and people really warmed to that."
When transgender characters appear on television at all, they're "tragedies or monsters" argues stand-up Bethany Black, whose own semi-autobiographical comedy for the BBC, about her transition, surgery and "coming out" to family and friends, was dropped when Sky Atlantic commissioned the transsexual assassin drama Hit & Miss in 2012. And in comedy, tragedy and monstrosity usually leads to mockery.
Access unlimited streaming of movies and TV shows with Amazon Prime Video Sign up now for a 30-day free trial
Sign up
"Nine times out of ten, the stock joke is 'and she had a penis!' It feeds into this idea that transwomen particularly are trying to trick straight men into sleeping with them, making them accidentally gay," she says. Black praises David Tennant's Davina in a 1993 episode of Rab C Nesbitt as "one of the first trans characters on British television with any sense of sympathy towards them", while acknowledging that the closing scene involves her "tricking" Mary Doll's lecherous boss into a dark cupboard fumble. Otherwise, she adds, portrayals tend towards "a big, hairy man in a dress with all these traits to be laughed at".
That's the charge levelled at Irish sitcom The Centre, where Gary Cooke's character Nuala has been panned as "played for cheap laughs" by Broden Giambrone, chief executive of Transgender Equality Network Ireland. "Not only is she referred to as 'King Kong in a thong' but there are references made to her surgical status, her hormone levels, body hair and Adam's apple. At no point is the audience laughing with Nuala, they are laughing at her."
In US comedy especially, transgender characters are seen as an opportunity for stunt casting, a chance for Hollywood stars to send up their beauty and status, as with Kathleen Turner in Friends, Rebecca Romijn in Ugly Betty and Chris O'Donnell in Two and a Half Men. Black appreciates films like Dallas Buyers Club "trying to move trans issues into the mainstream" but says Jared Leto's award-winning performance "has caused a lot of upset".
"Throughout the entire film everyone refers to her as 'he' and is never corrected. A trans actor would have picked up on that. The Oscar and critical praise heaped on Leto was basically for backing up what people believe rather than portraying an emotionally real character."
Affirmative action is arguably long overdue. Boy Meets Girl only auditioned transgender actors for Judy and the sitcom is one of two projects in development at the BBC as a result of the Trans Comedy Award, an initiative set up in conjunction with the Trans Comedy group, who awarded £5,000 and development to the best comedy scripts depicting "transgender characters and the transgender experience in an affirming manner".
Root says: "Trans people are a minority. But for every person like me who's made a conscious step to do something about the feeling we've had all our lives, there are plenty who've gone part-way or not at all yet. The BBC should reflect the lives of the rainbow gendered because that's what we pay it to do. If it's picked up, and they cast another trans actor who's better than me, it would still be a fabulous piece to be seen on British TV. The public are ready for it."
Join our new commenting forum
Join thought-provoking conversations, follow other Independent readers and see their replies