Game of Thrones: Producers turn to George RR Martin's back catalogue, including Skin Trade and Fevre Dream
Game of Thrones is eating up plots by Martin faster than the 67-year-old can turn out the doorstop novels in his series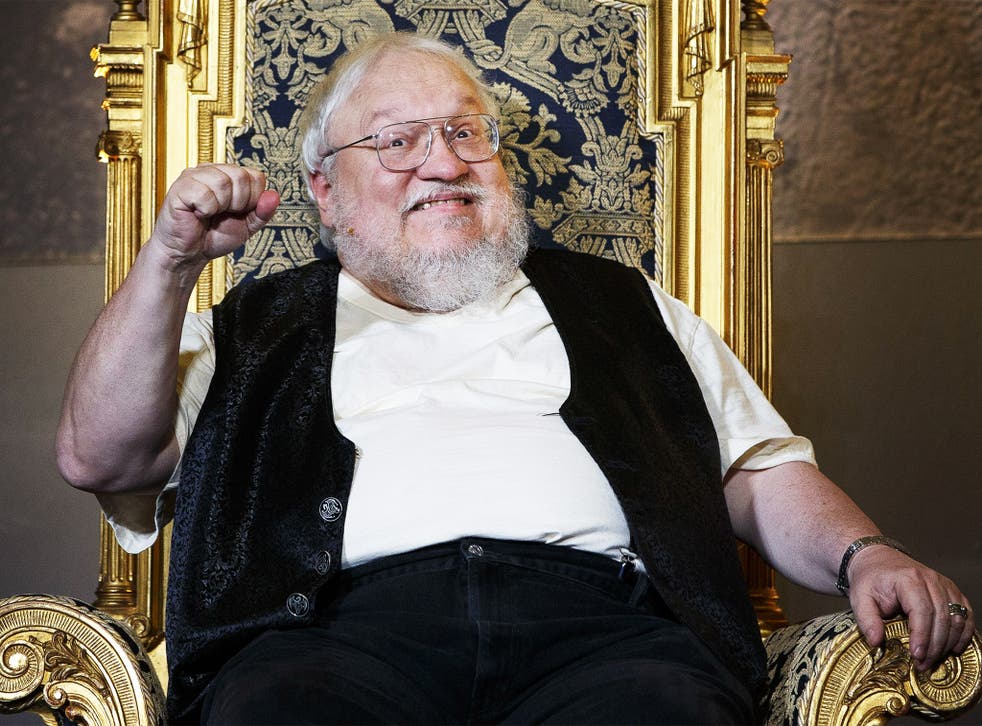 People who just a few years ago didn't know their orcs from their elbows – and had no truck with that fantasy stuff anyway – are now fully conversant with everything from dragons to White Walkers thanks to the all-conquering TV adaptation of the epic Game of Thrones novels.The show has even made a household name of the author of the books, George RR Martin, whose beard and Greek fisherman's cap have helped him assume the sort of recognisability only a handful of contemporary scribblers have enjoyed. The problem is that the TV show is eating up plots by Martin – he's known affectionately to fans as GRRM – faster than the 67-year-old can turn out the doorstop novels in his series.
So while everyone's (not always patiently) waiting for him to finish his sixth, The Winds of Winter, it's no shock that TV executives have been turning their attention to his back catalogue. Thus, it was announced this month that Cinemax, sister company of the Thrones producer HBO, is to adapt GRRM's werewolf novella Skin Trade, first published in 1988.
Readers' favourite lines from Game of Thrones

Show all 10
The author calls the story "off-beat werewolf noir" and says: "The deal is closed, and Cinemax has ordered the pilot script. This being Hollywood, of course, you never know where things will end ... but if they like the script, we'll shoot a pilot, and if they like that, hey – who knows? Maybe we'll get a series on the air."
He adds that he'd loved to have written the script and be "show runner" himself, but: "I have this book to finish. You know the one".
So where should TV companies be looking next? The best thing about the author, for their purposes, is that he's no one-trick pony. He might own epic fantasy, but he's also turned his hand to horror, science fiction and even prose superhero writing. By the time A Song of Ice and Fire is finished, he'll have 16 novels to his name, plus 10 collections of short stories. He's edited dozens of anthologies and in 2006 even brought out a children's book, The Ice Dragon, illustrated by Yvonne Gilbert.
If Skin Trade does capture the imagination, an obvious follow-up choice would be 1982's Fevre Dream, a 19th century vampire story set in the claustrophobic confines of a Mississippi riverboat. According to GRRM, it's been optioned by Hollywood "several times", but sadly never made it to the screen.
But for the breadth and ambition of Game of Thrones, studios need look no further than GRRM's first novel, from 1977, Dying of the Light. Set on a distant rogue planet that is heading out to the cold wastes of space (bringing, eventually, sunless death to all) it has a diverse set of civilisations, pots of intrigue and conflict, and a body count to impress even Joffrey Baratheon.
Set in the same universe, but with a distinctly lighter touch, are the Haviland Tuf short stories, darkly comic tales of an itinerant space trader, with a strong environmental message. One for fans of Guardians of the Galaxy, perhaps, but with a bald, overweight protagonist who likes cats.
And then there's one of GRRM's most ambitious – and possibly most commercially viable – projects, Wild Cards. With editing and contributions from GRRM, these so-called "mosaic novels" are written by several authors – they're really collections of short stories – and revolve around a central theme or incident.
The Wild Cards "mosaics" are set on an Earth where an alien virus was released over post- Second World War New York, turning a percentage of the population into either freakishly mutated Jokers or super-powered Aces. With the comics publishers Marvel and DC battling it out to claim the multiplexes, perhaps the world has never been more ready for a TV adaptation. And there's enough to keep the script writers in work forever: the 22nd volume is due out next year.
So plenty of GRRM to be getting on with, but Game of Thrones fans will still want to know … just when is he going to finish The Winds of Winter? Well, the author Neil Gaiman once said in response to impatient, entitled fans demanding that GRRM hurry up with his book, "George RR Martin is not your bitch". But the author is making a guest appearance as a zombie version of himself in the US show Z Nation broadcast tomorrow, sitting quite dead behind a signing table in a bookshop piled high with copies of a made-up GRRM title, A Promise of Spring. Perhaps a hint there?
Join our new commenting forum
Join thought-provoking conversations, follow other Independent readers and see their replies