Game of Thrones: Meet the woman who is the 'best thing that ever happened to the show'
Emilia Clarke, Sophie Turner and Lena Headey tell Jeremy Egner that 'Game of Thrones' producer Bernadette Caulfield is the show's 'beating heart'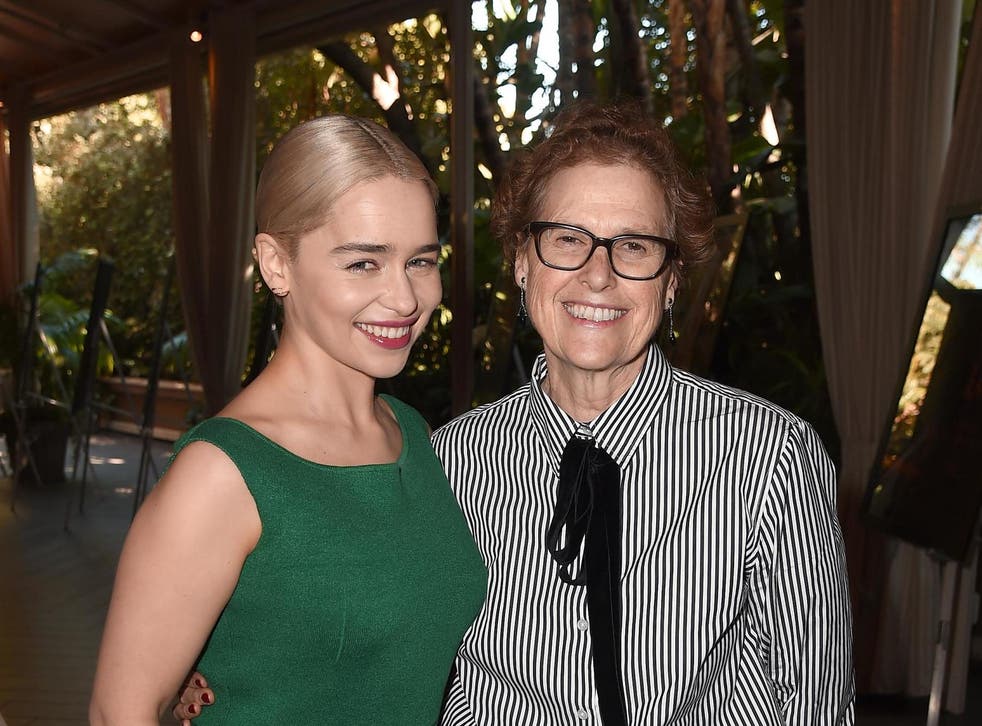 Game of Thrones stars past and present filled Radio City Music Hall in New York this month for the world premiere of the first episode of the fantasy saga's eighth and final season. But in their speech before the screening, creators David Benioff and DB Weiss gave some of their deepest thanks to someone who most of the crowd probably wouldn't recognise.
"We only made it this far because of Bernadette Caulfield, the greatest producer alive," Benioff said.
Caulfield, an executive producer for the show, isn't as familiar to fans as Benioff or Weiss or actors like Emilia Clarke (who plays the dragon queen Daenerys Targaryen), Sophie Turner (Sansa Stark) and Lena Headey (Cersei Lannister). But for those people, she is the real star of Game of Thrones.
"She's the beating heart of our show," Clarke said. "The woman that I want to grow up to be like", Turner said. "The true Mother of Dragons", Headey said. "The single best thing that ever happened to the show", Benioff and Weiss wrote in a joint email.
Even as writers and showrunners have become celebrated in this age of intensely dissected series, television is still made mostly by the unsung – all those names in the credits that turn the scripts into actual television. This is especially true for Game of Thrones. With its sprawling tale unfolding in a wide variety of environments, it was almost certainly the most technically complicated series ever made, at times running five units (film crews) simultaneously, on multiple continents, to complete a given season on time.
And they rarely shot simple scenes: Game of Thrones became a sensation partly through gob-smacking sequences involving elaborate battles, people on fire and the occasional bear. It inhabited cliffs, crypts and caves in Northern Ireland. It closed city streets in Spain and Croatia to film riots, insurgencies and a nude walk of shame. It took a crew into an Icelandic blizzard to capture the world beyond the Wall.
Whatever your feelings about the show itself, it is inarguably a marvel of scale and execution. (Over eight seasons, it used nearly 13,000 extras in Northern Ireland alone.) And if you ask nearly anyone associated with it who the linchpin holding the entire thing together was, the answer is "Bernie". "Without her, the whole thing would have collapsed under its own weight long ago," Benioff and Weiss said.
"Well, I wish I was that important," Caulfield said when I reached her in London, where she's working on Joss Whedon's new series, The Nevers, for HBO. "But obviously it takes a major team to put it together."
That team included her wingman, producer Chris Newman, and the show's production designer, Deborah Riley, among many, many others. But Caulfield was the person in charge of everything, the creators said, overseeing all aspects of the production, from the enormously complex logistical planning to the budget and production schedule to the "health and happiness of the crew". For Caulfield, however, the task was relatively straightforward. "My job is to make whatever they write on the page come to the screen," she said.
Access unlimited streaming of movies and TV shows with Amazon Prime Video Sign up now for a 30-day free trial
Sign up
Caulfield grew up in upstate New York and went to high school in Rochester, where she also worked in local theatre. When a movie filmed in the area in 1981, she signed on as a production assistant and was bitten by the show business bug – she moved to Los Angeles within a year. As she rose through the industry ranks, she worked with some of the most esteemed producers in Hollywood, including Steven Bochco (on Brooklyn South and Philly), Michael Mann (Robbery Homicide Division) and Ridley and Tony Scott (The Good Wife)
She honed her multiple-unit chops as a producer on The X-Files and then later on the HBO polygamy drama Big Love. As that show was wrapping up in 2011, she heard about "sort of a fantasy, medieval piece" the network was shooting in Britain. She joined Game of Thrones for its second season, replacing outgoing producer Mark Huffam. It's easy to forget now, given the cavalcade of spectacle Game of Thrones has become, that it was a much quieter show in the early days. The dragons were glorified lizards and the first big combat sequence, the Battle of the Blackwater, didn't come until the end of season two.
Season three brought signs of the expansion to come, with new worlds and more extreme elements, like the bear that Brienne of Tarth (Gwendoline Christie) squared off with in one gonzo sequence. "Gwendoline said, 'I can't believe I'm working with a live bear here!' and David said, 'I know, I didn't believe that Bernie would actually do this,'" Caulfield recalled, laughing. "I didn't think I had any option but to do it."
As the story and budgets grew, from $5 million (£3.8 million) per episode in the early days to as much as $15 million (£11.5 million) in season eight, so did the production. If it wasn't explicitly a goal for the show to top itself each season, that was the practical result of a story that grew from a clash of clans to a transcontinental war to – this season – a battle against an undead army for the survival of humankind.
"She created a production that could effectively scale up from season to season without losing either its efficiency or its heart," Benioff and Weiss said. "There are so many versions of Game of Thrones that would have fallen apart under the strain of producing 10 increasingly big hours of television on a 12-month schedule. Pretty much every version except the Bernie version."
Game of Thrones characters - ranked

Show all 70
When Caulfield wasn't on some far-flung set or checking out the action on any of the six stages at the show's Belfast studio, she was in the production office planning – prepping new directors, new shoots, new countries. "It really was the Game of Meetings," she said. But it was her "gruff love of every damn person on the show", Benioff and Weiss said, that made her beloved by the people she was ordering around in often extreme conditions. "I know how heavy cable is, I know what the crew has to go through – I'm actually married to a dolly grip," she said. "Sometimes he'd say, 'You love your crew more than me.' Probably at that moment I do, because I have to."
The most emotionally taxing days were the ones that involved lighting people on fire. Stunt coordinators will generally say falls are the most dangerous, but the shoot that sticks in Caulfield's memory is the scene in the fighting pits of Meereen in season six, when the big dragon Drogon – on set represented by a long pole with a ball on the end – torched multiple victims. The execution of the scene involved a flamethrower on a dolly rolling past, igniting multiple stunt performers. "They say they don't worry and they love doing it, but I think they're all crazy," she said.
The maternal dynamic extended to the actors, whose growing fame led to ever more demanding schedules to juggle as the show itself became more physically strenuous. "She literally was the mum of the whole thing," Clarke said. "It was like, 'Listen, I know we're in the middle of a field and it's 3am and it's the second month of night shoots and everyone's exhausted and everyone's screaming at you because you are the person that everyone comes to for everything, but can I just talk to you about this Dothraki line I've got next week?'" she added. "And she will."
Caulfield's angst antenna bordered on the uncanny, they say. Nikolaj Coster-Waldau, who plays the redeemed rogue Jaime Lannister, recalled a time when a stressful personal situation had him on the brink of an on-set tantrum. "Suddenly she was next to me very gently saying, 'Hey, are you OK?'" he said. "And just the way she said that made me look at myself from the outside and see that I was about to turn into one of those horrible actors." He continued, "So I am really grateful that she stopped me from becoming a complete fool."
Caulfield acknowledged that whatever considerable scheduling, weather and budgeting obstacles she overcame on Game of Thrones, her most important attribute on a production full of ice and fire and many flavours of human toil was her emotional intelligence. "I do feel like I'm sensitive to seeing somebody who's not smiling as much," she said. "I still run into a lot of different crew, and you know, you hug them like you don't want to let go," she said. "A lot of people felt like it was time to move on, but I also think if it went on another five years, everybody would have hung in there for five years. Because it meant that much to all of us."
© The New York Times
Join our new commenting forum
Join thought-provoking conversations, follow other Independent readers and see their replies