Game of Thrones: Visit the real-life kingdom of Westeros to see where violent history ends and telly tourism begins
A bloody series of internecine feuds, filmed in a land with a bloody history of internecine feuds. Is there something a little uncomfortable about Game of Thrones shooting in Northern Ireland, asks Boyd Tonkin?
Boyd Tonkin
Saturday 25 April 2015 23:52 Comments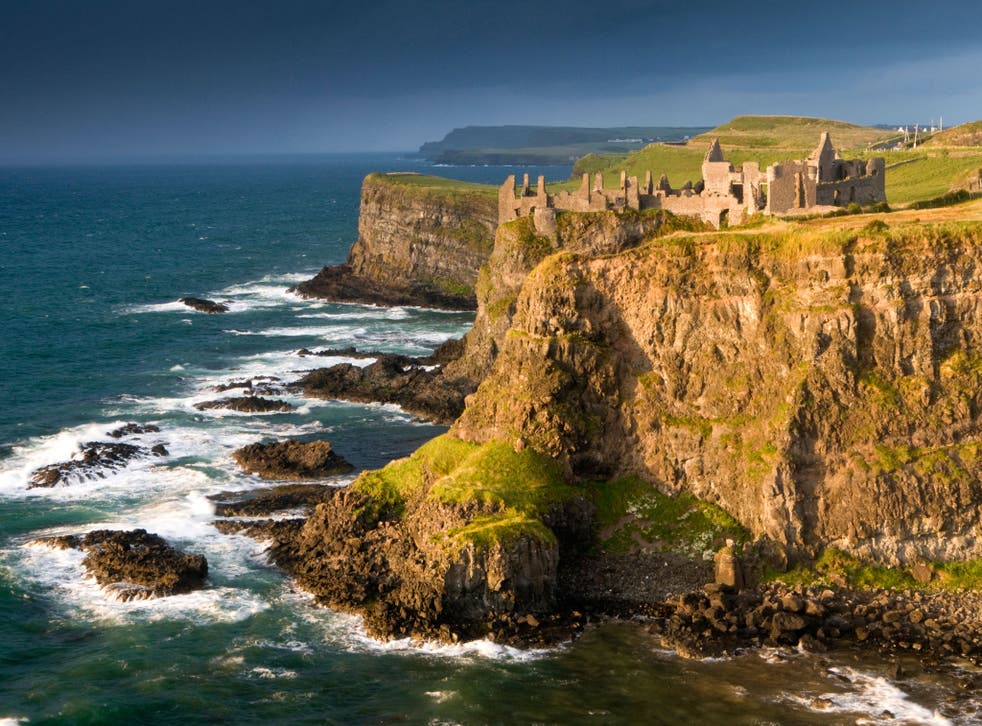 After spending two days touring the ruggedly gorgeous locations that Northern Ireland has lent to the HBO series Game of Thrones, a view opens up that really takes my breath away. Late in the afternoon on a March day of stiff north-westerlies, sudden showers and fitful sunbursts, we stop outside Portballintrae, close to the Giant's Causeway on the North Antrim coast. On its basalt outcrop high above the waves, the turreted ruins of Dunluce Castle – or House of Greyjoy, as Game of Thrones fans will know it – look ready for their close-up.
Here, outside the bounds of George RR Martin's fiction, Sorley Boy MacDonnell from nearby Scotland – the Mull of Kintyre looms across the channel – ousted the McQuillan clan in 1584. Offspring of the Lords of the Isles, Scots warlord-turned-Ulster chieftain Sorley Boy swore fealty to Elizabeth I; his son, Randal, became the first Earl of Antrim – and Dee Morgan, my knowledgeable driver-guide, refers to Ulster's "home-grown Game of Thrones".
Dunluce hasn't escaped previous notice among story-tellers. Many admirers of The Chronicles of Narnia, by the Belfast-raised CS Lewis, believe that he found his model for the craggy towers of Cair Paravel here.
If Game of Thrones now brings visitors from across the world to Northern Ireland, then think of the influx more as a rediscovery than a mission into virgin territory. Sung about and scrapped over for centuries, these landscapes have never lacked gorily romantic plotlines. Inspired by the raw and jagged past of a raw and jagged coast, the American poet Robinson Jeffers wrote in "Antrim": "No spot of earth where men have so fiercely for ages of time/ Fought and survived and cancelled each other,/ Pict and Gael and Dane, McQuillan, Clandonnel, O'Neill,/Savages, the Scot, the Norman, the English…" And now the Lannisters and Starks: since, in 2011, its lavish adaptations of the novels by George RR Martin took flight as a global sensation, HBO has become the latest clan to plant its flag among the cliffs, glens and loughs of Ulster.
This month, Game of Thrones returned to legitimate subscribers' and illegal downloaders' screens alike for a fifth series. The fourth scooped an audience of more than 18 million per episode, while illicit watchers of the most-pirated programme ever may have added a further 50 per cent to that. Its blend of medieval realism and fantasy melodrama brews an atmosphere in which (in the formula of co-creator David Benioff) The Sopranos take up residence in Middle-Earth.
Like the marauding armies that throng it, the show's production crews have colonised a portfolio of picturesque sites around Northern Ireland from their headquarters at Paint Hall Studios, in the "Titanic Quarter" of Belfast. The location-hunters have since spread their wings – to Croatia, Spain, Malta, Morocco, Iceland – but Belfast and its hinterland remains the hub. "Screen tourists" have followed in the wake of HBO; even the real (as in Windsor) Queen has visited the set, although she took care not to occupy the doom-laden Iron Throne. Estimates of the benefit to the province's economy now surpass £80m. In recent years, job creation in arts-and-recreation has grown in Northern Ireland at a rate (more than 12 per cent) three times that of the UK as a whole.
Although the sanguinary feuds of fantasy tribes may sound like a strange sort of ordinariness, the GoT boom has capped almost two decades of "normalisation" for the province. Dee Morgan explains, as we drive through east Belfast for a quick spin around the grounds of Stormont Castle, home of the Northern Ireland assembly, that some visitors do still come to Belfast on the trail of the Troubles for a spot of "conflict tourism". However, "we remind them that that's very much part of our history now." Daily walking tours will take you to view the highlights of Republican and Unionist mural art in West Belfast. And at the once-notorious Crumlin Road Gaol – decommissioned in 1996 – "C-Wing", the condemned cell, and even the execution chamber now swing open heavy iron doors to casual visitors.
To an outsider, what's striking is that the new poles of attraction do not so much deny a legacy of violence as displace it from fact to fiction. Later, at a first-rate French restaurant on the quayside, fellow-diners tell me that they enjoy The Fall: the Belfast-set BBC thriller which has pitted Gillian Anderson's English detective against Jamie Dornan's serial killer. They like to see Belfast portrayed not as some benighted nest of sectarian vipers, but just a normal modern city with a madman on the loose...
For Game of Thrones, the Belfast studio itself employs more than 700, with spin-off contracts pushing Thrones-derived employment to several thousands. In the seaside town of Glenarm, for instance, Steensons jewellers craft the chunky crowns, tiaras, brooches and necklaces that adorn the warring dynasties of Martin's Westeros. Steensons is now launching a premium-priced replica range. A tricky dance of rights and permissions accompanies Thrones-led merchandising. Although firms such as Steensons negotiate sub-licences, plenty of other businesses must specify that they have no official stamp from HBO. Rather a ravenously hungry Direwolf than a snarling New York entertainment lawyer.
Access unlimited streaming of movies and TV shows with Amazon Prime Video Sign up now for a 30-day free trial
Sign up
The landscapes, however, carry no trademark. My tour begins in County Down, where the National Trust's Castle Ward on Strangford Lough became Winterfell, seat of the Stark dynasty. One of Martin's "Great Houses", its cycle of feuds, betrayals and pacts between Lannisters, Targaryens and Baratheons provides the drama with its rocket-fuel of blood and bile.
Based at Castle Ward, the Clearsky Adventure Centre is one of a dozen local outfits that now offer GoT-linked trips. It saw visitor numbers rise by 10,000 in the first season of its bespoke "Winterfell" programmes. Beyond its UK and Irish customers, the majority are American, according to director Andrew Porter, "but we also have large numbers coming from Europe. France and Spain are the key countries."
Not everyone who visits is a "Thronie". Porter describes "a typical couple where the male will be a fan and the female not" – a slight surprise, given the forceful women who give GoT a generally well-gender-balanced tribe of adherents. Still, here as elsewhere, they may come for the show but stay, or return, for the scenery.
We leap – or, in my case, stumble – on to mountain bikes, and cycle along trails through Tollymore Forest. The Mourne Mountains glint in the sunshine beyond still-bare tree-tops. Here, the first series of Thrones began in a woodland clearing – typically, with a massacre. That scene took 10 weeks of preparation in order to smother the area with artificial snow. With CGI effects to the fore, the backdrops seen on screen sometimes manipulate reality. Not always, however: at a stone bridge over a rushing river where Ned Stark (played by Sean Bean) and his children discovered Direwolf pups, the computerised wizardry merely added a small extra crossing.
Overlooking Strangford Lough, the 15th- century tower-house of Audley's Castle hosted another TV bloodbath. Some intrusions of modernity defeated even the magicians of HBO. The crew had to halt filming while a visibly non-medieval passenger boat pulled into Portaferry across the water. When, on a lough-side path, we find the tree where feminist heroine Brienne of Tarth despatched a trio of Stark soldiers, the oddity of all this strikes me. Fans visit these landscapes to make a fantasy come true. Doing so, they run across places steeped in a real history as tangled, violent and haunting as any GoT sub-plot. Just across the peaks of Mourne, at Narrow Water Castle by Warrenpoint, a famous massacre left 18 alien soldiers not only dead but scattered in bloody pieces among trees.
This was no CGI-enabled stunt. On 27 August 1979, the South Armagh brigade mounted, with two separate explosions, the Provisional IRA's deadliest strike against the British army. In its own way, the screen-inspired tourism that now boosts Northern Ireland's prosperity forms part of the post-1998 "peace dividend". The province deserves every penny that it earns through that peace; yet, as scenes of intimate assassination, internecine vengeance and close-quarters slaughter dot every Game of Thrones tour, the repressed past has somehow returned.
The next day, we trace the Antrim shoreline. The Victorian-built road that hugs the coast stands high on many global lists of spectacular drives. Over in the sea-caves at Cushendun, the sorceress Melisandre gives birth in the show to a monstrous shadow-baby. In reality, it's a spruce, pretty seaside spot where only the scarlet jam on your cream-slathered scones will bring pseudo-medieval mayhem to mind.
My only flicker of peril comes as we cross the wind-buffeted rope bridge at Carrick-a-Rede, perched above swirling waves that bash against postcard-perfect cliffs. Along the coast, the lovely harbour at Ballintoy became Lordsport in the Iron Islands. "This is the kind of place that would never have appeared on a tourist map," says Morgan. "Now, it's instantly recognisable."
After a wind-lashed detour to the Giant's Causeway, we turn inland and pass the Bushmills distillery, itself the source of not a few heroic fantasies. On a quiet country road, their curved bare branches clutched in an embrace above, an eerie avenue of beeches marks the carriageway that led to a defunct big house. In Game of Thrones, this 300-year-old canopy becomes the Dark Hedges. Such is the allure of cult TV that, on a chill March day in fading light down a lane in County Antrim, pilgrims jump from cars to photograph a skeletal parade of trees.
Game of Thrones on screen may close after another series; already, the HBO episodes have almost caught up with Martin's writing. "But even if it does finish with season six," says Porter, "we're looking at the New Zealand model. The Lord of the Rings trilogy finished filming 10 years ago, but visitors are still flying in in droves."
Should the cult wane, followers in its footsteps will still find vistas where mythology rivals geology in its lurching twists and shocks. Before George RR Martin breathed, Robinson Jeffers wrote about Antrim as "the pitiless north"; a place of fateful legend where, "We have felt the blades meet in the flesh in a hundred ambushes/ And the groaning blood bubble in the throat;/ In a hundred battles the heavy axes bite the deep bone." This historic drama has no series climax. The stories, and the scenes, will survive when HBO's caravan rolls on.
Boyd Tonkin was a guest of Tourism Northern Ireland: discovernorthernireland.com. 'Game of Thrones' continues on Sky Atlantic
Register for free to continue reading
Registration is a free and easy way to support our truly independent journalism
By registering, you will also enjoy limited access to Premium articles, exclusive newsletters, commenting, and virtual events with our leading journalists
Already have an account? sign in
Join our new commenting forum
Join thought-provoking conversations, follow other Independent readers and see their replies