Girls' Allison Williams interview: Marnie's capricious taste in men is really interesting
The 'Girls' star talks about playing Marnie Michaels for the last time in the upcoming final season of Lena Dunham's HBO millennial comedy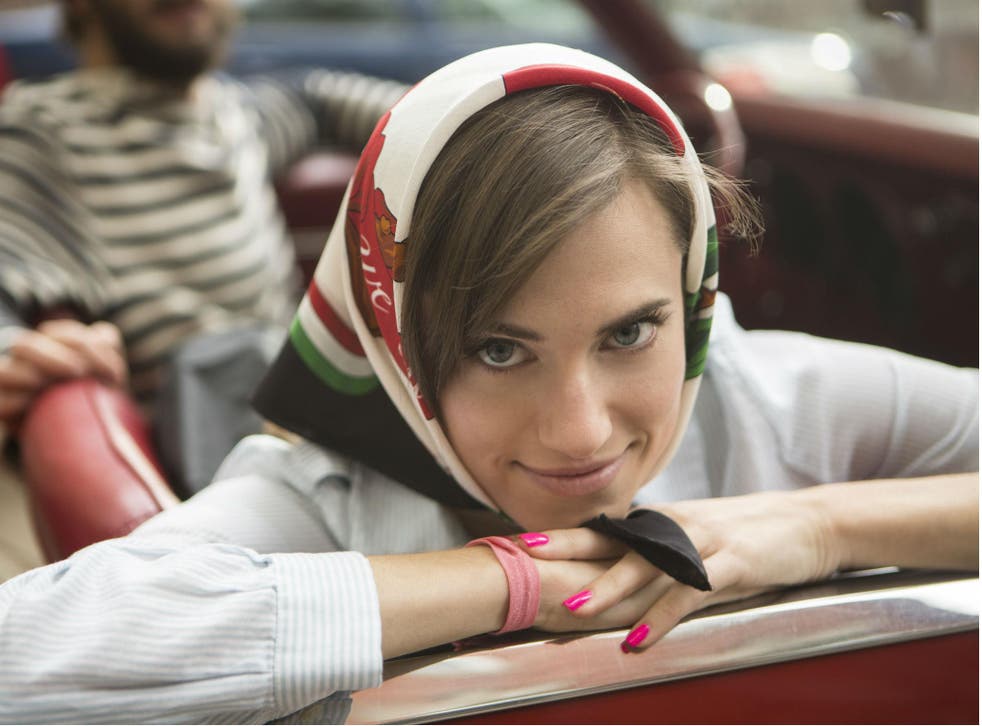 "What does Marnie want?" Allison Williams asks herself, echoing my opening question as we meet in a London hotel to discuss her character in the upcoming final season of Girls.
"Oh God, what do we all want? She wants everyone to love her, really badly; she wants the life she always pictured, which is probably really simple, and not at all satisfying as it turns out. She wants respect, and she wants her dad to pay attention to her. It always goes back to Freud at some point, doesn't it?"
Marnie Michaels is the pretty Wasp in the quartet of twenty-something female friends in Lena Dunham's brilliant HBO comedy. She's a musician lacking in the conviction that makes Hannah (Dunham) an increasingly successful writer; she's self-absorbed but lacking any real insight into her own motivations; and she has a tendency to get off with other women's boyfriends.
"Her thing with men is really interesting," says Williams, before embarking on a blow-by-blow account of Marnie's various relationships, from Charlie and that loathsome conceptual artist, Booth Jonathan, to Ray and Desi and back to Ray again, which is where we find her at the start of the sixth and final season of Girls: Marnie still married to the patently unhinged Desi (or, as Hannah puts it, "stuck in a psychosexual hamster-wheel with a fuck-nugget"), but seeking shelter with the dependable but clingy Ray.
"She's been through so many modes," says Williams. "She's been through rocker-chic mode, she's been through artist mode, she's been through tech-girlfriend mode, which is one of the only modes we have in common: tech-husband as it is now."
The "tech husband" is internet entrepreneur Ricky Van Veen, co-founder of comedy website/brand CollegeHumor, the couple marrying in 2015 and living in New York City with her beloved dog Moxie. Yale-educated, Williams is the daughter of NBC news anchor Brian Williams and TV producer Jane Stoddard. She's bright, articulate and grounded – and seemingly unlike her character in Girls.
"I think we started out more similar," says Williams. "When I read the pilot, I thought, 'this is me with a few adjustments', which was great for the beginning because this was the very first thing in my career.
"And then as time went on she just departed or detoured. For example, she has no relationship with her family really, and that's how I feel most grounded is with my parents and my brother and my husband and my dog – most importantly my dog, Moxie. I have a lot more to say about Moxie, don't mention her or that will completely derail this interview."
So we talk instead about filming sex scenes. Girls is famous for fearlessly breaking barriers as to the depiction of (often quite messy) sexuality on TV, Williams involved in more than her fair share of them, including one notorious sequence involving Marnie leaning over the kitchen sink while Desi kneels behind her (YouTube it for further details).
Access unlimited streaming of movies and TV shows with Amazon Prime Video Sign up now for a 30-day free trial
Sign up
"I've done so many of them – actually the most on the show, I think", says Williams. "Lena counted and I think I come out the victor, if you want to look at it that way. The only red line that I drew, that I wasn't going to be completely naked, but do whatever else that you want with it. And they've taken their liberties with that.
"Proximate genitalia is like a very weird thing when you're not actually with that person, it's very strange. But you kind of get used to it, and at this point I think I'm a very gentle first fake lover. So when they come to me and I'm their [males actors] first, I'm think I'm good at taking good care of them."
Shooting the final scenes of Girls – her first and only job (apart from playing Peter Pan in an NBC special in 2014) – Williams describes as "insanely emotional". "We kind of spent the day in denial of what was happening, because none of the feelings we were about to experience were appropriate for what we were shooting", she says. "We were on location in upstate New York, and Lena and I hung out between takes, somehow deep down cherishing this last time we got to spend together. But also I wasn't going to sit around listening to 'The Sounds of Silence', dwelling on it and weeping – we were all furiously trying to distract ourselves.
"And then it was the moment and it was so insanely emotional. Everyone burst into tears, even the crew members. This is a really close group of people and they're devastated that this job is done because they love it. They protect it in their calendar, which isn't often the case for crew people".
Does she feel that she's been a bit spoilt, or as one Mad Men actor once put it to me on leaving that show, "it's not going to get better than this"?
"That's a little bit how I feel", she says. "It's a shame it happened – not a shame, but very fortunate – but it was literally the first thing out of college. It's why I didn't do a movie until last year because the scripts that came along that I wanted I couldn't get because I wasn't an Academy Award-nominated actress, and then the movies that I was being offered I didn't want because they were just versions of Marnie."
One job she did accept is the upcoming Get Out, a horror film with a sub-text about racism, written and directed by Jordan Peele (from US sketch show MADtv), in which she plays a white woman who invites her black boyfriend to meet her parents, in a neighbourhood in which young black men are rumoured to have been disappearing.
"It's sort of Guess Who's Coming to Dinner the horror edition", she says, referring to the 1967 Sidney Poitier movie. "I bring my boyfriend, played by Daniel Kaluuya, whose fabulous and English... he's in Skins and Black Mirror.. I bring him home to meet my parents and things go awry."
Williams and her Girls co-stars all live in New York – she and Zozia Mamet (who plays Shoshanna) in Manhattan, Lena Dunham and Jemima Kirke in Brooklyn. "Yes, but we are all complete hermits", says Williams when I ask if they hang out together. "So when we're looking at a future where we're not together through circumstance and scheduling, we're like: how are we going to do it?
"Lena is all over the world working but is still kind of a hermit. I truly don't leave my apartment.My dog is in there, my husband is in there, the food I like is in there. Why would I leave? And Jemima is kind of a sprite and she rarely leaves her studio or her apartment and she has kids. So we will try to see each other, I mean we're always in touch, but whether we actually leave our spaces...
"Lena keeps joking, and I hope they're not jokes, about doing an every 10-year reunion – a sort of hour-long special just to see what everyone's up to. And I promised her at one point that I would show my boobs on camera at 60. Which I will regret almost certainly, but it also means that I aspire to a certain amount of chill that I will have reached that age. Or maybe that there's nothing that I could do to shock any potential children I have, so that also won't shock them.
"It will be another thing for me to dread about getting older," Williams continues. "If Lena's still interested. She may take one look at me at that point and be like, 'actually, no one wants to see that'. But if my mom is any indication, I doubt it, because she's aged very beautifully."
Having seen the first three episodes of the final season, Girls appears to be going out on a high – bowing out as the characters reach an age when they arguably should know better. Does Williams feel that she show has spoken for a generation?
"Probably in its specificity," she says. "If we were endeavouring to truly speak for an entire generation, there's no way that could be that unless you have a person who represents every person in our generation, which is one of the most diverse in our history, so it's impossible."
And has Marnie taught Williams anything? "Yes, she's taught me that I don't need to do that walkabout because she did it. My hope is that I benefited from it myself just going through the motions of doing it. I hope I absorbed all of her lessons, otherwise I'm about to go through a quarter-life crisis, which I really wouldn't like."
'Girls' season six premiers on Now TV and Sky Atlantic on 13 February at 10pm; 'Get Out' opens in cinemas on 17 March
Join our new commenting forum
Join thought-provoking conversations, follow other Independent readers and see their replies