Glee at 10: How the TV musical comedy ushered in an era of inclusivity
As the musical comedy-drama series celebrates its 10th anniversary, Louis Staples explores how it subverted the heterosexual high school model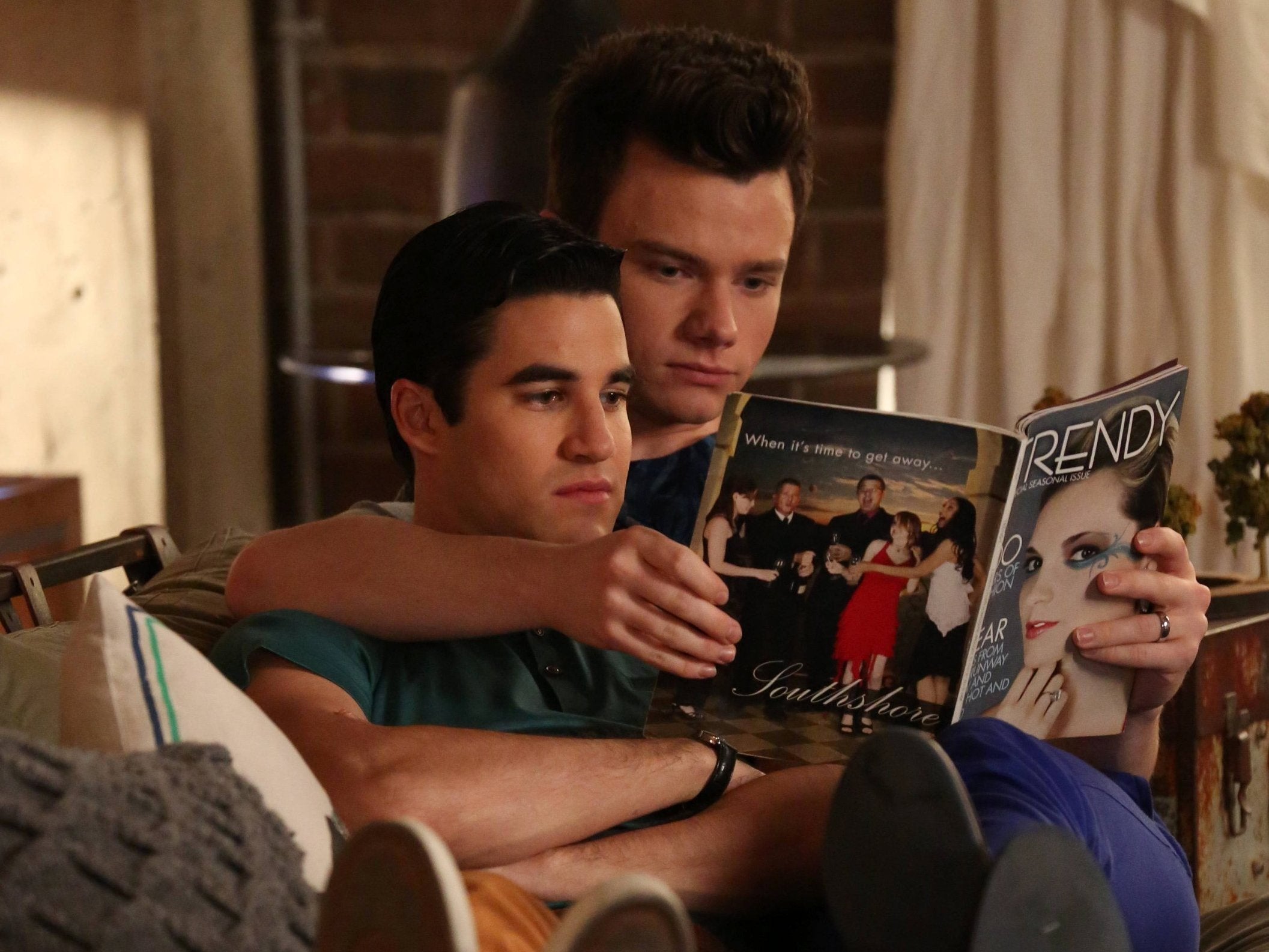 Ten years ago, two gay men came out of the closet. One was me, as my best friend decanted cheap vodka into a Coke bottle for a party when we were 16. The other was Kurt Hummel, a character in the musical comedy-drama series Glee, which first aired a decade ago today.
Coming out at similar times wasn't the only similarity between Kurt and me. Both of us faced hostility growing up because we were visibly effeminate and different. Both of us, because of this, felt that our best years were to come, beyond the heteronormative confines of high school.
Played by Chris Colfer, Kurt was both flawed and funny – without his gayness being the butt of every joke. But he was just one part of what made Glee so innovative. Created by Ryan Murphy, the show followed Disney's squeaky clean and nauseatingly heterosexual High School Musical. Subverting that classic American high school model, it ushered in an era of greater inclusivity for mainstream American television.
Despite centring on a fairly conventional straight romance between Rachel Berry and Finn Hudson, Glee explored both male and female same-sex relationships, as well as interracial ones. Cheerleader Santana had a romantic relationship with her best friend Brittany, before coming out as a lesbian in season two. That same season, Kurt lost his virginity to his boyfriend Blaine (Darren Criss).
Glee's formula of inclusivity and infectious positivity was popular. In the pre-Netflix era, when TV seasons ran for over 20 episodes and had to attract a weekly audience, it was watched by a peak of 10 million viewers a week in the US. Its first six albums, released as "volumes" of Glee: The Music, all reached No 1 in America and were certified triple platinum.
10 most uplifting TV shows
Show all 10
Glee's musical legacy is significant. Musical theatre-style covers might not seem like particularly hot property, but the number of musicians who gave the show rights to use their music – Rihanna, Katy Perry, Adele, Madonna and Queen, to name a few – implies otherwise. As does its impressive list of guest stars, including Gwyneth Paltrow, Olivia Newton-John and Neil Patrick-Harris. Rock songs like Journey's "Don't Stop Believin'" – which will forever be Glee's most iconic cover – were revived and introduced to a new generation, giving traditionally masculine rock songs a pop makeover.
Glee arrived just at the right time, when artists like Lady Gaga had just started to queer the mainstream. At the end of season one, Gaga was even given her own episode, titled "Theatricality", dedicated entirely to her music. This is an appropriate title given that Gaga and Glee have both contributed to the rise of "theatre kids" or "musical nerds" within popular culture.
Just before A Star is Born hit theatres last year, a writer at New York magazine's The Cut tweeted: "L*dy G*ga is proof that we, as a society, have to stop letting insufferable theater kid nerds get famous." This prompted Paul Flynn to analyse the rise of the "insufferable theatre kid" in The Guardian, discussing The Greatest Showman and Frozen as examples of musical theatre's mainstream success.
Glee's Teenage Dream cover ft. Darren Criss
But with millions watching every week, a run of staggeringly popular albums and a sold-out live arena tour, Glee paved the way for this revival. Murphy proved that musical theatre can be immensely lucrative across various platforms in the smartphone era.
Access unlimited streaming of movies and TV shows with Amazon Prime Video
Sign up now for a 30-day free trial
Sign up
Access unlimited streaming of movies and TV shows with Amazon Prime Video
Sign up now for a 30-day free trial
Sign up
And it doesn't look like we're going to stop making "theatre kids" famous any time soon. After all, the rise in young people performing covers on YouTube is another marker of Glee's success. This is the way many artists of today, including Justin Bieber and Shawn Mendes, were first discovered.
Like all TV shows, Glee had its flaws. It certainly should have ended after three or four seasons, instead of dragging on for six. The casting of nondisabled actor Kevin McHale to play wheelchair user Artie Abrams also drew criticism from disability groups. Though rather than pandering to one-dimensional, tokenistic niceness, Artie had depth. Like many teenage boys, he was kind, but also, at times, a bit of a dick. Even that felt like a quiet move forward.
It is also difficult to separate Glee from events off camera which have shattered the show's positive façade. Cory Monteith, one of the show's stars, died of a drug overdose at just 31 years old. And so his character had to die too, in an episode of the show's fifth season – though the decision not to reveal a cause of death for Finn was divisive. Monteith had been in a relationship with fellow star Lea Michelle, mimicking the pair's on-screen romance. In 2015, Mark Salling – who portrayed bad boy Noah "Puck" Puckerman – was arrested and charged with possession of child pornography. Salling faced between four and seven years' imprisonment after pleading guilty, but he died by suicide prior to his sentencing.
But as disturbing as these off-screen events are, they do not render the show meaningless. The popularity of a show as gay as Glee might not seem revolutionary now, but it is worth remembering that when it first aired in 2009, just 36 per cent of Americans even supported same-sex marriage. Even among millennials – Glee's target audience – just 51 per cent were in favour. Yet even at this time, Criss's rendition of "Teenage Dream" by Katy Perry – sung by Blaine as a serenade to his boyfriend Kurt – attained the highest US first-week sales of any Glee song.
Even though I don't live in America, for me this will always be Glee's lasting legacy. It seamlessly blended gay narratives into a popular, mainstream show and even had the guts to cast a gay actor (Colfer) in a gay role. A decade on, this is still depressingly rare, so much so that Criss – who later starred as gay serial killer Andrew Cunanan in Murphy's The Assassination of Gianni Versace – has pledged to stop playing LGBT+ characters to give more gay actors a chance.
Like most culture created by queer people, Glee rarely gets the credit it deserves for influencing the mainstream. For young people – gay, straight and everything in between – it might have been the first time they saw a loving gay romance on screen. To those who were different in high school, its message was clear: "Keep holding on, 'cause you know we'll make it through, we'll make it through."
Join our commenting forum
Join thought-provoking conversations, follow other Independent readers and see their replies