Grace Dent - On a roll with Greggs: More Than Meats the Pies
This is a show that soundtracks the power on a sausage-roll-making machine with the epic Kashmir by Led Zeppelin
Grace Dent
Thursday 23 May 2013 15:57 Comments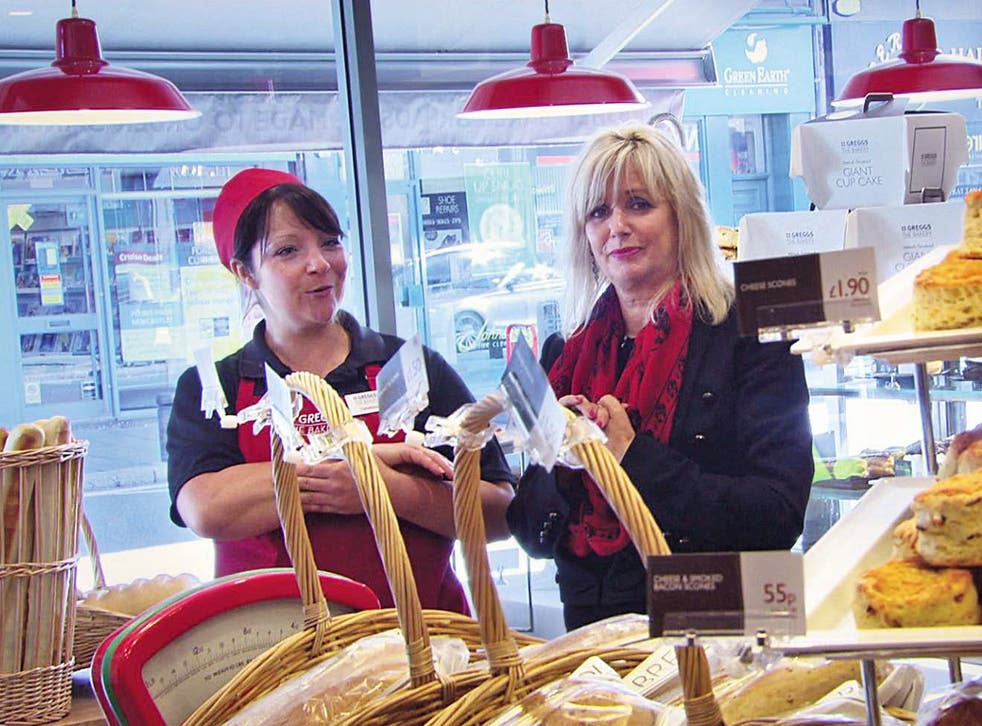 It was a terrifically tense episode of Sky 1's Greggs: More Than Meats the Pies, this week. I've taken to blocking a couple of Xanax 20 minutes before watching the preview copy. This is the show that soundtracks the power on a sausage-roll-making machine being switched "on" with the crashing epic "Kashmir" by Led Zeppelin. Or a woman in a hairnet sprinkling seasoning into meat paste with the Mission Impossible theme tune. One major moment of terrific jeopardy came this week when a pigeon entered a shop in the North-east and – trigger warning, sentence contains horror imagery – pecked at an iced finger. The pigeon's appearance was accompanied by the "stabbing" sound effect from the movie Psycho. OK, it's all a bit manipulative and overblown but, gosh, I love it.
This access-all-areas documentary takes us behind the counters and into the kitchens and boardroom and lets us grow terribly fond of their 20,000 staff. Greggs staff are all, we learn, chipper, diligent and salt-of-the-earth British citizens. No, I'm not sure what the producers did with any of the 20,000 who were bone idle, strewn with boils or had sociopathic tendencies but none of them made the final cut.
So, yes, More Than Meats the Pies is ruddy tense, but this week we pushed the turbo button the anxiety-o-meter. Greggs, we were warned, had suffered an "absolute disaster". I could tell this as the production team had accompanied it with sort of music BBC1's Silent Witness might use for parents visiting a police mortuary. "I've never seen anything like this in 13 years," mumbled one baker. A small fire in a cupboard containing computers had put the sausage-roll machine off line for a small amount of time. "There's a lot at stake here!" underlines the narrator.
Over on BBC2, The Last Days of Anne Boleyn was re-creating the beheading of Henry VIII's second wife, following a schism with the papacy, with less emotion. I was less upset watching Jamie Dornan on BBC2's The Fall bathing a new murder victim lovingly. Oh, Jamie Dornan – you're so handsome but so naughty – we can't stay mad at you.
I noticed this "jeopardy from utterly nothing" reality TV trend emerging when Channel 5 followed the American TV hit Ice Road Truckers with a show about the Eddie Stobart trucking franchise. Ice Road Truckers, one may recall, is the wholly nail-biting tale of a gang of hard-as-nails truck drivers who cross frozen lakes and treacherous rivers in remote parts of Alaska. Ice Road Truckers began as part of a series called Suicide Missions series. The show would begin with the growly warning: "At the top of the world, there's an outpost like no other... and a job only a few would dare. The mission: to haul critical supplies across 350 miles of frozen lakes to Canada's remote billion-dollar diamond mines. The challenge: to transport 10,000 loads in 60 days– before the road disappears. The rewards are great; the risks even greater. These are the men who make their living on thin ice." Cut to last year and Channel Five had remade this with an Eddie Stobart driver taking a supply of lava lamps to Chester while really needing a wee.
Anyway, don't worry about the Greggs factory fire. It was all OK. Meanwhile, at the Stratford branch – the electronic tills had stopped working for almost an hour meaning Claudette and Sherie had to insist customers to pay by cash. Worse still, Claudette had realised that a lot of her junior assistants couldn't add up. (Soundtrack: "I Predict a Riot" – Kaiser Chiefs.) I love Claudette from the Stratford branch. She's the essence of formidable no-nonsense working woman in full strut. "I don't open early and I don't close late," she snaps at fools hoping for leeway. But while Claudette's there she runs Cornish pasty dispensation to the E15 area like a regime. "It's the only way anything gets done." Claudette has a sausage roll every morning for breakfast and her trousers are held together at the buttons with rope.
In 2013, some of our most loved TV shows are so wholly flimsy and plot-light, one could be literally coming round from anaesthetic, lying propped up in a hospital bed and not only enjoy these shows but make a valuable contribution to a TV production meeting.
Last week, producers got a strong 11-minute section from a Greggs delivery driver approaching a security gate at a shopping mall and not having quite the correct paperwork. He had to ring head office. Then they let him in and delivered the pies and people in Britain bought them and everything was fine.
Grace's marmalade dropper
"Being an astronaut is just floating around and playing the guitar, isn't it?" – Jeremy Paxman brings Britain's first astronaut, Major Tim Peake, back down to earth.
Register for free to continue reading
Registration is a free and easy way to support our truly independent journalism
By registering, you will also enjoy limited access to Premium articles, exclusive newsletters, commenting, and virtual events with our leading journalists
Already have an account? sign in
Join our new commenting forum
Join thought-provoking conversations, follow other Independent readers and see their replies