Grace Dent on TV: House of Cards
Yes, it heralds a TV revolution, but that's no excuse for filming it with the lights off
Grace Dent
Friday 08 February 2013 20:00 Comments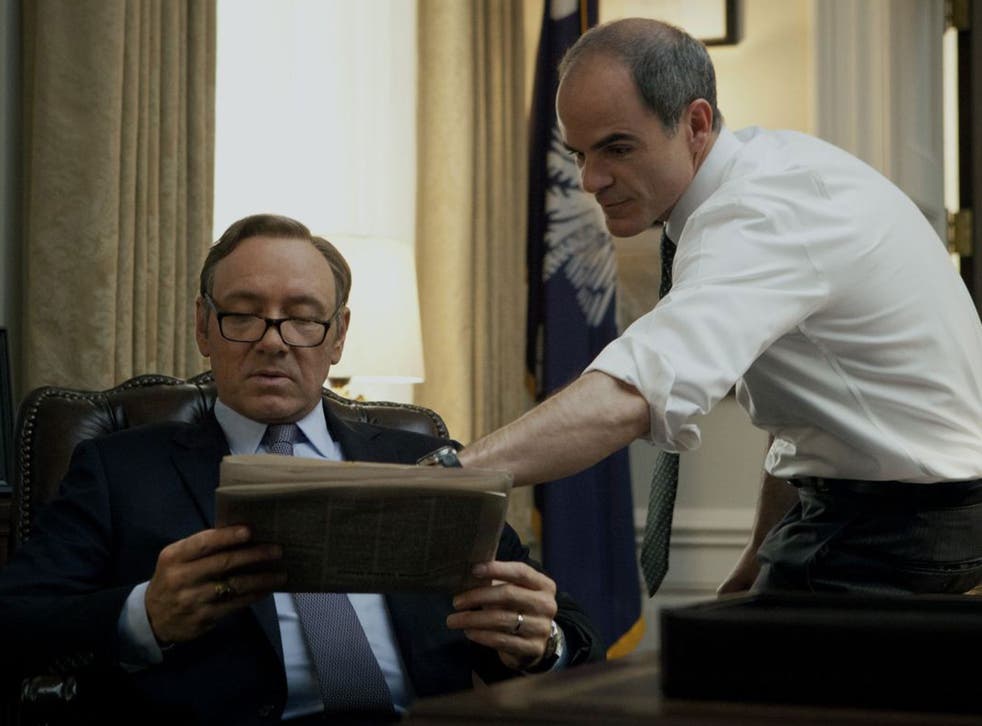 Last week a whole new distinctly thrilling way of watching television – one which changes TV forever – appeared, to the oddly muffled sounds of very few people giving a stuff. OK, some TV nerds like myself got giddy and cyber-hugged each other on Twitter. Yet, in the main, Britain did not acknowledge season one – all 13 hours –of spanking new Kevin Spacey drama House of Cards being available on Netflix. They did not feel change blowing in the air and feel "the future". Oh no, perhaps they were staring sadly at the ITV1 Splash! finale feeling sorry for Eddie "The Eagle" Edwards's poor, long-suffering family as he declared diving to be his NEW purpose in life. No sleep till Rio, Eddie! Other TV junkies were possibly engrossed by new E! show Chasing The Saturdays which follows largely anonymous girlband The Saturdays – universally agreed to be one of the most futile pop combos to ever slather lip gloss – as they plan to break America. Britain is done and dusted, y'see? Mollie, Wotserface, her with the short hair, the one who is inexplicably a decade older than the others and the other one, um, no idea what she's called, let's call her Whizz Bang McFlaps. Anyhow, their quest for worldwide fame continues.
So while digital TV did its usual thing, Netflix – the online TV and film library – launched House of Cards. It's a remake of the famous 1990 BBC drama with Ian Richardson which it's customary in learned circles to claim one loved without possibly ever seeing and only actually knowing the "you might say that, I couldn't possibly comment" catchphrase. Crucially, Netflix gave us "the lot". Wallop. Yes, a subscription fee needs to be paid – which will no doubt infuriate that demographic that feels robbing everything off the internet is a human right – but the subscription gives access to a zillion other things, and one can snap shut the blinds, gather near some snacks, feign to loved ones you had one of your "migraines" and binge on an entire "box set".
Netflix finished making House of Cards and KERPOW, it was yours. It wasn't drip-fed over 13 weeks to America on HBO, then transferred months later to a BBC4 slot where it clogged up your Sky+ box. Nor was it shown weekly on C4 with the DVD box set scheduled for Amazon release sometime in Christmas 2014. House of Cards is right now, right here, showing on one of the internet's most swishy, user-friendly sites, seductively loading one episode instantly after another and never losing your place, not even if your laptop is snatched by a hurricane. This form of TV bingeing makes following normal television seem, by comparison, a massive, drawn-out hassle.
I only wish that I loved House of Cards more. If you are a fan of dark political intrigue you'll adore this. I mean dark morals but also drama shot mostly in the dark, because Washington DC during House of Cards is seemingly experiencing the same conversion to duff eco-lightbulbs that poor Sarah Lund in The Killing toils under. Kevin Spacey plays Francis "Frank" Underwood, an eerily power-hungry Democratic Congressman who – in the first moments of episode one – is denied a promised promotion to become Secretary of State and vows to get revenge. Episode one features acres of US political jargon and legal detail, back and forth sparring, stabs in the back, double-bluffs.
Some viewers will adore this, I feel millions more may trail away by episode three with a quiet mumble of, "oh Frank, get over it'. This is The West Wing – during a power cut – with no heart, only various shades of bitterness, prostitute humping and controlled-substance abuse.
Kate Mara plays Zoe Barnes, a rookie reporter for The Washington Herald who, after watching the 2013 inauguration storms into the news office (three PCs, a photocopier and a watercooler; my student newspaper in 1997 was more deluxe). "Let me write a blog about what's really happening in Washington DC," Zoe pleads to her editor. A blog? In 2013? He can't quite wrap his mind around it, scrunching his face like she's announced her plans to display her bumcheeks daily on Capitol Hill. In reality journalists on most large newspapers have been tormented to blog their every waking brain-fart for the past seven years. A bright young thing like Zoe would have been running her own blog since she was 18 and living off the ad revenue.
Frank and Zoe instantly team up, him leaking, her printing, him destroying rivals' lives, her gaining the glory. Meanwhile a tired old female old-school print hack (aged approx 31) attacks Zoe in the office with 'who are you screwing to get your stories?' before returning to her sad 1960s office cubicle and her ball-point pen. OK, it's a drama. Not a documentary. This is like when I become angry at the Batman franchise as I find the concept of a man keeping a bulky bat fancy-dress costume in his apartment quite unfeasible. Go and decide for yourself. It's yours, right now. If you have a spare 13 hours, anyway.
Register for free to continue reading
Registration is a free and easy way to support our truly independent journalism
By registering, you will also enjoy limited access to Premium articles, exclusive newsletters, commenting, and virtual events with our leading journalists
Already have an account? sign in
Join our new commenting forum
Join thought-provoking conversations, follow other Independent readers and see their replies