Grace Dent on TV: The Mill, Channel 4
Soot-covered, sexually abused child slaves getting their limbs lopped off by looms – it really is grim up North
Grace Dent
Thursday 01 August 2013 16:25 Comments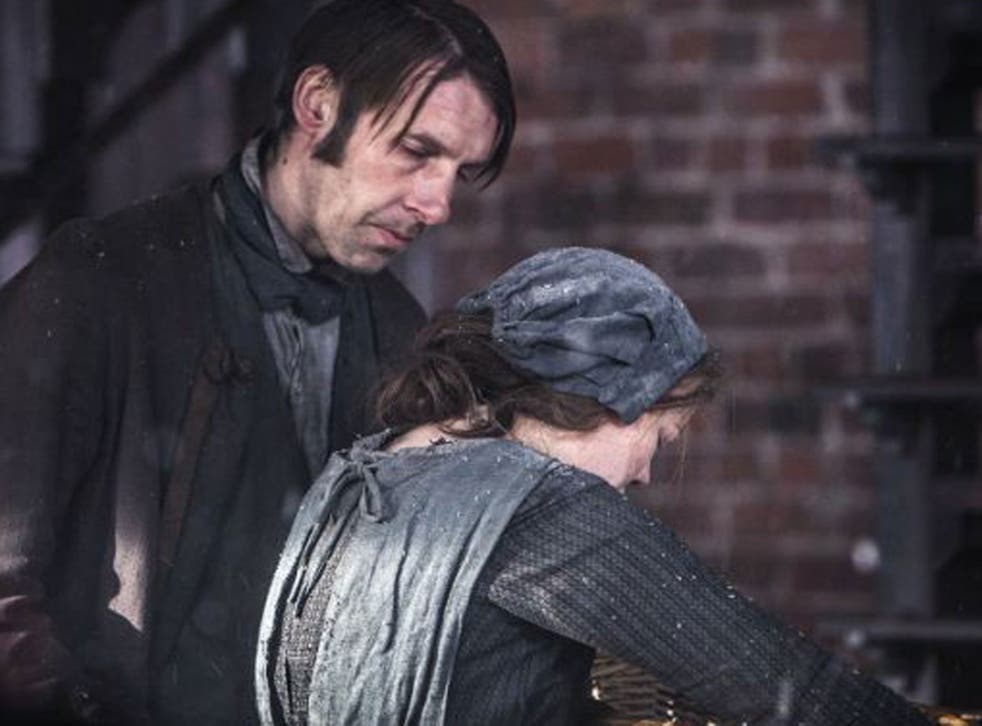 Another muggy summer week, another depressing British TV drama. The Mill, Channel 4's harrowing new examination of early-industrial Britain, is so bloody serious, so dry, so gritty Bafta, so bang-you-around-the-head worthy that I tried to describe the first 10 minutes to people a few times this week, but couldn't do it without laughing.
The North. 1831. Dawn breaks and several grey-skinned child apprentices wake, covered in soot and coughing up phlegm, in a filthy dormitory. It's dark. Fiddle with the side of the telly if you want, it's meant to be that dark. A loud bell clangs and a vicious Northern matriarch walks about threatening the urchins. They wash in icy water and run anxiously towards their 12-hour shift in an unlit room full of machines that would have your arm off. We're only five minutes into a four-hour epic historical re-enactment and I estimate around 89 per cent of viewers have thought "oh stuff this" and turned over to Countryfile to enjoy the gentle vibes of John Craven cuddling a lamb in the Wye Valley.
I carried on watching The Mill, but found playing "We Like to Party" by the Venga Boys to drown out the loom noises helped. Oh those looms! Those swishy, bashy, dangerous machines. Someone could lose a foot or get crushed to a jammy pulp. And it's still so, so dark. And not one actress has been allowed blusher or access to dry shampoo. And then one of the poor girls is dragged into a cobwebby corridor and sexually assaulted by one of the mill owner's sinister henchmen.
Actually, she's nearly sexually assaulted as the attack is thwarted. Hooray! The mood is lifted! Oh no, the sex attack is thwarted by a child falling in a machine, mangling his arm, then being dragged upwards flailing by the gory remnants of flesh and bone, making a noise like a fork in a lawnmower. Things have gone crap again, and continue to be bloody awful for the following 44 minutes aside from parts where the very handsome actor Matthew McNulty appears, simmering in a stained vest, clutching a spanner.
When Channel 4 got rid of Big Brother, currently bubbling away on Channel 5, it gave a statement declaring that the funds would be spent more fruitfully on important things like drama. I thought of this often last Sunday. Do I want to watch a miserable, starkly realistic depiction of Britain's journey to wage-slavery, involving a good long think on a Sunday night about the millions of Britons who spent their lifetime in dour laborious woe? I did an awful lot of thinking about the Industrial Revolution around the time of last year's Olympic opening ceremony when Danny Boyle and Karl Hyde did their life-enhancing, visceral "Pandemonium" sequence. Or, if I was given powers of TV commissioning, would I rather watch Kinga from BB5 legs akimbo on the lawn masturbating with a wine bottle?
By the second ad break of The Mill, I was thinking "probably wine bottle woman, if I'm being honest". I shall stay with The Mill, regardless, as it will be character-building and exactly the sort of drama to begin talking loudly about on the phone if you want four seats to yourself on a train.
In other, important TV-to-pretend-to-be-watching news, series one of Orange Is the New Black has landed on Netflix. This is Prisoner Cell Block H meets Mean Girls; a drama full of earthy women in an American jail shoving used tampons into one another's dinners and having anatomically inaccurate lesbian sex in the showers. It's the sort of lesbian sex women on the 10-2 shift in a peep show have with one eye on the clock and half a mind on whether that beef mince they bought on Thursday is on the turn yet.
This series should be brilliant. I so want it to be brilliant. I've reached episode three and it's good but not brilliant at all. Our heroine, Piper Chapman (Taylor Schilling), is served with a 15-month stretch for drug offences committed long ago when she was young and naive. Now Piper is older, thoroughly settled down but still as bloody naive, wandering around a woman's prison walking slap-bang into jokes, faux pas and pitfalls the audience can see coming five minutes beforehand. Or she's calling her fiancé to keep their love affair – which I don't care about as they're both nauseating – alive.
There is a whole caboodle of excellent characters in Orange Is the New Black: Red the Russian chef and Alex, Piper's ex-girlfriend who got Piper in this whole mess, as well as spiky-tongued addict, Piper's cell-mate Nicky Nichols. I'll stick with the show past episode three to see if it focuses more on them and less on Piper calling home to her man Larry (played by Jason Biggs, the one who had sex with a pie in American Pie), and her flashbacks to her former life as an "artisan soap maker". Storylines like this make me wish Piper had at least once owned a very dangerous loom.
Register for free to continue reading
Registration is a free and easy way to support our truly independent journalism
By registering, you will also enjoy limited access to Premium articles, exclusive newsletters, commenting, and virtual events with our leading journalists
Already have an account? sign in
Join our new commenting forum
Join thought-provoking conversations, follow other Independent readers and see their replies