Great British Bake Off 2016: Who will win, judging by the contestants' Instagram accounts and blogs?
Our bet is on Benjamina to be crowned Queen Baker this year
Jess Denham
Wednesday 24 August 2016 11:20 Comments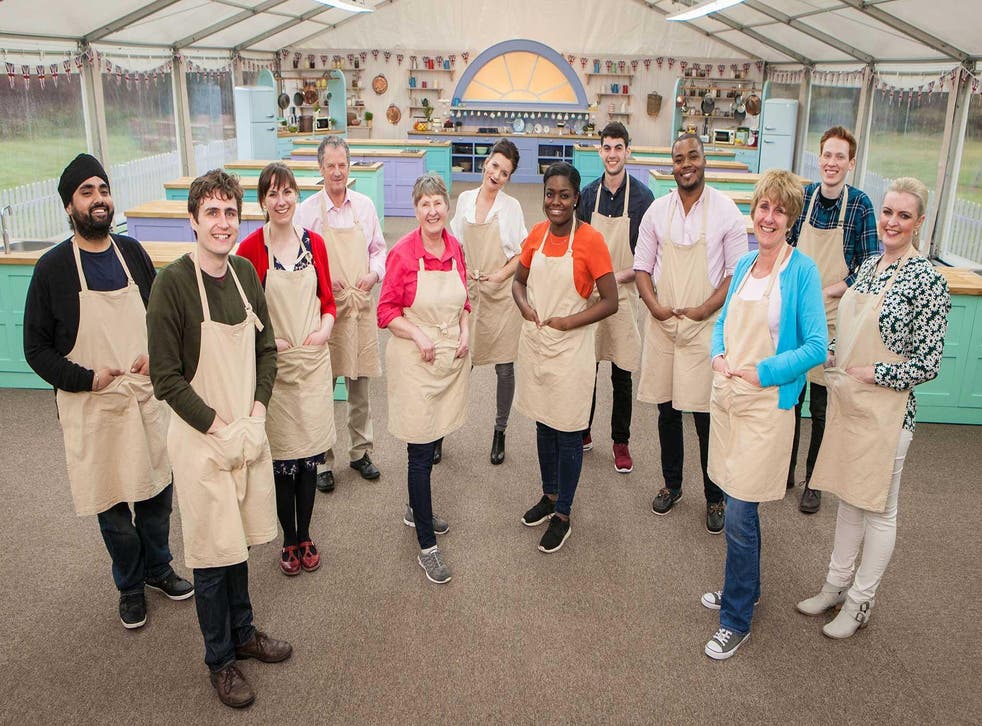 It's almost time for Mel and Sue to yell 'On your marks, get set, baaaaaake!" at this year's bakers as The Great British Bake Off finally lands in our living rooms.
Twelve amateur bakers will be taking to the famous tent in a bid to wow judges Mary Berry and Paul Hollywood with their creative and technical cake-making skills.
From exotic flavour-loving vegan baker Rav and homely cooking pros Jane and Candice to Benjamina, Selasi and Kate's stunning attentions to detail, the latest series of the hit BBC baking show looks set to have us salivating despite not being able to smell the bread in the oven (or taste the finished products, tragically).
Who is in the Great British Bake Off 2016 tent?

Show all 12
We had trouble tracking down two bakers online - former primary school headteacher Val Stones, who likes to do aerobics in her kitchen while waiting for her jams to boil, and this year's oldest contestant Lee, a pastor with a penchant for traditional flavours - but here's our verdict on the rest of the competition based on their Instagrams, Twitters and blogs.
Rav Bansal
Vegan baker Rav has his "somewhat traditional" Sikh upbringing to thank for sparking his passion for cooking, so expect him to turn to his favourite family recipes in the Bake Off tent. While this can get boring, fear not, for Rav recently returned from a trip to Morocco where he no doubt learnt more about the exotic flavours he so loves (Spiced Orange and Pomegranate Baklava Cups anyone?). Rav is also a big fan of fusion dishes and cites his Chai Spiced Victoria Sponge as a special on his website. Look away now if you're an uncontrollable chocoholic…
Benjamina has big-time baking ambitions so is unlikely to serve up soggy bottoms to Mary and Paul. The 23-year-old teaching assistant has been baking for 8 years and runs her own blog, Carrot & Crumb. Benjamina is her own strongest critic so there might be some tears in the tent, but with an Instagram like hers we reckon she's well on her way to being the next Nadiya and baking for the Queen. These cakes are art, we're telling you (oh and her bread looks amazing too).
Candice Brown
Like many of the bakers, Candice cites her grandmother as her greatest inspiration. She grew up in the pubs her parents owned and as such there is a homely feel to her cooking, with snaps of bubbling homemade jams recurring throughout her Instagram. Her chocolate, banana and coconut loaf is an "old favourite" while she seems to be a pro at making sugar roses. Presentation may prove an issue but Candice's bakes certainly look yummy, particularly this peanut butter brownie.
Selasi Gbormittah
Selasi is going to blow us away in the showstopper rounds if his Instagram is anything to go by. The crazy chocolate cakes he makes for a friends's birthdays have us salivating if they are an artery's worst nightmare while the Stars and Stripes biscuits he made for Independence Day recently hint at some impressive presentation skills. Selasi, who moved to London from Ghana 15 years ago, is one of our hot bets to be crowned king baker this year.
Jane Beedle
Jane is certainly one to keep a beady eye on this series, judging by how perfect her "first time" salted caramel macarons look on Twitter. This 61-year-old's grandfather owned a bakery so she's pretty much a master of the classics, while her bakes seem to suggest a preference for big, bold flavours presented beautifully but unpretentiously. Her piping work is particularly impressive while chocolate mousse cake seems to be a speciality. Jane is a garden designer so expect her arty flair to shine.
Louise Williams
Louise is passionate about intricate design having honed her piping and icing skills over the last decade. She only joined Instagram last week but judging by her posts so far, we can expect plenty of pastries, cakes and maybe even some homemade ice-cream (not another Baked Alaska-gate, we hope). Her bakes may be a bit too "homely" for Mary and Paul and her presentation doesn't look set to rival the likes of Benjamina and Selasi, but she's set our mouths watering.
Michael Georgiou
Michael will be bringing his Cypriot grandmother's wisdom into the tent especially when making pastries, so he should be a surprise one to watch in the technical challenges. This Durham student spends most of his time baking in his uni kitchen but he hails from London, where he founded the N14 bakery blog. Michael enjoys putting his own spin on well-known recipes, which always impresses Mary and Paul if done right, but he'll have to work on his presentation skills if he stands a chance of being named star baker. This Pimms sponge looks delicious, but sloppy.
Andrew Smyth
Don't write Andrew off just because he's a smartie pants aerospace engineer. The 25-year-old makes use of his scientific brain to create some beautifully detailed bakes, once even making a Concorde baguette. He only joined Instagram recently and doesn't have a blog (yet) so we don't have much to go on, but anyone who can master a macaron gets a big thumbs up from us while these salted caramel and pecan brownies look devilishly good…
Tom Gilliford
Tom makes his own cheese and salami so is likely to produce some delicious savoury snacks in the tent. He seems to be on top of his presentation game, which is always key to Bake Off success, and the cakes posted on his Instagram suggest some fun experimentation from space-themed macarons to these brilliant 'ham sandwiches' using fondant and buttercream. Tom might not be as experienced as some of the competition but he's got a strong whiff of underdog about him.
Kate Barmby
Farmer's daughter Kate will be bringing in homegrown produce from her family farm in a bid to gain brownie points from Paul and Mary. Sugar craft is her special strength but, while this mermaid cake is certainly memorable, and impressive with its gelatine fin, it looks so much like an ornament that it's borderline creepy. Kate recently made her children a fabulous pinata and 'harvest fairy' cake, showing off some serious creative talent that will surely serve her well in the showstopper rounds. Can she just be mum to all of us?

There are some cakes to rival the masterpieces created by last year's winner Nadiya Hussain in this new bunch of bakers, but our bet is on Benjamina to triumph in a closely-fought final with Selasi and Jane. There should be tough competition from Louise and her incredible themed cakes while Tom could be a dark horse with his quirky ideas. Michael and Candice will have their work cut out for them if they don't pay more attention to presentation, while it will be interesting to see whether Rav can inspire any viewers to turn vegan by proving that a restrictive diet doesn't have to equal boring. If so, he could be a surprise winner.
The Great British Bake Off starts at 8pm on Wednesday 24 August on BBC One
Register for free to continue reading
Registration is a free and easy way to support our truly independent journalism
By registering, you will also enjoy limited access to Premium articles, exclusive newsletters, commenting, and virtual events with our leading journalists
Already have an account? sign in
Join our new commenting forum
Join thought-provoking conversations, follow other Independent readers and see their replies