Great British Bake Off final 2014: Should Richard, Luis or Nancy win?
Scroll down to cast your vote in our poll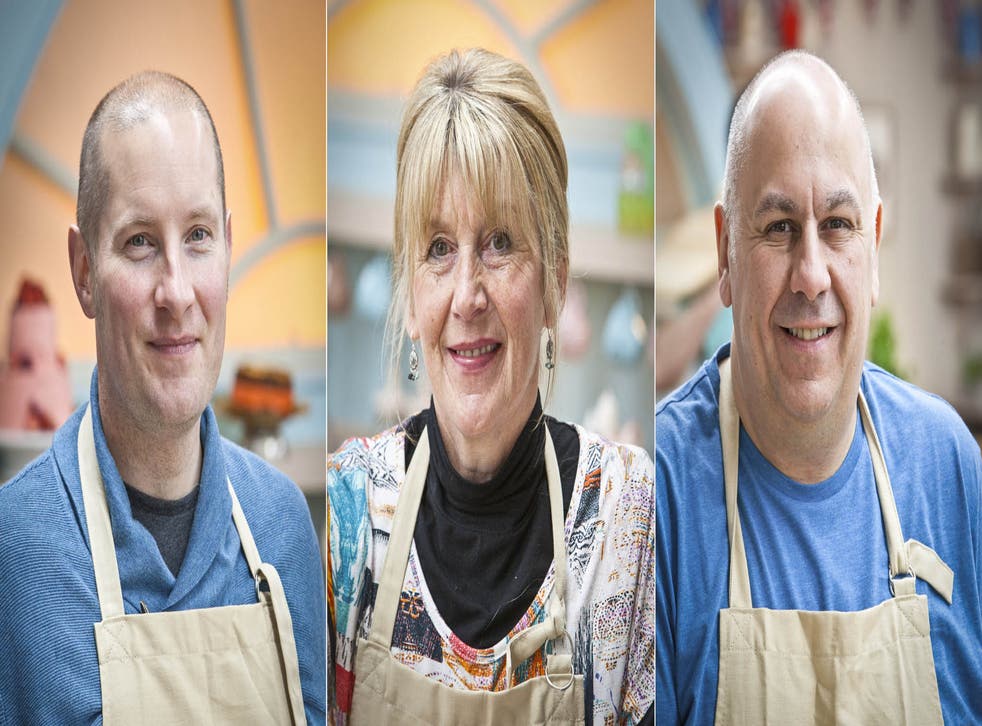 Richard Burr remains the firm favourite to take home the Great British Bake Off crown tonight, but Luis Troyano and Nancy Birthwhistle could still win the competition.
After last year's young, all-female final, this year's sees two men and one retired woman battle it out over the quality of their Viennoiserie (baked goods made from yeast-leavened dough).
The finalists have not given much away on their social media accounts, but judging by the bakes they have posted since they finished filming, Luis looks like he could be in the lead to take the title.
The graphic designer's website looks like he's given it a lot of recent attention, while Nancy's is still under construction and Richard doesn't appear to have one.
But will you be backing Team Richard, Team Nancy or Team Luis tonight?
Daisy Wyatt is backing #teamrichard
Richard has impressed from the very start with his precision, attention to detail and ability to stay calm under pressure. Not many contestants have won star baker five times, and he has even managed to impress Mary Berry with his strong lavender and rosewater flavours.
His pirate biscuit ship was a well-executed feat, and his boiled sweet-inspired donuts almost looked too good to eat. His strong flavour combinations complement each other well and are always a hit with the judges.
Richard is not just a great baker, but also a fantastic role model. Not many builders can say their main hobby is baking petit fours of an evening. By appearing on the show, he has inspired hundreds of young men across the country and helped to break down century-old stereotypes that baking isn't for alpha-males.
Yes, his pencil tucked behind his ears is annoying, but the builder baker is the man for precise, well-engineered bakes polished to perfection.
Jess Denham is backing #teamnancy
From her daring use of the microwave (so damn "dangerous", claimed Paul Hollywood) to the flood of great innuendos she has obliviously gifted us with, Nancy Birtwhistle fully deserves this year's Bake Off crown.
Access unlimited streaming of movies and TV shows with Amazon Prime Video Sign up now for a 30-day free trial
Sign up
Her courage in the face of Paul's piercing, judging blue eyes is to be commended, as is her hilarious ability to knock his ego down a size or two by forgetting his name and calling him "the male judge".
Irregular coloured doughnuts? Pah. "They look all right to me," Nancy responded, brilliantly failing to see how such criticism is of any importance whatsoever.
Nancy is one cool gran, and the only female in the final. She's proved herself more than capable of fighting off the men and is, in her own words, "traditional with a contemporary twist". She's given us the most laughs this series and for that alone deserves the title.
Matilda Battersby is backing #teamluis
Designers have a history of doing rather well on Bake Off. Last year's winner, fashion designer Francis Quinn, was regularly accused of serving up style over substance, yet triumphed in the end.
But current finalist, Luis Troyano, a graphic designer who hails from somewhere between Stockport and Spain, has been consistently delivering bakes as strong in aesthetic gusto as they are in flavour. It was his sugar work (and his penchant for punning) that made me back #teamluis.
The precision, creativity and melding of flavours from his Latin roots, such as 'Cage on the Rocky Hill' during European cake week, place him far above his more pedestrian competitors in my view.
It was no surprise to me during bread week when Luis' gilded Roscón de Reyes, a sumptuous Spanish pastry which resembles an ornate crown, won him star baker. Let's hope he has a loaf handy when he's named this year's King of The Great British Bake Off.
Join our new commenting forum
Join thought-provoking conversations, follow other Independent readers and see their replies