Interview
Hailee Steinfeld: 'I missed every high school dance and prom, yet I found my way to the Met Gala'
The former child star talks to Adam White about playing Emily Dickinson for Apple TV, being nominated for an Oscar at 14, and why 'True Grit' made everything that came after it so much harder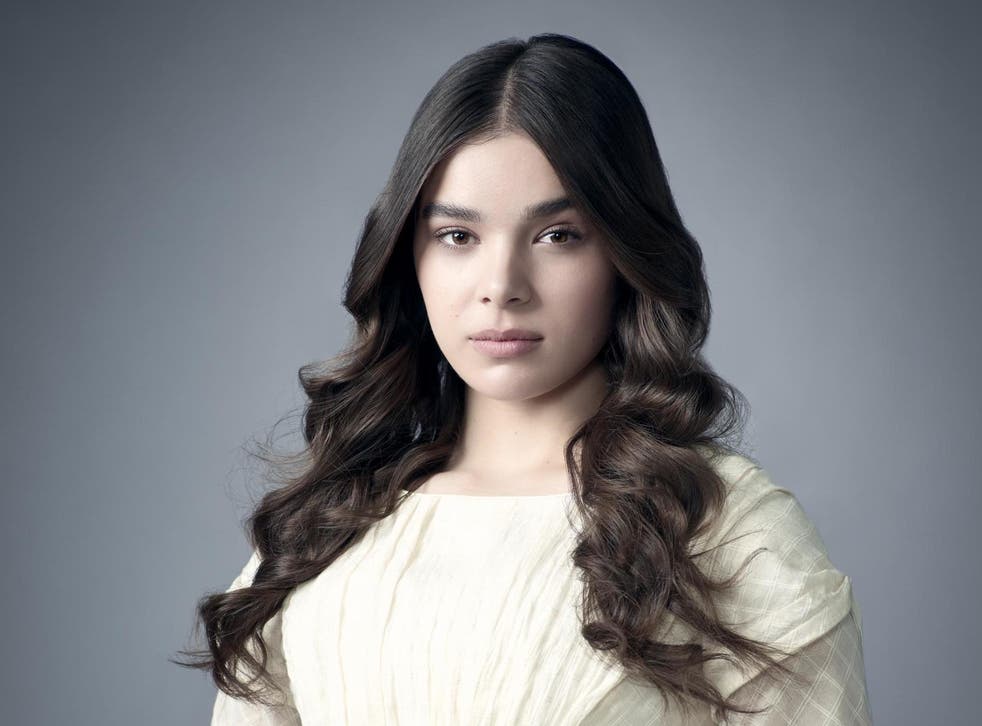 Hailee Steinfeld, the 22-year-old Oscar nominee and pop star, has briefly transformed before my eyes into an old-school diva, her husky, measured voice suddenly a funny and theatrical wail. "Don't bring that up!" she cries, in mock outrage. I've asked about Katniss Everdeen, the tortured heroine of the Hunger Games franchise, and a role Steinfeld was reportedly close to getting in 2011. Does she ever look back... "… and think what my life would have been like?" Steinfeld interrupts. "No!" she sputters once again, her lip beginning to dramatically quiver. "Not at all!"
It's a rare moment of levity in a conversation that starts off professional and businesslike but grows looser as it goes on. "I truly believe everything happens for a reason," Steinfeld says, taking a second bite at losing out to Jennifer Lawrence. "There are so many parts that I wanted or didn't get... But I think, weirdly, it's the same feeling of having missed every high school dance and prom, and yet I somehow found my way to the Met Gala. I feel like I've made up for it."
Steinfeld has had remarkable staying power for an actor who, if she weren't quite as brilliant as she is, could easily have peaked at the age of 14. That was how old she was when she was nominated for a Best Supporting Actress Oscar for her work in True Grit, the Coen brothers' dusty 2010 western that marked her film debut. Alongside a cast of stars including Jeff Bridges and Matt Damon, Steinfeld proved miraculous – projecting strength, fire and world-weary pluck, all while dressed in the patchy wardrobe of an old man.
From there, rather than disappearing into the child-star void, she has carved out a diverse and interesting career in film and music. She comfortably cemented her place as a leading lady via the 2016 should-be classic The Edge of Seventeen and last year's genuinely endearing Transformers spin-off Bumblebee, voiced Gwen Stacy in the stunning Spider-Man: Into the Spider-Verse (2018), immersed herself in music, and this week makes her major television debut in one of the wildest and most inventive surprises of the year: Dickinson on Apple TV+.
It is also one of the more under-the-radar treats on the new streaming platform, possibly because it is tricky to pitch succinctly. But, if you were to try, it would sound something like this: Dickinson is a playful and revisionist take on the young life of reclusive poet Emily Dickinson: a half-hour oddity that smoothly oscillates between comic farce, teen drama and heartbreaking tragedy. It is about the allure of the dark and naughty, the pursuit of agency as a young woman living in a world set up to work against you, and features rapper Wiz Khalifa as the embodiment of Death. It could have been a disaster. Even Steinfeld was surprised it wasn't.
"I think there's something great about proving to the world that we can pull off a project like Dickinson and make it work," she explains. "Because even in the middle of shooting, I was like, 'There's no way this makes sense! There's no way!' Like you can read something and you can have an instinctually good feeling about it but you never really know if it's good, right?"
The best TV shows of 2019 (so far)

Show all 47
Whether it's the presence of her two representatives in the room, or tiredness from a last-minute transatlantic flight alongside her co-star Jane Krakowski and Dickinson creator Alena Smith, Steinfeld talks succinctly and unwaveringly on-message when it comes to her new series. When I ask whether she saw herself in Emily's struggle for personal and creative autonomy, Steinfeld speaks somewhat ambiguously.
"Young women, but women of all ages, still face that challenge of wanting to be heard and respected and seen and considered an equal," she says. "But less and less, and I also feel like I'm part of a generation that is fighting and binding together more than ever. I'm so excited about this show for that reason. I think that my friends and a younger generation will be able to relate, but also be able to look at Emily and her work and her outlook on life. I think looking at this character in history and realising how modern she was and how modern her sense of thinking was is truly inspiring."
"This show is all about not putting people in a box," she continues. "I have found at times that, you know, you're made to feel by certain people that you're meant to do one thing and one thing only. I think I had that experience when I transitioned into the music world. I was incredibly welcomed and supported by people in the music industry and my fans and everyone around me. But it definitely wasn't necessarily easy. I think there will always be a part of me that feels like I have to prove myself, that I can do better or that I can accomplish more than one thing in one space."
Access unlimited streaming of movies and TV shows with Amazon Prime Video Sign up now for a 30-day free trial
Sign up
Steinfeld's aspirations began early, when she petitioned her parents (a fitness trainer and an interior designer) to allow her to attend acting classes when she was just eight years old. Amid studying at after-school clubs and theatres near her home in Thousand Oaks, California, she caught the attention of an agent and began regularly working in student films and commercials. Aged 13, she was one of more than 15,000 young girls, most with few professional acting credits to their names, who auditioned for the starring role in True Grit. The film's casting directors had spent 18 months roaming the USA auditioning actors before finding her. She says today that it was the last audition she has done that she wasn't terrified for.
"The concept of an audition is so crazy," she says. "You go into a room with nothing on the walls, in front of like, sometimes one if not four or five people and a camera. And that's it! And you're just expected to deliver! Ever since I did True Grit, I've had the hardest time. Just experiencing the impact of that film, wearing the heavy wool coat and the men's clothing and the belt and the hat – everything that plays such a huge part in your performance, and the other actors, the director, if not two... Going from that and back to that room with white walls and four people staring at you was very difficult. It gives me anxiety, for sure."
Not so much that it's prevented her blossoming into a literal pop star in the decade since, though. Steinfeld's music career kicked off in 2015 with the euphoric "Love Myself", an ode to female empowerment or, if its lyrics were to be read in a slightly dirtier fashion, masturbation. She refused to confirm or deny their true intention at the time. She has since been featured on tracks by DNCE, MNEK and Machine Gun Kelly, and has had one solo EP to her name. But it was "Love Myself" that felt like a serious declaration of emancipation, Steinfeld emerging from a child-star cocoon and into full-blown adulthood. She says today that her lyrics speak to specific parts of her personal growth "more specifically", but that she is able to see a number of different milestones and chapters of her adolescence in the movies that she has starred in. "It's almost weird that I have these films to look back through as a documentation of my life," she says. The Edge of Seventeen, in particular, marked a turning point.
"I do feel like that was the first time I trusted myself on set," she remembers. "When I was younger I would never, ever leave my script. The pages were filled with notes to the point where I couldn't even make out what was on them. And I would take them and until we were rolling I was reading everything and I had my lines memorised and I was over-prepared. And Edge of Seventeen was the first time I left it in the trailer and trusted the work that I had done. I forgot everything, and then just lived in the moment."
The film also netted her a Golden Globe nomination, an achievement that she says felt slightly more meaningful to her at the age of 19 than her True Grit Oscar nod did when she was much younger. "When I was 13 and I did True Grit, I of course had watched the Oscars," she explains. "But I was really tuned in for the red carpet. That was really all that I had the attention span for. I completely understood how enormous an honour [it was], but when we made that film, never once was I aware of or concerned by any kind of awards conversation, and until it happened I didn't even know that it could.
"All I remember, for that entire year of my life, was that I had so many people come up to me and tell me, 'This is a once in a lifetime opportunity,' and of course I knew that it was so special, but it kind of came in one ear and out the other. Until a couple of years went by, and I was like, 'Wow, that was truly a one-of-a-kind type of experience in general, and first-experience period.' So when that did come around for Edge of Seventeen, I knew how huge it was to have your work recognised, and I feel so privileged mine has been in the capacity that it has."
Steinfeld returns to this well often – conscious of her good fortune and repeatedly expressing gratitude to have played so many well-written young women, but also aware that it can be fleeting. "I don't know if I'll ever feel like I've figured it out," she confesses, somewhat melancholically. "I feel so lucky that I've been trusted to play these parts – but parts change, roles change and times change a lot, and very quickly. I just want to take everything one step at a time."
There is a line in Dickinson's first episode, delivered to Emily by Death himself, that insists "publicity is not the same thing as immortality", and it's one that struck Steinfeld as particularly meaningful. "Publicity is so easily achievable these days," she explains. "Good or bad, if you will. And I think for me in terms of building my career and my legacy, what matters to me most is the work that I do and the work that I leave behind."
It's an odd sensation to hear a 22-year-old talk about legacy and what she wants people to remember about her once she's gone. But considering she is promoting a series about a reclusive creative largely unappreciated in her own time and fascinated by human mortality, it makes a certain kind of sense. Emily Dickinson clearly rubbed off on her.
Dickinson premieres on Apple TV+ today. The service is available on the Apple TV app on iPhone, iPad, Apple TV, iPod Touch, Mac and other non-Apple platforms
Join our new commenting forum
Join thought-provoking conversations, follow other Independent readers and see their replies